What is performance fabric?
Long lasting upholstery 101
What is a performance fabric, you ask? In short, performance fabrics are going to hold up to kids, pets, drink stains, and life. So whether you entertain every weekend or your children are like a pack of wild monkeys, these fabrics when on your sofa and chairs will hold up to the task.
If you've been in the market for a sofa or chairs, you have probably seen the term "performance fabric" among the fabric choices for your sofa. And you may be wondering (1) if you need it and (2) if it feels soft and cozy.
Now I'm answering all of your burning questions. But first, if you are considering a sofa purchase, order the fabric swatches! You will want to get all of the feels and details that come with the swatches.
Performance Fabric Properties
To be a performance fabric, the upholstery will have certain characteristics that make it super durable and stain resistant. Here are the features that make something a performance fabric.
Stain resistance
The main job of a performance fabric is to hold up to stains. These fabrics are either treated with a compound that resists stains or are made of manmade fibers that easily repel water, liquid, grease, and stains.
You can expect the stain to bead up on the surface of the sofa rather than soak in. Being stain resistant means the fabrics will hold up well to entertaining and messy cheeto hands. So go for the white sofa in the living room, but choose a performance fabric.
Wear & Tear
Another marker of a performance fabric is its ability to hold up to wear and tear. A fabric's durability is determined by what is called a "rub test". There are two commonly used tests, the Martindale & Wyzenbeek.
The Wyzenbeek test is primarily used in the US and Canada. It tests the fabric by rubbing it with cotton fabric or abrasive wire. We call this motion a double rub. It mimics getting up and sitting down, hence the term double rub, where the fabrics meet and rub against each other. There are estimates that your sofa will have 3,000 double rubs of wear from use per year.
A double rub count tells you how many times the fabric can be rubbed before it breaks, shows wear, or loses texture. In homes, here is the breakdown:
Delicate duty – Under 3,000 double rubs. Suitable for pillows and curtains.
Light duty – 3,000-9,000 double rubs. Suitable for use on occasional use furniture
Medium duty – 9,000-15,000 double rubs. Suitable for daily use furniture.
Heavy duty – 15,000+ double rubs. Suitable for the family sofa in the living room.
In commercial projects:
Contract Grade upholstery fabric – 15,000-20,000 double rubs. Use in office building offices, business waiting rooms and lobbies.
Heavy duty – Up to 30,000 double rubs. Suitable for use business traffic such as hotel rooms, conference rooms and dining areas.
Extra heavy duty – Over 30,000 double rubs. Heavy traffic areas including airport terminals, hospital waiting rooms, fast food resultants, and entertainment facilities like bars, stadiums and theaters.
When you look at the fabric swatches, the back of the swatch will have a few notes on it. It will show the cleaning code, rub count, color, and perhaps what the fabric is made of.
So what should you look for in your home fabrics? 15,000 – 20,000 double rub counts is great for your living room sofa.
HOW TO BUDGET FOR A HOME DECOR PROJECT + FREE PRINTABLE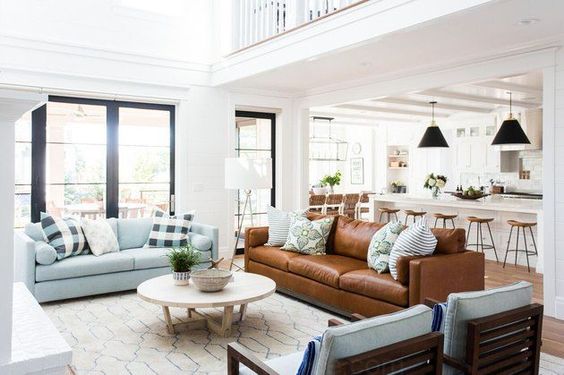 Easy to Clean
Apart from the amount of wear and tear your upholstery can take, you'll want to take note of the cleaning method. A performance fabric is inherently easy to clean. Typically, you clean it with a mixture of dish soap and water, or water and vinegar. But take care to check the label for specific cleaning instructions.
In any event, blot up any excess liquid on the spot. Use a clean, dry towel to soak it up. Then if needed, use your cleaning solution to lightly spray and blot again. If all else fails, use an extractor (cleaning machine) or call in the pros.
Carrot v. Radish
The final consideration for performance fabrics is how it is constructed. Picture a carrot and a radish. Now break them open. The carrot is orange all the way through and the radish is red on the outside and white inside.
The same goes for performance fabric and treatment. There are two methods of treatments (1) the yarn is treated throughout and solution dyed like a carrot or (2) the surface is treated like a radish.
So look for a performance fabric, one that is solution dyed, not a printed fabric for longer wear. An alternative is to have your sofa professionally stain treated every few years. I will extend the life of the color as well as many companies that stain treat also gladly offer free extraction of stains.
TYPES
Revolution– Olefin (aka Polypropylene)- solution dyed
Crypton– cotton, rayon, polyester- embedded in fibers and doesn't wear off
Sunbrella– Indoor/Outdoor, don't feel plasticy, fade resistant , bleachable
Scotchguard– Apply this yourself to protect non-performance fabrics.
WHY YOU NEED IT
Finally, if you're not convinced to spring for the performance fabric because it's easy to clean, you should opt for it for your:
Kids
Family
Pets
Entertaining
It will protect your investment sofa because it is easy to clean. You'll worry less about a ruined sofa and can focus more on entertaining and enjoying life with your family and pets.
THE BEST SHERWIN WILLIAMS WHITE PAINT COLORS IN 2020