Explore this Coastal Kids Bathroom for inspiration creating your own Coastal Kid's Bath at home with this blue palm wallpaper.
COASTAL KIDS BATHROOM DESIGN MADE EASY + MOOD BOARD
I was sucked into an Instagram ad again. Surprise, surprise! If you've been following for awhile you probably know by now that I joke all the time that Instagram could sell me anything. I laugh because their AI picks up on the posts I like, things I save, and search terms I use often.
While not every IG ad is perfectly suited for what I am looking for (I already own some of the things they are selling me, and others are for research, not purchases I would make) there are some goodies.
To name a few, I found these Toadfish boat Koozies that stick the boat and hold our sparkling water while keeping it cold, FLO vitamins, Kazi coasters which I now stock in my shop, decorative pillows, tassel earrings, palm print dress, jack rogers boating flip flops, and more.
All this to say – Instagram got me again. My motivation to start my own house projects in our new home, while I've been at the busiest part of client projects, has finally come to a place where I can focus a little energy on our house.
So when I saw an Instagram ad for this coastal blue palm leaf peel and stick wallpaper, I grabbed a tape measure, ran into the kids' bathroom and measured.
Spoiler alert! I ordered 4 rolls right then. And figured it would be a quick win to complete the wallpaper on in the kids' hallway bathroom.
COASTAL BATHROOM DESIGN MOOD BOARD
I create this quick little coastal bathroom mood board to help pull the pieces together and keep my going when I get tired of wallpapering and painting. Sometimes having a little inspiration goes a long way when you are in the middle of a project and don't want to keep going.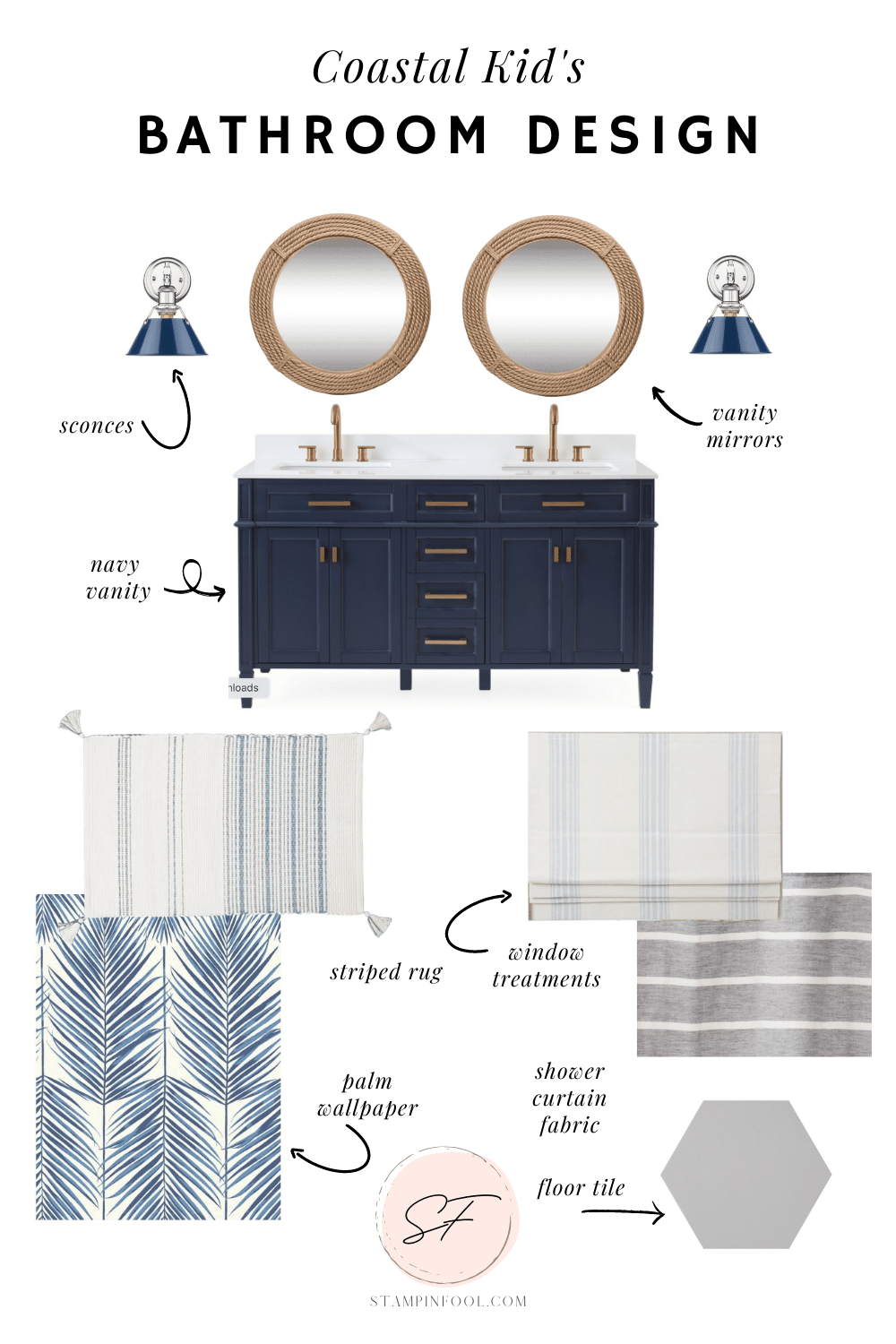 The main stunner in this room will be the wallpaper. Then I will use the white mirrors already in place and add jute rope or cording. I plan to paint the vanity navy blue (you can see how I did that in our last house here).
The light gray hexagon is actually pretty cute. And it's staying. While it was installed a long time ago- it's proof that hexagon tile is timeless. I'll add a new roman shade window treatment, add a piece of artwork & call it a day.
Blue palm leaf wallpaper will bring the livelihood to this kids coastal bathroom without a ton of other work to get the space looking great! I'll update you with some before and progress photos in the coming weeks.
Who knows, maybe I'll knock out is a really short time. The quick wins are the ones that keep you going for the harder longer DIY home projects. So if you can't find the motivation to do a project, start small- organize a drawer or pantry, wallpaper a closet, hang a piece of art!