SPLURGE VS STEAL: LEATHER BAR STOOLS
Splurge vs Steal leather bar stools edition! We will help you find the best bar stools for your kitchen island at the price that's right for you. You'll have three options, at different price points, for your next leather bar stool purchase!
Are you struggling to know what to look for in a bar stool or where to find the best ones? Look no further, I'm going to show you kitchen island bar stools at good, better, and best levels. You'll have a few affordable looks to choose from that will fit into whatever your price point may be.
A few tips for shopping with online retailers: Be sure to read the most current reviews and always look for real life photos of the decor pieces before you buy. I want your expectations to be realistic. But I will also do my best to share pieces with overall positive reviews and 5 starts!
Everyone's budget is different and where you want to spend and save will vary. So, grab a cup of coffee and check out this week's splurge versus steal on leather bar stools.
THE DETAILS: Leather Bar Stools
So, what is the purpose of a bar stool? Do I even need one? Should I even have them at the counter?
First, there are two heights of bar stools: counter height and bar height. Below, I'll explain the two and show images, but moving forward we will use the term "bar stools" to refer to the stool itself and not the height. You'll want to choose the height that best fits your kitchen.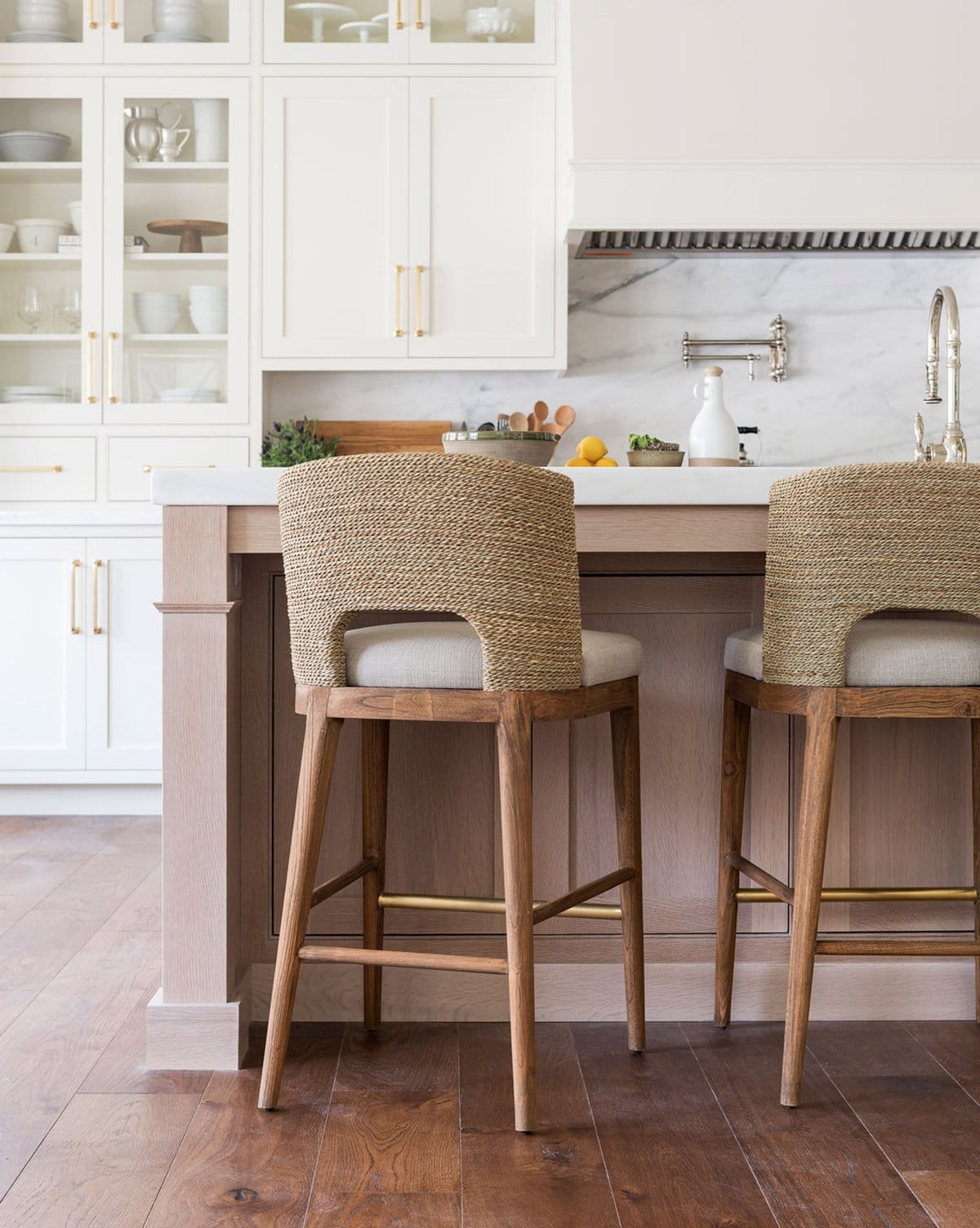 Counter stools are designed to be paired with a standard-height counter, which is 36″ tall. So a counter stool's seat ranges in height from 24 to 26″ . This is an island that is the same height as your outer counters. It isn't taller than the other surfaces. Counter height stools are the modern kitchen aesthetic.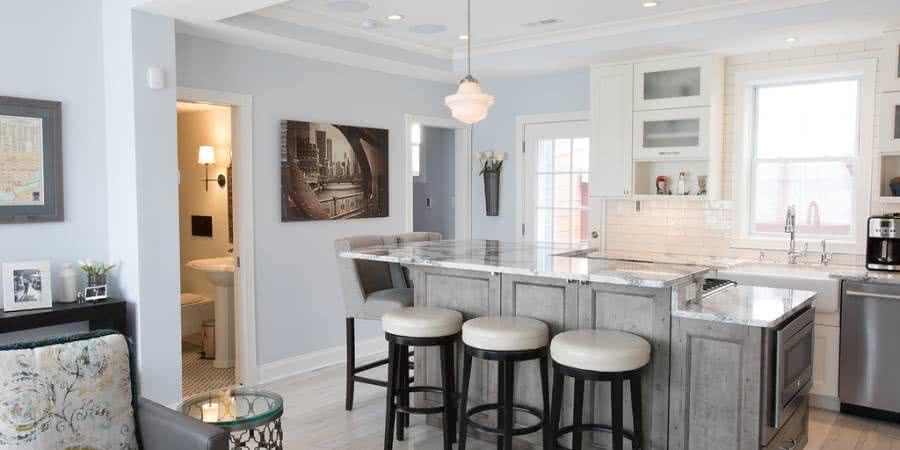 Bar stools are used at the portion of a kitchen counter that is stepped up (usually by 6″) from the rest of the counter. This portion is 42″ high rather than 36″. Bar-height stools are also the most common match for pub tables. Their seat height is normally 30″.
Functionally, you will want to choose the seat height that corresponds to your kitchen counter height. If you have a higher counter, you will need the taller stool to comfortably eat and drink at the counter.
In contrast, if you have the budget to bring your counters all to one height, 36″, it's a great place to invest as the design will be long lasting.
HOW MANY BAR STOOLS WILL YOU NEED?
Well the question here is really, how many stools can you fit. You may find yourself in a situation with 5 family members and only 48″ of counter space.
So, grab your measuring tape and measure your island or peninsula where the stools will sit. Your counter stools will need 22″- 25″ inches of space each. Divide the counter length by 25″.
If the widest part of your stool is 16″-18″ allow 21″-22″ of space per stool.
If the widest part of your stool is 19″- 22″ allow 24″ to 25″ of space per stool.
If you choose stools that swivel and/or have arms, you'll need to add a bit more space between stools.
If you have a small island, opt for narrower stools without arms or even backless stools to provide a place to perch, but not sit for long periods.
TIPS ON USING COUNTER & BAR STOOLS
Whether you use your bar stools for eating meals, doing homework, or just chatting while you prep dinner, choose the style and size that's right for your kitchen.
Warm up a white or gray kitchen with leather or natural woven stools
Use clear stools for a small kitchen
If you want stools that swivel, opt for 30″ per person for comfort
Choose a stool that suits the style of your kitchen
For kitchens where you will eat most meals at the counter, choose stools with fabric or extra padding for comfort
If you fall in love with fabric stools, Scotchguard them, because – food stains happen
BEST LEATHER BAR STOOLS
Now that we've covered how to choose the right height and size bar stools, let's get into the good, better and best options for leather bar stools.
CB2 ROADHOUSE 24″ LEATHER COUNTER STOOL
First up is the CB2 Roadhouse leather stool. This option comes in both the counter and bar height
What's Different?
This stool is the start because it has a braided leather trim around the seat and stud detailing as well.
CB2 Roadhouse Stools $279
WEST ELM SLOPE STOOLS
Next, is the West Elm Slope bar or counter stool. These stools also come in two heights. But in addition, you can customize them.
What's Different?
Not only can you choose the color leather, but you can also choose the leg base color. From black to brass to chrome and bronze. The leather options range from cognac, black and white to green and navy leather. You won't find more options to customize your bar stools than these work horses.
They are comfortable, well rated and are contract grade (meaning they will hold up to regular use well).
West Elm Slope Stools from $399 to $858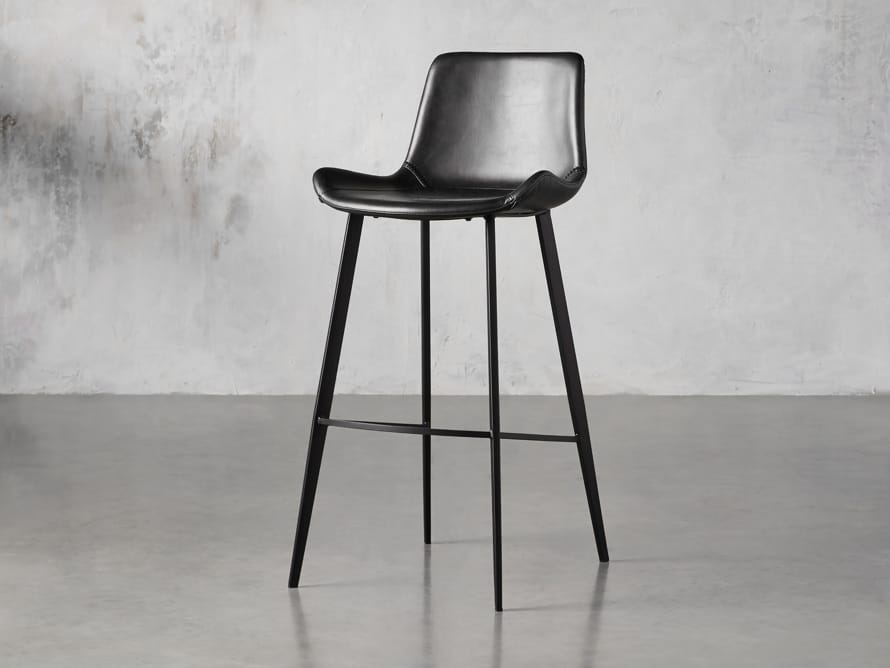 ARHAUS GAGE BAR STOOL
Lastly, is the Gage from Arhaus, that comes in both a counter and bar stool style.
What's Different?
It also has options. There are 6 different vegan leather choices from black, brown and green to a flint gray. And it features a foot rest bar in front as well.
Arhaus Gage Stool $399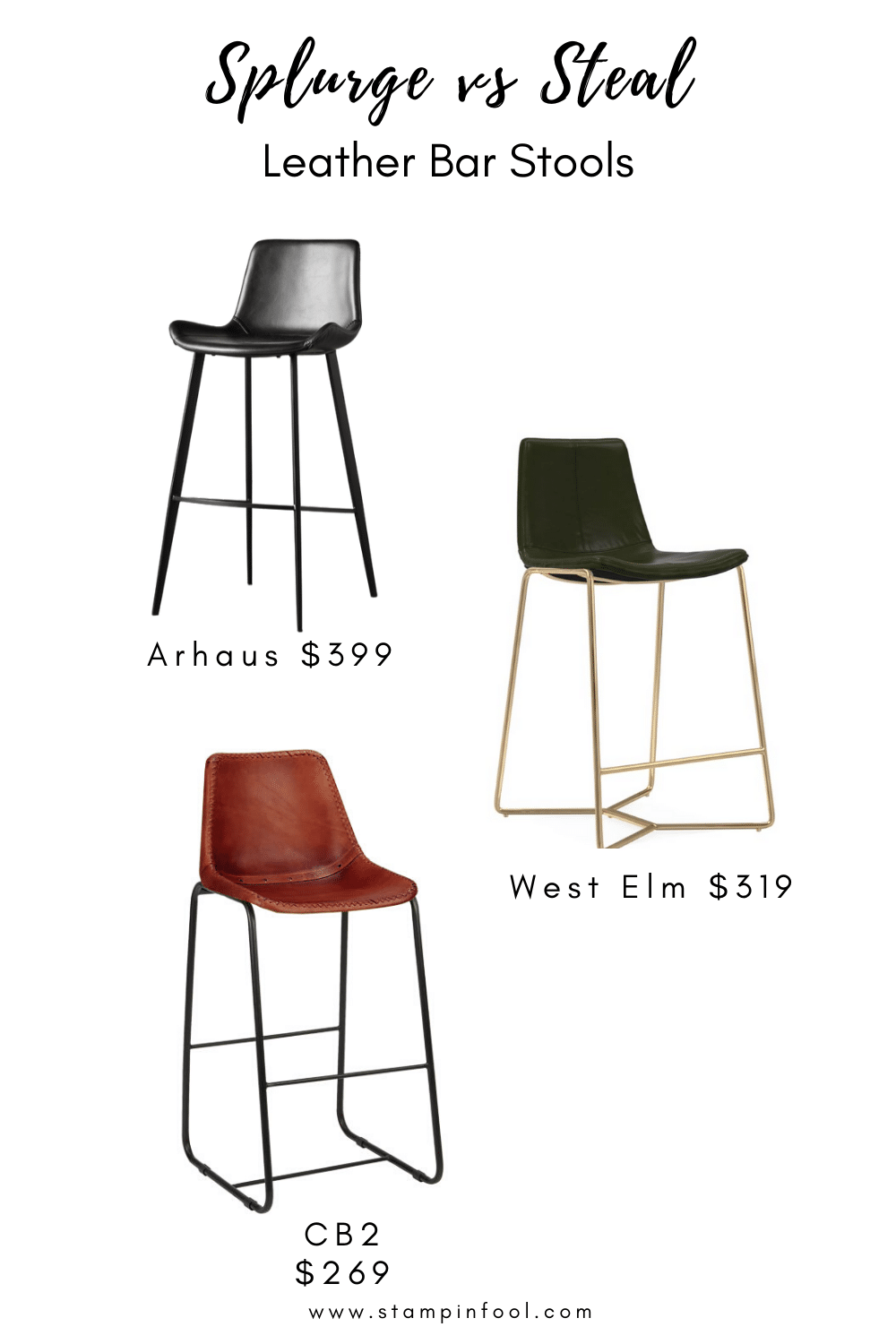 CONCLUSION
That's a wrap on the leather bar stool round up. Here are your splurge or save options one more time:
If I had to choose one of these stools, I would go with the West Elm Slope stool because it is contract grade and customizable. Being contract grade, I know it would hold up to kids, spills, food and constant movement (think sliding in and out of the seat).
And because it has many, many choices for leather color and leg finish, it can be used as a real show stopper in a plain kitchen. Personally, I'm crushing on the dark green seat with brass legs.
OTHER SPLURGE VS STEAL POSTS