9 Sets of Adorable Matching Family Christmas Pajamas – A 2021 TRADITION
Have you ordered your matching family Christmas pajamas yet? This is my favorite holiday tradition that we all take part in.
MATCHING PAJAMA TRADITION
Over the last 3 years we started a new Christmas eve tradition. In November, I buy matching family pjs and wrap them. I usually pick a color or theme and search out the best PJs for that theme.
The pajamas are washed and wrapped and labeled with each family members name and "Xmas Eve" jotted down on the gift wrap so that I remember which present to open.
Then, on Christmas Eve, we light a fire in the fireplace and pass around one box for each person! Okay, sometimes we get carried away and pass them all around or my husband opens an entire pile. But it's fun, nonetheless!
Can you guess what that one box contains? Our matching family pajamas, neatly folded and ready for the wearing. We all run upstairs and change into our matching pjs.
AFTER CHRISTMAS EVE
After everyone has changed into their matching Christmas pjs, we head back down to snuggle up together and watch a Christmas movie by the crackling fire. The go to movie is usually It's A Wonderful Life.
The kids tucker out before it's over and we carry them off to bed, while we head back in to finish wrapping or labeling presents.
An added benefit of matching pjs is that Christmas morning photos look adorable with everyone in coordinating outfits, but still super comfortable and relaxed.
I love looking back through photos of the kids opening gifts and all of our pajamas coordinate. It's such a fun little surprise.
Do you have a matching pj tradition?
THIS YEAR'S TOP MATCHING PJ PICKS
This year I avoided the crowds and ordered matching PJ's from Old Navy online. Currently, they are on sale for around $12 a piece (set for little ones).
We mixed and matched the blue/green tartan plaid pjs with the red and green plaid. They will be delivered within a few days and I can prep them for Christmas Eve.
I can't wait to get them in and enjoy them all winter after Christmas! Below are the matching family pajamas we ordered this year.
OLD NAVY MATCHING CHRISTMAS PAJAMAS
For Christmas this year, we purchased our matching pajama sets from Old Navy. Old Navy has a great variety of Christmas, holiday and winter themed pjs.
There are the classic plaid styles in red buffalo check, red & green, and green & blue which is my personal favorite plaid (tartan plaid).
Next youll find cute argyle, fair isle style pajamas. And even fun llama and bear patterns abode.
CHRISTMAS PAJAMA STYLES
MEN'S PAJAMAS
To start, as for the men's selection, you'll find classic flannel pants or pants and button up top pairs. There are also a few graphic tees that are Christmas themed to pair with your flannel pants.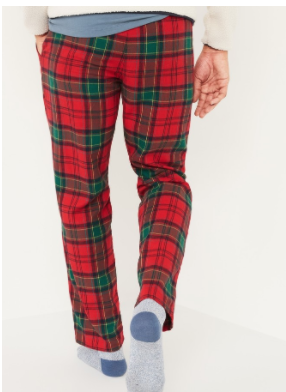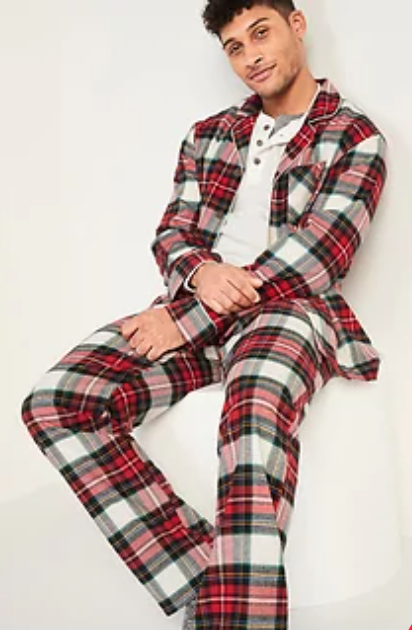 WOMEN'S PAJAMAS
The women's pj styles will give you a little more variety. From shorts to patterned flannel sets, you'll also have the option of joggers or thermal leggings.
But hurry, the joggers are selling out quickly! And I can see why; they are super cute!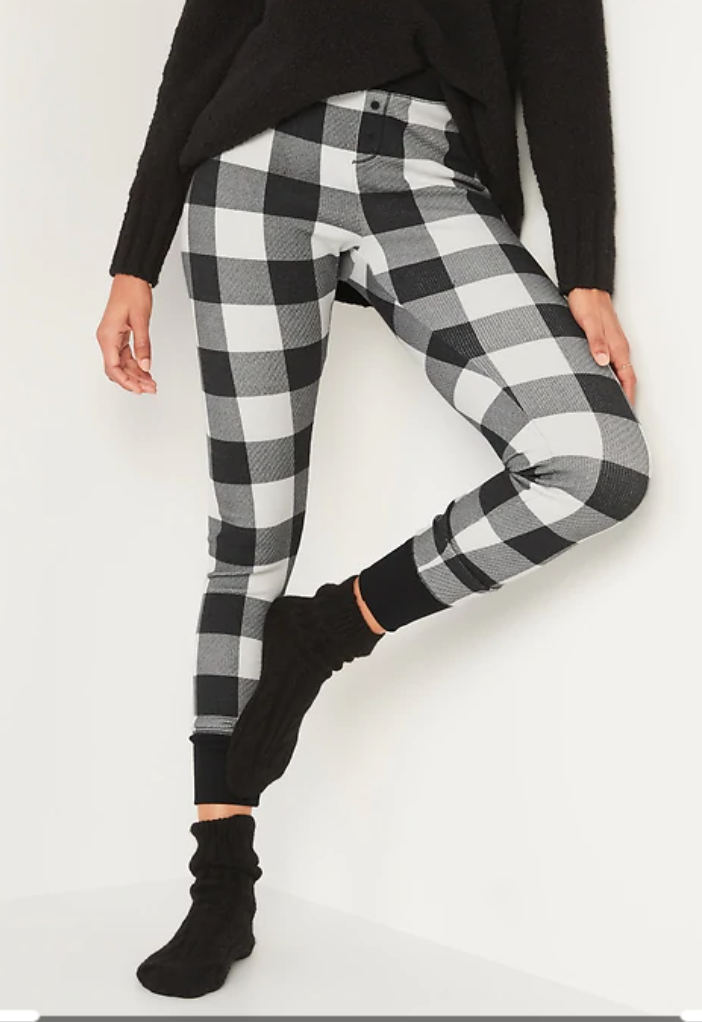 I also had to laugh at the one piece elf style women's pajama outfit. It was cute enough that I had to share below.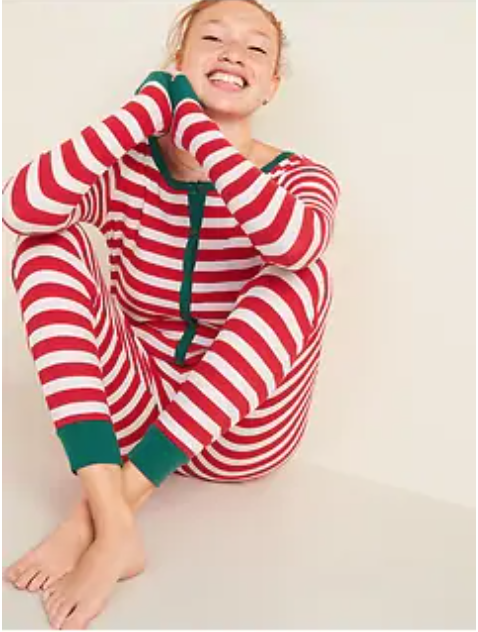 BIG KIDS
For the big kids we opted for fitted Christmas pajamas in plaid. I like the snug fit pajamas because they don't get in the way of all of the flying wrapping paper on Christmas morning!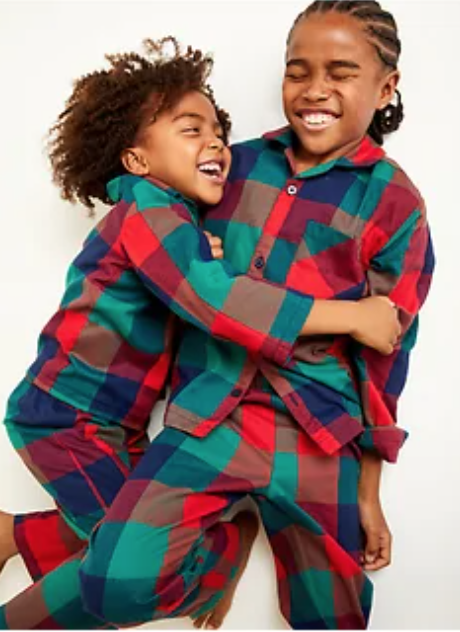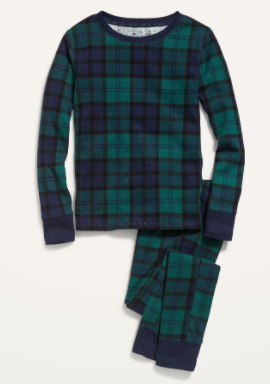 BABIES & TODDLERS
For the littlest ones in your family, you can't miss out on these adorable plaid onesies. They are also available in all of the above colors and patterns so that you won't miss a matching beat.
How cute are they?!? So small.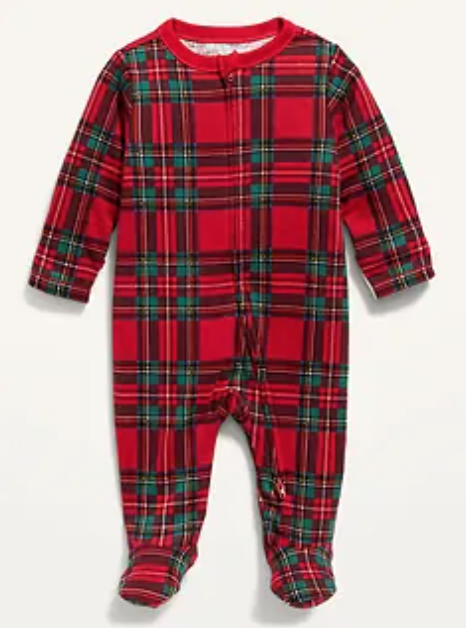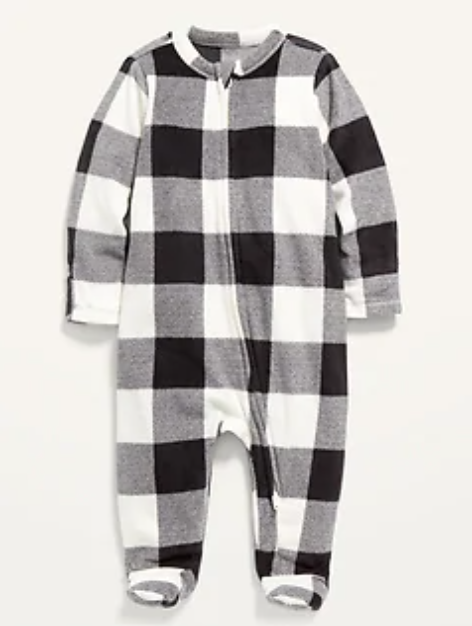 BEST OLD NAVY MATCHING FAMILY PAJAMAS FOR CHRISTMAS 2021
This post contains affiliate links- meaning when you purchase through the link and I receive a small commission. It feeds my Starbucks addiction & for that I thank you! You can see my full disclosure policy here.
Tell me your favorite Christmas tradition below in the comments!
Other Posts You'll Love
The Ultimate Kitchen Gift Guide for the Hostess
12 Sets of Free Printable Christmas Gift Tags 2020