Make this cool DIY 3D Paper Star Ornament
Have you seen these amazing DIY 3D Paper Star Christmas Crafts? I love how they are versatile. You can string them as garland or fireplace mantle decor, hang them on your Christmas tree, or give them as gifts.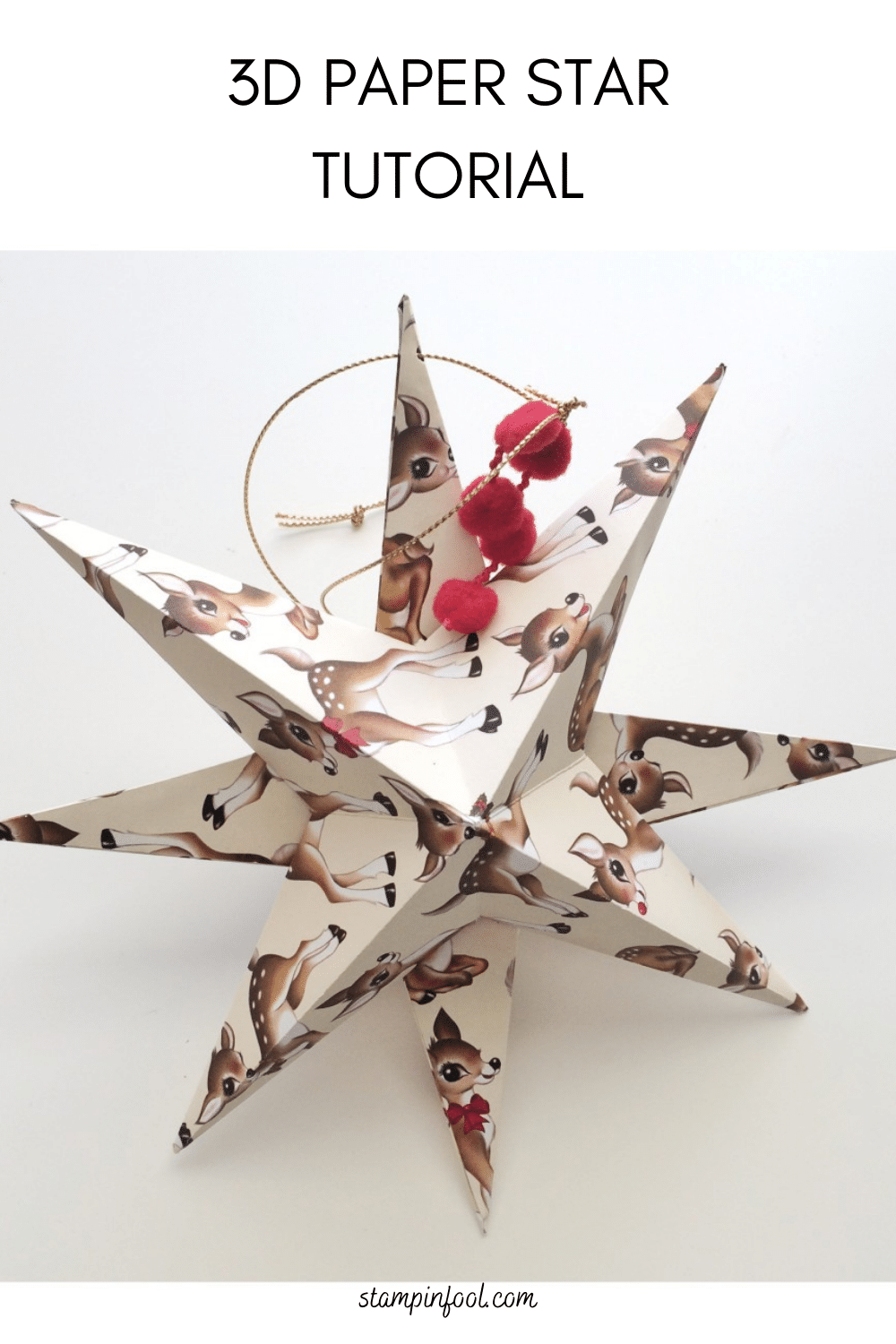 How to Make DIY 3D Paper Stars
This post contains affiliate links for your convenience, at no cost to you!
Before I jump into the how to on making these perfect 3D paper star crafts, I'll admit that this isn't exactly the usual how to decorate post.
But I felt it was worthy of sharing because a part of great decorating is entertaining, decorating seasonally, and gifting. So it stands to reason that it fits in with my goals here at Stampinfool.
I found this gorgeous, elegant star ornament that I am going to teach you how to make today.
First, I created a photo tutorial, directions, and even a little video to show you how to put it together. For this 3d paper star, the finished star is approximately 6″ x 6″, so it's no tiny ornament.
It is the perfect handmade gift for your coworkers, friends, neighbors, and even grandma. Luckily, it's a quick and easy craft that you can make a bunch at a time to gift to friends and family and still a few to keep.
You can customize this beauty with whichever patterned paper or wallpaper scraps you choose. So grab your supplies and get ready to make a DIY 3D Eight Point Paper Star Ornament.
Supplies
The supply list for this star decor is short and sweet. I have made these stars out of 12″ x 12″ cardstock, scrapbook paper and even wallpaper leftovers. It's a great way to recycle leftover wallpaper.
12″ x 12″ Patterned Paper or Wallpaper Scraps
Gold Cording (or ribbon)
Red Pom Pom trim
Scissors
Liquid Glue
1/16″ Hole Punch
Bone Folder
Paper Trimmer
Directions
Cut your cardstock or wallpaper into two (2) 6″x 6″ pieces.
Fold in half both directions.
Next, fold the 6″ x 6″ paper diagonal in both directions. You now have four folds. *Tip: Use a bone folder to create crisp fold lines.
Now, on the straight edge folds, cut a line 1 1/4″ up towards the center on all four sides. This creates give in the paper for folding.
Next, begin folding each slit inward to the diagonal score line, so that the corners form a point.
Repeat on all slits (8 folds).
Once all corners are folded, lightly fluff the flaps. Using liquid glue on one side of each corner triangle, fully overlap the triangle fold onto the one next to it in that corner, forming a 3D cone. Here would be a good place to watch the video, as it is easier to show than write.
Repeat with the next 3 corners. You will now have a 3D star with a hole in the back middle.
Now, repeat steps 2-5 with the second 6″ x 6″ square of patterned paper.
Apply glue to the back "V's" of one star and hold the other star diagonal to it and adhere.
Using the 1/16″ hole punch, punch a hole in the tip of the top point, string twine thought the hole and tie into a knot. Embellish with Red Pompom trim.
Enjoy!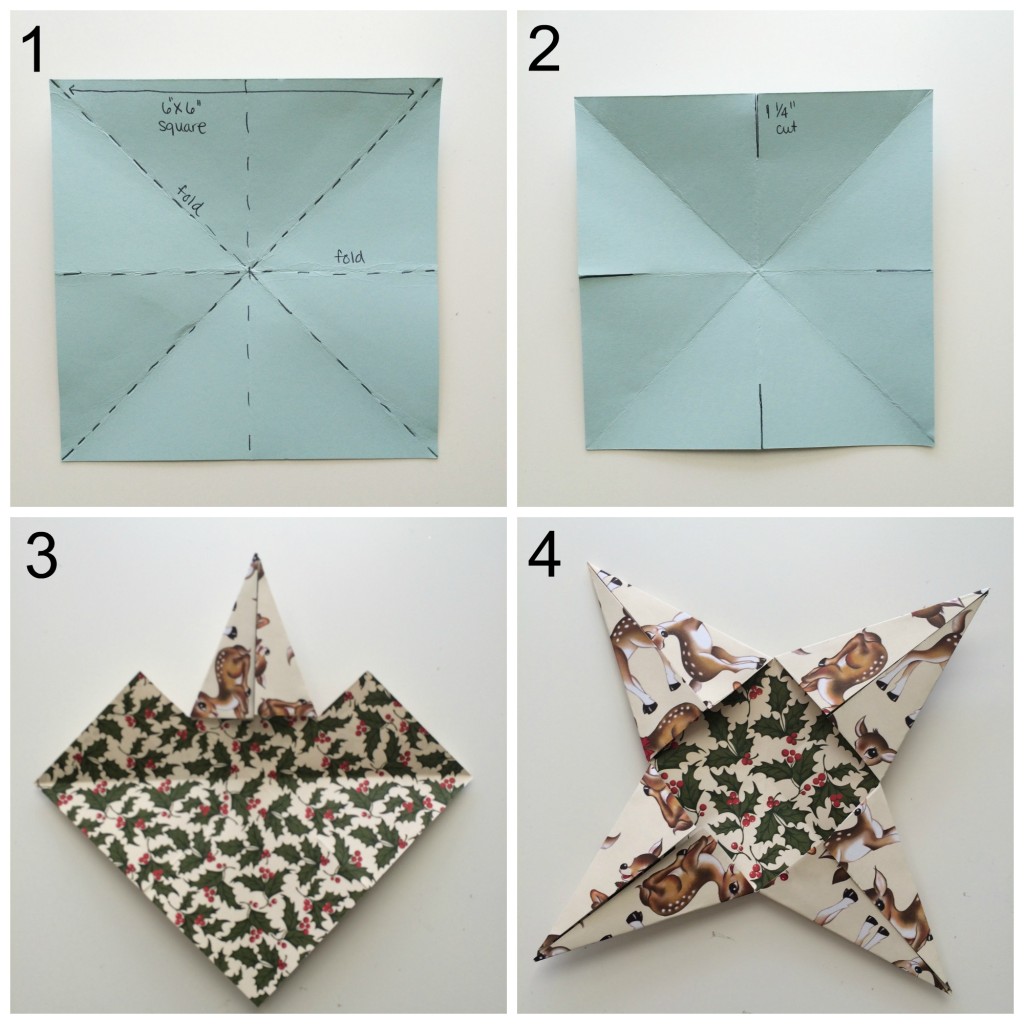 Here is a close up of the finished DIY 3D paper star ornament! I love how adorable those deer are on this scrapbook paper. They remind my of nostalgic childhood Christmas decorations.
3D Paper Star How To Video
Lastly, before I leave on you on your own to figure out how to put this sweet paper star together, I made this short video. It will walk you through the folding and gluing the two paper stars together.
Give it a watch if you are struggling to put them together.
Other Embellishments
While these starts look like nostalgic Christmas ornaments on their own, you can add even more spectacular elements to these stars.
Additional ribbons and bows make for decorative toppers for these 3d Paper Stars. Another way to embellish the paper stars is to add a thin line of liquid glue (like TomBow) to the tips and ridges and carefully roll them in glitter.
You could also string multiple stars onto fishing line or woven twine and hang them like a banner.
While I think the 6″ x 6″ paper makes for the perfect size, you can increase the size to 8″ x 8″ paper as well for slightly larger 3d paper stars.
Other Posts You'll Love