ONE ROOM CHALLENGE WEEK 1: VISION FOR THE ENTRYWAY
Welcome to the Spring 2020 One Room Challenge series. If you've new here on my blog, keep reading to see what the ORC is all about. This year it will be an 8 week challenge to design and implement the design into one space in my home. And I have chosen… (drumroll) …
the Entryway!
I'm excited to share this project with you. It has been great to feel a sense of accomplishment in the other three areas of my home that I have completed. It feels like progress. You can see them here:
Amazing Guest Bathroom Makeover (This one was featured on Today.com & Apartment Therapy)
Blue & Green Dining Room Reveal
Parisian Children's Room + Wall Mural
WHAT IS THE ONE ROOM CHALLENGE?
(Paraphrased from the OCR website): The One Room Challenge is an online design event that This bi-annual event showcases twenty designers/influencers vetted and selected by the ORC team. The first Wednesday of every April & October marks the start of another exciting season.
In addition to the Featured Designers posting on Wednesdays, everyone with an online presence is invited and welcome to join in the fun as a Guest Participant for 8 weeks. Each Wednesday and Thursday, the internet and social media are flooded with interior design inspiration, original ideas, encouragement, and motivation.
See amazing inspiration at the: ONE ROOM CHALLENGE BLOG
ORC MISSION STATEMENT

The One Room challenge™ will provide participants with a supportive, enthusiastic forum in which to share the process of transforming a room. The ORC is not a competition, but rather a celebration of creativity, inspiration, and original ideas. Welcome!
THE ENTRYWAY
Now that I've revealed the space I will be designing, let's talk about why. For one, the entry is the place you welcome guests. Whether it's the delivery guy or friends that dropped by, your guests enter through that door and it sets the tone for the home.
Is it inviting, warm, colorful, wild, traditional, monochromatic, minimalist? The style that you choose for your entry will be what your guests will expect to see throughout the rest of your home as well as the feeling they expect.
How you design and implement the decor will produce a feeling about your space. How does your space feel now? Is it how you want it to feel? Do you want something different?
Our entry is boring and builder. It has white walls, neutral vinyl flooring, traditional trim and a plain dark stained, wooden bench.
Currently, all of the world's shoes collect there, as well as books, toys, clothes, and anything else the kids drop there and never pick up. I want to solve the functional problem as well as create a space that matches the living room, dining room and eat in kitchen.
I wouldn't describe my house as having a warm feeling. In contrast, it has a bold, WOW feeling. I love using color in my own home. It creates excitement and the unexpected. I want you to walk into each room and be amazed by the colors, patterns and details.
And that will be the goal for our new entryway design.
INSPIRATION
I've collected a few inspiration photos that show how I want the entryway to feel and include elements that I love. For me, the black and white checkerboard floor is the classic entry flooring choice.
Also, because I love color and the wow factor, I want to wallpaper and have a colorful entry table. I'll likely include a mirror to bounce around light and reflect my favorite emerald green cane Thiabaut wallpaper that's in the dining room, which is right off of the entry to the left.
Another element of these spaces I love, is the painted front door. Currently, our front door is Naval, by Sherwin Williams, which happens to be the 2020 Color of the Year. We painted it Naval in 2015, so I'll go ahead and call myself a trend setter, haha kidding. See it here.
But above all else, the entryway space has to function for our family. Beautiful design is great, but if it doesn't function, it ultimately isn't successful. So for functionality, our shoes have to make their way to the coat closet, keys and sunglasses need a drop spot, a rug to wipe feet and invite guests, and a basket to corral all of the little things that will undoubtedly end up in the entry before they make their way back to where they belong.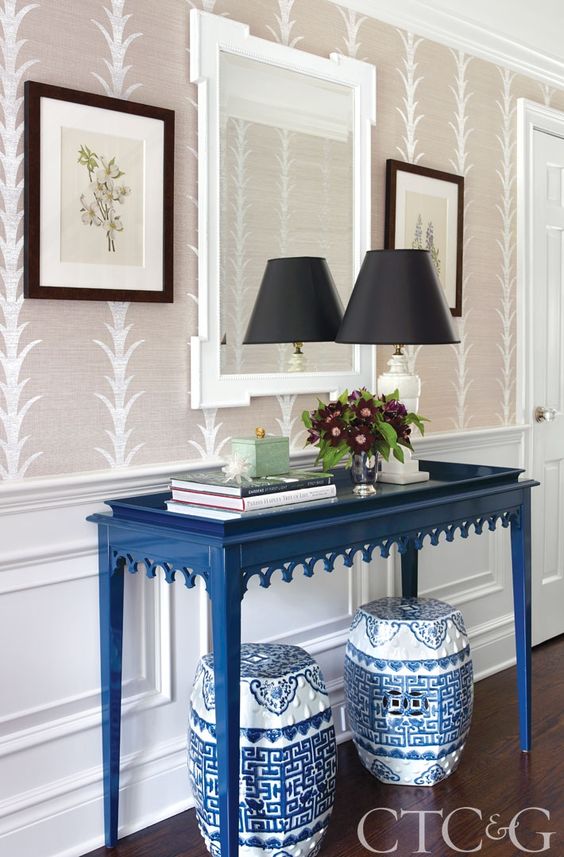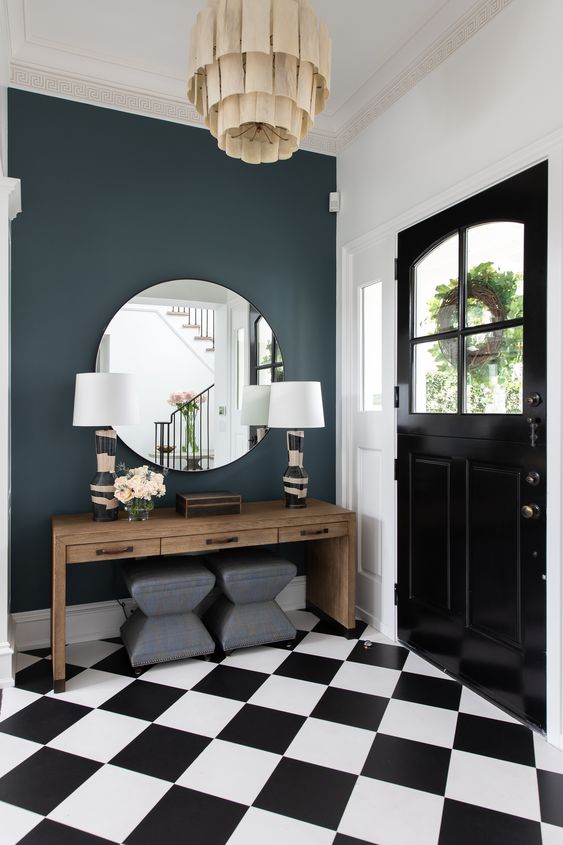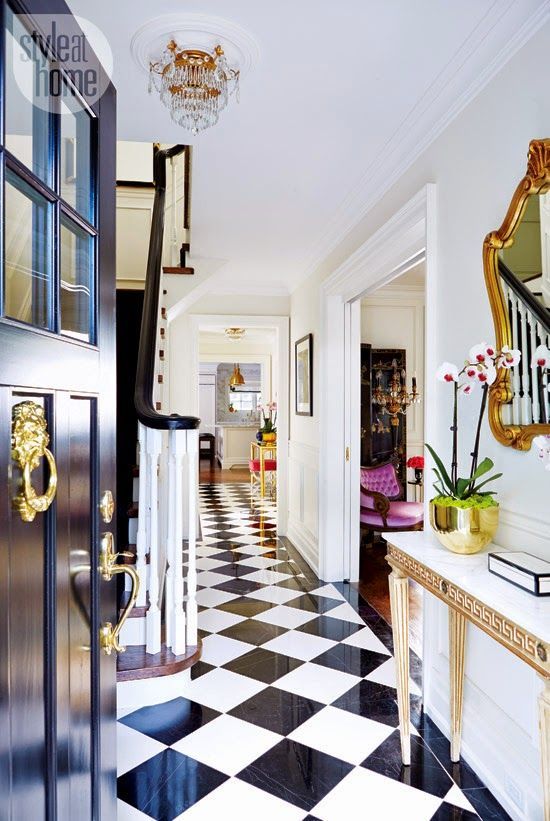 THE PLAN
Are you ready to see my plan for the 2020 Spring One Room Challenge entryway design? I need to create a functional, but beautiful space for our entry where we receive guests and come into our home daily.
I want it to feel energetic and colorful. And you know I love a WOW factor.

So I've come up with a plan to make a checkerboard floor, swooping crane wallpaper, an entry table to hold keys and sunglasses. I'll add a large mirror above and woven baskets below.
The inspiration board above I pulled together hits all of our wants and needs. I'm so excited to get started and share the process along the way.
Next up is the punch list that it will take to get this project accomplished in eight weeks.
THE TO-DO LIST
Paint walls white
paint trim
install wallpaper
paint front door
replace weather stripping
paint black and white checkerboard floor
purchase & assemble entry table
order mirror
install mirror
create shoe storage solution
create drop zone for keys
source artwork
install new door hardware
find entry rug
style the table
THE CURRENT
There's no other way to say it, our current entryway situation is a sad, sad situation. Eight years ago, it started out blank. Nothing on the walls or floors. While it was clear and minimal, we also didn't have kids yet who leave tornado trails of messes. And we also didn't have a single color or piece of art on the wall.
There wasn't a need for functionality, we didn't have a ton of stuff. Things evolved and we had kids. I added an entry bench to put shoes on and make a place to set down a diaper bag or purse. Then we added a show basket.
The shoe basket and bench do a great job of corralling shoes and coasts, but the area also collects junk, toys and too many pairs of shoes. It also has no decor value. It's not consistent with the living room and dining room, which are colorful and well stocked with decor pieces that represent our personality.
BEFORE
THE PROGRESS
Each week for the next 8 weeks, on Wednesday, I will post an update of the progress on my to-do list as well as any update photos. I'll share products that have come in, painting work completed, and any trials or obstacles I'll have to overcome in the project.
THE REVEAL
Last, but certainly not least, on June 24th the final reveal blog post will (hopefully!) go live with photos and all of the details of the finished entryway design! I am excited to share the journey and bring you along the way. My hope is that this will inspire you to knock out at least one room in your home and make it your own. Create that feeling of home, whatever that means to you.
Happy decorating!
Previous One Room Challenges: