I've joined the One Room Challenge to update our Guest Bathroom and we are on week two of six weeks to complete a room, which I will share DIY updates along the way, saving the big reveal for week six!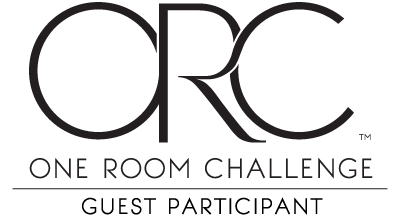 THE PROGRESS
Well as you can see, my to do list is as long as they come and I am on a short timeline to complete it all in a matter of weeks.
declutter & deep clean
remove all wall fixtures & cabinet doors
paint walls
paint baseboards
paint & seal vanity cabinet
degloss, sand, and prime floor
paint, stencil & seal floor
install mirror
install lighting
install new hardware
hang shower curtain
install towel hooks & style shelves
style counter
In case you missed it last week, here is the inspiration for the bathroom update. I am on a white and navy trend so I will be styling it accordingly. To save money, I am doing as many of the upgrades myself and for the few tasks I've never done, I will call in the help of one of the dad's (both my dad and F-I-L were builders/contractors).
I will try to video/tutorial all of the bits and pieces so that after the reveal, I can post the how-to's for you.
BEFORE
As a reminder, here is the before photo. BORING!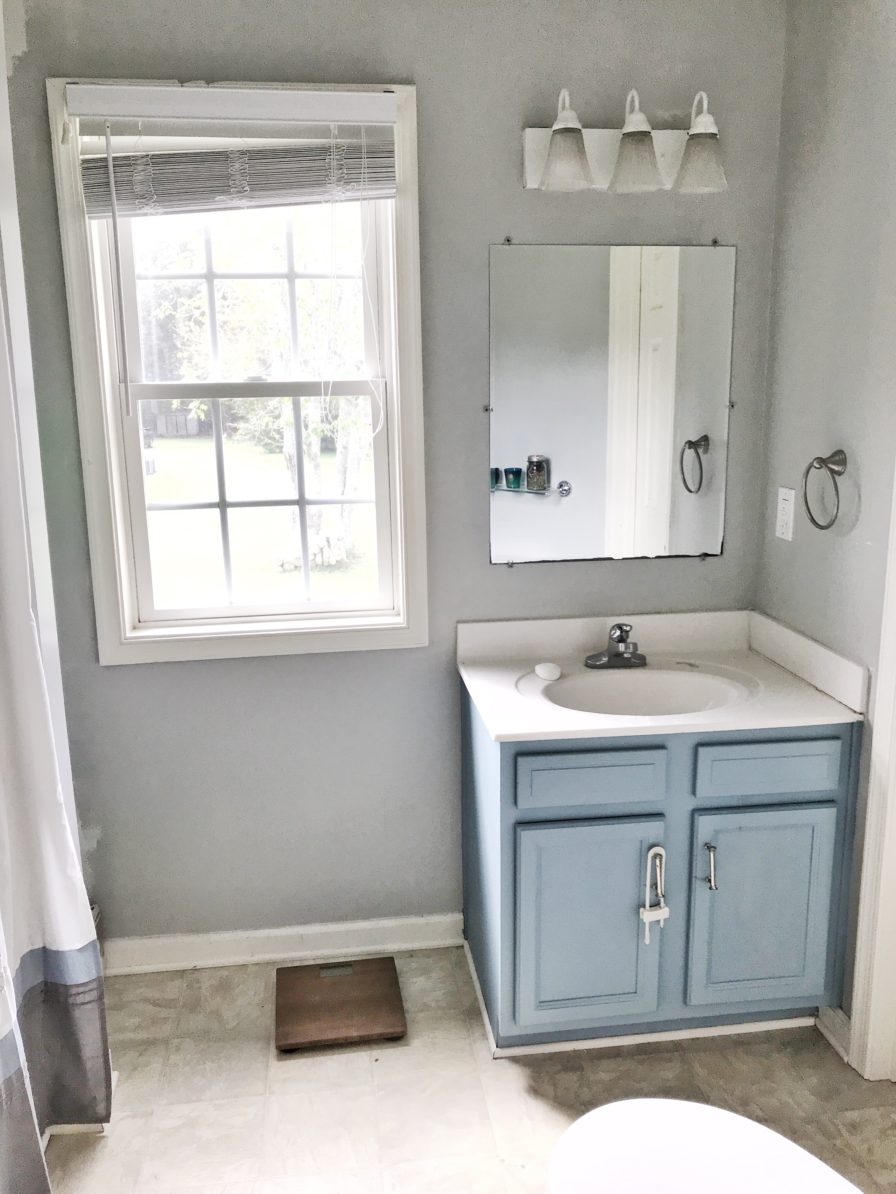 UPDATES
This week I checked off some of the cleaning and painting. Everything was prepped, cleaned, sanded and ready for paint. First coats have gone on. My helper had a little run in with the cabinet, but luckily we cleaned it up quite easily.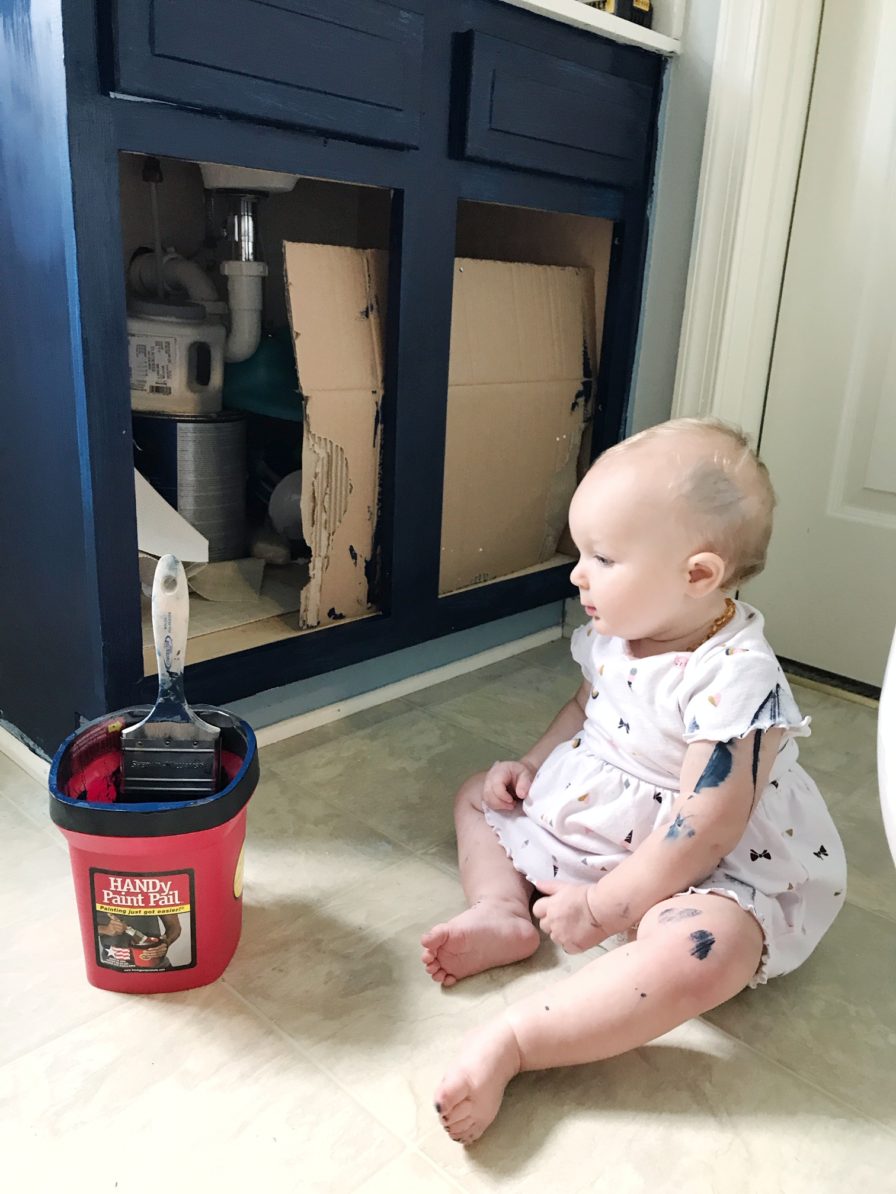 The shelving area is painted and I'm using it to hold supplies until I put the shelves back together and store the actual towels and guest bath toiletries.
Even though it is an awkward space it actually makes for great storage.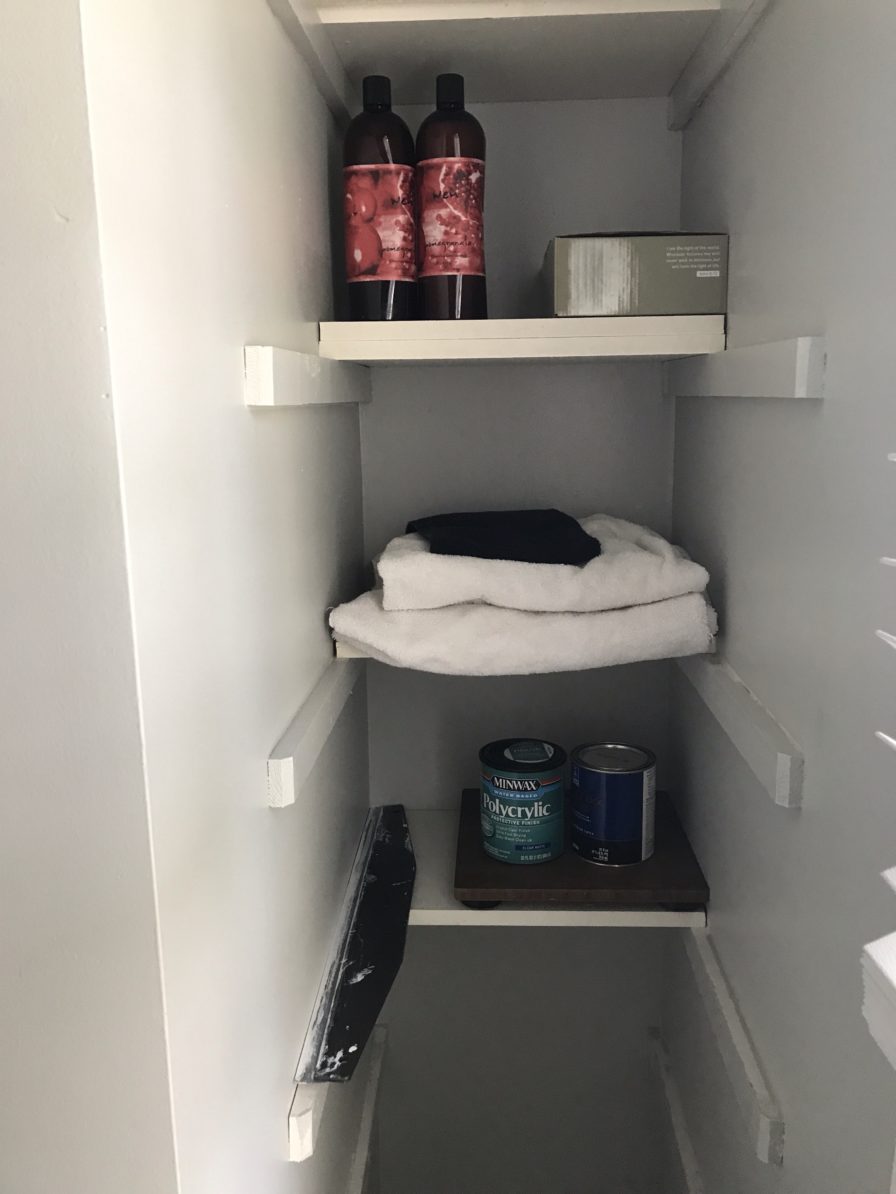 The second coat on the cabinets is dry and today I'll put on a third coat and seal them. I'll add hardware and put the doors back on.
I'm thrilled with the deep color. It's the perfect navy for this bathroom.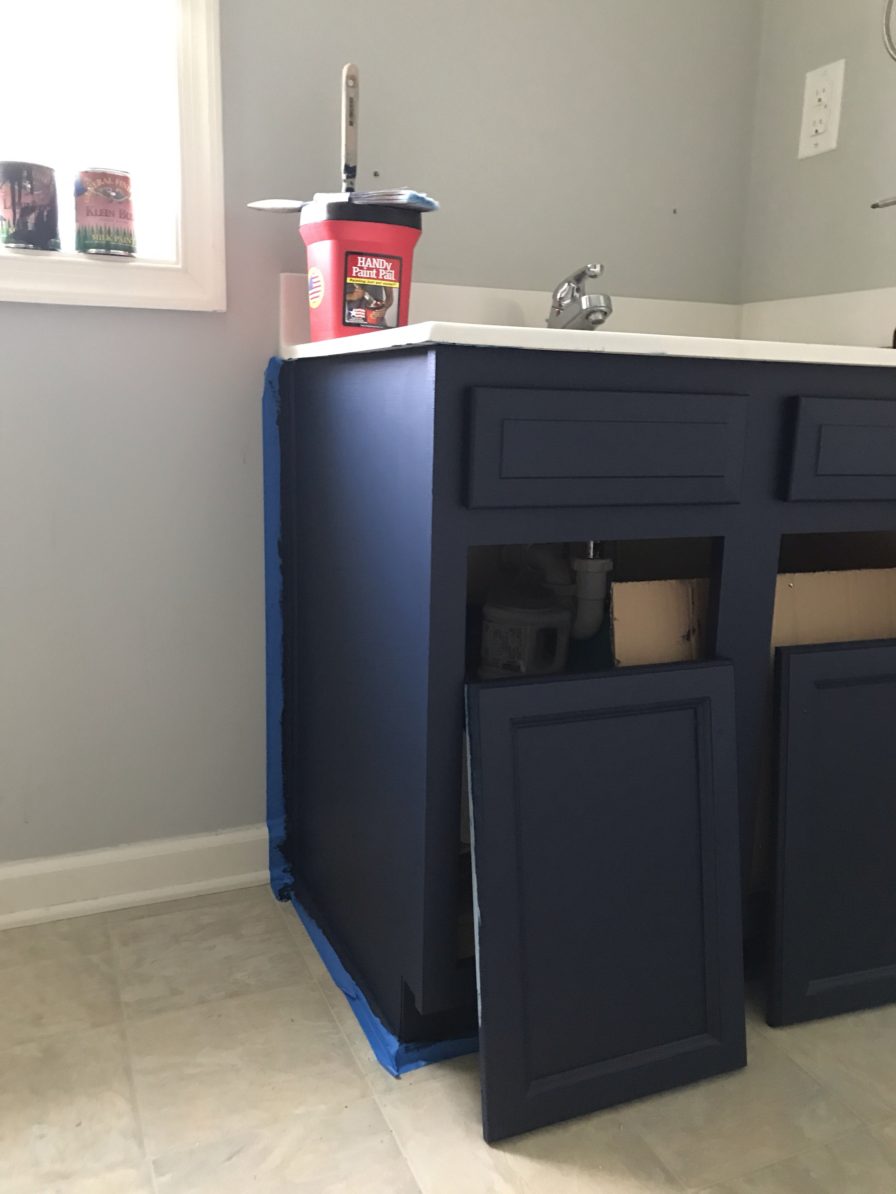 PAINTING TIPS
I really love using General Finishes Milk Paint for furniture. For the vanity, I was going for Navy Blue. The General Finishes paint goes on really smooth, dries quickly and holds up well. It can be hard to find a smooth paint on wood. A lot of times the grain will show as texture in a negative way.
As far as DIY'ing goes, General Finishes is the way to go. You can brush, roll, or spray the paint on.
Also, to help out my super ambitious One Room Challenge, HANDy Paint was kind enough to gift me painting supplies- paint pail, liners, rolling tray, handy tray and liners. A HUGE shout out to HANDY PAINT for the swag– Thanks!! They loaded me up with all I will need to complete this project and I must say I am ecstatic. Clean up will be a breeze. And we all know I struggle with the clean up part.
Alright, on to my painting tips:
Tape. Tape off the floor and walls. In these photos I haven't yet taped, but before getting close to the walls and floor, I taped with Scotch Blue Painters Tape.
Arm yourself with good supplies. See below.
Wooster Brush. Best. Can't beat it. I have a 2″ and a 3″ angled brush.
Handy Paint Pail with liners. Not only the perfect size for DIY projects, the clear liners make it easy to custom mix color and be able to see the color. And even better, they added a magnet to the inside top to hold the brush. GENIUS.
Thin, even coats of paint. Paint in the same direction with long strokes. Don't worry if it looks like it doesn't fully cover. By the third coat it should have full coverage with no problems.
Smooth out any blobs and drips right away.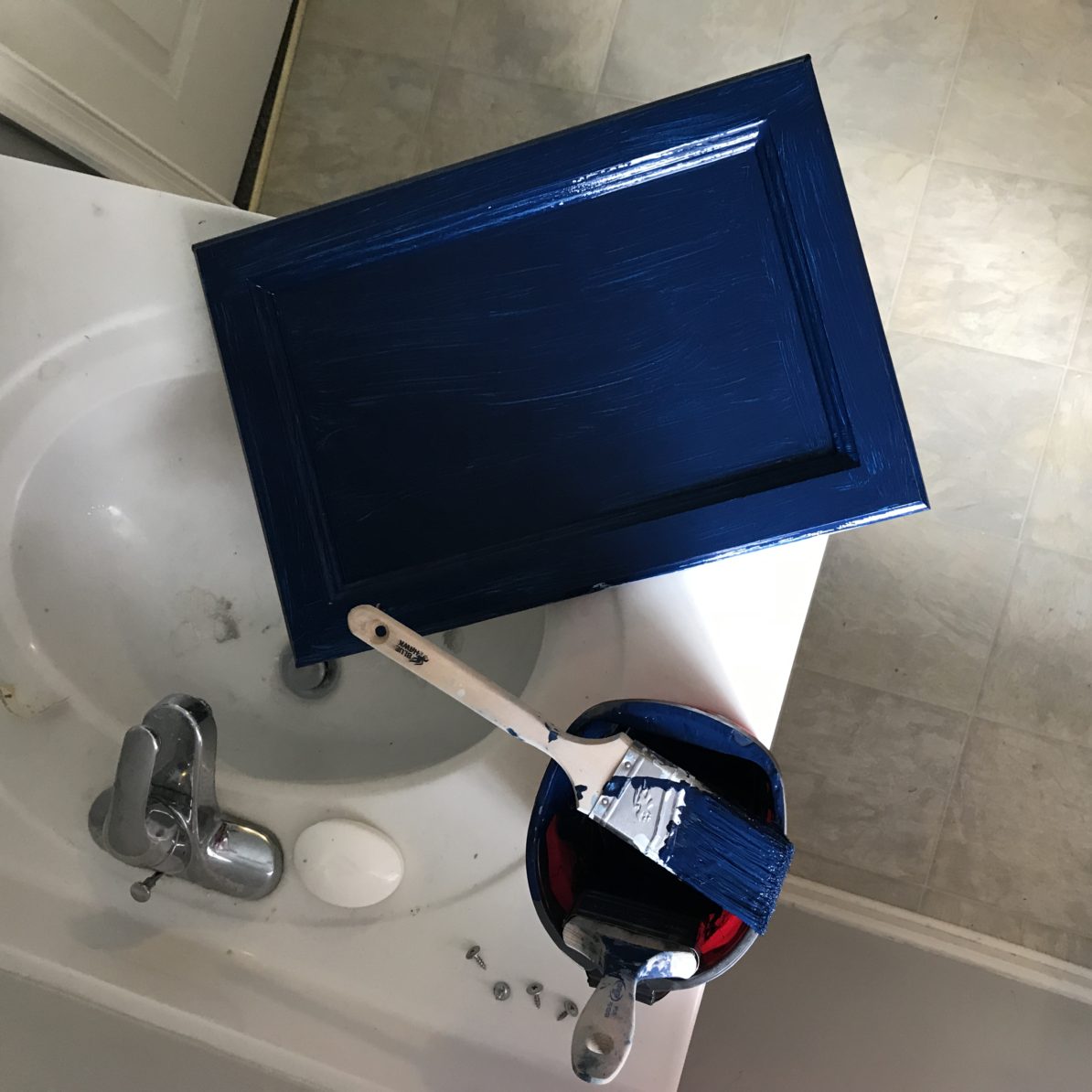 Come back next Wednesday for a progress post. This week I'm going to finish painting and caulking and hopefully hang some of the fixtures. Check out my Instagram Stories to see updates and some DIY tips along the way!
Check out progress from featured designers below, and don't miss out on the guest participants!