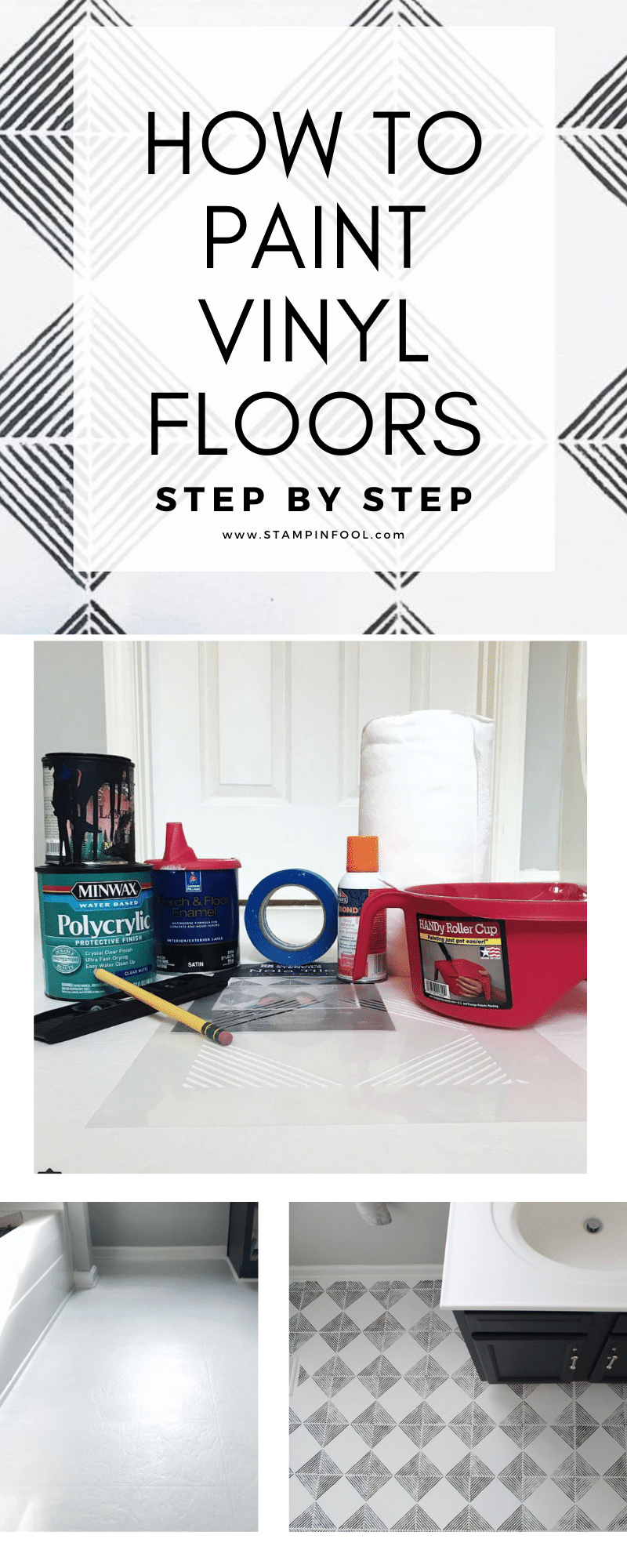 How to Paint Vinyl Floors in 2020
Step by Step Photos & Video + Troubleshooting: Guest Bathroom Update
Are you considering learning how to paint vinyl floors? Do you have builder grade flooring in your bathroom or laundry room like I do? Or are you blessed with 70's flooring that is wild in pattern and color and you are looking to tone it down. This may be the perfect budget friendly solution for you!
Painting vinyl floors is a cost effective way to update ugly or dated flooring without the cost of tile. While I think we can all agree that beautiful marble or patterned tile would be a dream, it's expensive and right now may not be the perfect time for an upgrade.
I'm with you- my dream bathroom has large marble tiles on the walls and small marble tile on the floor. Wake me up, I'm dreaming. My mind and my budget just don't live in the same place. And that's okay. 
Because this post was originally part of my One Room Challenge Update Series, there is a recap of all of the work that went into updating my guest bathroom. Feel free to read along or skip down to the tutorial if you're here to learn!
It's week four of the One Room Challenge and I have chosen to update our Guest Bathroom. I have six weeks to complete a room, which I will share DIY updates along the way, saving the big reveal for week six! #oneroomchallenge

As part of my bathroom makeover, I am painting and stenciling the bathroom floors as a cost effective alternative to tiling. Check out the inspiration and progress list; the tutorial for painting the floor will be at the bottom of the post!

Week 1 | Week 2 | Week 3 | Week 4 | Week 5 | Week 6

THE PROGRESS

I am starting to feel the pressure to get everything on the list done. Luckily, things are getting checked off the list. I added a few more small projects, including wallpapering behind the shelf and having a few more holes to patch than anticipated. 
I finally got the floors primed and I have a scheduled sitter for Friday to paint the stencil design. That should catch me up and only leave decorating and photo shooting, which I can handle. 

declutter & deep clean
remove all wall fixtures & cabinet doors
paint walls
paint baseboards
paint & seal vanity cabinet
degloss, sand, and prime floor
wallpaper behind open shelving*
paint, stencil & seal floor
patch holes in wall and repaint*
install mirror
install lighting
install new hardware
hang shower curtain
install towel hooks & style shelves
style counter

BEFORE

As a reminder, here are the before photos. I know the room isn't terrible, it's just terribly outdated and a little messy (you should see the hallway where said mess has been displaced to).

  

UPDATES

This weekend was Anthropologie's Anthro Day sale, so I headed to Richmond to see what they had. Luckily they had a great selection of towel hooks in the back and as always, they were more than happy to bring out a sampling of what they had and I picked through them. I chose these two brushed gold hooks with a mirror to mimic the round vanity mirror and pink glass for a touch of feminine in the bathroom. I like that they are different, but complement each other. I am ecstatic to hang them!!  

The floors are finally primed. As of last week I was starting to panic about the timeline. Six weeks is a short time to get everything done between waiting on ordered fixtures/furniture and finding the time to do the work yourself when you have a day job and kids in tow. On Saturday, my husband volunteered to watch the baby all day and my MIL took our five year old to the pumpkin patch. It freed me up to prime the floors and baseboards and start on the stenciling.

If you've been following along on Instagram, you saw the first steps of priming- cutting in, then rolling the floors with white porch paint primer.
TUTORIAL: HOW TO PAINT VINYL FLOORS + Photos & Video
SUPPLY LIST
Tile Stencil (I love Cutting Edge)
Stencil Paint (General Finishes Milk Paint)
Porch Primer
TSP or similar cleaner
Bucket, gloves, sponge & clean rag
Minwax Polycrylic Top Coat
Low Tack Painters Tape
Quality Paint Brush (Wooster)
3/8″ Nap Roller
5″ Dense Foam Roller (from Cutting Edge Stencils)
Paint Tray 
Paper Towels
Spray Adhesive (optional)
Cardboard or poster board
MOST HELPFUL VIDEO
I have provided two videos which I think give you the best directions for painting your vinyl floors. The first is great overview of how to properly roll the paint over the stencil. It discusses how much pressure to use and how to remove excess paint from the roller. 
If I have one piece of advice for you, it would be to make sure the roller is almost dry!
The second video show the actual tile stencil I used in this tutorial, although you may choose any stencil or pattern you like! 
An important note on this video, is that the actual process they use, stippling with a brush is not what lent me to the best results. I preferred rolling a firm 5″ roller brush. It was also quicker to roll than to stipple. 
Now that you have watched a few video's to prep yourself for painting your floors, it's time to round up your supplies and get started. 
STEP BY STEP: HOW TO PAINT VINYL FLOORS

STEP 1
Gather your supplies.
STEP 2
Clean the floors thoroughly with TSP. Follow the directions on the box. The general instructions will be to fill a bucket with warm water, mix in TSP and scrub the floors with a sponge. After scrubbing you will want to wash the floors with clean water.
Make sure you wear gloves and googles as TSP is a strong substance. 
STEP 3
Prime the Floor
It's time to prime the floor. This was by far the most satisfying part for me! It takes the ugly flooring and covers it with fresh, clean white!
Prime with Sherwin Williams Floor and Porch primer. This was highly recommended to me for making sure the floors stay durable and don't chip, bubble or peel. It is around $27 a can, but definitely worth the price. 
Tape off the cabinet, toilet, and door threshold. Start by cutting in the edges with an angled Wooster brush.
Now is a good time to freshen up baseboard paint and run a new bead of caulk around the tub and any trim gaps.
Next, roll the floor with primer, starting in the back corner and painting yourself out of the room.
After the recoat time has passed (consult the primer can, but likely around 4 hours), roll a second coat. After the second coat of primer dried on these floors there were a few sections that still looked slightly opaque. I added a third coat.
You will never regret adding a coat, you will however regret not doing it!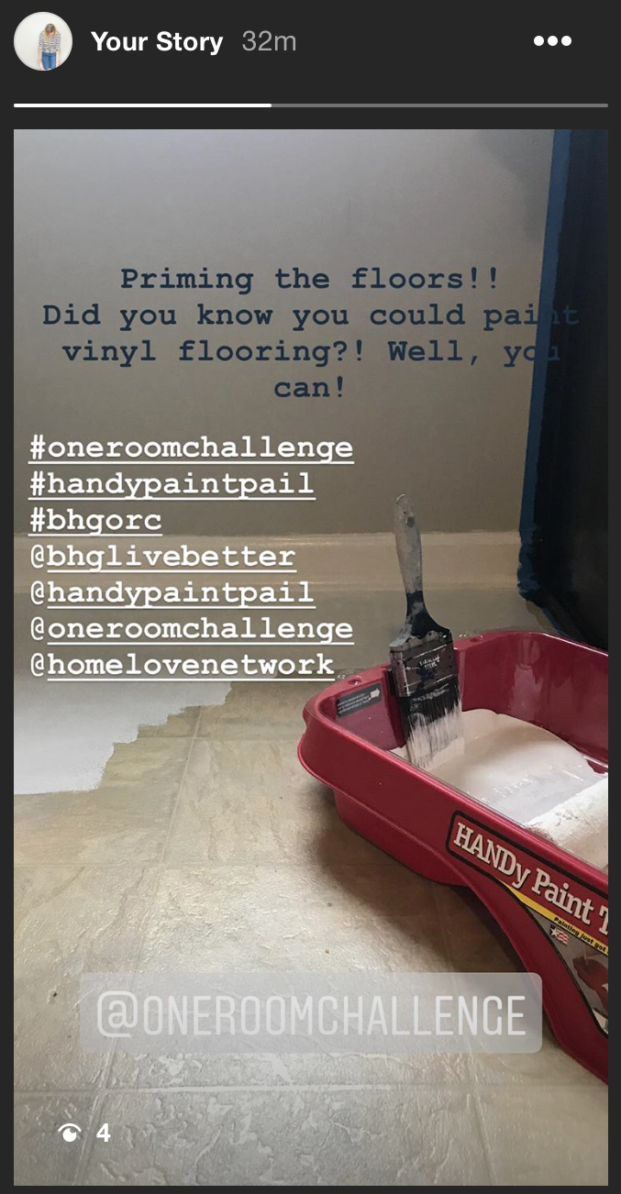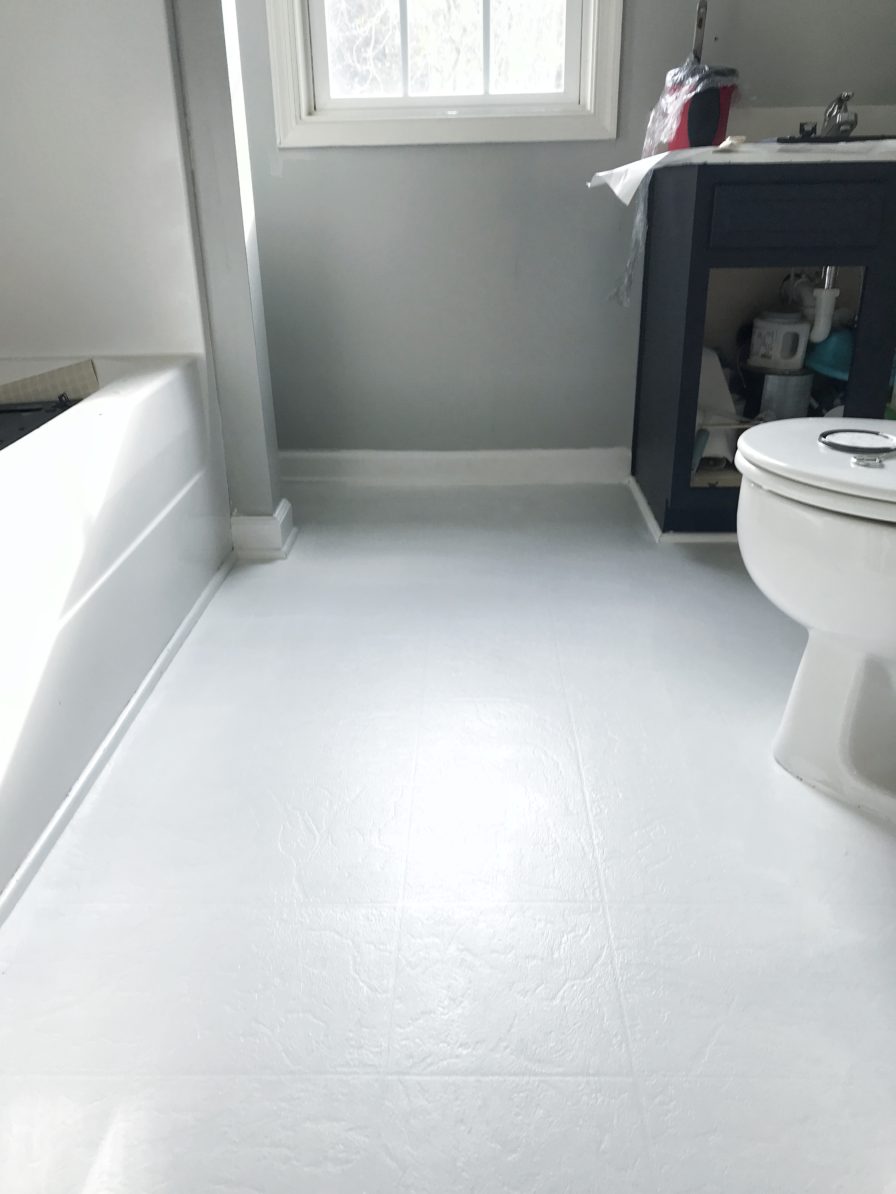 STEP 4 
HOW TO PAINT VINYL FLOORS
Stencil with General Finishes Milk Paint and a firm 5″ roller.
I also use the word "tile" and by this I mean vinyl square. The vinyl square size does not have to match the stencil size for it to look awesome!
I have done a ton of painting and General Finishes Milk Paint does a fantastic job with coverage and not showing brushstrokes or amateur painting mistakes. It is really forgiving. I just adore it. You can also now get it on Amazon which is awesome! (Disclosure* This is an Affiliate Link, but it won't cost you more!)
For the stenciling, I used Cutting Edge Stencils. I ordered the 8″ Nola pattern and a roller.
With the floor properly primed, spray the back of the stencil with removable spray adhesive to avoid pulling up any base coat paint.

Never mask over freshly dried paint – the tape will pull it up.
Mask off the baseboards, and those surfaces that will not be stenciled.
Burnish (rub down) the edge of the tape for a cleaner line with less paint seepage. Always remove your masking tape slowly, pulling it an an angle.

Position your stencil in a way that full tiles are in the most visible area and centered.

This will ensure the partial tiles hidden in the back and corners of the room. You may want to use a light colored chalk line or chalk pencil to give yourself a level starting line to follow so your rows stay square.

Stencil with a dense foam roller. Pour your stencil paint into a tray or plate and EVENLY load your dense foam roller by rolling it a few times back and forth through the poured paint.

You don't want a blotchy looking roller.
Once your stencil roller is evenly saturated with paint, off load the excess paint by rolling it a couple times on folded paper towels or poster board. This is the most important tip!
If the roller leaves stripy lines on the paper towels, reload the roller so it's evenly coated and then off load it again on your folded paper towels.
The roller should appear somewhat dry. It's always better to have less paint on your roller because too much paint can cause paint seepage under the stencil.

Start rolling and slowly build up paint coverage using light to medium pressure. Don't push too hard as this can cause paint bleed under the stencil. Roll over the entire stencil. You may need to reink your roller depending on the size of your stencil and the amount of paint needed to cover it. 
Carefully un-tape and pull back a corner of the tile stencil to see if your paint coverage is satisfactory.
Wait 30 seconds for the paint on the back of the stencil to dry. If you place the stencil down immediately for the next tile, the back of the stencil will leave paint seepage marks on the primer. 
Continue to the next tile by lining up the corner registration marks. Reload and off load the roller each time.
If you're stenciling over existing tiles, simply center the stencil on your next tile. 
Stencil as many full tiles as you can. When you have finished stenciling the full tiles, you will start on the perimeter. 


This is a time consuming part. You will bend the stencil up the wall or baseboard leaving the floor portion flush. If you find that you cannot get close enough or you are losing detail, cut the stencil to size.
You may want to purchase a second stencil for this purpose.
For toilets cut down your stencil. Start with the tile that surrounds the toilet.  Line it up the grout lines (aka strait lines of square beside) and let it fold up the toilet base. Cut right around the toilet to get the correct shape of the stencil.

Touch Ups. For me, it was easier to go back with a craft paintbrush or a Sharpie Paint Pen in white and black to touch up any areas that bled or looked to light or thin.

Sharpie now makes a water based paint pen which works perfect for this. 

You're doing great. You are in the home stretch!
STEP 5
After the stenciled paint is dry, you can seal the floors with Minwax Polycrylic Finish which can also be purchased at Sherwin Williams. I talked with the paint guys at SW and we discussed Polycrylic (water based) and Polyurethane sealers. I wanted a completely clear coat that won't discolor over time.
We tried samples of both on a paint chip at the store. The SW staff is truly remarkable! As a side note, if you ever have questions, never hesitate to ask them. They are experts.
Because Polyurethane has a slight amber tint, we agreed it was best to go with the Polycrylic because it is completely clear. With 2-3 coats it should hold up as well as it's oil based counterpart.
To seal: Cut in the edges like you did with the primer and roll on the rest.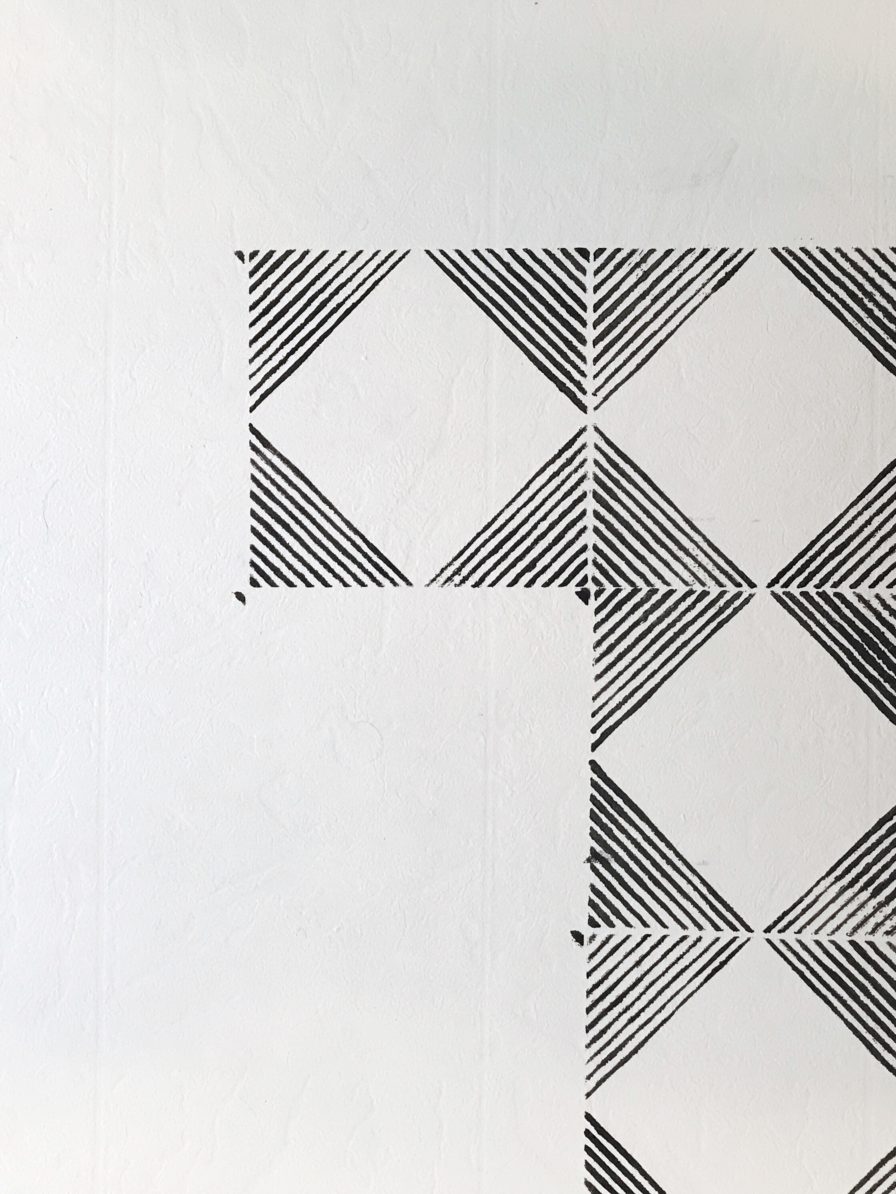 DIY GUIDE: TIPS & TROUBLESHOOTING
Have the proper supplies: a large rolling tray for priming with a liner from Handy Paint was a lifesaver. I used a liner in a paint cup for the stencil paint color.

To help out my super ambitious One Room Challenge, HANDy Paint was kind enough to gift me painting supplies- paint pail, liners, rolling tray, handy tray and liners. A HUGE shout out to HANDY PAINT for the swag– Thanks!! They loaded me up with all I will need to complete this project and I must say I am ecstatic. Clean up will be a breeze. And we all know I struggle with the clean up part.  

Do thin layers and wait for them to dry. Stenciling will inherently have a stenciled look- not completely filled in- a hand painted appearance. Use a little bit of paint at a time. Go back for more layers after it dries. Touch up any bleeding with your primer.
Use a

dense firm roller

instead of a fluffy roller. The firmer the roller the less paint it will hold, meaning it won't bleed and won't take forever to dry. 
Roll off excess paint. If I could only give one tip, it would be to offload that excess paint onto paper towels or cardboard.

You will think it's dry enough and it won't be. It will seep. 
You'll think it's too dry and it will paint perfectly. 
So practice, practice, practice on poster board & you will start to feel the right amount of pressure and know how many times to roll off paint to get the perfect stencil.

To move along quicker, buy two identical stencils and work on every other block.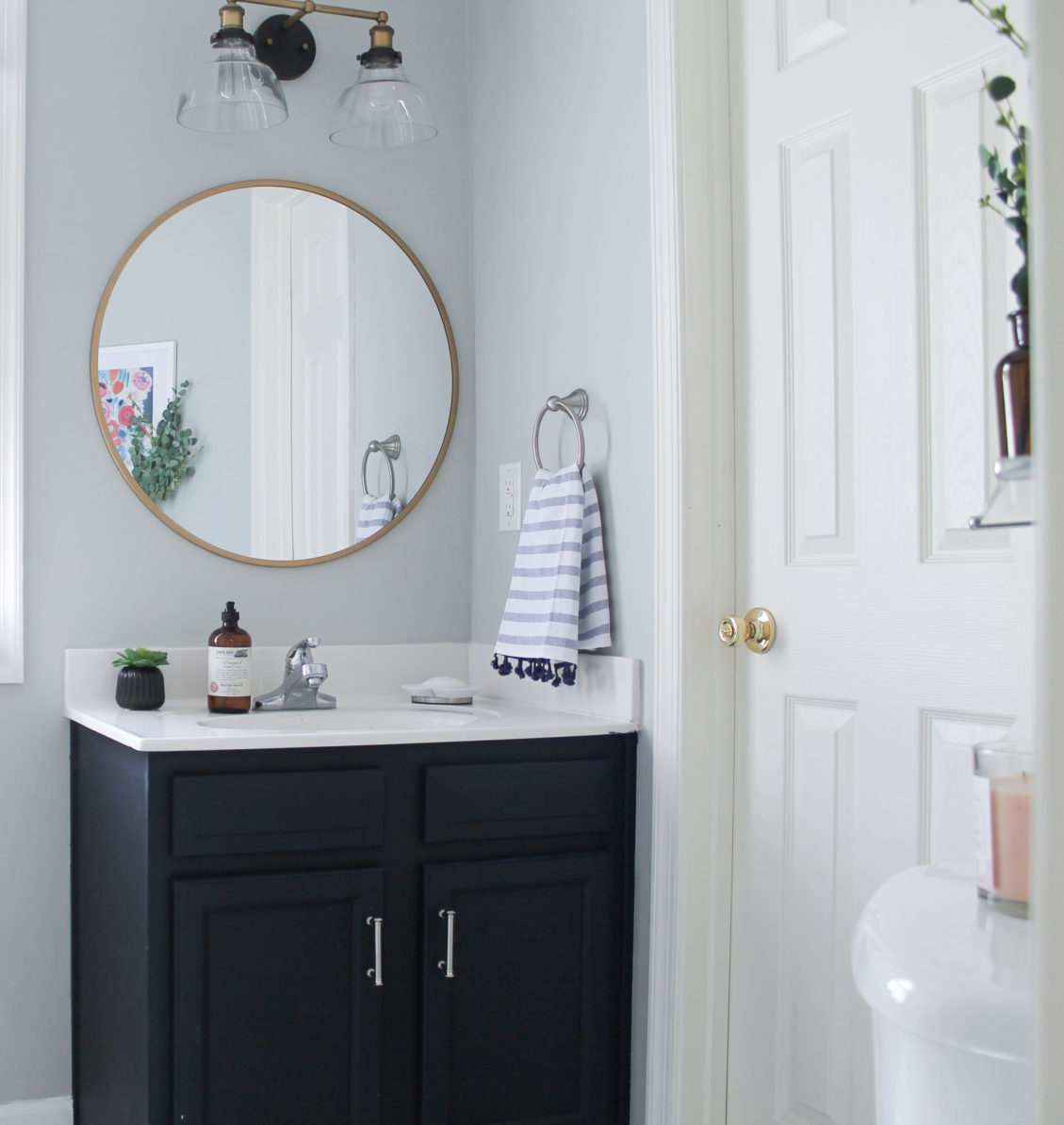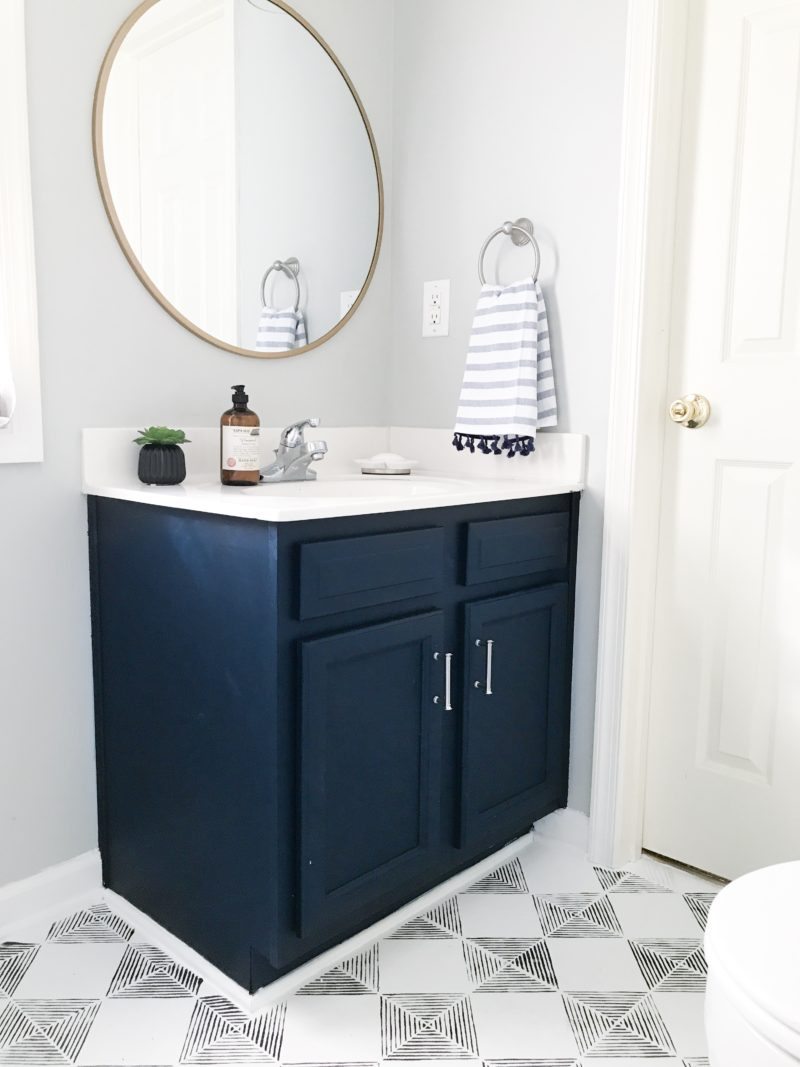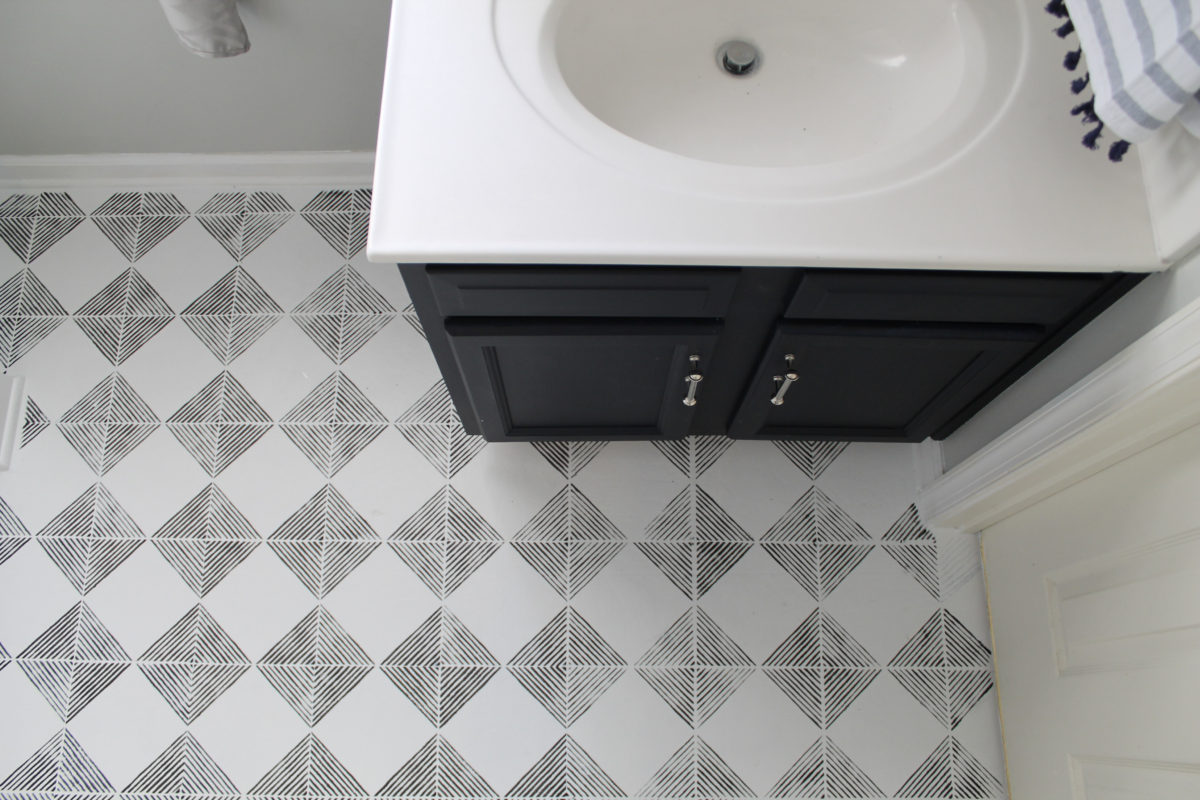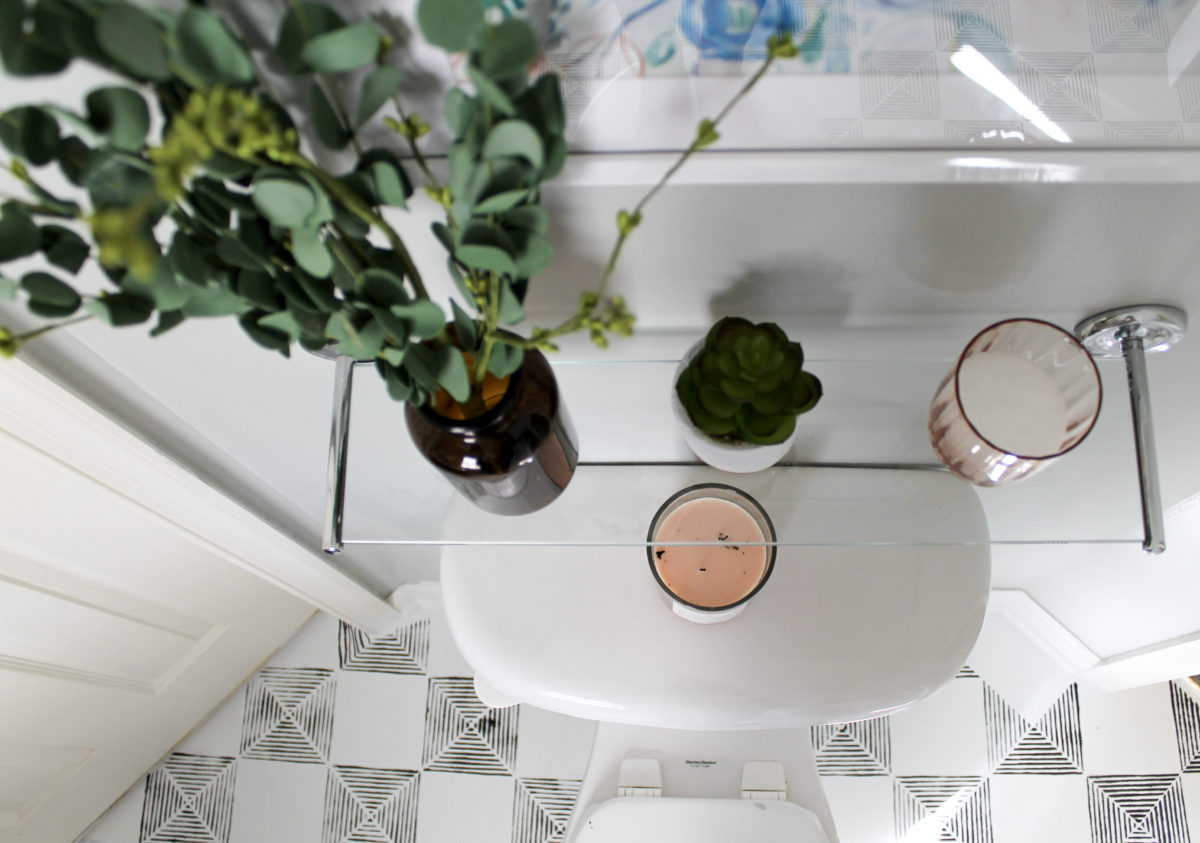 Love it, Pin it!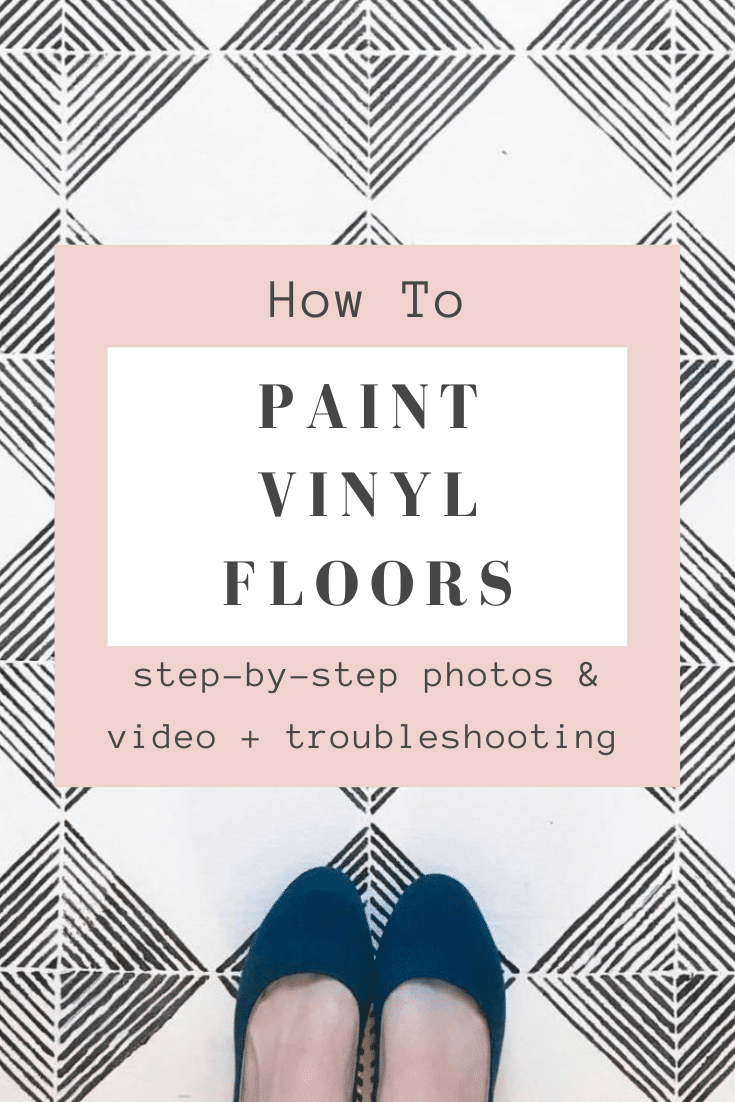 SaveSave
SaveSave
SaveSave
SaveSave
SaveSave
SaveSave
SaveSave
SaveSave