Get the Look: TRANSITIONAL BEDROOM DESIGN
Modern transitional bedroom design: pull it together with these must have pieces from a rug to bed, lamps and curtains.
This post contains affiliate links- meaning when you purchase through the link and I receive a small commission. It feeds my Starbucks addiction & for that I thank you! You can see my full disclosure policy here.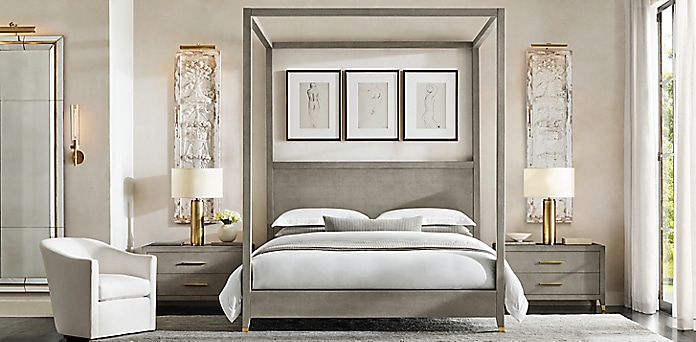 What is transitional style Home Design or decor?
Transitional homes are classic with a contemporary twist. They have elements of both traditional and modern styles to create a balance between both worlds.
You'll find a sophisticated, elegant design that is comfortable, has mostly clean lines, neutral colors, and warmth. Mixed in are some traditional pieces of furniture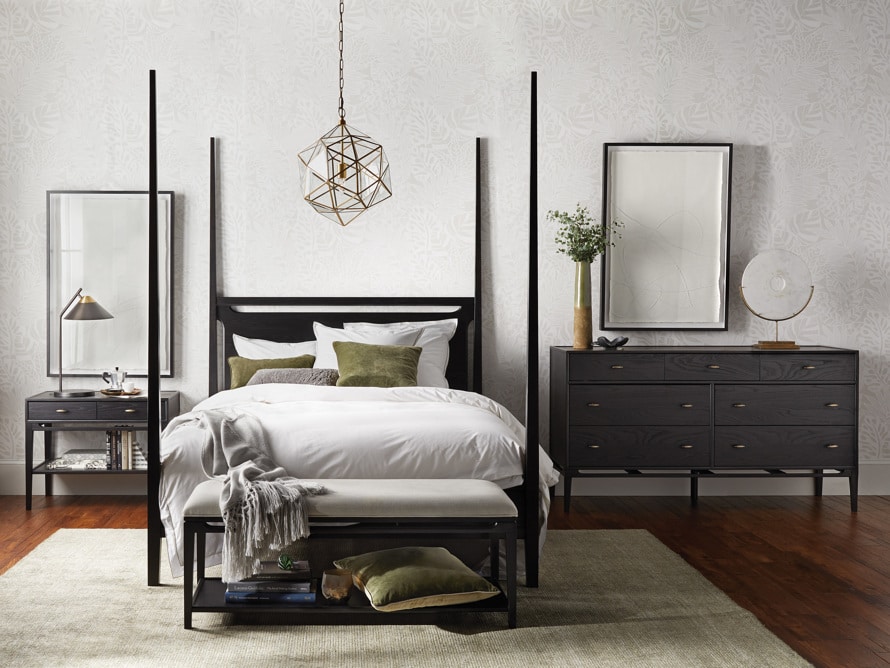 What is the difference between traditional and transitional style?
When I think of traditional, I think of old, heavy, curvy carved dark wood furniture and thick swooping curtains with lace. While traditional can certainly be done in a updated, fun way (in fact that's what I do for a living) the sound of it brings back immediate old world feels.
Transitional on the other hand, takes the best of those elements- real wood, moody colors, large pieces of furniture and refreshed them with cleaner lines, straight velvet drapery panels hung a the ceiling, modern chandeliers and plush neutral rugs.
Space plan your bedroom
Every project starts with space planning. So head over to a floor planner like the one at Ballard Designs or Furnitureland South online and put in the dimensions of your room.
Start with a large rug, 8×10 or 9×12 turned sideways (opposite of what you think). Then add your bed frame. You can play around with nightstand sizes to fine the largest fit for your room.
Next plan out the dresser or clothing storage. Add a laundry basket, desk or reading chair and you have your basic floor plan.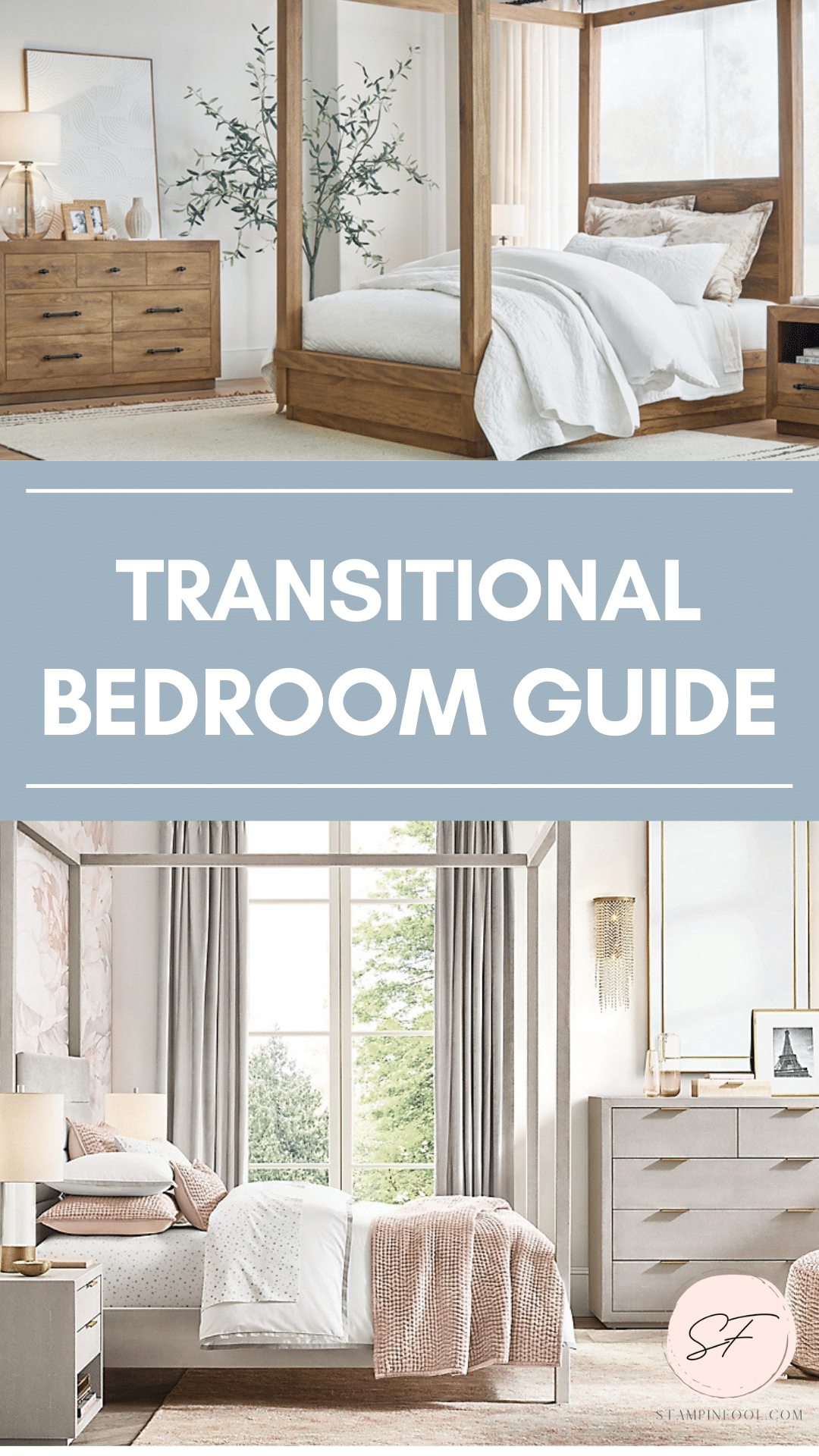 what furniture you'll need to pull it off
Here are the furnishings you'll need to make a transitional bedroom design happen, plus a few extras if you have a substantial room.
Bed
Rug
2 nightstands
2 table lamps
Dresser
Floor lamp
Chandelier
Curtain hardware + curtain panels
Bedding + pillows
Large Artwork
Laundry hamper
Desk + chair
Long ottoman or bench
Club chair
Side table
Full length mirror
Wallpaper or paint color
what size rug do I need?
For a Queen size bed, you will need an 8'x 10′ rug turned so that the long end is perpendicular to the bedframe (i.e. the long side starts in front of the nightstand, runs under the bed, and comes out in front of the entire the second nightstand).
For a King size bed, the rug should be 9′ x 12′ and also turned perpendicular to the bed.
For smaller beds, like twin beds in a child's room or guest suite, use an 8′ x 10′ rug.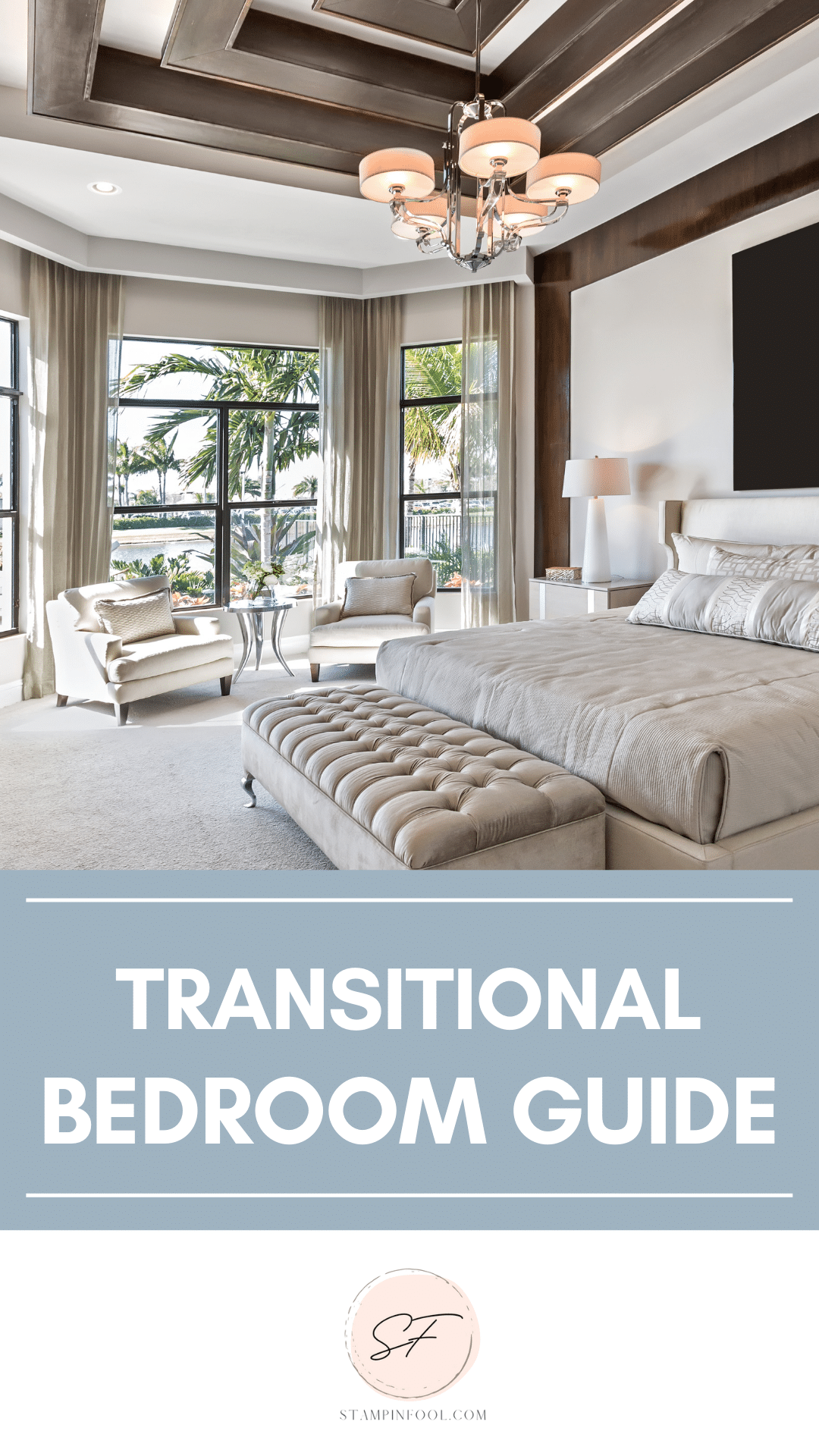 how to hang curtains
You will want to make sure you have adequate curtains, so if you are looking for light control, go with blackouts. If light doesn't bother you, you can opt for a polyester blend curtain panel.
Drapery hardware should be hung at the ceiling in an 8′ room.
For 9′ ceilings, hang rods half way between the crown and window trim. Then for 10′ ceilings, you can start them about 12″ from the ceiling.
For cathedral ceilings or anything taller than 10′, we typically hang curtains right under the crown so that they are from floor to ceiling for a wow factor.
Choosing the right nightstand size for your Transitional Bedroom
I have an entire post on selecting the proper nightstand size, so check it out here. But bigger is usually better.
Bedside Lamps should be BIG
Just like your nightstand size, your lamp should be big. I like big lamps and I cannot lie. Enough fun- opt for a 30″ tall nightstand lamp.
Use this post on nightstand lamps to help guide you.
Pillows
Don't overlook the bedding! To start, choose a solid sheet set, duvet insert and duvet cover + coverlet. Add in 4 king pillow shams, 3 Euro shams, 2 – 20″ x 20″ pillows and a bolster to finish the look.
Read more: How to Style a King Bed Like a Pro
Bench or Chair?
If you have the space in your transitional bedroom, you'll want to add a bench to the foot of the bed for a finished look (or to collect piles of laundry (gasp).
Adding an upholstered piece to a room of solid wood furniture gives the room something soft and comfortable looking. It helps fill that large void between the wall or fireplace and the bed.
Icing on the Ceiling
My famous last words are, "this room needs a chandelier"! Even if you don't have high ceilings, at least upgrade to a wide flush mount fixture to give the room a custom feel.
If you have 10′ ceilings, you have at least 18″ – 24″ of chandelier length to play with to get that designer look in your transitional bedroom.
Don't forget the Mirror
And last, but not least- don't forget about a floor length mirror which can be leaned or hung on the wall. It's nice to try on outfits, give yourself one last quick look before running out the door, and to bounce around natural light in the room.
The rule here is the larger the room, the larger the mirror. So go bold and go beautiful!
Are you ready to see the designer pieces I've chosen for a transitional bedroom look?
TRANSITIONAL BEDROOM DESIGN Guide