PINK CHRISTMAS TREES TO LIVEN UP YOUR CHRISTMAS DECOR
Here are the best pink Christmas Trees of 2022, available now to order online in time for Christmas. If you want to add a little bit of fun to your Christmas traditions a pink tree may be in your future.
While green Christmas trees are traditional and classic, if you love pink or have a love of maximalist home decor, you can't go wrong with a pink tree.
A pink tree is bright and shiny & sure to catch the eye of any guest you have. In fact, I just bought one to put in my daughter's room or upstairs in the window. We went with the 6′ foot light pink christmas tree this time around, but maybe hot pink tree is in our future.
I can't wait for it to arrive next week; I know the kids will be so excited by the surprise pink tree. And for this one, they will be able to decorate it with as many tacky or handmade ornaments as they want!
Where to buy An Artificial pink Christmas tree
The most frequently asked question I get about holiday decor is where to buy a pink Christmas tree? And while you are sometimes lucky enough to run across one in a store, online is the way to go to ensure your pink dream comes true.
For those one if a kind unicorns, I would check Big Lots, Michael's and Target. You may just get lucky. You can also save a trip by calling your local store and asking them to check inventory as to whether they have the artificial tree you are looking for.
As for buying a pink Christmas tree online, here are the top retailers that have good availability (links below in this post). You can check the status- in store, available to ship to store in X days or arriving on Sept 23rd, etc.
Wayfair
Home Depot
Overstock
Amazon
Lowes
Target
Lastly, my best advice is to buy it early, as in October, because christmas trees sell out very quickly and you'll be left with a small or bare tree if you wait until the last minute.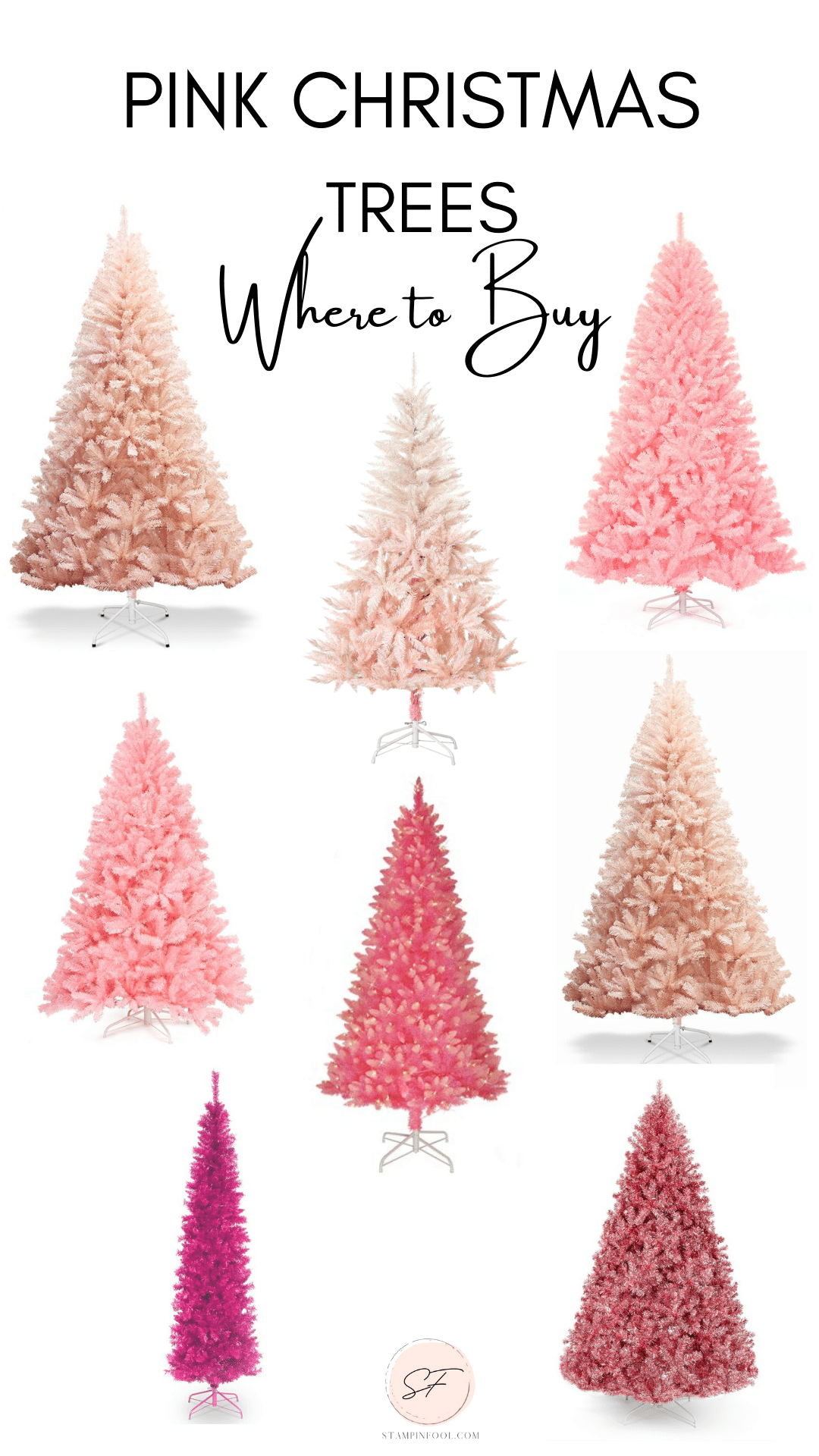 Best Pink Christmas trees online
I've searched high and low for pink Christmas trees available this year in 2021. We sourced mostly from Wayfair, Home Depot and Amazon.
You'll want to load up on christmas lights to really make the tree shine and bling. Watch a YouTube video on how to best string your lights, but I typically use 6+ strands and go back and then to the front of each branch or every other branch.
This gives it a full shiny look from the deep interior to the outermost parts of the tree. Once you add ornaments, the tree will glimmer and look so full! Perfect to bring holiday cheer to any room.
Here are the good ones with nice branch orientation that with fluffing will look full:
how to decorate a pink Christmas tree + Ornament ideas for a pink xmas tree
There are so many ways you can take a pink tree and make it festive. These are the top ways to decorate a pink tree I came up with:
Lilly Pulitzer themed tree
Candy colors- pastel purples, blues, greens
Pink and Black
Gold and pink
Green and pink
All white ornaments
Silver and Gold
Peppermint stripes – red and white
Shiny brights
Feathers and mesh ribbon
Snowflakes
Blue and white (coastal with a twist)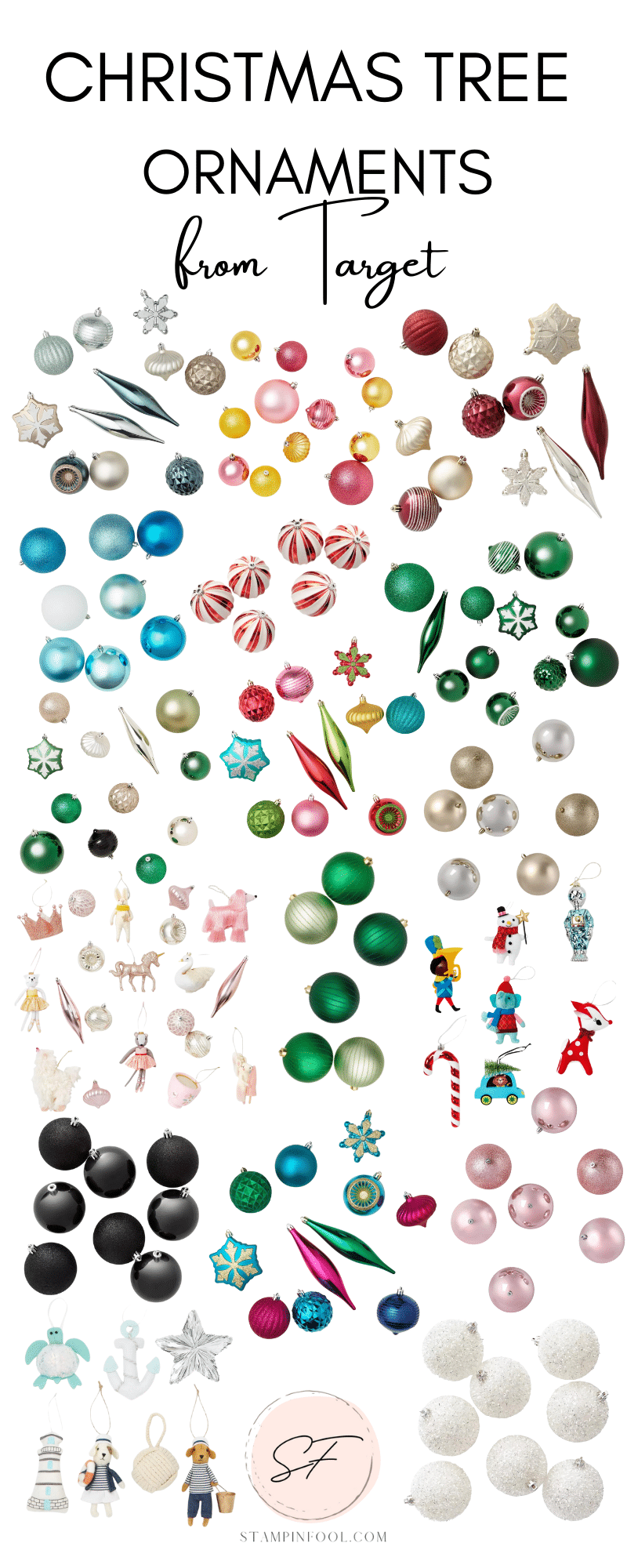 Have I convinced you that you need a pink christmas tree yet? Even if you aren't ready to commit to a full size 9′ tree, a 3′ or 4′ tabletop tree could be a fun addition to any room during the holiday season.
ornaments for a pink Christmas tree
I like to get my ornaments in bulk, from Target. They last a long time, the size is decent and you can't beat the price. So here are my tops pics for Target ornaments for your new pink christmas tree.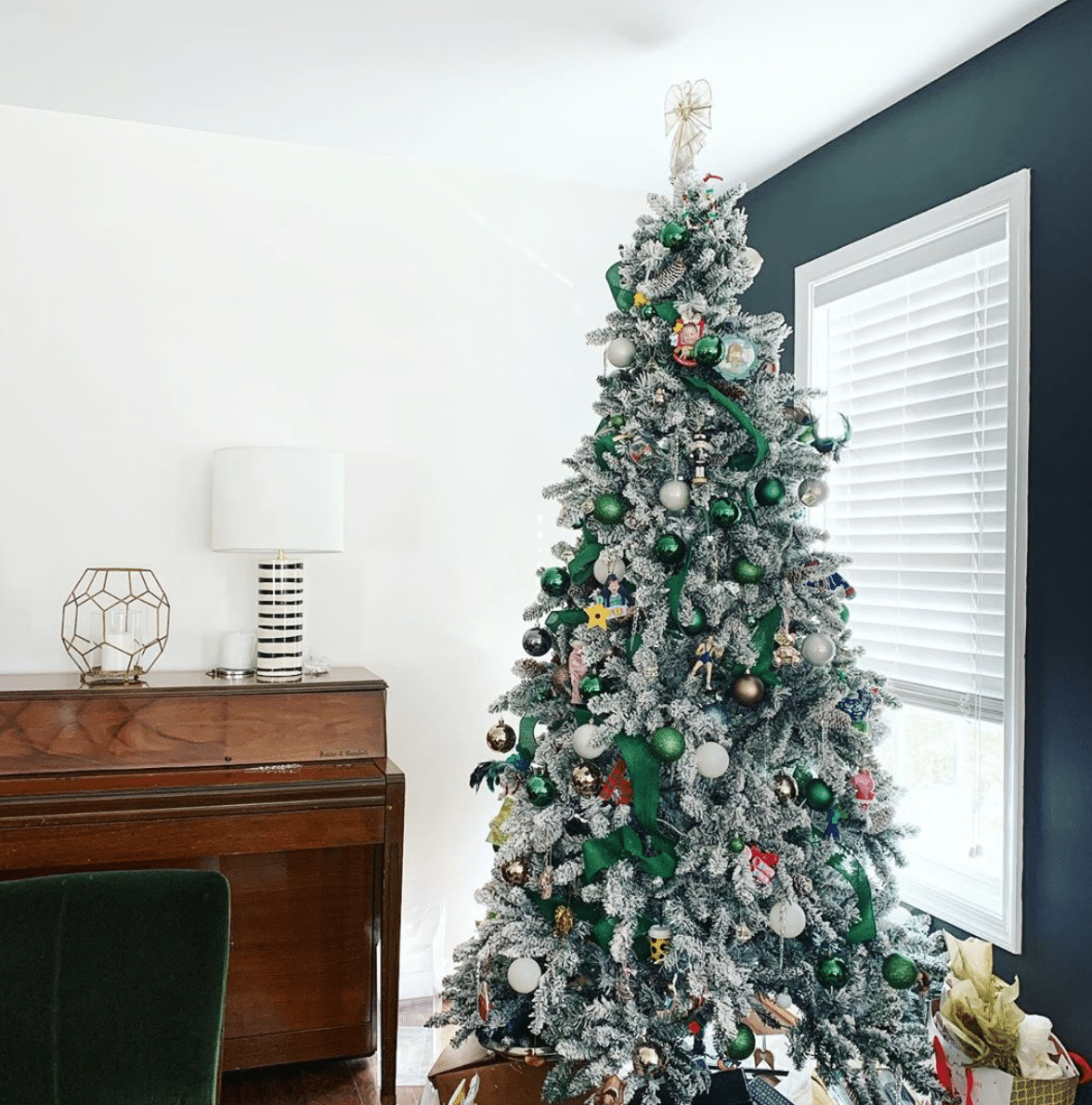 Alternative to Pink Christmas Tree:
The White Christmas Tree & Flocked Christmas Trees
If you've made it this far, but you aren't convinced that a pink christmas tree is in the cards for you, consider a white, flocked tree.
A few years ago there was a live Christmas tree shortage. Long story short, the crops were mostly wiped out and we were too late in the game to find one large enough and not sickly looking.
So, we were left scrambling for an artificial christmas tree along with everyone else in our city of 100,000 residents. As you can imagine almost everything was sold out. Lowes and Home Depot were out of everything.
We headed to Walmart, next door to the hardware stores, and most of the artificial trees were sold out there as well. But, there was a flocked tree left and honestly it didn't look too bad.
I was surprised it was still available, but I think most people want green christmas trees. We get this flocked, pre-lit tree home and it turns out to be perfect for your style.
It's full and fluffy, well lit and has natural pinecones to add to the outdoorsy look. You can see how we decorate it last year with emerald green and gold ornaments.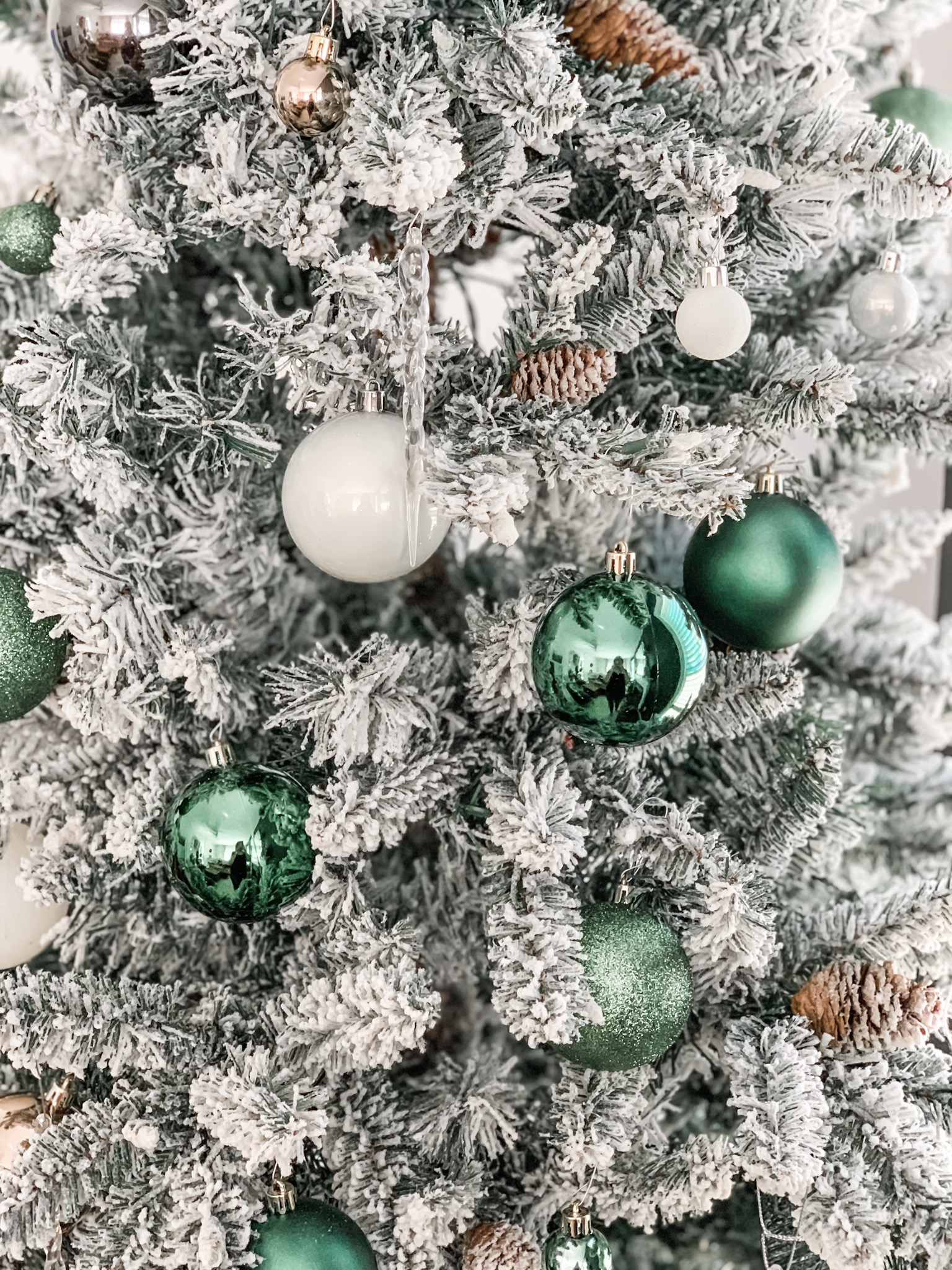 The white, flocked Christmas tree is a great alternative to these wild pink trees! Here is a selection of white trees for your holiday decor.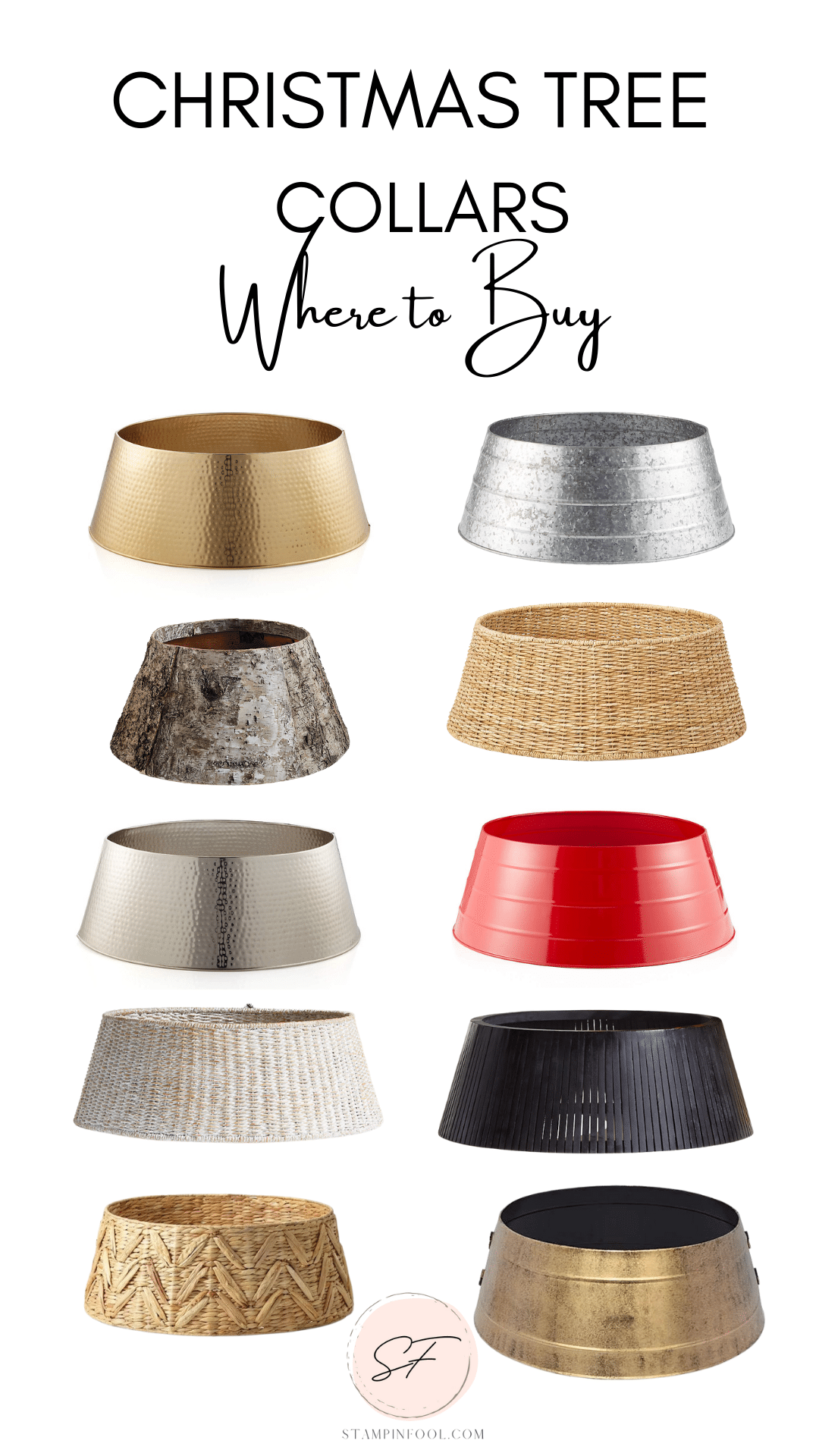 Christmas Tree Collar FOR PINK TREES OR ANY TREE
Once you have selected your Christmas tree this year, you will need a collar to wrap around the stand. The Christmas tree collar is a decorative band that conceals the ugly metal tree stand.
There are various types of tree collars ranging from hammered metal to woven to wood boxes. More modern christmas tree collars are galvanized or made of dowels. Regardless of your style preference, you're bound to find something you love below.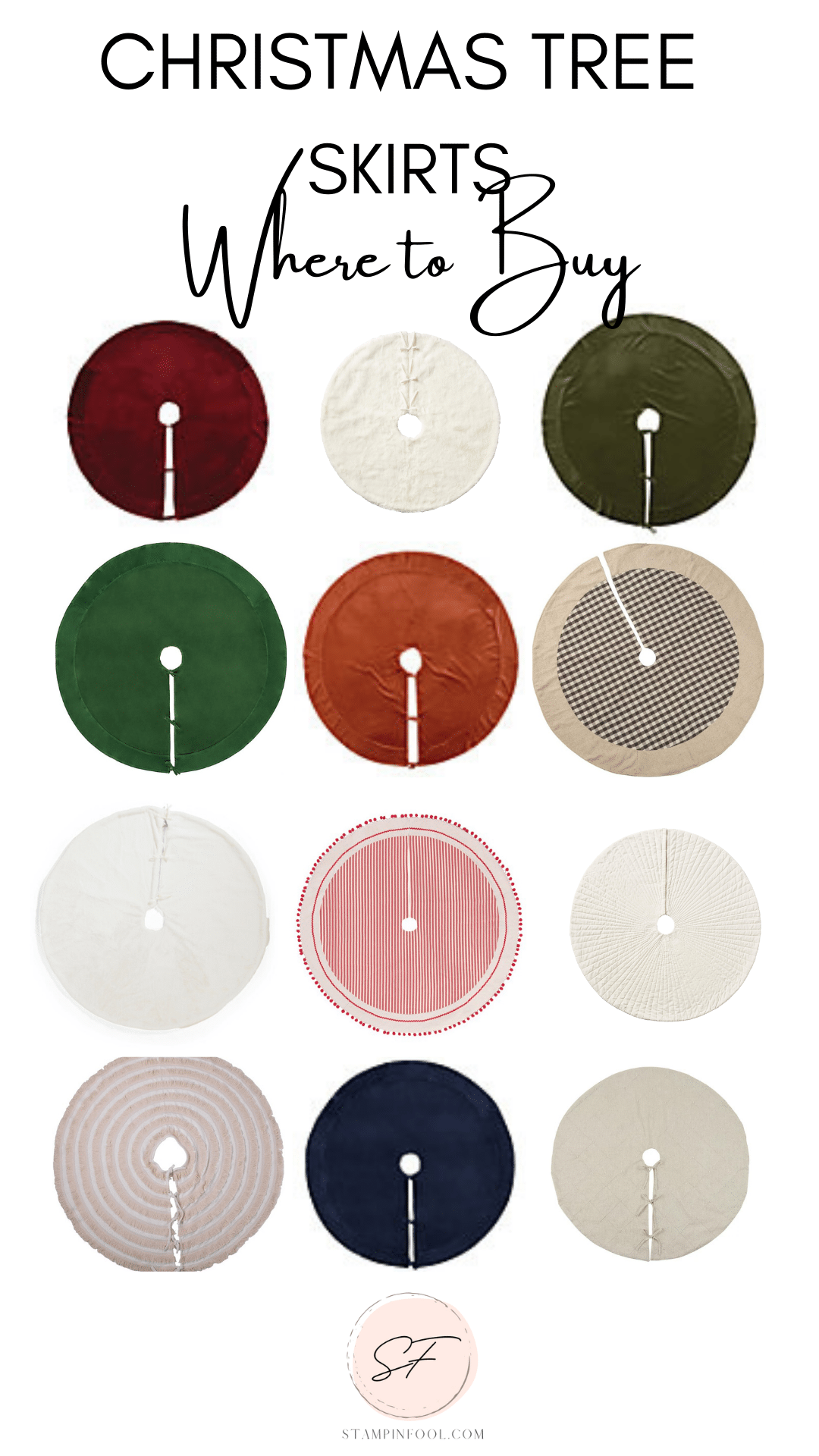 Christmas Tree Skirt
After you have picked out the perfect Christmas tree and a coordinating tree collar, you need a christmas tree skirt to place around the base of the tree to soften the look and corral the presents.
Most tree skirts are about 50″ in diameter, making them 25″ around all sides. You can order larger, custom skirts as well.
I have found a really broad selection of custom made tree skirts on Etsy. They aren't listed in the photos below, but I will link them here for you.
CONCLUSION ON PINK CHRISTMAS TREES FOR HOLIDAY DECOR
Artificial pink Christmas trees are a great way to add a pop of color or wild vibe to your christmas decor.
Make sure you buy plenty of christmas lights
Don't forget the tree collar
Buy a coordinating tree skirt
Mix and match ornaments for a color theme
Use smaller trees for kids rooms or accent decor
If a pink tree is too wild, try a white flocked Christmas tree
Buy early because Christmas trees sell out fast!
Happy shopping! I can't wait to see how you decorate your tree. Tell me your color scheme in the comments.