The Prettiest Emerald Green and White Christmas Tree Decor
Are you ready to be blown away by this gorgeous green and white Christmas tree? It's official Christmas Tree season which makes me the happiest girl in the world. Typically, I bug my family for weeks before they finally cave in to let me put up the Christmas tree. Likewise, this year was no different.
The Tree Saga
Before I go into the details of the green Christmas tree decorations, I'll give you a little backstory. Two years ago there was a live Christmas tree shortage. I'm not kidding. A family member of ours hosts a Christmas tree lot on their farm each year, so the story come straight from them. The Christmas tree crop didn't do well. Most were wiped out or didn't grow into large, hearty trees. I can't recall if it was harsh weather or disease, but there was a widespread shortage.
Consequently, the local nurseries and Christmas tree lots didn't have any decent trees. By the time we waited for the perfect real tree and came up empty handed, it was the beginning of December. We had to buy a tree, so an artificial it was. As a family, we set out to a few stores to find the right one. When we finally arrived at Walmart, they were practically sold out. All of the large, full, lifelike green Christmas trees were backordered until after Christmas. It was too late to order any type of tree online and have it up long enough to be worth the cost. We had to find a tree available in store.
Finally, we saw this one, lone white flocked tree. There was one box left. I liked it, the flocking was pretty and if I couldn't have a real tree, I wanted to have something unique. My 5 year old son was devastated. He was first disappointed that it wasn't real. And to add insult to injury, we couldn't even find a green tree.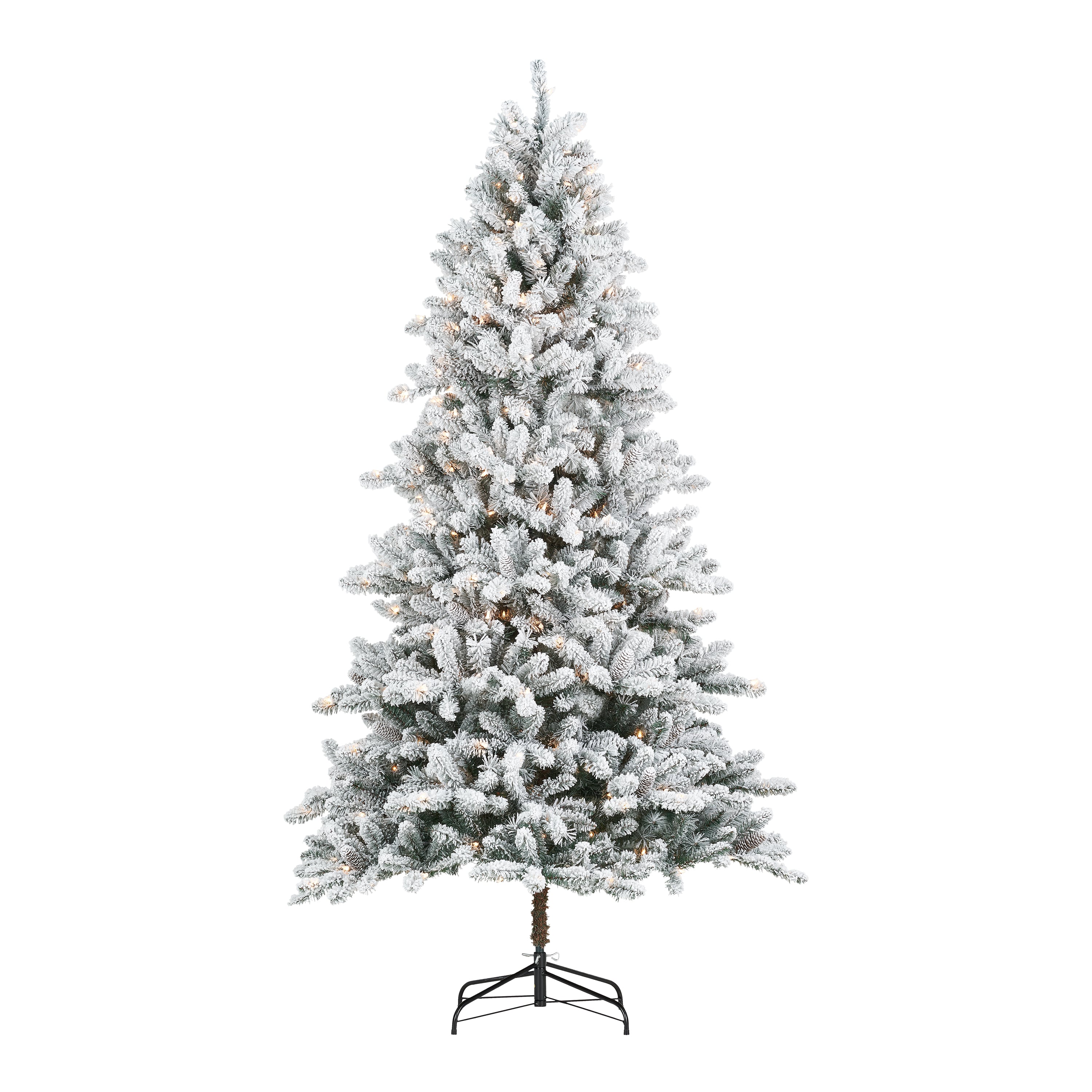 The Tree
But, as a parent, you know you have to make the final call. We agreed this Holiday Time Pre-Lit Birmingham Fir Pre-Shaped Christmas Tree, 7.5′, white flocked tree would be the tree for us and that next year we would go back to buying real trees from a local lot or farm.
Fast forward 3 Christmases and we are still putting up this beautiful, white flocked tree as our primary Christmas tree. It's beautiful. It was such a risk and at a decent price point, you never know what you are going to get. This sweet tree is perfect for our family and it looks great no matter how you decorate it.
About the Tree
From Walmart, this tree is 7.5′ tall and write flocked. It is a faux Birmingham firm with thick branches that have multiple stems on each. It comes together in three parts which drop down on top of each other with a twist. It's sturdy on the base, but light enough to move around and turn to find the best side. Three prelit strands plug into each other, including a plug for a tree topper. The bottom lighting string plugs into the wall.
The tree is adorned with pine cones disbursed throughout for a natural look. You can watch the time lapse video I've put together for you, showing how it goes up in three parts. You'll also see how little time it takes to pull down the branches and fluff them out for a nice, full looking Christmas tree. Coming in around $150, this tree can hold it's own against it's more expensive counterparts.
What to Buy
No that we talked about where to buy the tree (Walmart), I will show you the ornaments and decorations I added to get the beautiful emerald green and white Christmas tree look. My first stop was for ornaments.
I wanted a large set of shatterproof ornaments (because of the kids). In order for the color scheme to show, you will need a lot the same color ornaments concentrated in an area. I opted for two boxes of 50 count Green ornaments from Target's Holiday Shop.
Likewise, they also sell a glass ornament set in the same color scheme, if you prefer glass ornaments. Looking at the set, I knew I would use the shiny and matte green ornaments as well as the bronze and white. The silver and bright green don't fit with the scheme, so I skipped those to let the kids decorate their own mini tree. Two packages of these was sufficient for the 7.5′ tree.

Green and White round ornaments
Mini green ornaments
Long green ornaments
Clear gems
Thick (2″+) green wired ribbon
Where to Buy Emerald Green and White Christmas Tree Decor
Next, is where to buy ornaments and tree decor. Target really has the market cornered on this one. Usually, you can find comparable items at other big box stores or online specialty stores. This is one of those times when Target does it really well. The color selections they have are well paired. So if you want to replicate this tree decor, head to target to Grab their selection.
For some unique individual ornaments, the stores below are my go to. If I am looking for a specific style or shape, I will order directly from their website. However, if I want to add a unique ornament, but only have a color or theme in mind, I will head to the store because you will get a much broader selection in store.
How to Decorate an Emerald Green and White Christmas Tree
Since you have purchased the supplies needed to decorate your green and white tree, let's get started with directions on how to decorate from the top down.
Ribbon

Cut 12 -15″ strips of wired ribbon. Loosely fold them and tuck them in between branches. Moving down, and over a few branches each time you add another strip of ribbon for a cascading look.

Green ornaments

Starting with green ornaments, add them to the tree starting at the top working your way down. Spread them out 12″ apart. Alternate between finishes- shiny and matte, as well as shapes.

White ornaments

Next, add white ornaments in between the green ornaments.

Bronze ornaments

You'll add a few bronze ornaments last to warm up the color scheme just a bit. Adding 2-3 on each section (top, middle, bottom) is enough.

Mini Ornaments

Now that you have placed all of the full size ornaments on the tree, it's time to add the mini ornaments. These 1″ baubles are perfect for adding a little touch of color or filling in a branch that looks bare.

Icicle ornaments

Place icicle ornaments near the ends of branches. I like a lot, so my preference is to place 10-15 on the tips of branches showing from the front.

Clear gems

Go back and add in clear gems to fill in any gaps.

Unique ornaments

Lastly, add any sentimental or unique family ornaments to the tree. This includes the tree topper and garland as well.
Guidelines
If you are struggling to know how many ornaments to add, while I don't count, it usually works out this way:
Top

: 4-5 items (large, small and icicles included) across a row of branches on the front side

Middle

: 7-8 items across each row

Bottom

: 15-20 items across each row
These ornaments aren't lined up in rows, but you can count across the photos below and this is how many you will see. Take a step back and if it looks bare, add more. If there's no white (or green) space left, take off a few from each section.
I work in 3's. Grab 3 ornaments at a time and place them staggered on the tree, starting at the top.
Are you ready to see the rest of the photos?
The Tour: The Prettiest Emerald Green and White Christmas Tree Decor
I want to include more photos of the green and white Christmas Tree for you as well so that you can see how well it complements the living room. When I was brainstorming tree ideas this year, I really wanted to pick up on the green velvet chairs. They add color and personality to the room and I wanted the tree to do the same.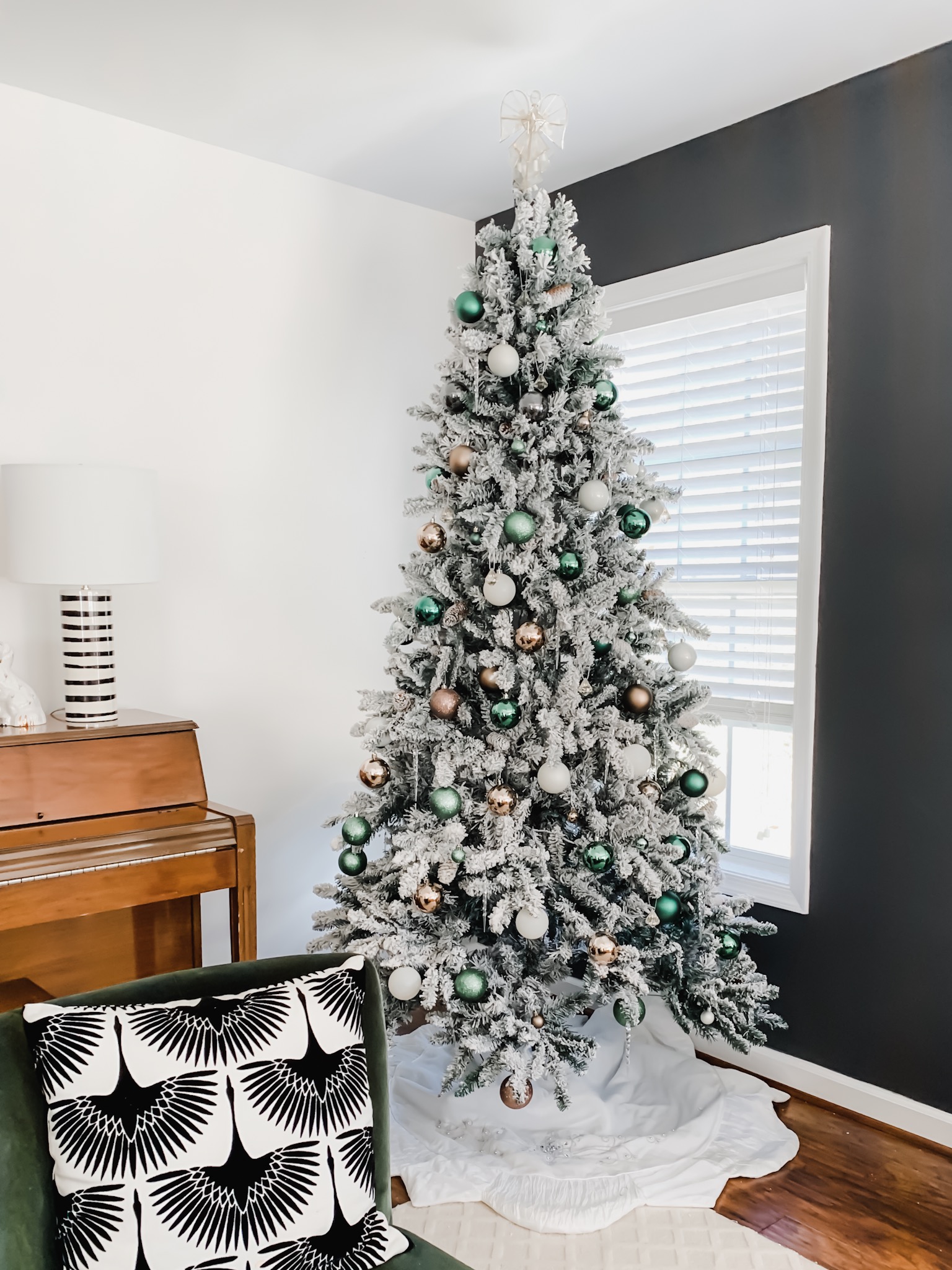 Living Room Tour
I couldn't leave out a photo with our fireplace cheetah. He's probably the most unique decor piece I've ever bought. When I first saw it, I knew it would be perfect next to the fireplace regardless of the other decor in the room.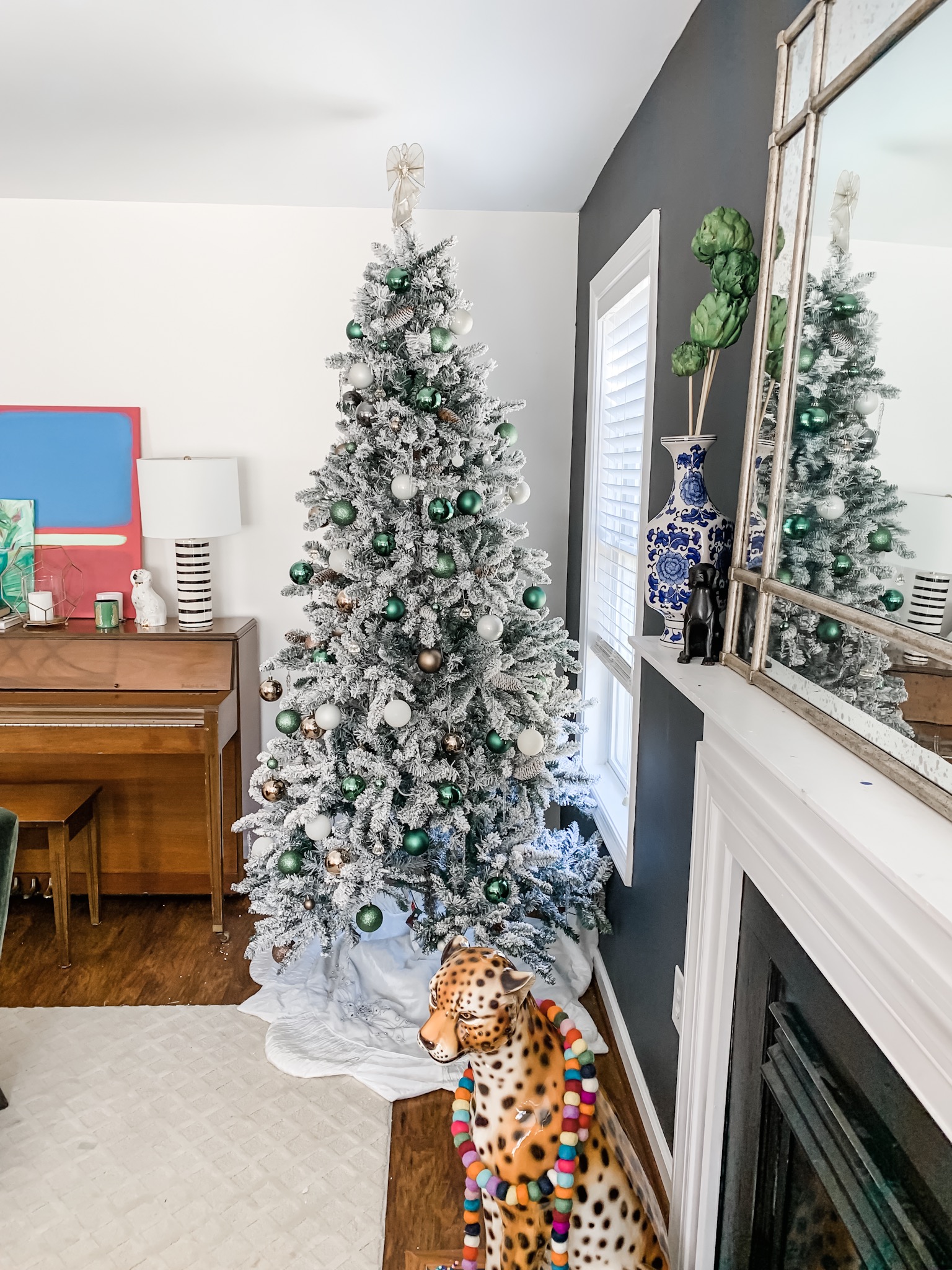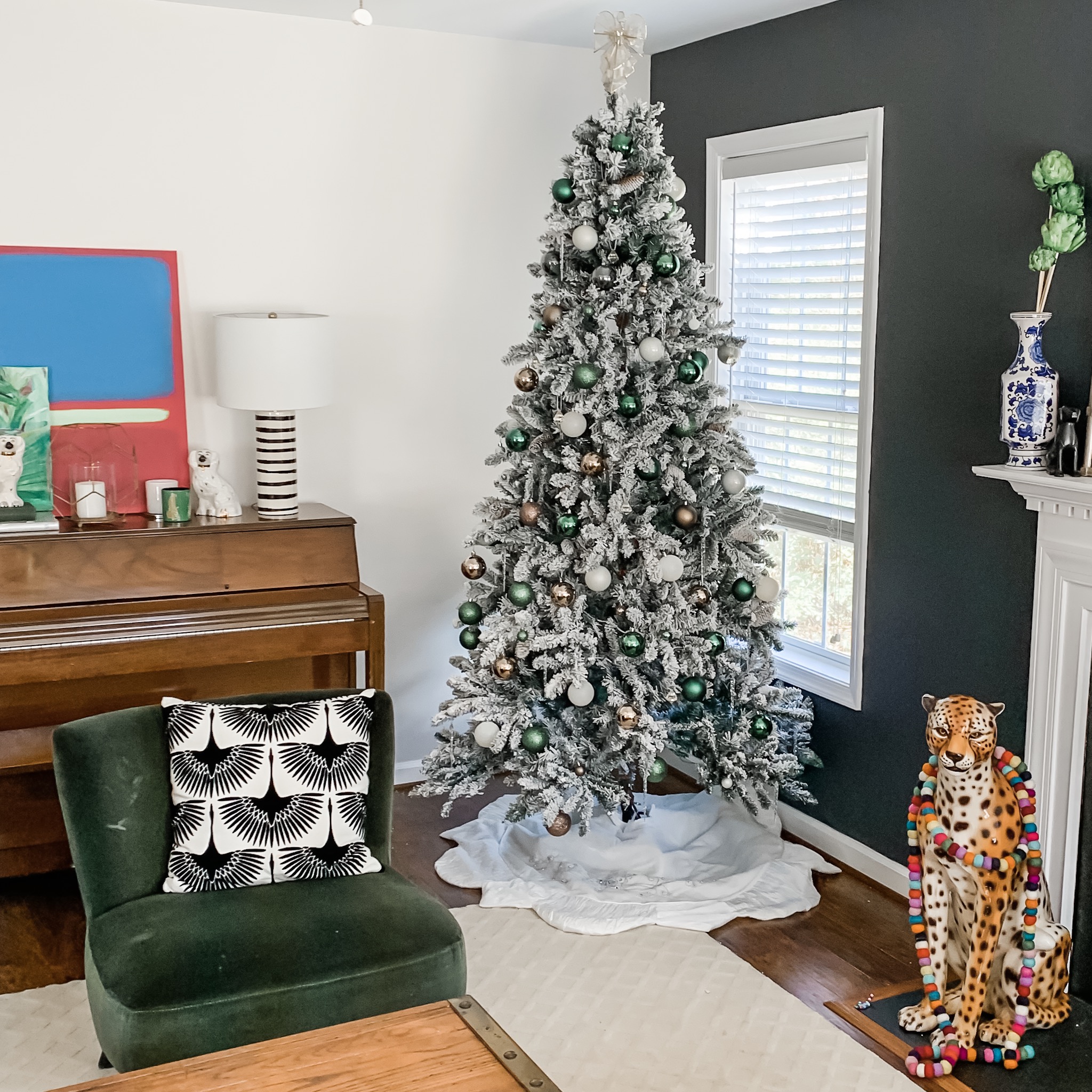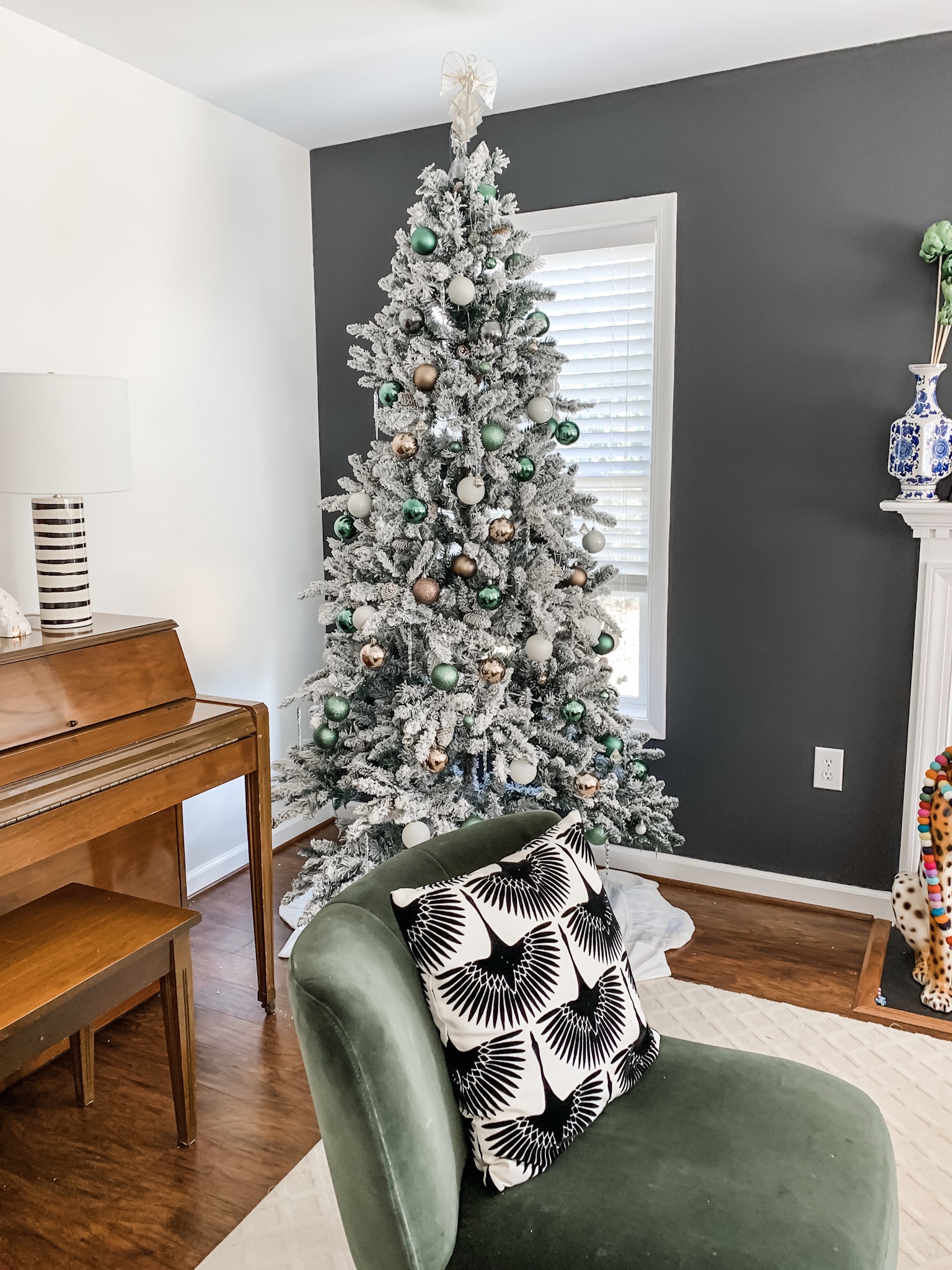 Here's the top of the tree where you can see the flocking and pine cones really well. The white is evenly distributed so that the entire tree is covered. The pine cones are also placed naturally throughout the entire tree.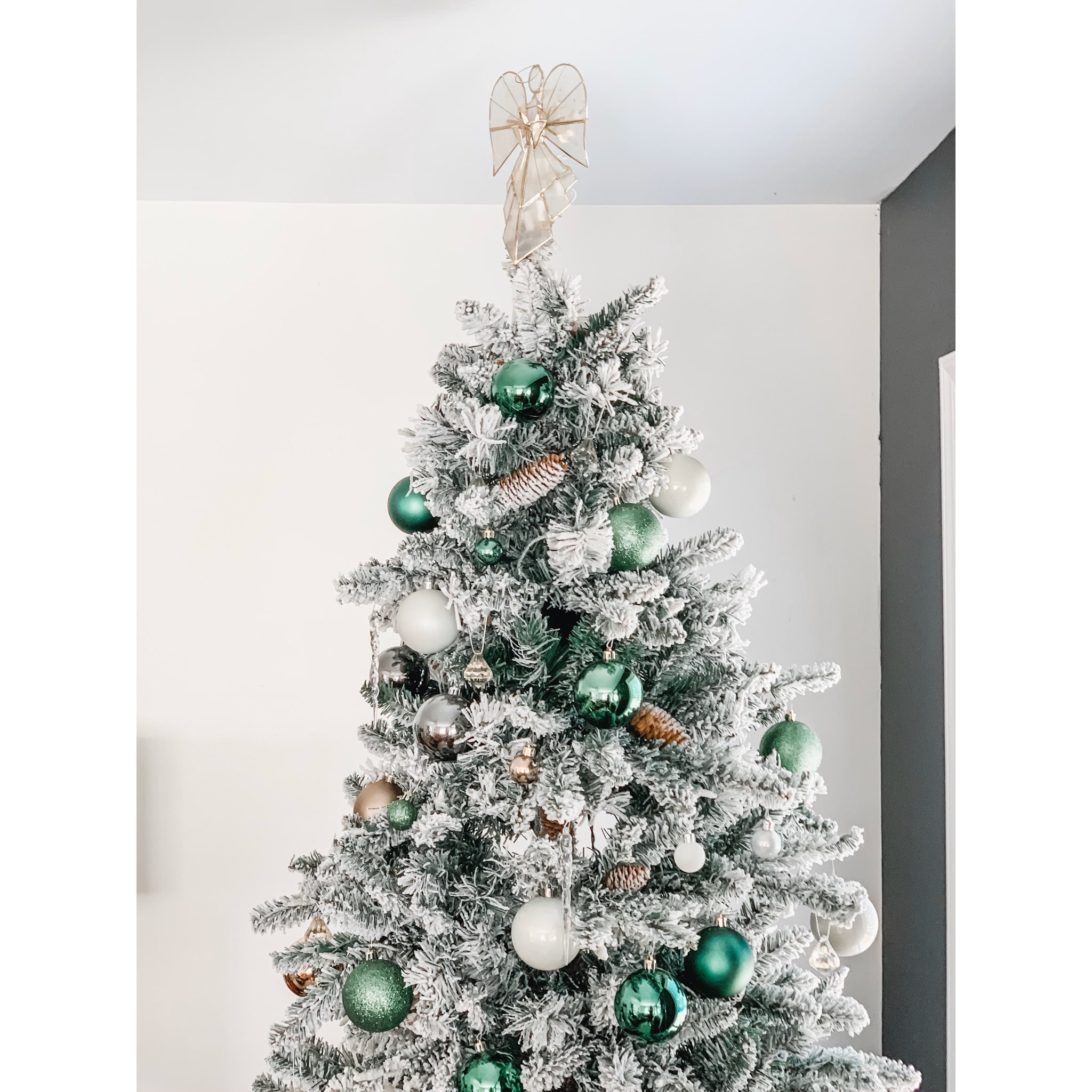 Here the primary green and white ornaments shine, but the warm brown pine cones and bronze ornaments keep the tree from feeling too cold and sterile. I love how the icicles are long and catch your eye on the tips of the branches. I placed 10-15 icicles, which is probably overkill, but I truly love them.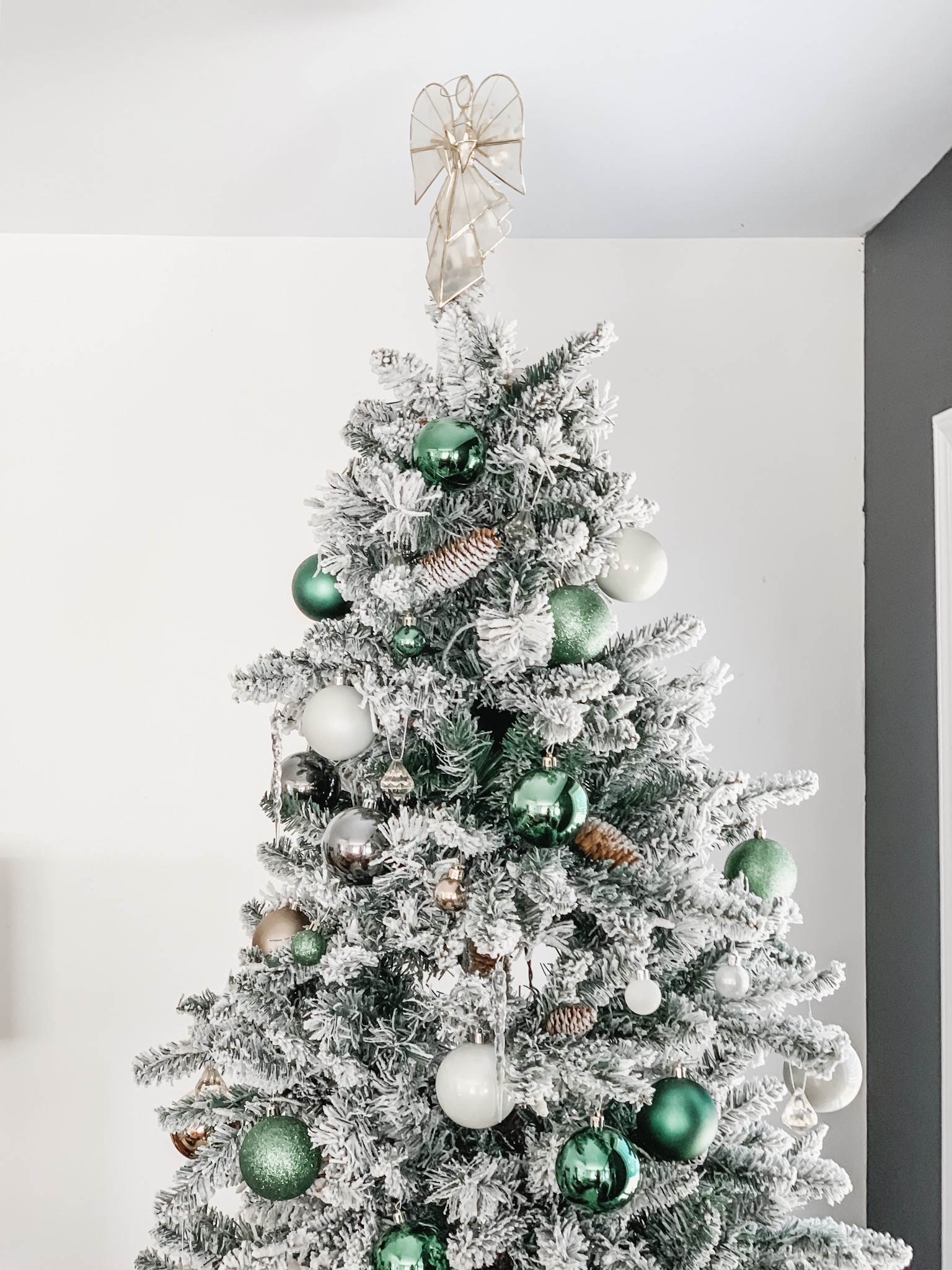 Details
I've included these close us shots as well so that you can pick up on the ornament color as well as the placement of the gems, icicles and mini baubles. You can see the reflection on the room in a few of the larger ornaments.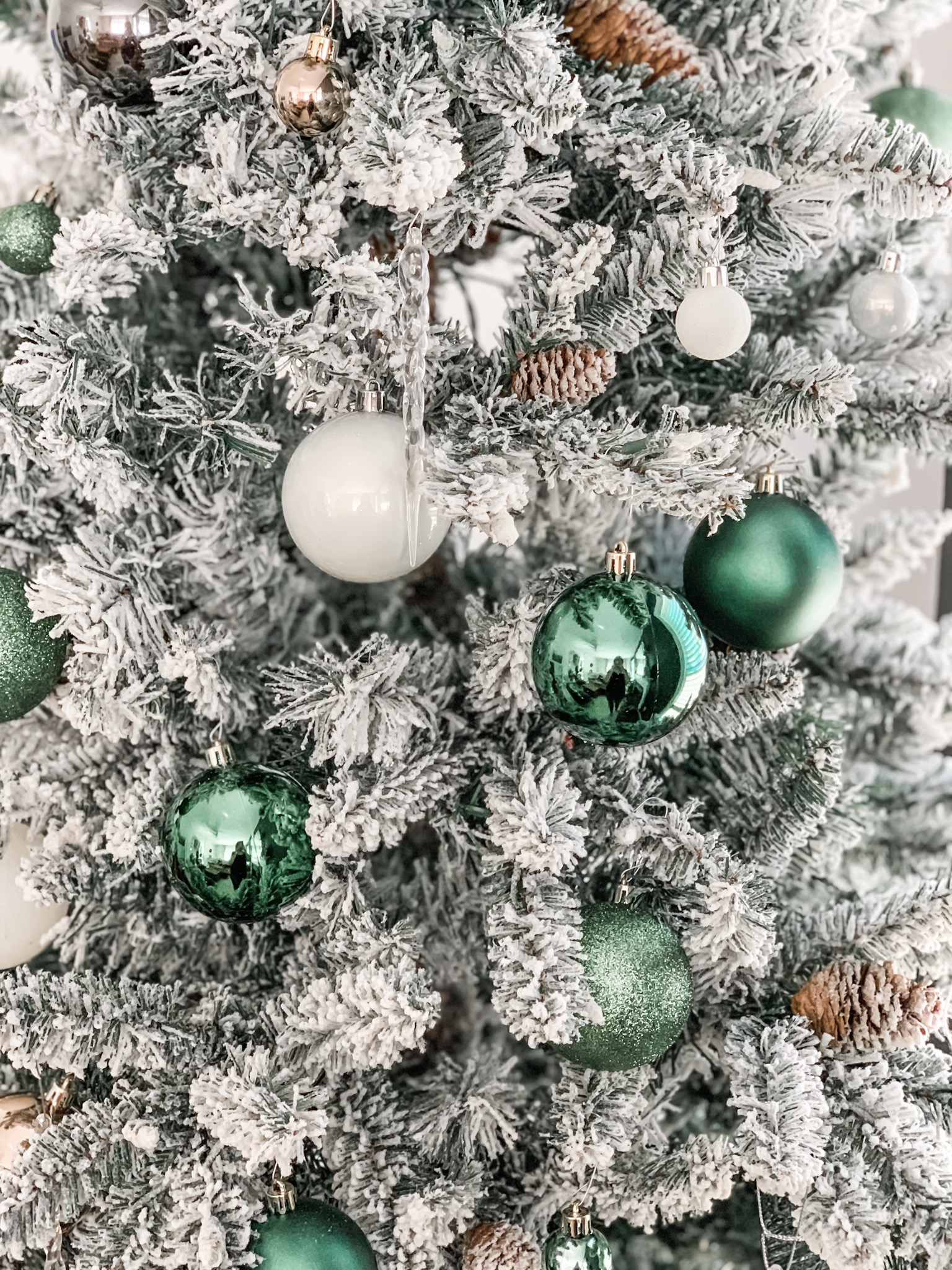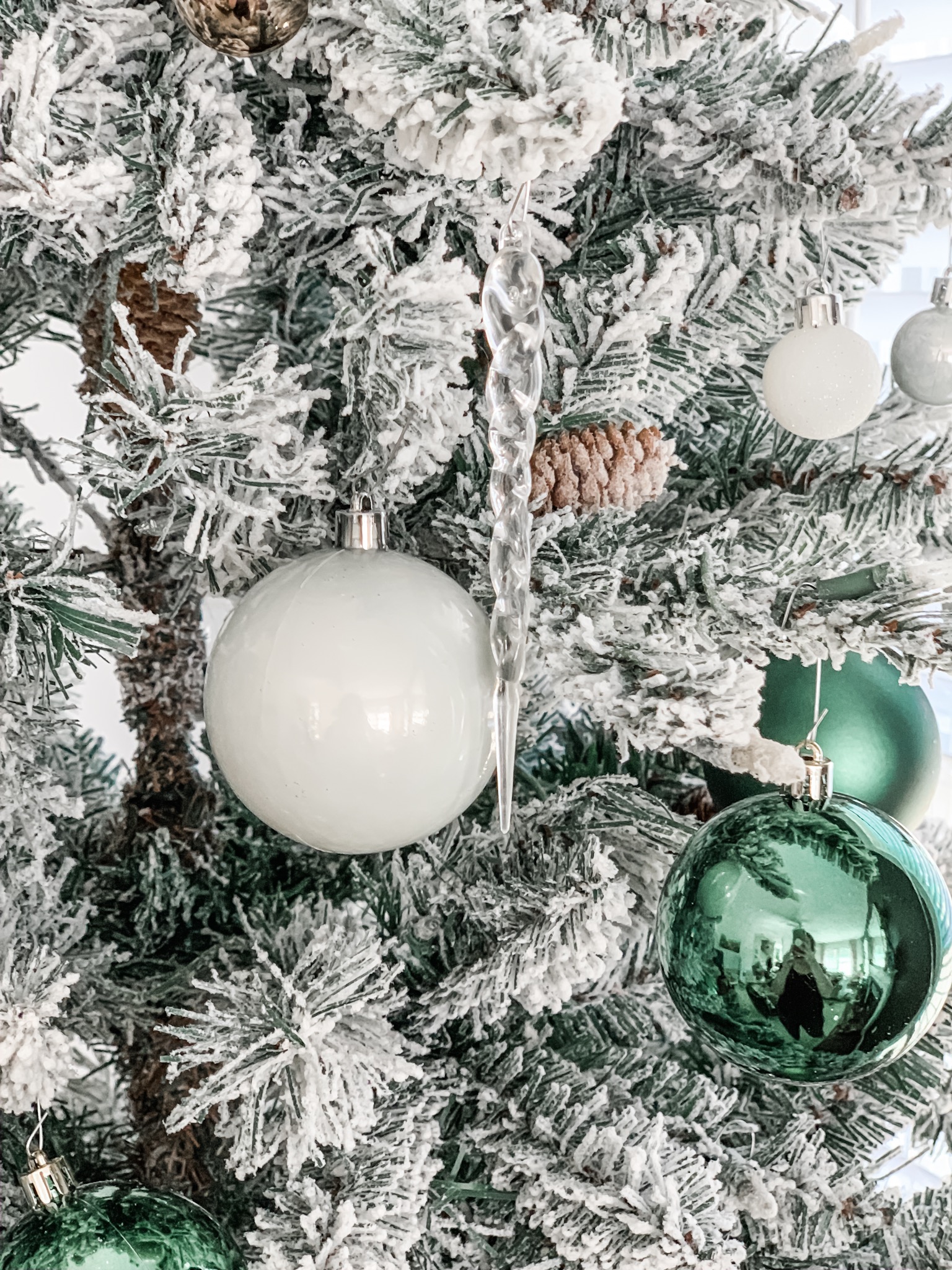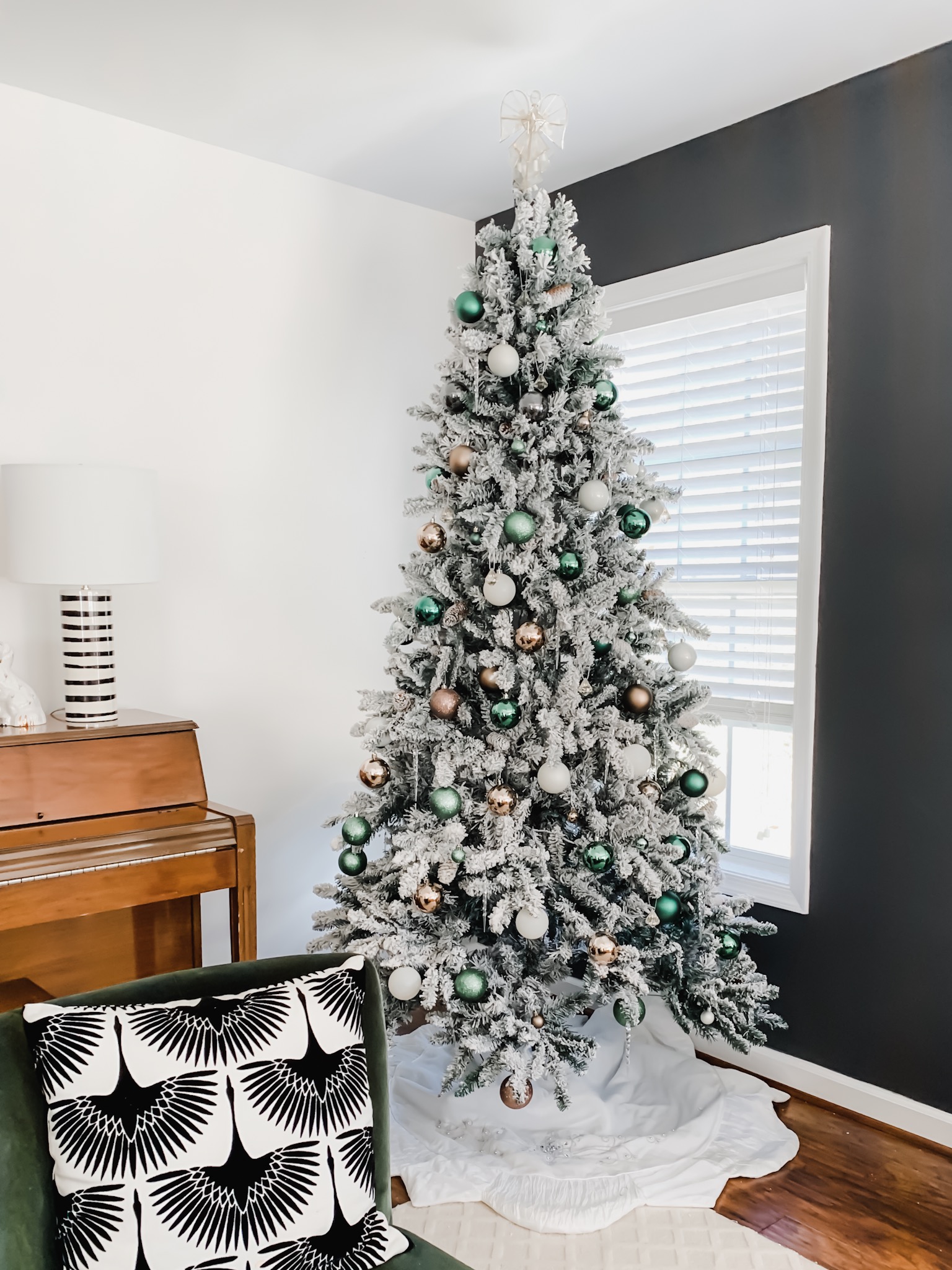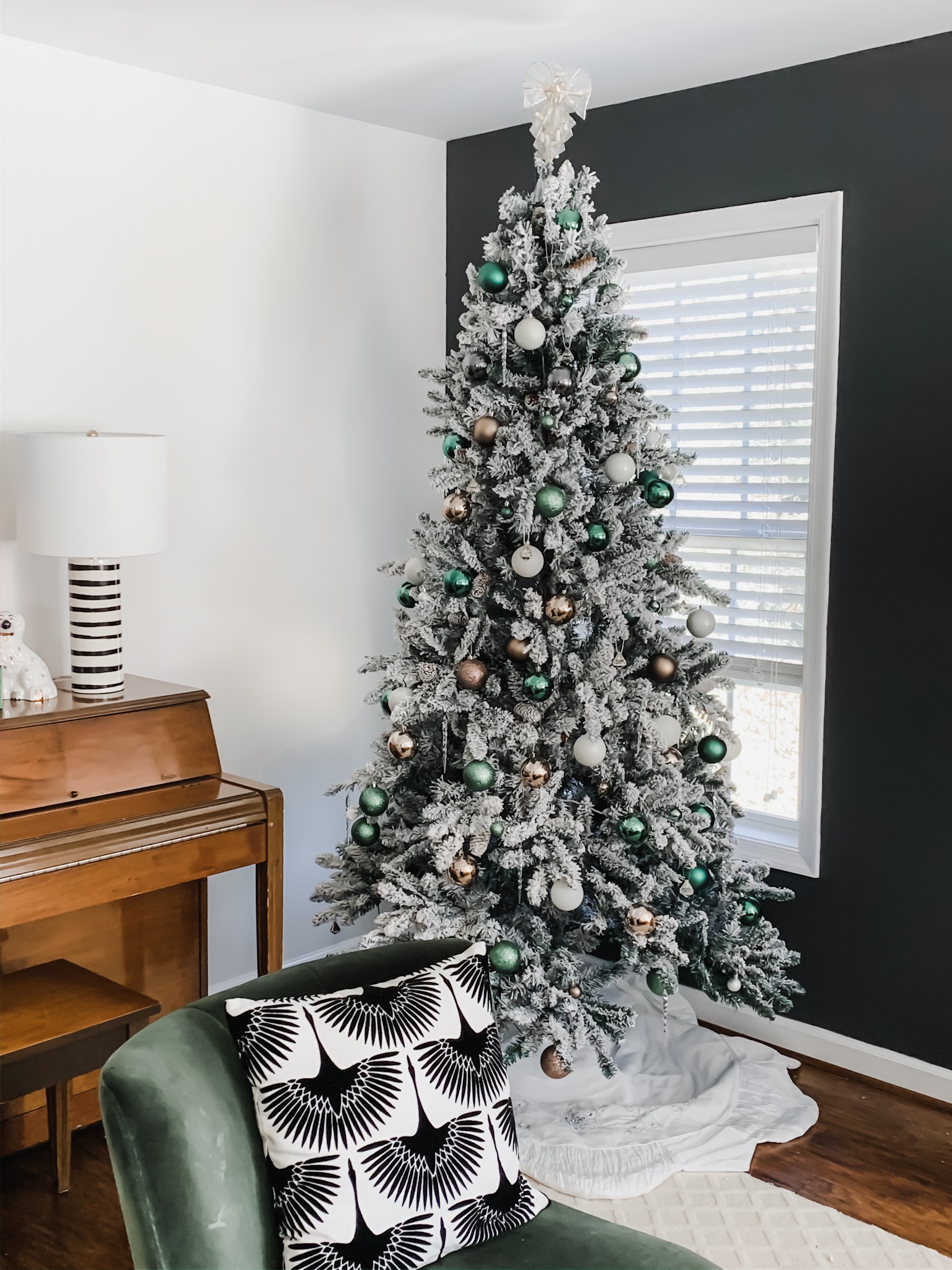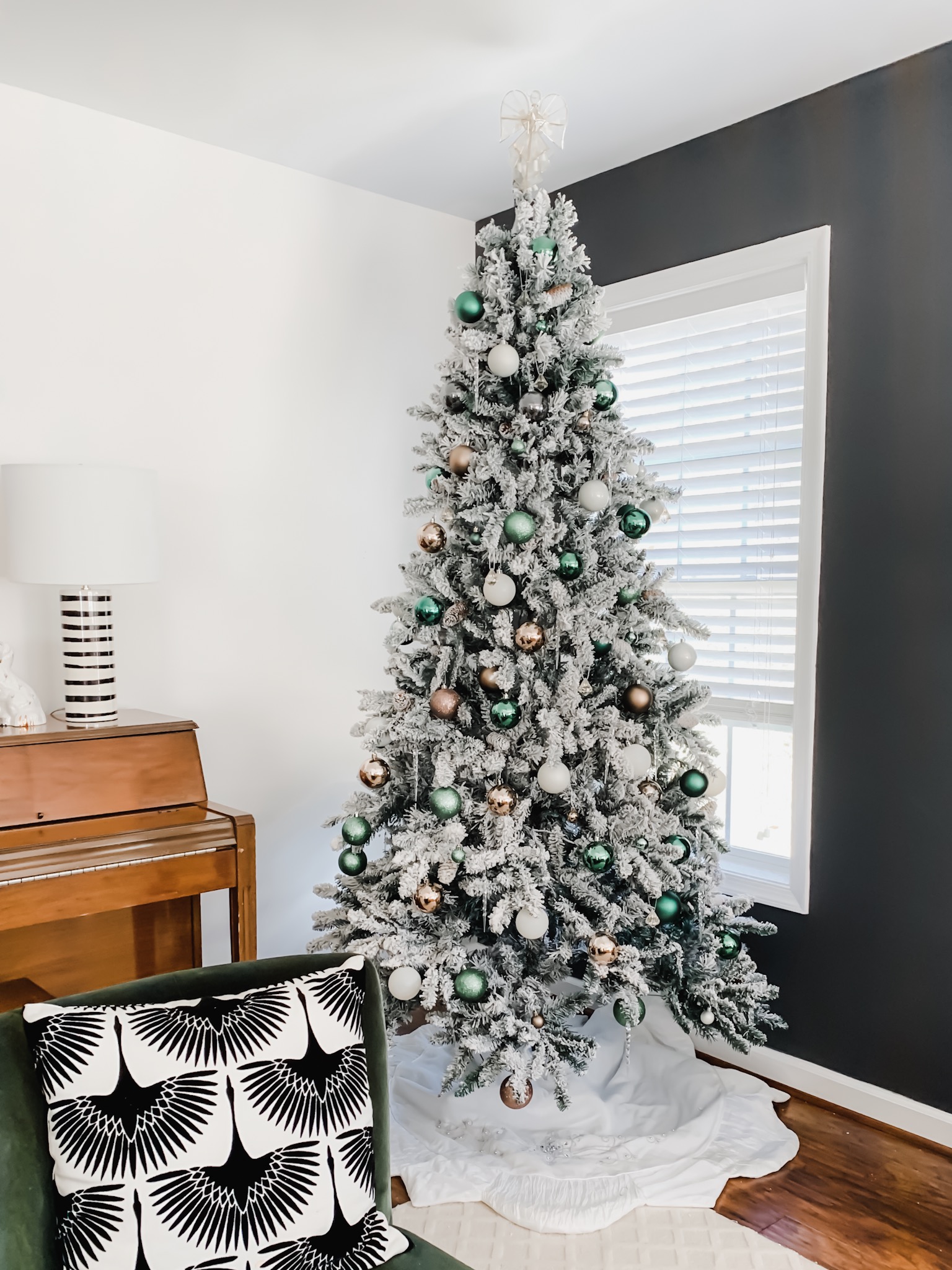 Last, but certainly not least, once we finished the green and white decorating, the kids wanted to be presents under the tree. I helped them slide under the tree and let them cheese it up for the camera. It was the highlight of their day (until the actual presents arrive).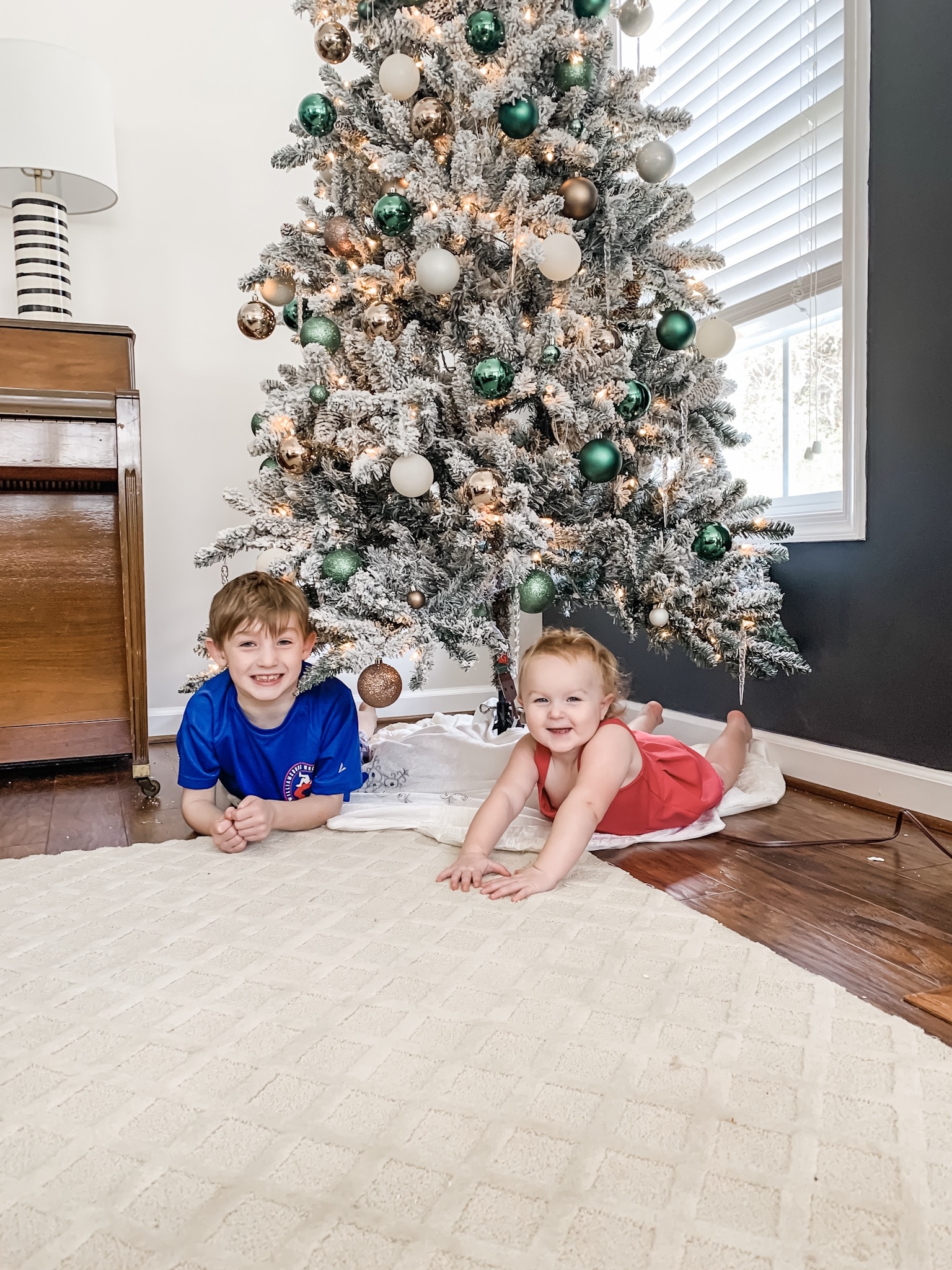 How to Personalize Your Green & White Christmas Tree
Finally, the best part comes last with personalizing the tree. Now that you have a strong foundational layer of green and white ornaments, you can add any extras. Whether you choose tinsel or sentiments handmade family ornaments, your tree will be as unique as your family.
Here are just a few ways to personalize your Christmas tree this year:
Add tinsel strands
Add metallic garland
Pom-pom garland
Handmade ornaments
Vintage ornaments
Popcorn strands
Cranberry strands
Cinnamon ornaments
Clove oranges
Dried orange slices
Salt dough
Candy canes
Cinnamon sticks
VIDEO
Overall, I am loving this emerald and white christmas tree. It's not your everyday Christmas combination and it lends itself to sophistication and class. I hope you have found it an easy look to recreate and that it inspires you to do something wonderful with your Christmas tree.
Related posts: If you loved this tree, you'll like these posts too
How to Make a DIY Ornament Wreath
DIY Wine Tags- Perfect Hostess Gift
Best Baskets and Crates in Home Decor
Love it, Pin it!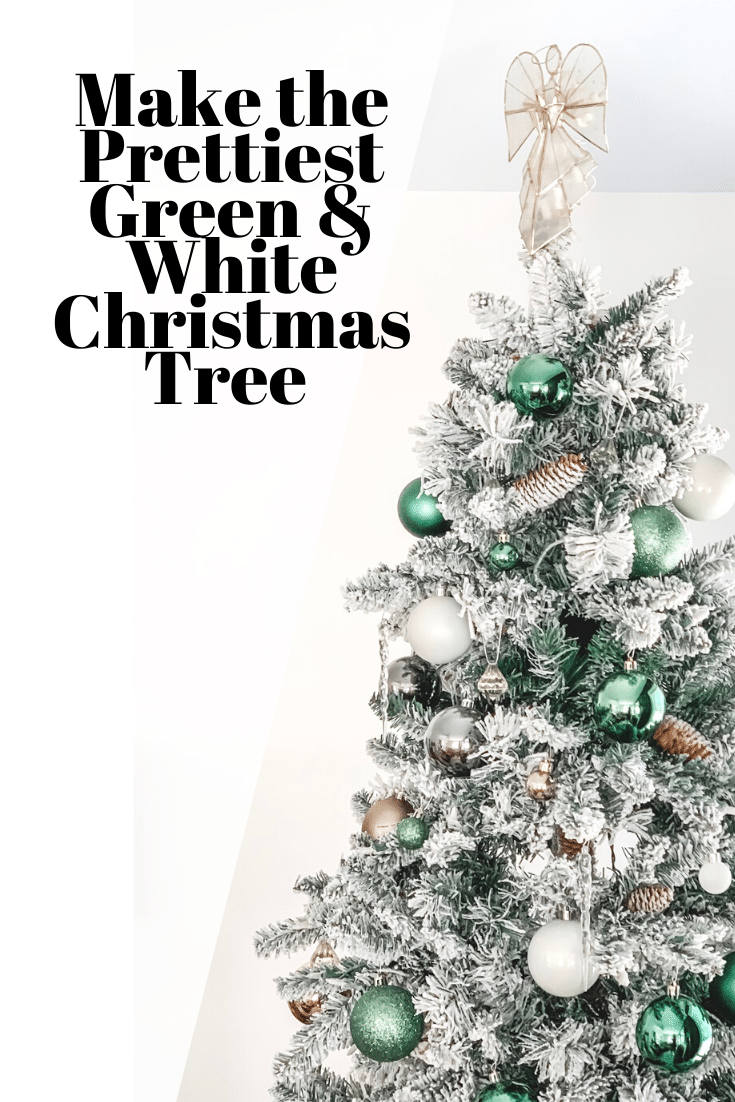 Wanting to take crafting or cooking classes? Bluprint has everything from quilting tutorials to cake decorating classes. If you're looking to learn more, Bluprint has something for everyone.