Blue Family Room Mood Board
Do you think you want a blue family room, but aren't sure you are ready to commit? Keep reading for my blue family room mood board and inspiration photos to convince you that it's the right choice.
We moved into our center hall brick colonial earlier this month and despite my ability to plan other people's homes, I hadn't take the time to plan out our new home yet. To be clear, it isn't a new build, so the time frame between having a showing, placing an offer and closing was quick- 29 days to be exact.
This meant I didn't get into the house for the inspection to take measurements until mid October and moving day was scheduled for November 6th.
MOVING TIP: Bring along a notebook and laser measuring tool to the home inspection so that you can begin planning furniture layout before move in day. Jot down each room name, draw the shape as best as you can remember. Then on inspection day, show up with your notebook and start taking measurements.
MOVING TIP: Bring along a notebook and laser measuring tool to the home inspection so that you can begin planning furniture layout before move in day.
This allows you to plan out the spaces and furniture layouts prior to moving in. Make sure you note where doorways and windows begin and end as well as their measurements. The same goes for cabinets and built ins. The more measurements you can take the better.
PLANNING THE FAMILY ROOM
You probably know by now how much I stress planning when decorating a home. When it comes to paint colors, I make you paint sample boards. If you are thinking of buying furniture you need to use a room planner.
Using a room planner allows you to buy properly scaled furniture that isn't too large for the space. It helps you visualize traffic flow to make sure there are appropriate walkways.
A room planner is a great overall tool for the planning stages of any project.
Favorite Room Planners
MOOD BOARD
Step One to planning a room is to come up with inspiration for the room and create a mood board. I created this one with the Furnitureland South mood board tool (linked in the list above).
I have a general idea of the color and furniture scheme, so I plugged in items that convey that look.
These won't be the exact items I order, but you can see the overall feel of the room and some of the elements like floor lamp, gold lighting, leopard rug, beige sofa and a round coffee table.
In our family room, the blue and tan colors really tie it all together and most of the elements of the room will either incorporate these two colors or complement them.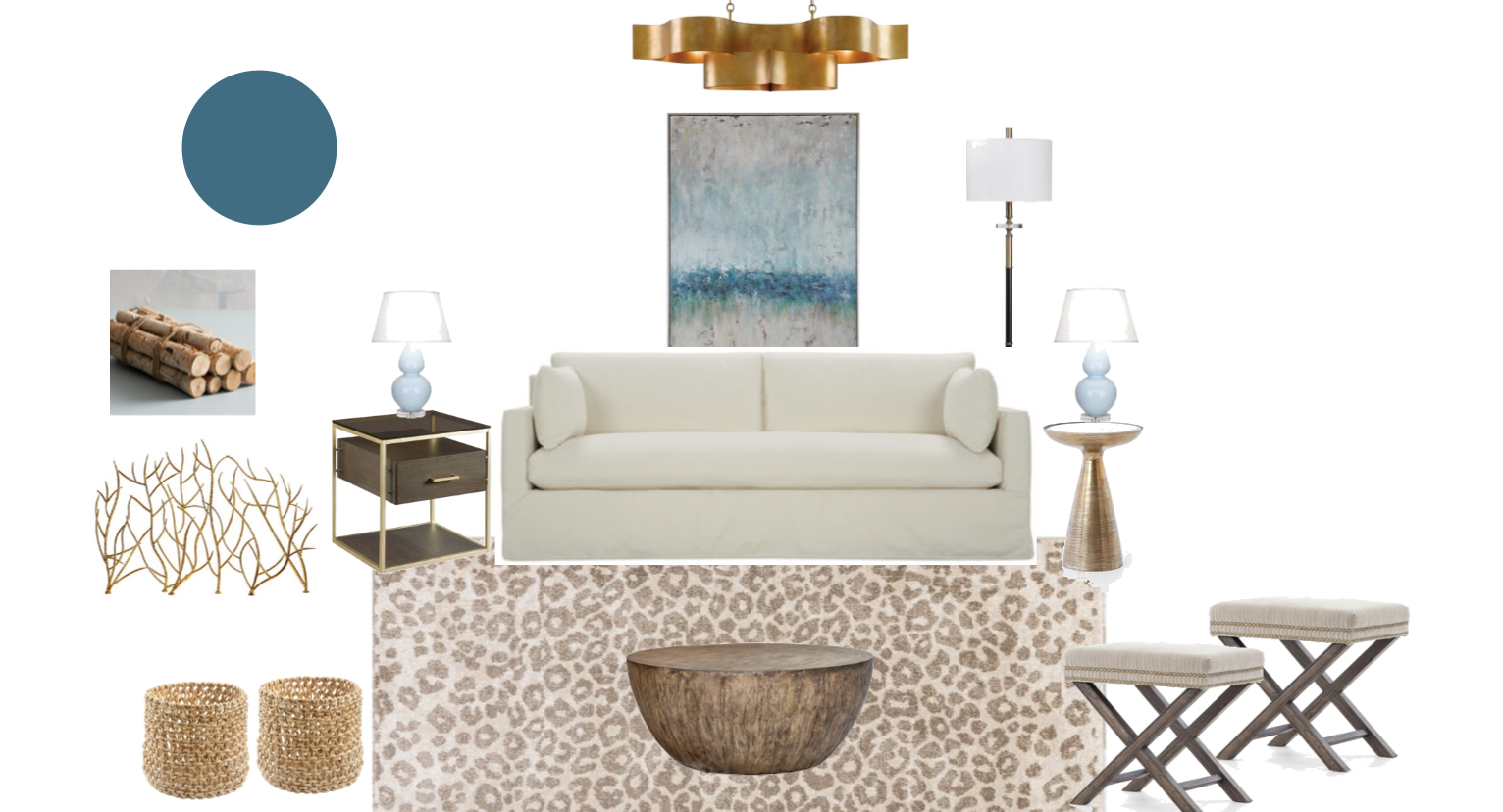 LAYOUT
Next, you will use a layout planner to position the furniture and space plan with your family room dimensions.

Again, you will use a room planner to layout the dimensions of your room. Then add in furniture pieces.
I like to start with a 9′ x 12′ rug and then layer furniture onto the rug. It gives a nice grounded space in the middle of the room to work around.
PAINT SELECTION
Probably my favorite part of the whole process of designing this blue family room is the paint selection. I always follow my own rules of getting sample pots and painting poster board sized samples.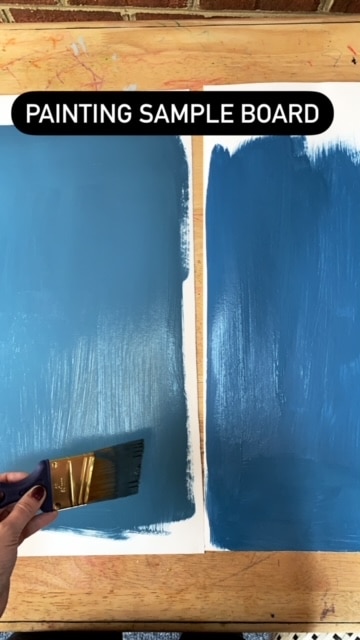 Next, you will hang them on the wall to decide which color fits best in the space. You can find out which color I chose here.

FURNITURE SELECTIONS
My next rule for choosing furniture is to never buy the set. You want to choose individual pieces that complement each other, but are difference in shape, color and form.
Above you will see square end tables, a round coffee table, square ottomans, a rectangular rug and sofa and round lamps and baskets.
The varied shapes and textures create an interesting room rather than a flat space without any dimension.
FAQ: Is it okay to mix wood tones on furniture legs? Answer: YES! Absolutely. I would keep it to 2-3 finishes, but mixing wood tones makes the space look collected, not bought from the same store from the same line.
PURCHASING
Now that the mood board and layout boards were completed, I knew what size furniture pieces I needed.
I chose pieces that fit into those dimensions to provide a space for relaxing and entertaining without overstuffing the room.
It's time to order! At this stage, I will likely order pieces here and there as they go on sale. You don't have to rush out to complete a $45,000 room all at once. Save up, take your time and choose pieces that match the dimensions and plan for the space.
You'll be happy with the outcome of a well collected, planned out room. Happy Decorating!
Other Posts You'll Love:
The Best Sherwin Williams Gray Paint Colors in 2020
Simple Rules for the Right Size Bedside Lamps Every Time
Style Your King Size Bed Like A Pro with this Cheat Sheet + 15 Bedding Styling Examples