Colorful Target Christmas Decor to Deck the Halls
$30 & Under
Ready to get the most fun colorful target christmas decor for $30 and under? Deck the Halls with this list of bright and cheery holiday decor.
It's not too early to preparing to decorate for Christmas! Usually, our family decorates the tree Thanksgiving day, put up live cedar garland, and hang the front door magnolia wreath. I love to watch the Macy's Thanksgiving day parade and play Christmas music while decorating.
If it were up to me, I would skip Thanksgiving as a holiday all together. On to the Christmas decorating, I say!
Have you been following along on the blog for long? You may have noticed how much I love color. We don't do neutral around here, ha. With color in mind, I wanted to come up with some solid decor pieces that are colorful and easily accessible.
GO TO CHRISTMAS DECOR
First, here's the list of my go to decor pieces.
wreath
garland
stockings
bottle brush trees
throw pillows
wooden tree beads
little village
miniature Christmas tree
COLORFUL TARGET CHRISTMAS DECOR
I'm so excited to share all of this Christmas decor from Target. For one, I love that you can just pop over and check it out. Feel the pom poms, see the trees in person and smell all of the candles.
Also, the best part about this colorful list is that everything here is $30 and under with the majority of the decor items being $20 or less.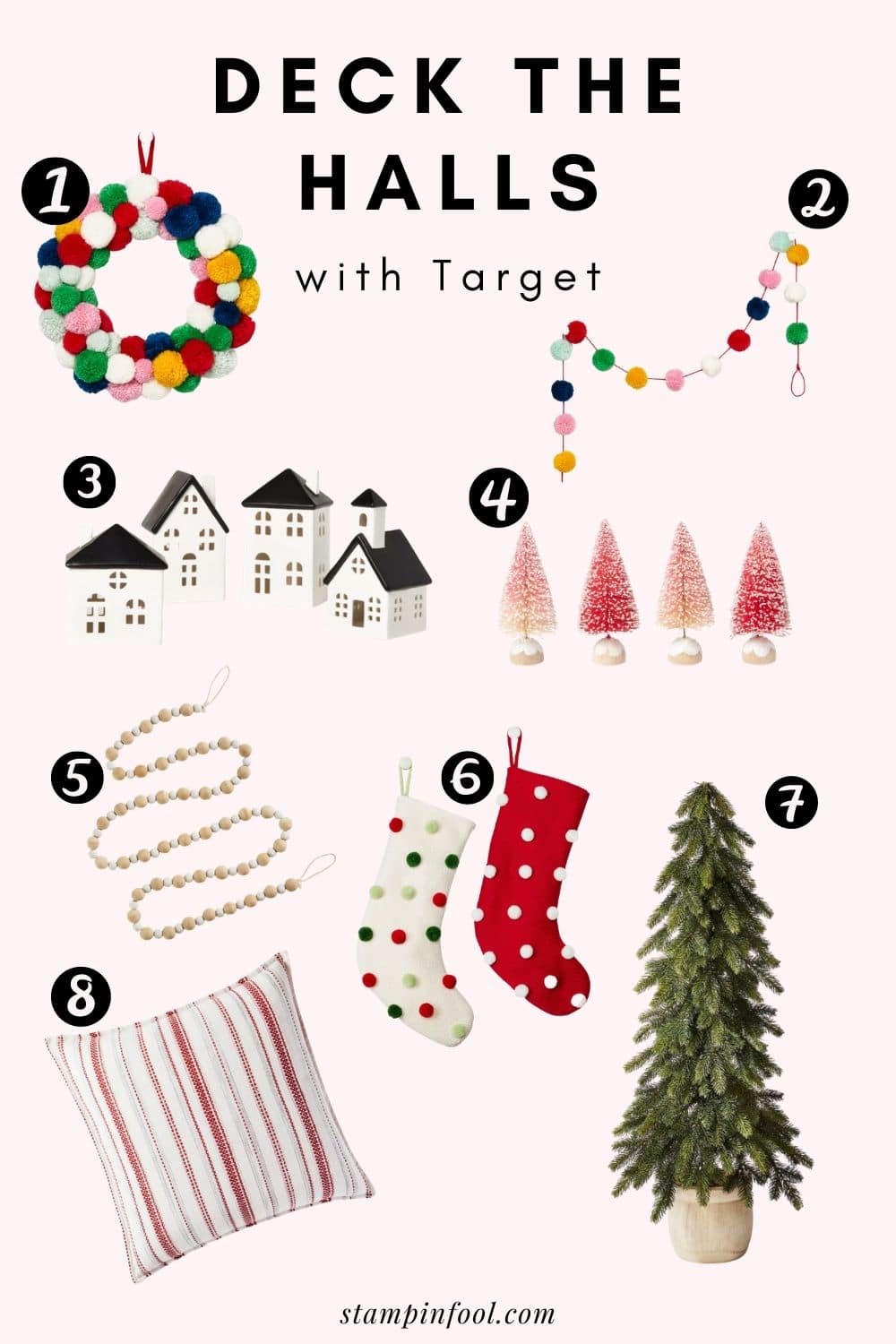 ONE / TWO / THREE / FOUR / FIVE / SIX / SEVEN / EIGHT
This post contains affiliate links for your convenience, but at no cost to you!
Other posts you'll love:
How to Make DIY 3D Paper Stars
The BEST flocked Christmas Tree
Have you started shopping for holiday decor yet?! Tell me your favorite finds!! XO