PINK & BLUE SHARED BEDROOM: ONE ROOM CHALLENGE
How to Choose White Paint
Welcome back for Week 2 of the One Room Challenge; today we will focus on how to choose white paint, the right white paint for your space.
The goal is a pink and blue shared bedroom with a Parisian themed wall mural for the One Room Challenge Fall 2019! It's that time again.
Over the last year I participated in the One Room Challenge to makeover our guest bathroom and turn it from drab to a navy and gold serene space (see it here). I also gave our white dining room a colorful refresh with blue paint, green trellis wallpaper and a lot of blue and white ginger jars (see it here)!
Along the way, I shared a lot of skills like How to Paint Vinyl Floors, The Only Dining Room Decorating Rules & Measurements You'll Ever Need, and How to Budget for a Home Decor Project + a Free planning spreadsheet.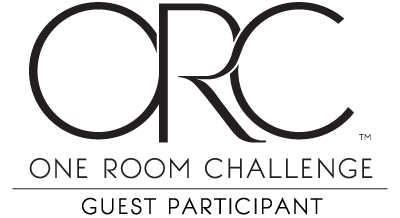 Week 1 | Week 2 | Week 3 | Week 4 | Week 5 | Week 6
THE BEFORE
Last week I shared the before, before. As in, this is the way the room looked 7 years ago before baby boy's arrival. We now have two, and the wall remains but the furniture has changed to the second photo's arrangement of black and white.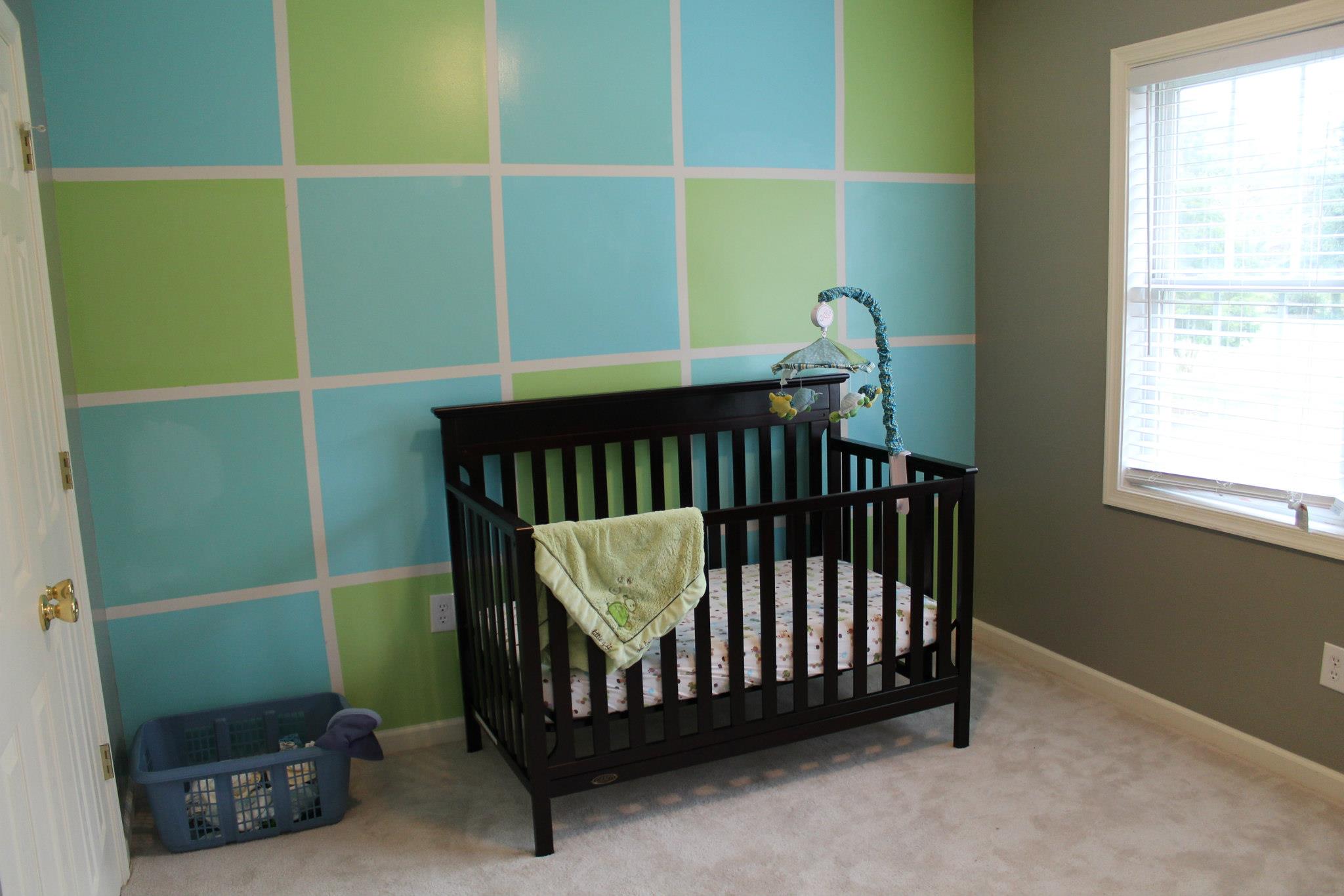 The blue and green wall to the left is still there, but cropped out. This is the furniture we were working with. It's time to move baby out of crib into a shared space with a better layout. Keep reading to see what I've done so far.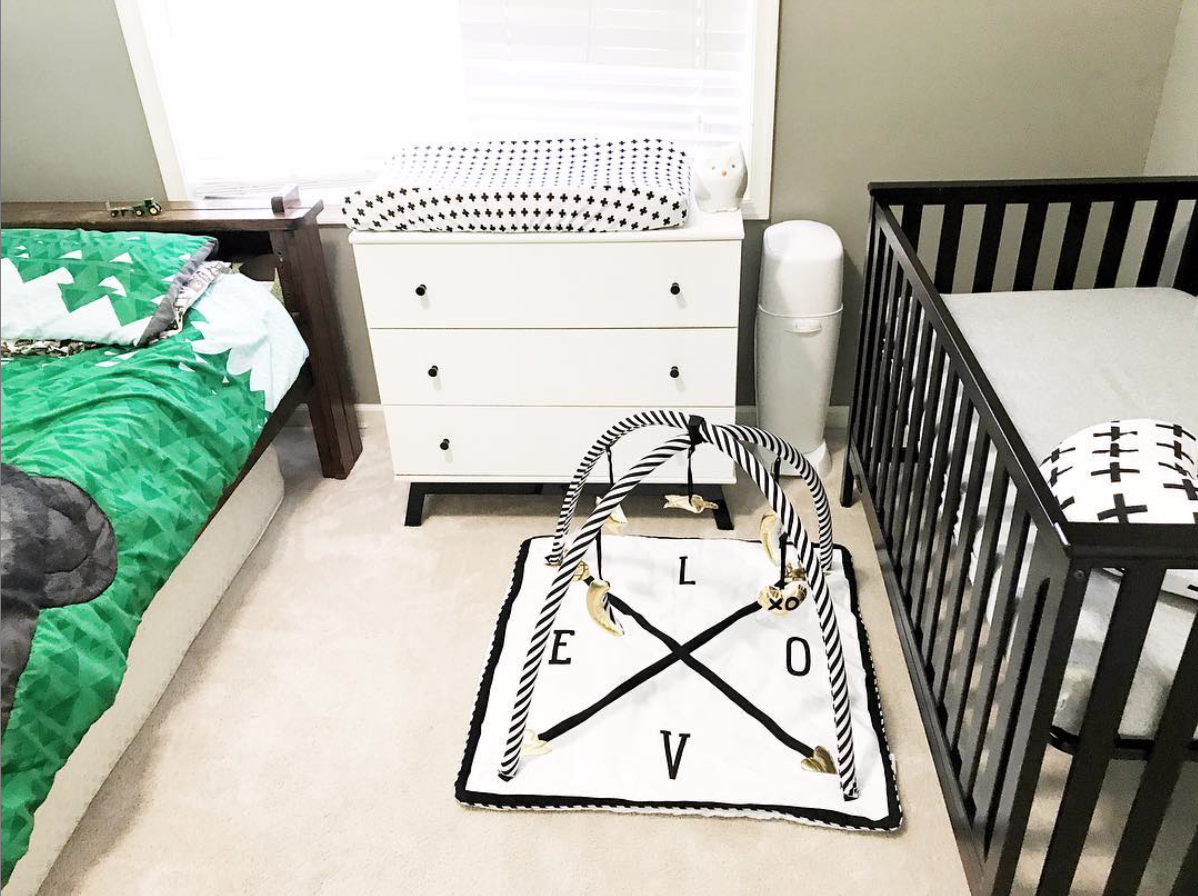 THE PLAN
Last week I revealed the plan for the room. It's still going to be a shared bedroom, but we felt a bunk bed would make the best of a small space. I was on the hunt for a low bunk bed that the little one could easily get in and out of and that would work with 8′ ceilings. The lower the better. But we still want to be able to sit on both the top and bottom and not have to scrunch down. That's a big ask, but we found a good fit.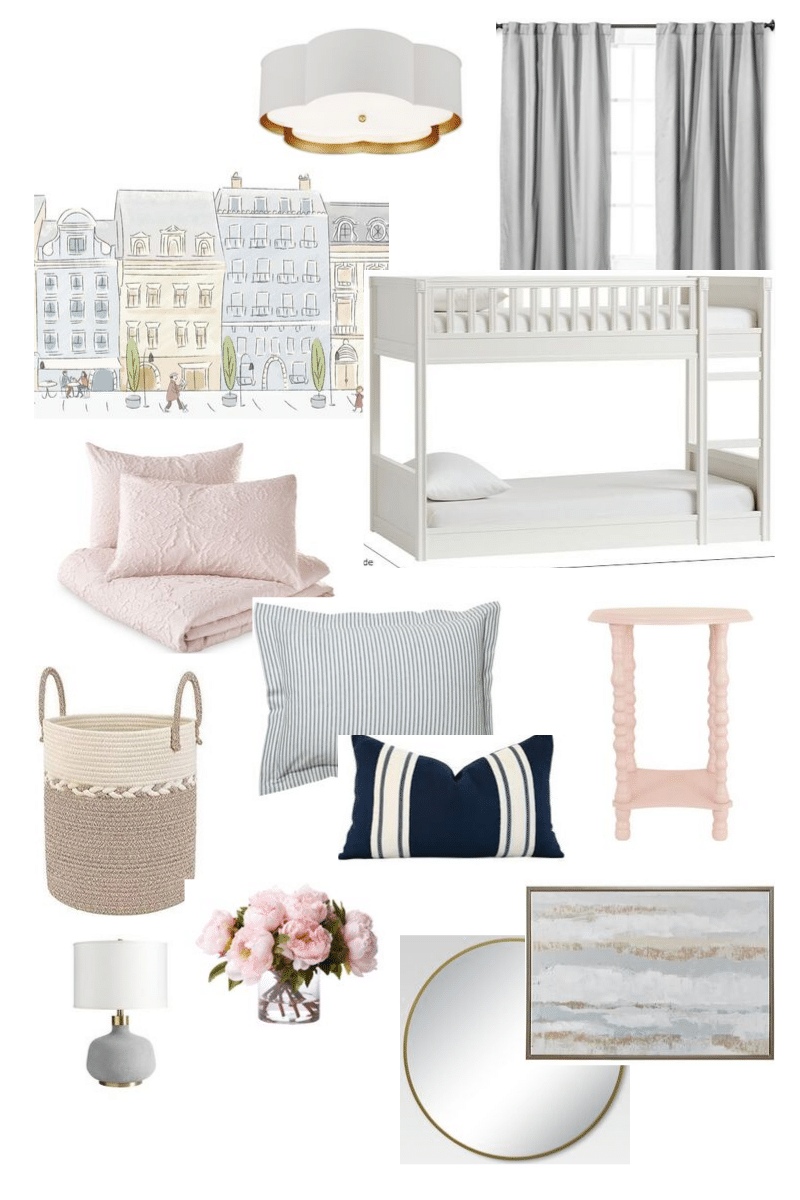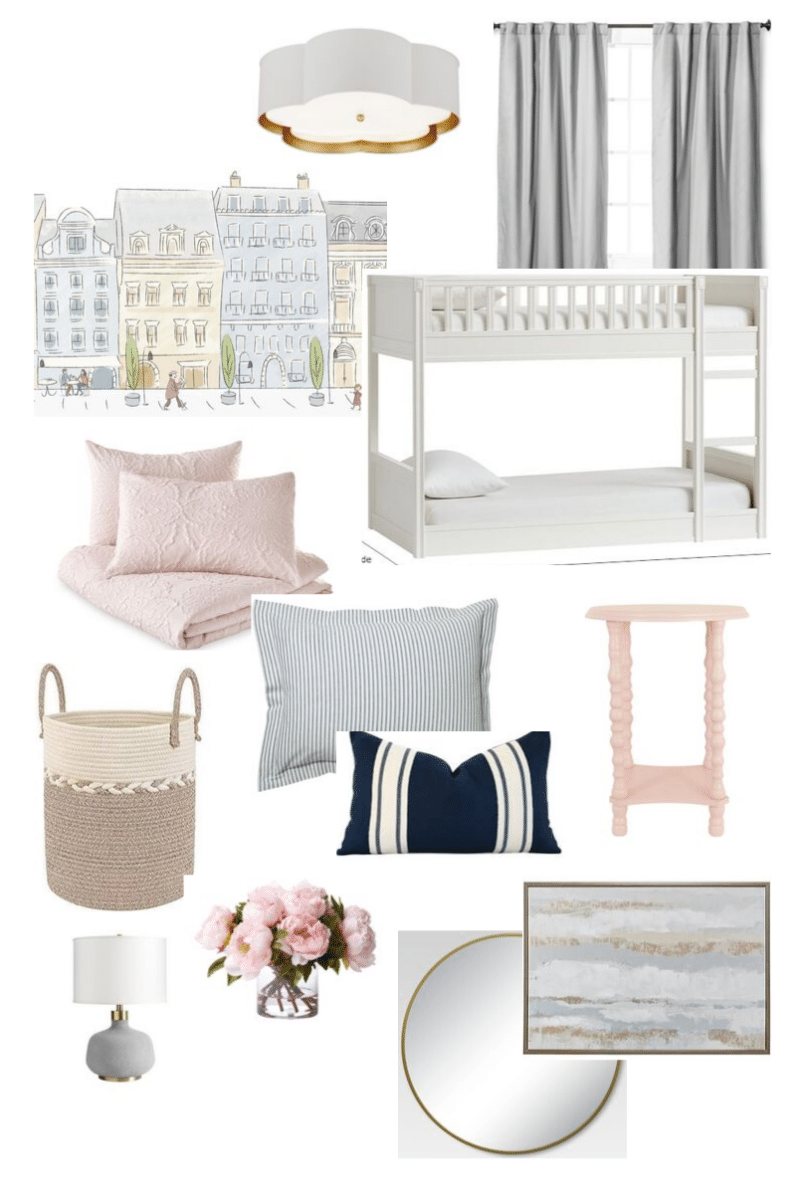 WEEK 2 PROGRESS
I'm excited to say that I have made considerable progress on the room. I chose paint, painted over the color block wall and started on the mural.
First, I headed out to Benjamin Moore to compare White paint colors. I pulled paint chips for: Decorator's White, White Dove, Simply White, Chantilly Lace, and Dove Wing.
How to Choose White Paint
I won't give a full lesson on choosing white paint today, I'll save that for another post, but I want to show you how much variation there is in paint.
Use Natural Light
I pulled these paint chips and placed them on a white foam board, in front of a window with the overhead lights off. This lets you see them in indirect (the sun isn't shining rays on them) natural light. It will give you a sense of the color.
Compare
It is important to place them close together so that you can see the differences. If you looked at them individually you would probably say, ah it's white, they all look the same. But when they are close together, you can see how some look yellow, others gray, bright or warm. You can see the undertones.
Undertones
The easiest way to see an undertone is to compare the selected color to the whitest white in the fan deck. Against a pure white, you will instantly see if it has been blended.
White Dove- slightly warm. Warmer than Super White and Brilliant White. Reads a little greige (gray-beige).
Dove Wing- warm. Looks beige.
Decorator's White- is a bit cooler. Has an ever so slight gray undertone.
Brilliant White- is cool. It is quite literally paired with blue- and has a blue undertone.
Super White is close to pure, it doesn't have a strong undertone. It is a good choice for comparing next to other colors to see their undertone. It will look crisp and stark on walls and ceilings.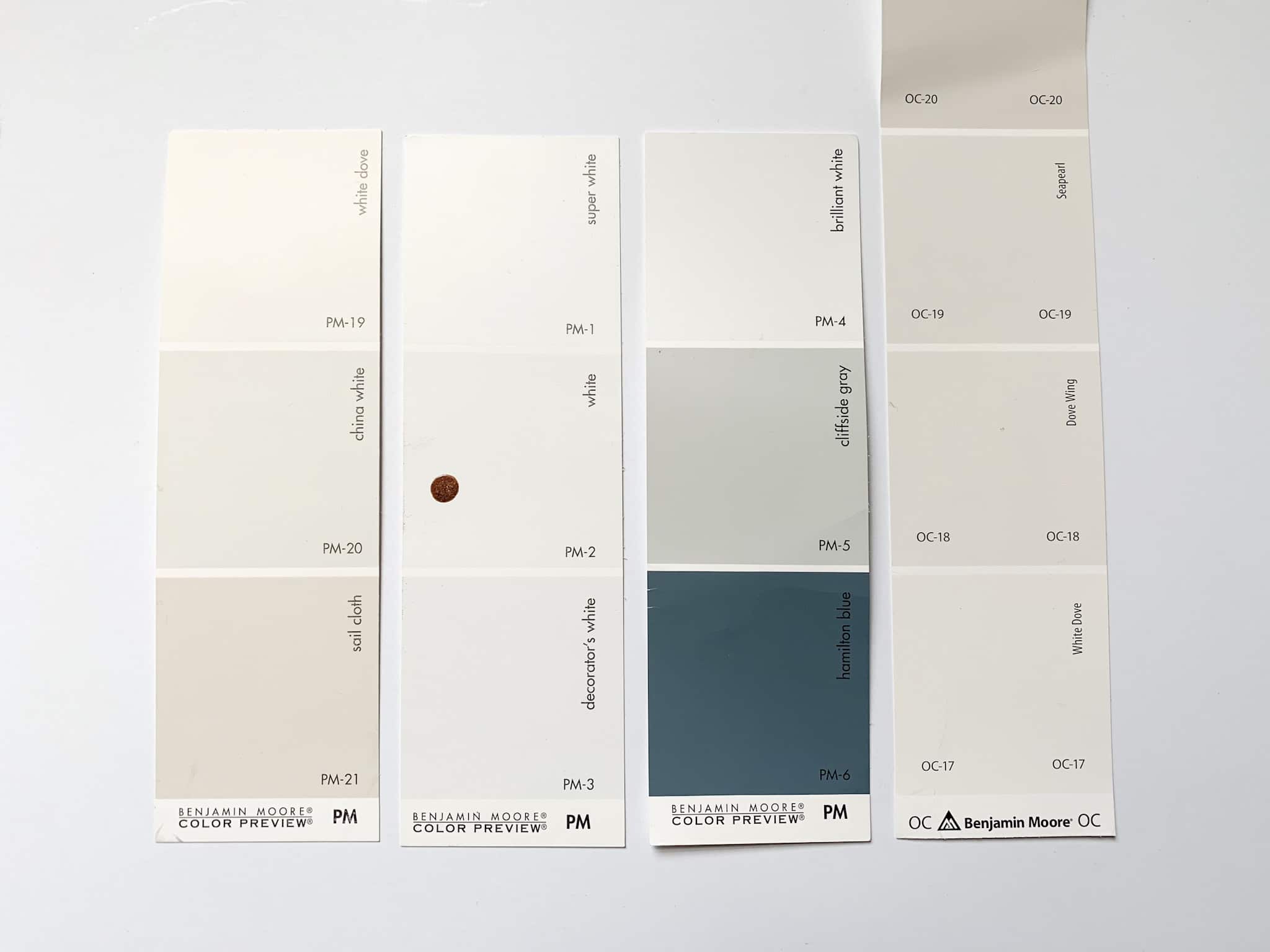 Up close, can you see the difference between the colors and tell which are cool and which are warm?
White and Decorator's White (in the middle) are slightly cool. The colors on the outer sides are all slightly warmer.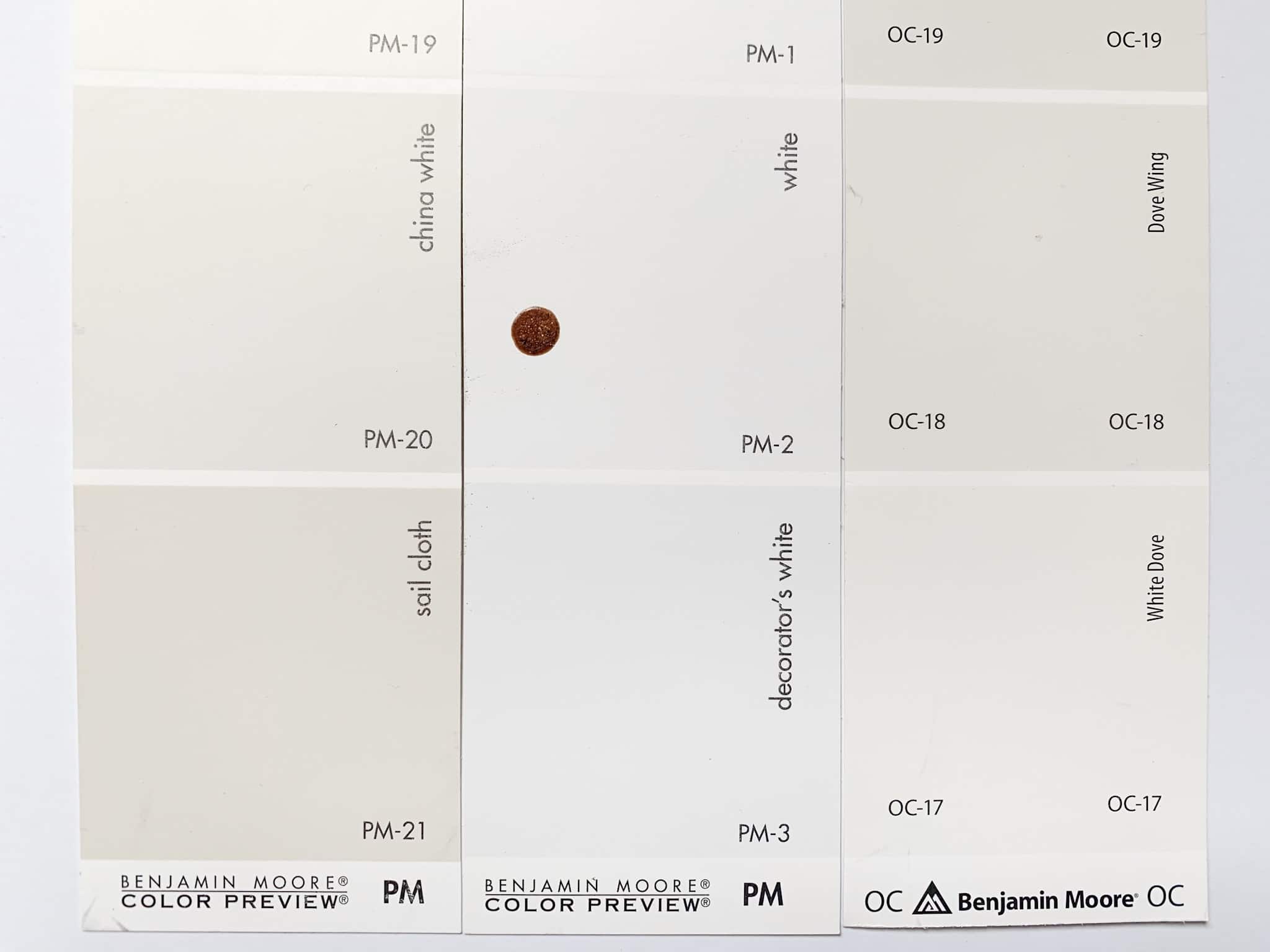 From Sherwin-Williams:
Mass tone vs. undertone. Whenever a color is made by mixing two or more colors together, that color will have both a mass tone and an undertone. The mass tone is what you see first; it's what tells you the color is red, blue, green and so forth. The closer the undertone is to the mass tone, the truer the color will appear.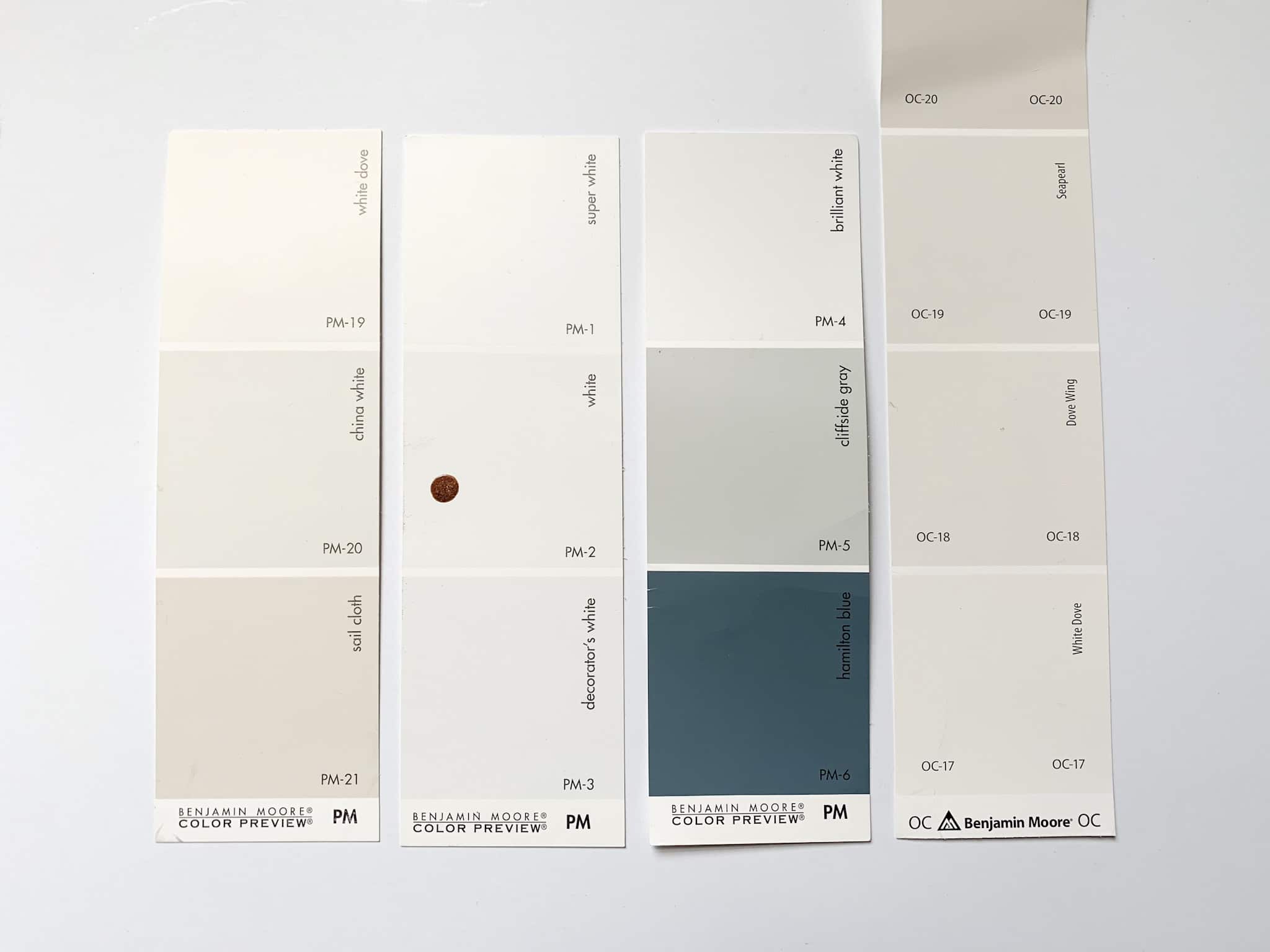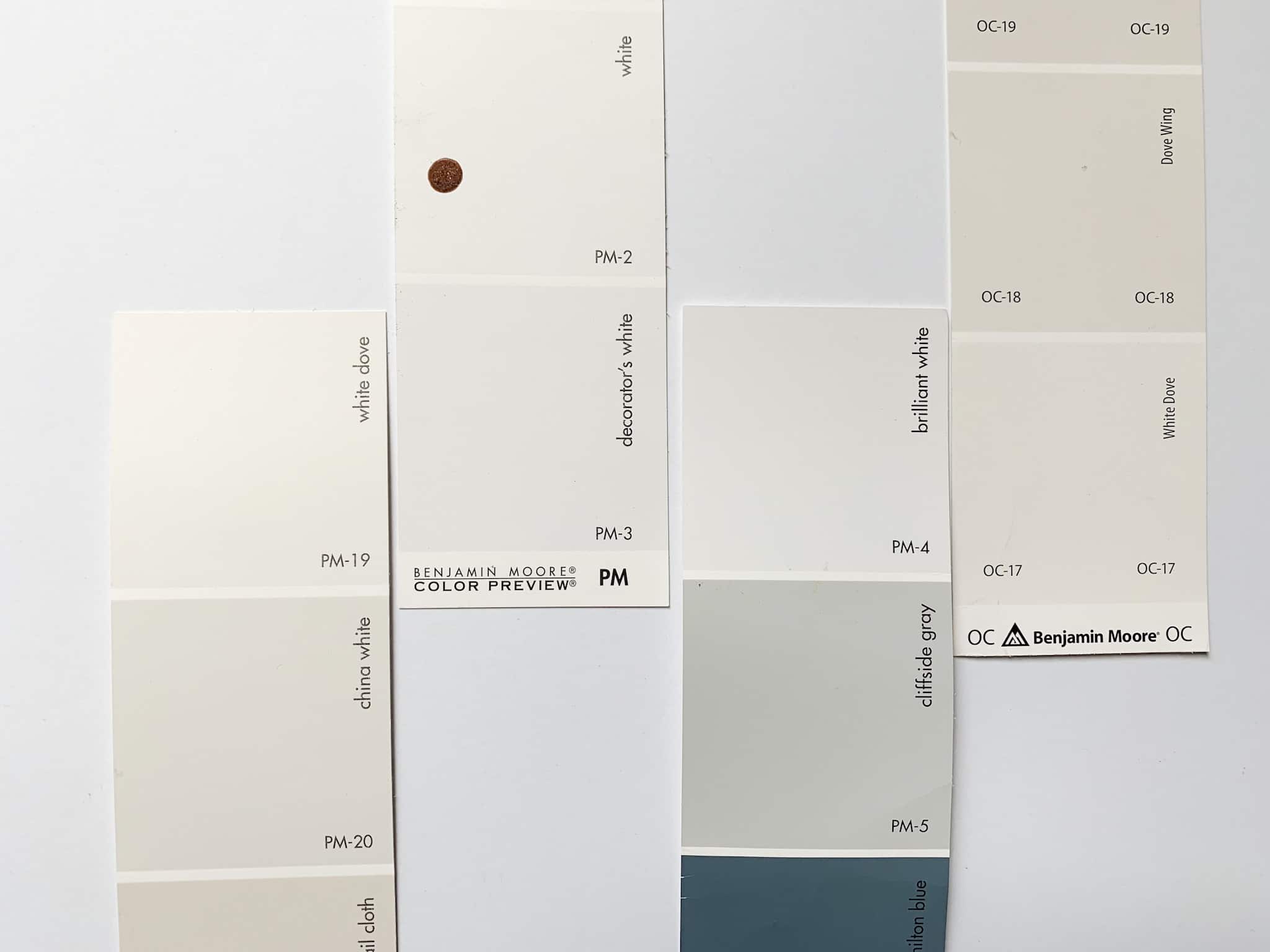 Are your eyes burning from looking at white paints? Are you still scratching your head? It will get easier. With time and practice, placing White's next to primary colors and a pure white, you will be able to pick out the undertone.
Back to the Room
Now that we're talked about the White Paints, I can tell you what I was looking for. I wanted a slightly warm white. The bunk bed we choose is a creamy white. I didn't want a stark white behind it. The trim in the room is warm.
Can you guess which white I chose? Here they are one more time: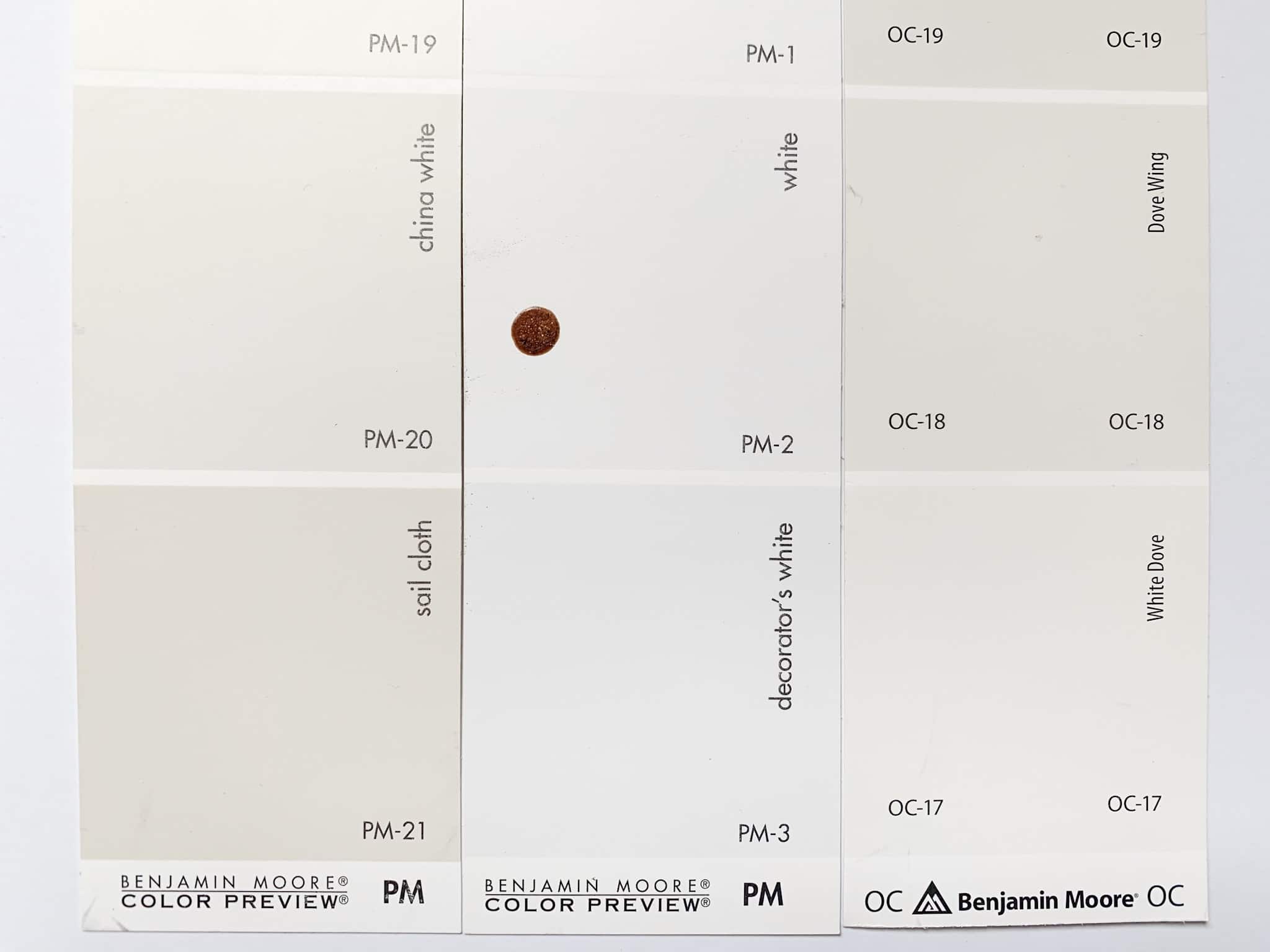 The walls: WHITE DOVE. I went for Benjamin Moore's White Dove. It is slightly warm, but not too beige or yellow. The room gets southern exposure and tons of natural light. It warms the room both literally and figuratively in terms of color. I want to stick with a slightly warm white to avoid a sterile looking bedroom.
It was time to start painting over the color block wall. I've included a few photos that I posted on Instagram while I was painting.
It took three coats to cover the colorblock and medium gray on the other three walls.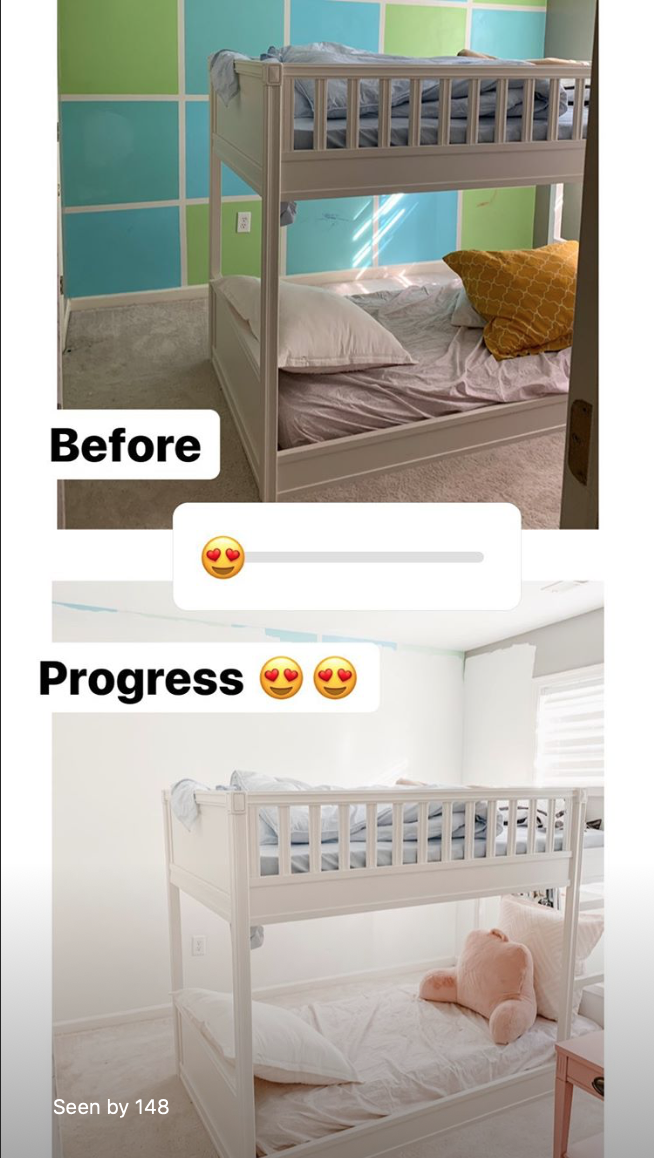 After the walls were all painted, Benjamin Moore White Dove, I started to pencil in the mural.
Next week, I will show you the steps to creating the mural. I started with Pinterest architecture photos for inspiration. I chose elements I loved like rounded windows and roof lines. And then began to sketch what I wanted the mural to look like.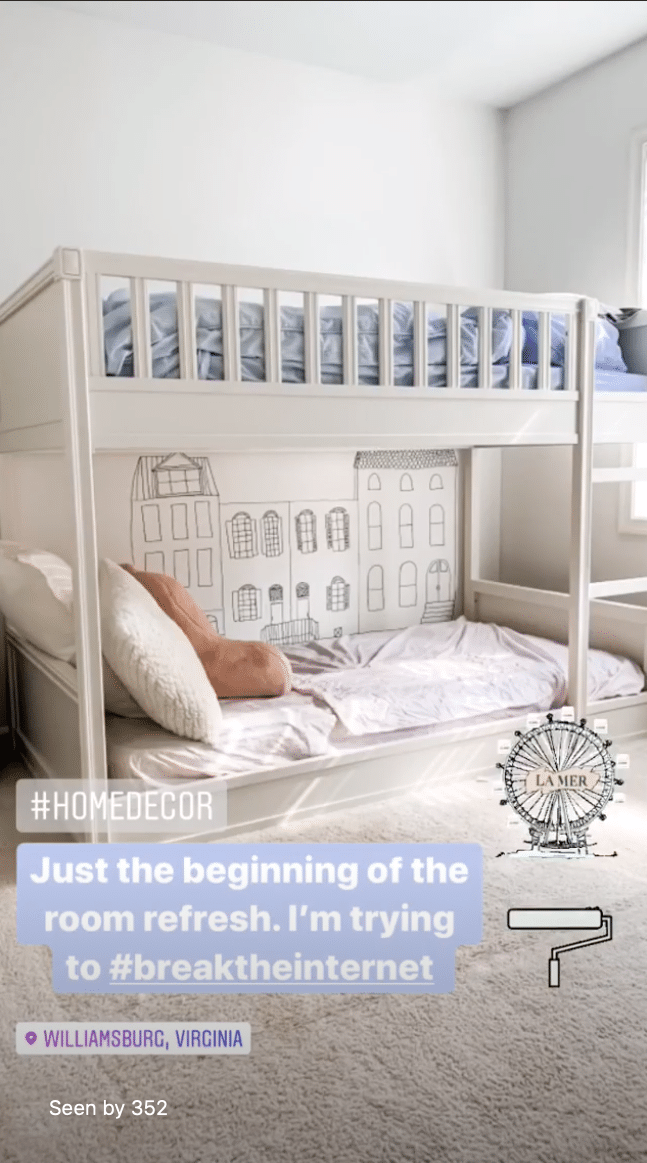 Now that we've talked about white paint and you have seen the start of the wall, let's check out the updated punch list.
THE CHECKLIST
I have completed a good amount of items on the list. The paint was time consuming. I needed it to be done before anything else. I sourced the bed, lighting and started on the mural.
paint over color block walls with Benjamin Moore White Dove
pencil in mural
paint over penciled mural with Sharpie paint pens
paint in mural highlights
trim out bottom of bunk bed
install new light fixture
install curtain rods
hang curtains
source accessories
buy and hang artwork
buy new bedding
style the room & add finishing touches
I am making great progress and am on track to get it finished in time for the big reveal! Check back for more updates. To see real time updates and weigh in on Polls, you can follow along on Instagram.