8 Most Popular Products of 2020
Happy Holiday, Happy Holidays! Can you believe it's already November?
I am getting excited for Christmas and this year I am doing most of my shopping online to avoid crowds and stores. And I've even budgeted extra time in my ordering to account for slow delivery times and overloaded websites.
Are you planning on shopping online or in stores this season?
I thought it would be fun to share something a little different this week. I've gone through my website analytics to share the top 8 products purchased by our StampinFool readers. Each time a link is clicked or something is purchased from a link on my website, it totals them up. And this year, these were the top 8.

1 Dana's Bakery Cookbook / 2 J. Crew Schoolboy Blazer / 3 Willow Arlo Dayne Desk / 4 YSL Rouge Volupté Shine Oil-in-Stick Lipstick / 5 Cabinet Pulls / 6 Alva Dining Table / 7 Mango Wood Coffee Table / 8 River Oaks Swivel Patio Chairs
EIGHT AMAZING GIFTS
I have to say, I am so excited by this list. It's a great display of my favorite things, which you have probably seen in the What's In My Cart post two weeks ago. Not only are my SF family reading my posts, but they are enjoying my favorite things too. That brings me joy!
When I choose things to share, I want them to be quality and really enhance your life. Over the past two years, our family has become so intentional about our purchases, gifts and otherwise. This list is a good representation of the functional, decorative and self care items that I love most too.
So, did your favorite items make the list? Did you fall in love with the same items as other readers or did you discover something entirely new?
DANA'S BAKERY
I am most excited about this!! My sister in law and I love Dana's Bakery. It's an expensive treat, but once a year it's nice to enjoy our favorite macarons. So when Dana came out with a dessert cookbook (set to release July 2021), I had to share and preorder it.
And to date, it has the most orders our of all of the things I have shared this year in 2020.
BLAZER
The J. Crew Schoolboy Blazer is the next best seller. And I can see why. I throw it on anytime I need to dress something up- jeans, a dress, leggings. It goes with everything and brings your outfit to another level. And I am by no means a fashion blogger- I'm more of a capsule wardrobe kinda gal.
DAYNE DESK
It's no surprise that in the time of virtual schooling the Dayne desk from my Homeschool Desk blog post is a fan favorite.
YSL LIPSTICK
While the Dessert Cookbook is my favorite treat, this YSL lipstick is my favorite everyday product. If you follow along on Instagram, you will see many, many stories dedicated to this sweet, sweet lipstick.
From the faint scent and smooth as butter application, I've sworn to never go back to another lipstick. This my friends is worth every penny. And you guys think so too because it is the number 4 most SF (stampin fool) reader popular item!
CABINET PULLS
This one kind of surprised me. While I write a home decor blog, a lot of things I use everyday and share aren't always decor related. So when these polished nickel cabinet pulls made the list, I was a little shocked.
But I can definitely see why, they are elegant and smooth. They give off a curvy french kitchen feel. You may see them in my new kitchen soon!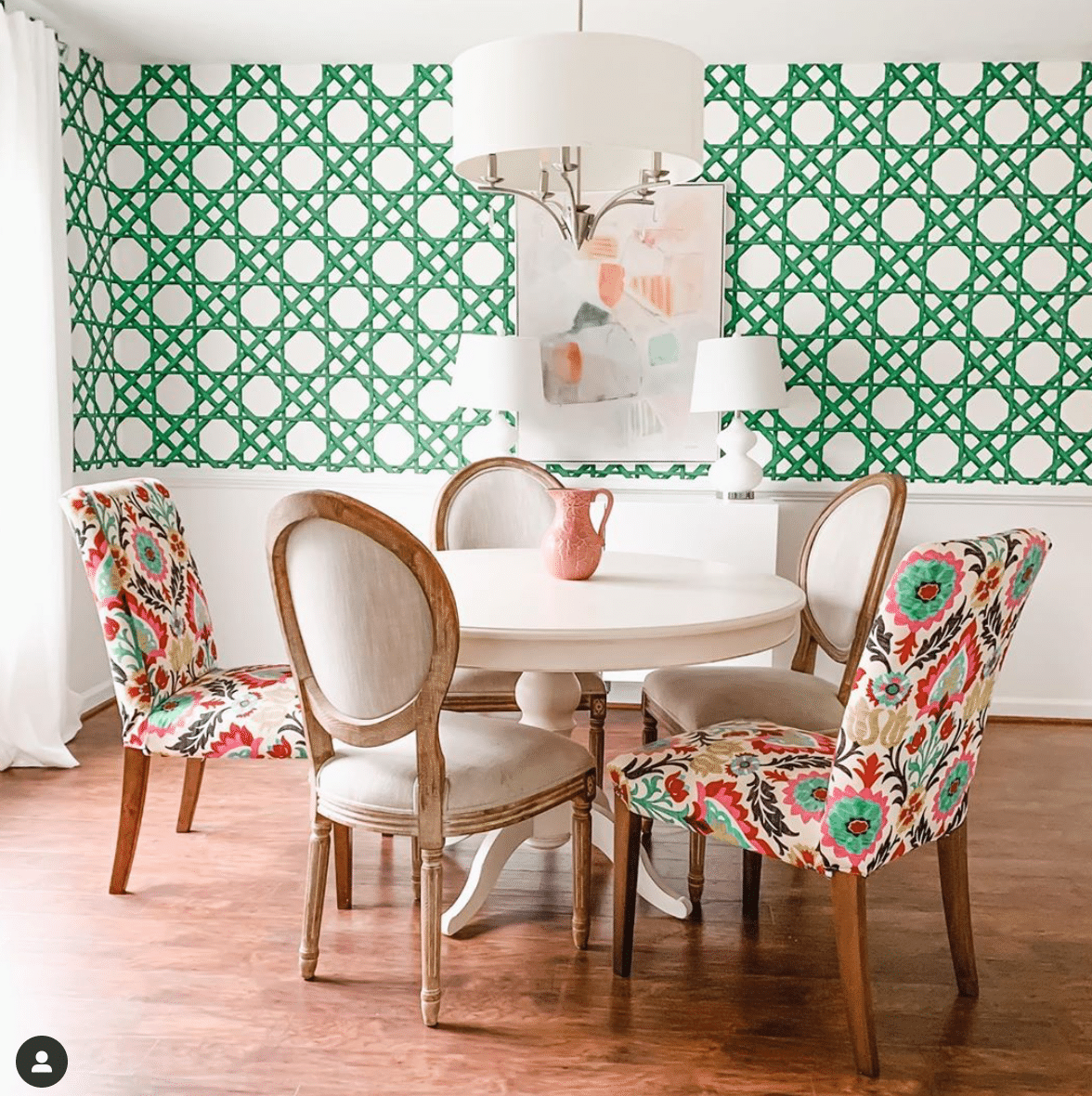 ALVA DINING TABLE
Number 6 on the list of most purchased items is the Alva Extension Round Dining Table from Ballard Designs. I am not shocked about this fine piece of furniture.
It has a classic pedestal look with the feature of extension leafs (?) for those who entertain large dinner parties. Ballard Designs is one of my favorite retailers, so to see their products do well makes me smile. If you're in the market for a round table, this one is a winner.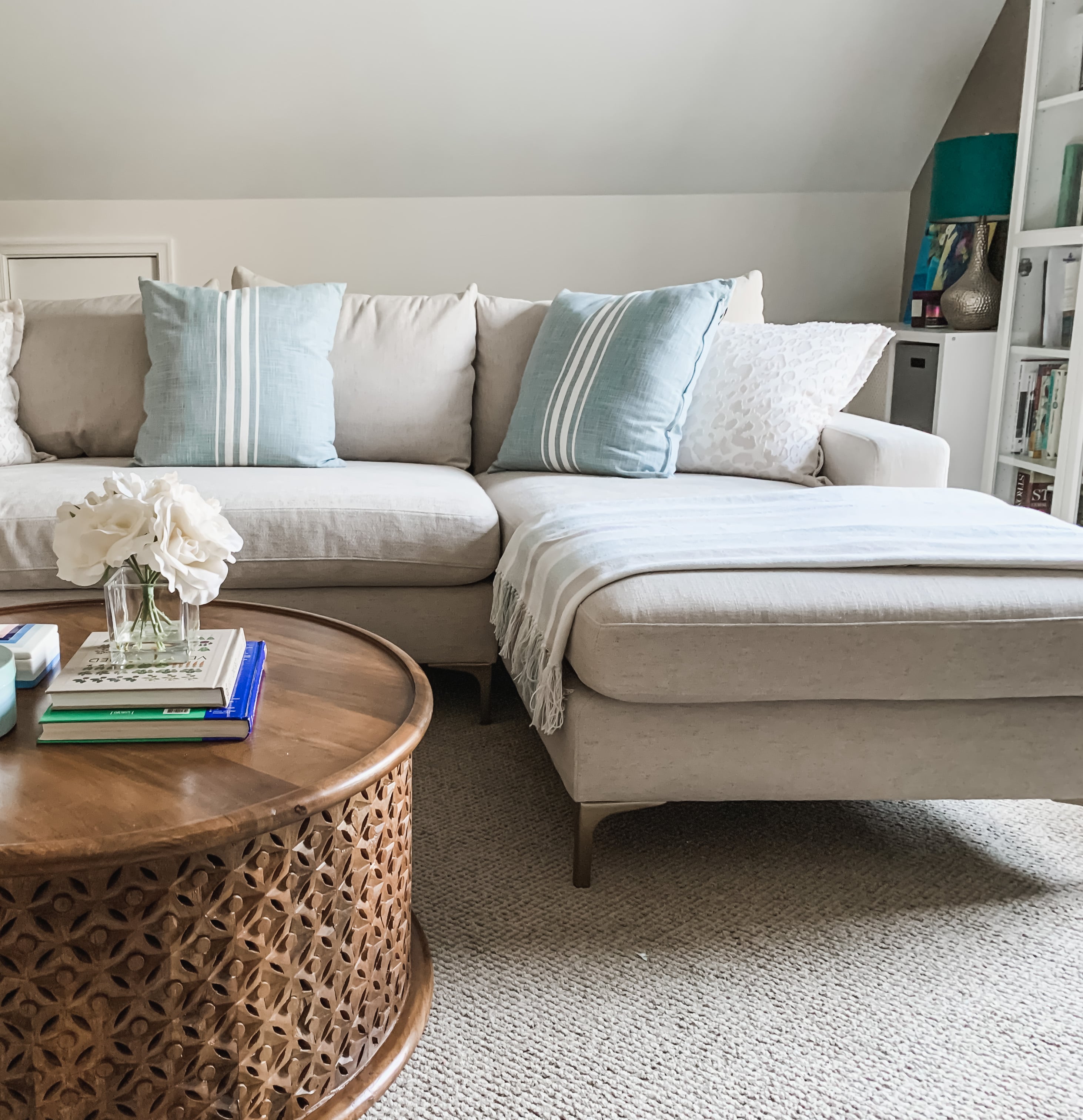 Do you remember seeing this mango wood coffee table tucked into our bonus room sofa from Interior Define? It's a perfect fit for sectionals.
MANGO WOOD DRUM COFFEE TABLE
The solid hardwood mango coffee table takes the cake as far as round coffee tables go. If you remember back to earlier this year, I searched for months to fin the perfect round wood coffee table at the perfect price point.
This beauty won me over, and it looks like it won you over too!
SWIVEL PATIO CHAIRS
This set of patio chairs from Better Homes and Gardens sell out at Walmart (online) as quickly as they come back in stock. At the end of this summer (2020), they sold out completely a mere 4 hours after I posted the link that they were back in stock.
I certainly don't attribute that to my blog solely, but I do know quite a few other bloggers that pegged these as their favorite swivel patio chairs also. Even though they sell out fast, the good news is that you can sign up for alerts when they come back in stock and snag them then.
That concludes the Top 8 from Stampin Fool readers for this year, but I have one last thing for you before you go.
A HUGE THANK YOU
I want to THANK YOU for coming back, for reading consistently and sharing what you love with others. I enjoy researching and writing blog posts centered around making your home warm, beautiful and friendly for company. When you read and message me on Instagram or send an email with a question, it lets me know that you're listening and that it's resonating with you. I love that.
But it also takes a lot of work. So it's extremely rewarding when you read, share or comment. It makes every bit of work worth it. Fun Fact: Did you know it takes an average of 6 hours to write one blog post and create the graphics?!?
So as another thank you for reading, sharing and occasionally clicking those affiliate links, I've made printable gift tags for the taking.
PRINTABLE GIFT TAGS
Lastly, as part of this fun gift giving season, I've made some adorable printable Gift Tags that you can download for free over on this post! So head over and download the gift tags. Each sheet has 8 tags ready to print, cut and label for your 2020 Holiday shopping!