MUST HAVE ACRYLIC BAR CARTS: SPLURGE VS STEAL TO BUY RIGHT NOW
Looking for the perfect gold and acrylic bar cart? Look no further, I've got you covered with these affordable bar carts at every price point.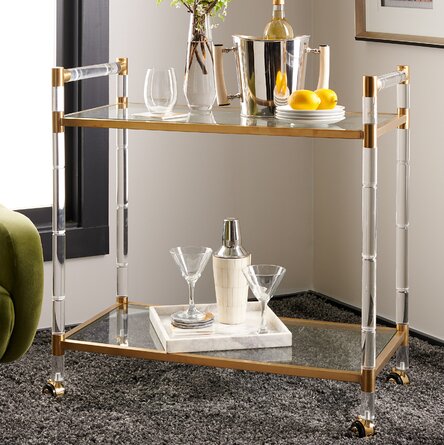 BAR CARTS
It's Splurge vs Steal day and this week we're talking acrylic bar carts, which make the perfect addition to any living or dining room. You'll have three great choices, at different price points, for your next acrylic bar cart purchase!
Are you struggling to know what to look for in a bar cart or how to style it? Look no further, I'm going to show you high style home decor at good, better, and best levels. You'll get to see what's out there and a few affordable look alikes.
A few tips for shopping with online retailers: Be sure to read the most current reviews and always look for real life photos of the decor pieces before you buy. I want your expectations to be realistic. But I will also do my best to share pieces with overall positive reviews and 5 starts!
Everyone's budget is different and where you want to spend and save will vary. Grab a glass of bubbly and check out this week's splurge versus steal on acrylic bar carts.
THE DETAILS: ACRYLIC BAR CARTS
Function or form? What is the purpose of a bar cart? Do you need one? Should you even use one?
Functionally, a bar cart is meant to hold glasses and barware, stirrers, coasters, liquor and wine and all of the fixings to easily make a drink. If you enjoy having an after dinner cocktail or frequently entertain guests, than using a bar cart may be the perfect functional piece for your home.
In contrast, if you can also use a bart cart as a stylish piece of furniture that may or may not function to serve drinks. Let me give you a few examples.
HALLWAY BAR CART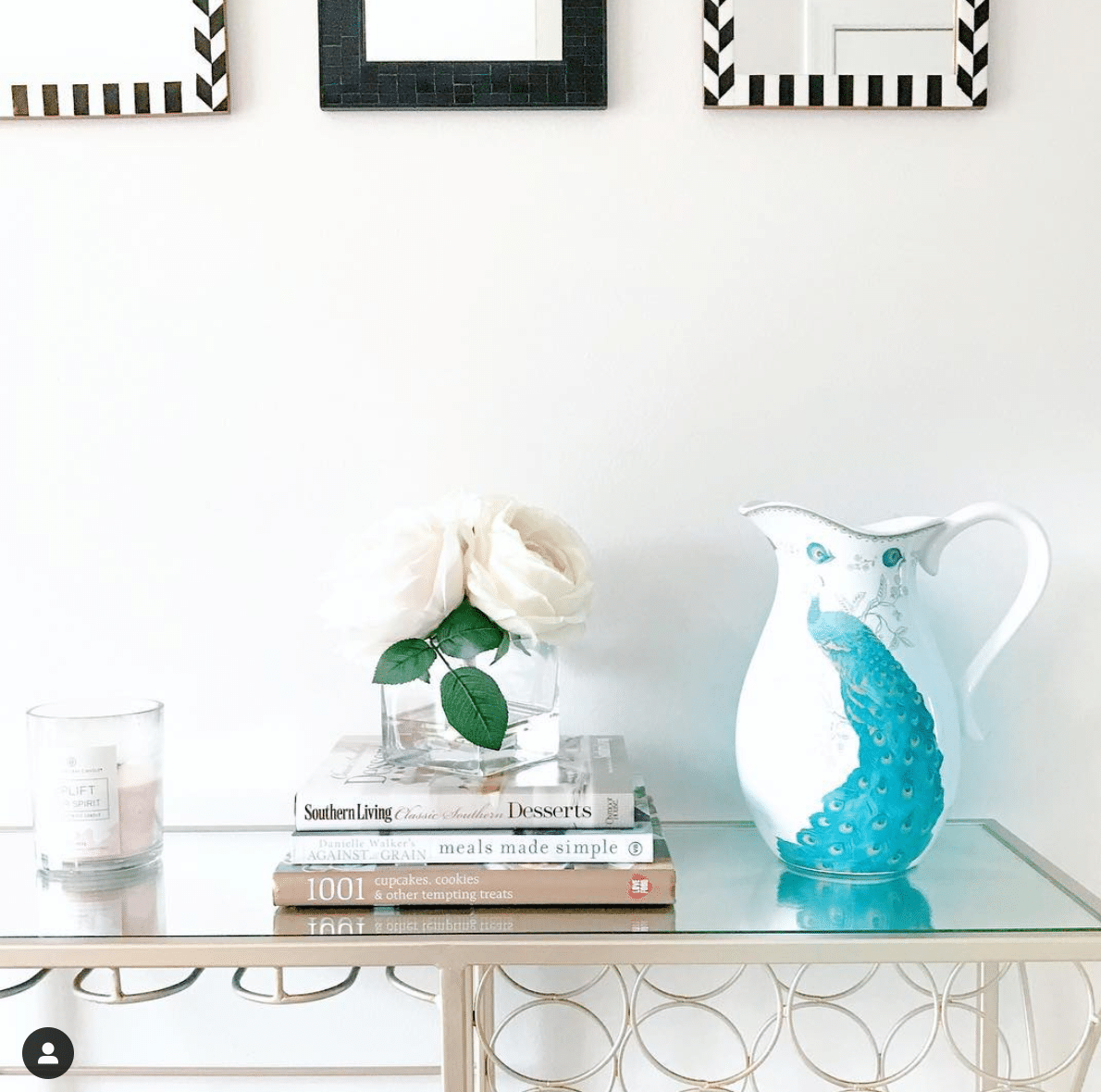 For years, in our small hallway from the front door to the eat in kitchen, I used a narrow wine rack cart as a console table and bar storage. As for function, it held our wine bottles, stemware that didn't fit well into my cabinets, my most used cookbooks, and fresh flowers (which I treat myself to weekly from Trader Joes).
In addition to it being function to hold wine glasses, bottles and flowers, it added a decorative element to a small space that wouldn't allow for much else.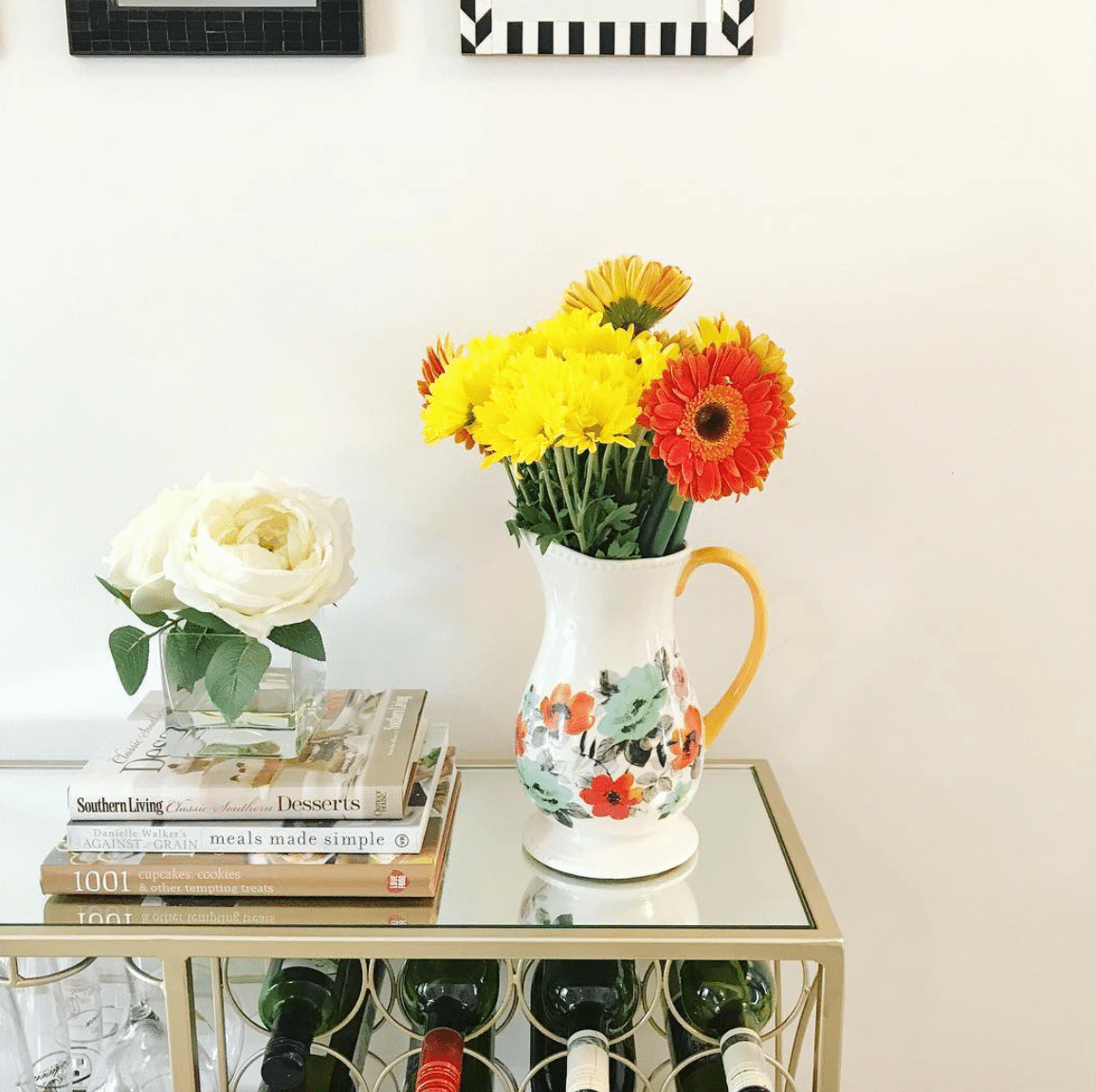 DINING ROOM BAR CART TRAY
In another rendition of the bar cart, I added a bar serving tray to our dining room to hold my favorite glasses and sparkling water. It added color to the room and made a drinks station readily available to guests (below).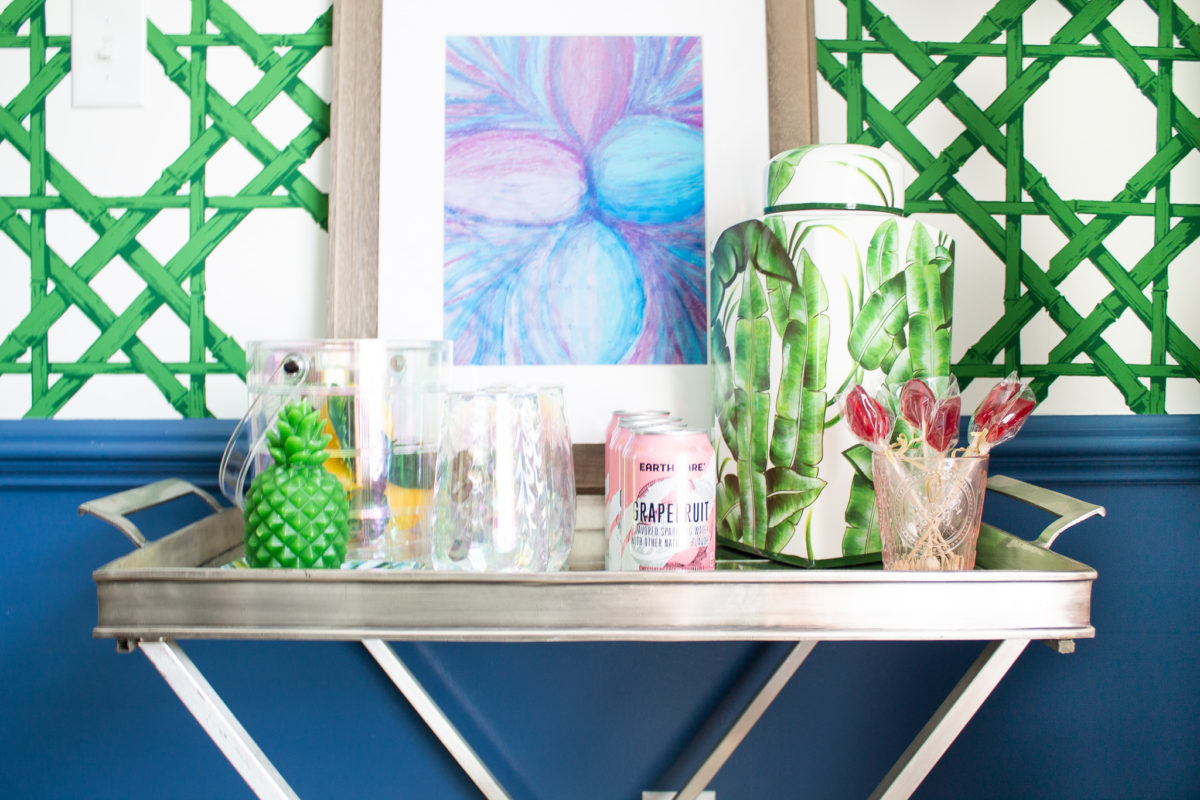 Lastly, I'll leave you with another article from Elle Decor for specific styling tips for your bar cart.
TIPS ON USING ACRYLIC BAR CARTS
Whether you use your bar cart for easily serving drinks or for purely decorative purposes, here are a few ideas for making it a functional piece in your home.
Use them in the living room to hold a drinks station for entertaining
Dining rooms are a great place for a bar cart to hold additional stemware, ice and flatware
If you don't drink alcohol, no problem, make a coffee station
Serve sparkling water
Add a plant if it's in a well lit place
Hang artwork over the cart for added decor
Opt for open cart if you keep it clean and organized
If you have little hands around, go for a bar cart with doors to avoid messes
This is the perfect place to add a pop of color to a neutral room
Display your favorite drinking glasses or bottles
Add a woven tray to the top to catch keys and phones near the door
Use it as a console table on a blank wall
EXAMPLES OF STYLED GOLD BAR CARTS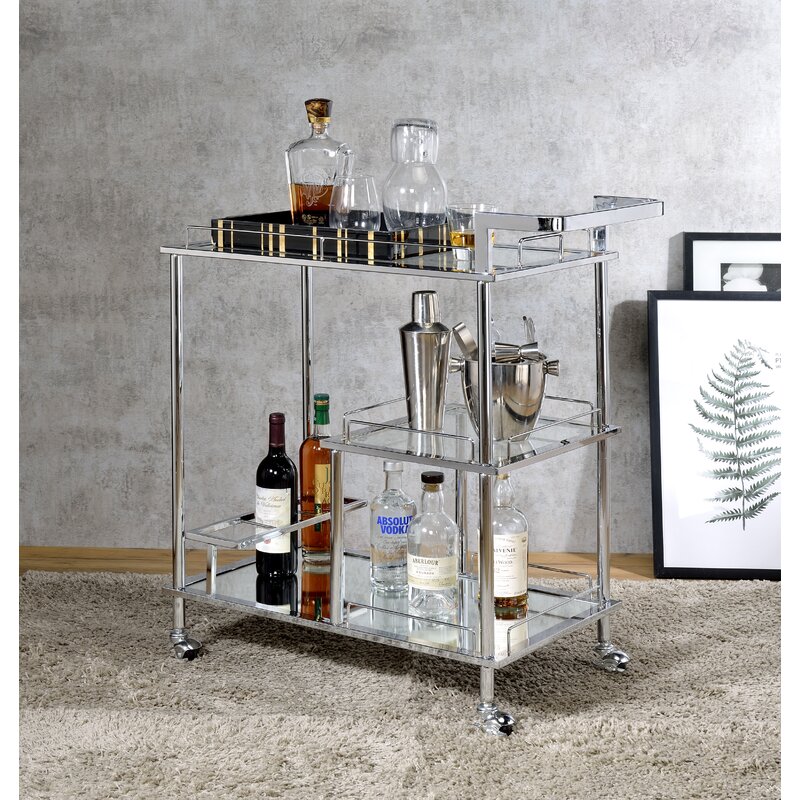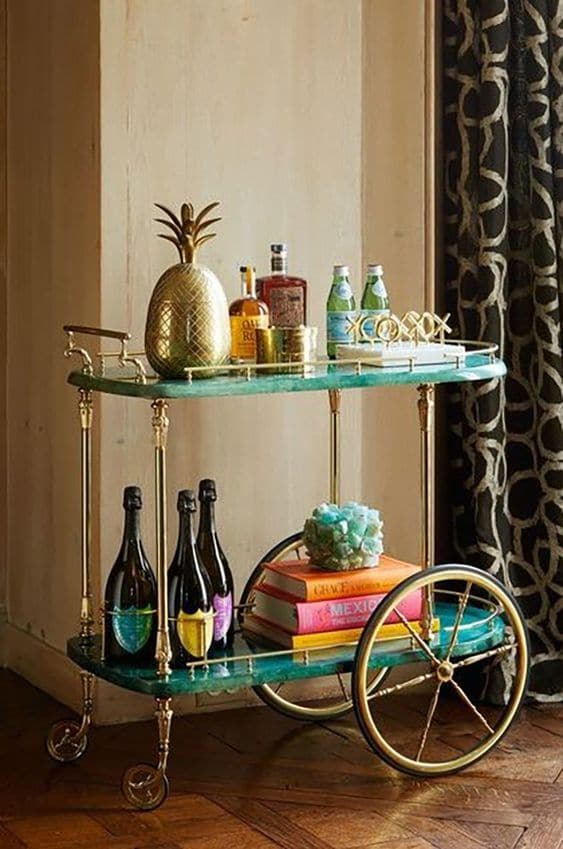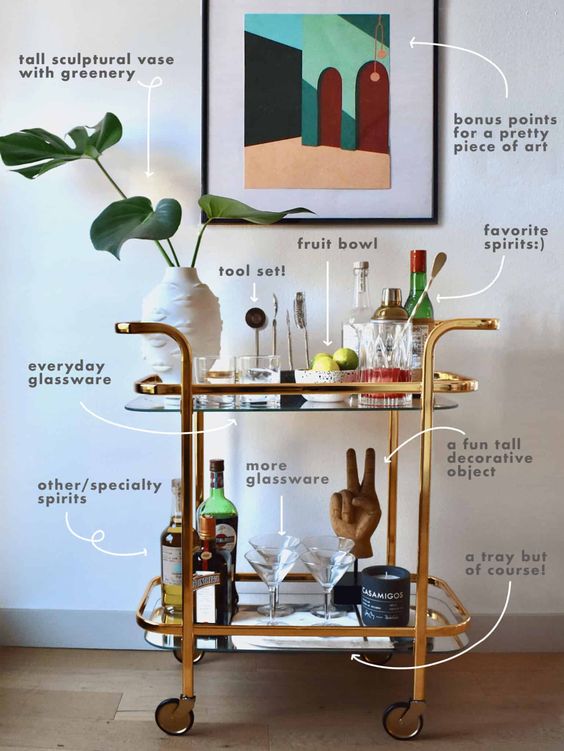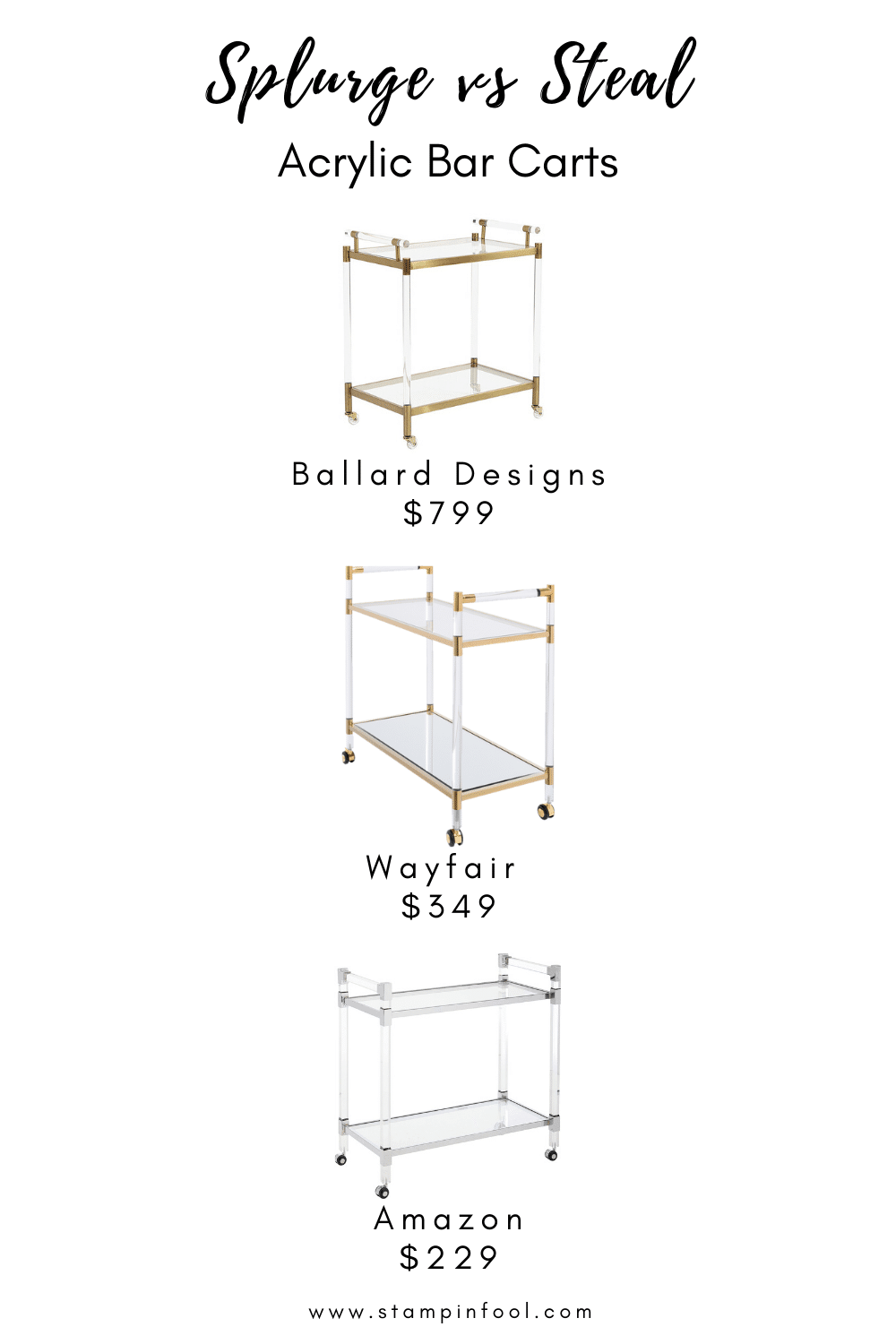 BEST ACRYLIC BAR CARTS
Lastly, to finish out the why and how of using a bar cart, I've selected three glam acrylic bar carts to choose from at three different price points.
Despite the lower price, the second acrylic bar cart has raving 5 start reviews, which is a good indication that it's going to be a great piece.
This post may contain affiliate links- meaning when you purchase through the link and I receive a small commission. It feeds my Starbucks addiction & for that I thank you! You can see my full disclosure policy here. (Affiliate links below for your convenience.)
BALLARD DESIGNS BAR CART
First up is the Ballard Designs Isadora. If you've been around here for any amount of time, you know I adore Ballard for everything from furniture to rugs and lighting.
This bar cart has quality acrylic handles and rails paired with shiny brass. You won't be lacking any glamour with this cart.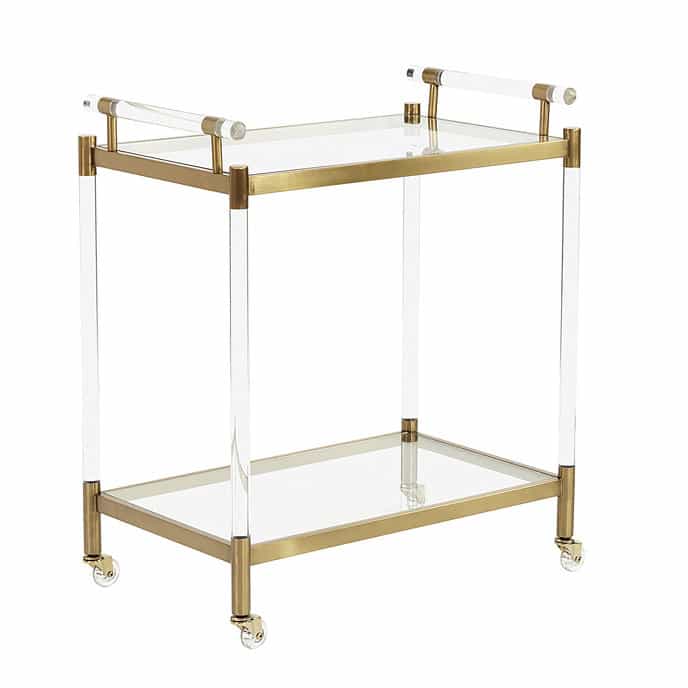 Ballard Designs: Isadora Bar Cart
WAYFAIR ACRYLIC BAR CART
Next is the Wayfair O'Hara acrylic bar cart, with two shelves and wheels, perfect for a living or dining room drinks station.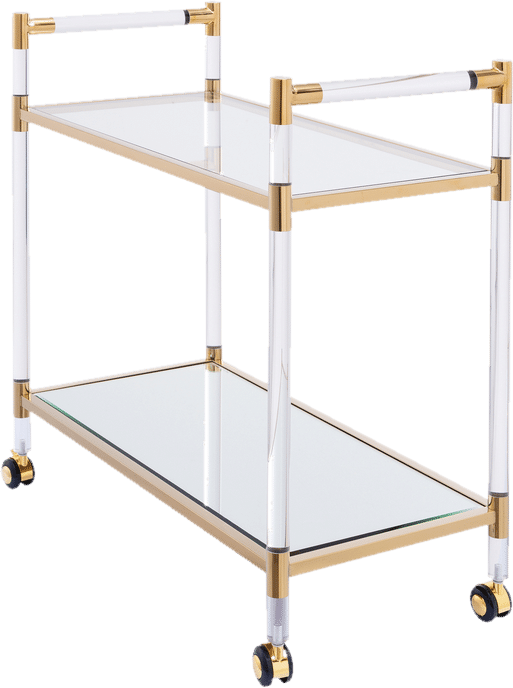 AMAZON ACRYLIC BAR CART
Lastly, this Amazon find won't disappoint. It's narrow enough to use in a tight space, but long enough to hold drinkware and accessories in any space.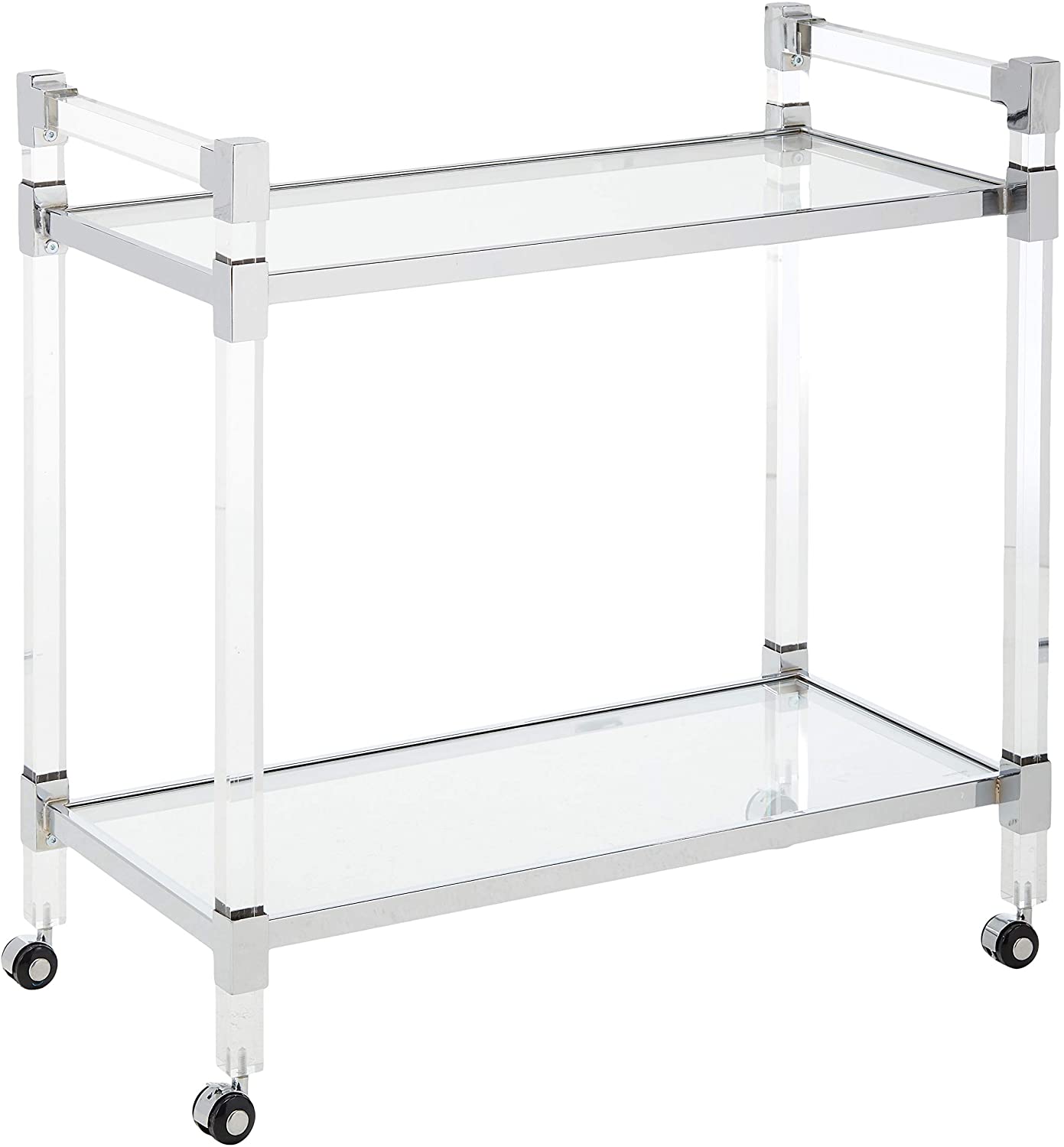 Amazon Modern Glass Trolley | Alternative: Gold Bar Cart
OTHER DESIGNER GOLD BAR CARTS
While the 3 bar carts above check the box for gold acrylic drink carts, I wanted to include a few others that you may love. These range from cabinets to small trays, but they are all beautiful and add a little sparkle to your spirits.
Other Splurge vs Steal Posts
Splurge vs Steal: Must Have Full Size Chandeliers
Splurge vs Steal: Gorgeous Velvet Green Accent Chairs
Splurge vs Steal: Canopy Poster Beds