The Best MODERN DISPLAY CABINETS of 2021
Searching for the best modern display cabinets to add to your home? Perfectly style one of these black cabinets to show off your treasures.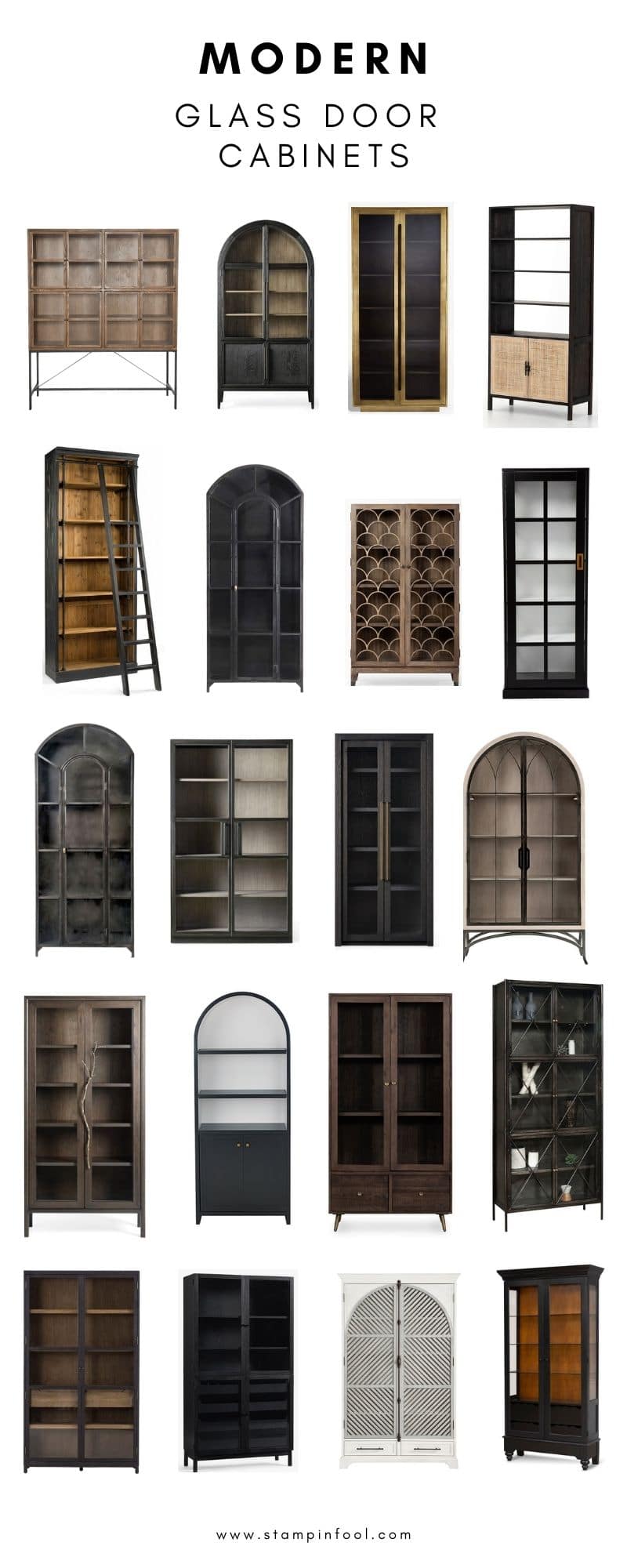 TYPES OF MODERN DISPLAY CABINETS
When I started searching for the perfect display cabinets for your home, I couldn't quite put into words what I was looking for. There are so many different names for modern glass cabinets that I wasn't sure how people would look for them.
These are the most common names I came up with for these glass door modern display cabinets.
Modern Glass Display Cabinets
China Cabinets
Curio Cabinets
Lacquered Hutch
Sideboard
Bar Cabinet
Styled Bookcase
Did I miss any terms you used to search for the perfect glass door cabinet?
How to Style a Modern Glass Door Cabinets
Glass door cabinet storage pieces are beautiful pieces that provide a great way to show off all of your favorite decor finds.
As always there are some guidelines for styling these cabinet shelves just like styling bookcases and etageres and you don't want to miss out on my favorite tips, so make sure you read the post.
Below, are a few of my favorite ways to style and group your decor items. The dotted lines represent the groupings & space between.
As always the number one rule is:
GO BIG or GO HOME.
Make sure you are using larger decor pieces and leaving white space between instead of a ton of tiny collectables that are all the same size.
Small collectables = visual clutter.
Vase + Box & Object + Vase (3 Groupings)

Tall Vase & 2 small vases + Books & Bookend (2 Groupings)

Art & Horizontal Book stack & Wooden Box + Horizontal Book stack & Object (2 Groupings)

Tall Sculptural Statue + Horizontal Books & Object + Medium Vase (3 Groupings)

WHERE TO BUY THE MODERN Glass Door DISPLAY CABINETS (2021)
Now that you know how to style your gorgeous glass door cabinets, you'll need to find the perfect one. Typically, as price point goes up, so does quality but that's not always true.
Of the list below of places to buy modern glass door cabinets, my hands down favorite pieces will always be made of real wood, so vintage or refinished pieces from Facebook Marketplace and local consignment shops usually win.
Amazon
Anthropologie
Arhaus
Ballard Designs
Crate & Barrel
Ebay
IKEA
Facebook Marketplace
IKEA
Instagram
Perigold
Pottery Barn
Target
Wayfair
Walmart
West Elm
World Market
Vintage & Used
THE BEST MODERN DISPLAY CABINETS FOR 2021
This post contains affiliate links for your convenience and I may earn a small commission when you purchase through the links (at no cost to you). It helps support this blog so that I can buy coffee while writing these awesome posts!
ANTHROPOLOGIE
I adore the arch of this black glass cabinet with the contrast of the warm oak wood tone on the interior. It's a gorgeous accent piece for any room and the perfect bar cabinet for entertaining.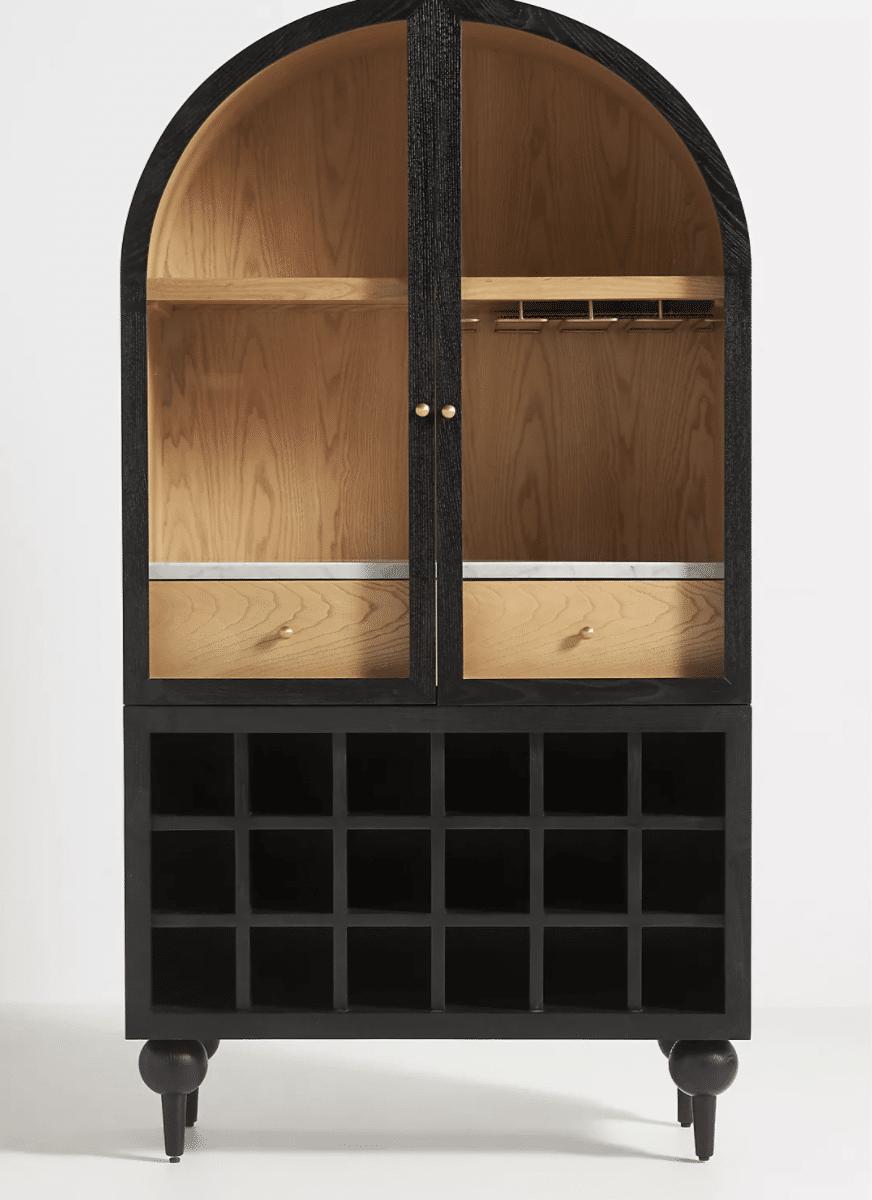 Arched Black Glass Door Cabinet
Arhaus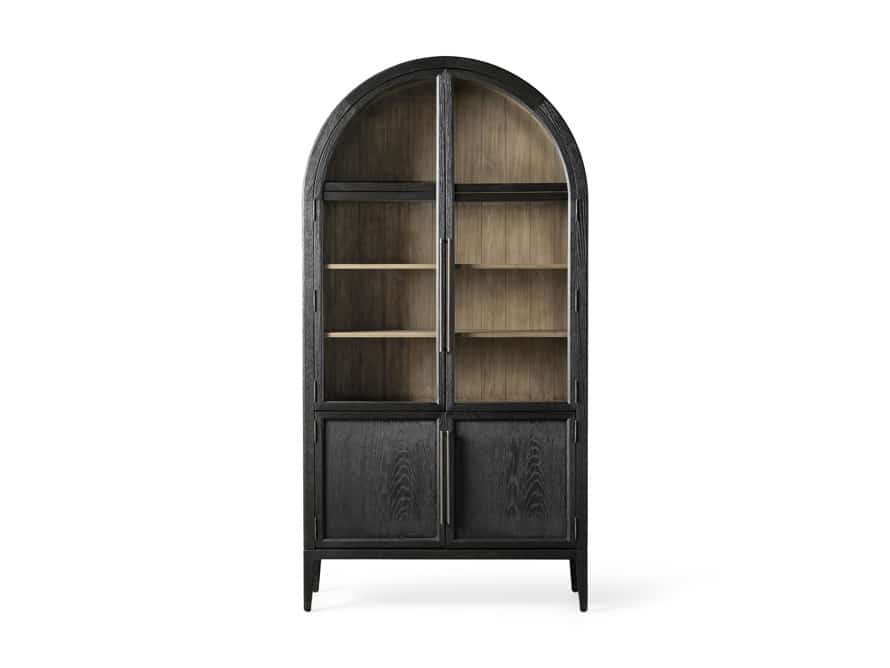 Hattie Arched Glass Door Cabinet
If you're looking for a simple clean lined glass door cabinet, this one from Arhaus is a clear winner. It's tall and handsome and the metal handles are substantial, heavy.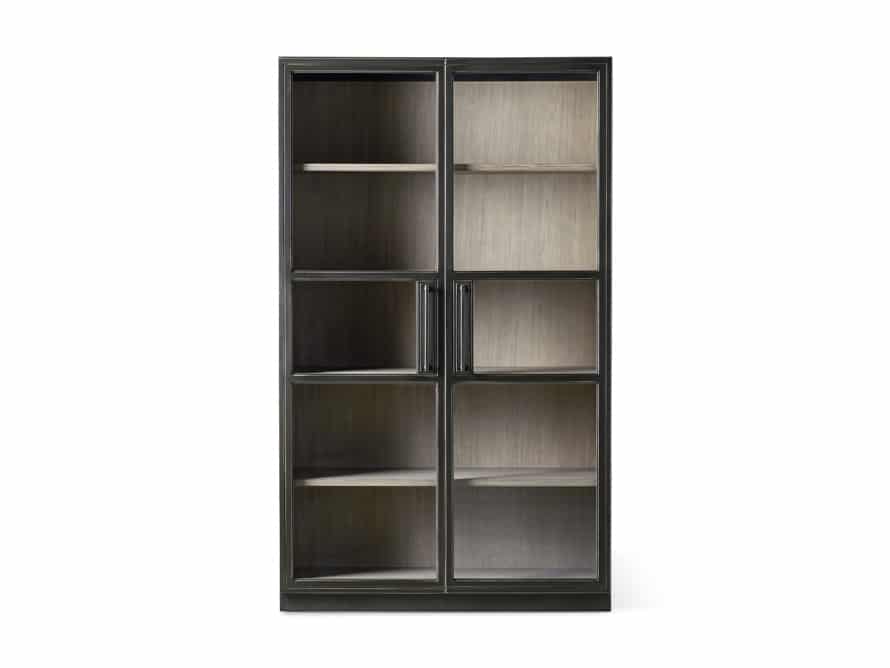 Factory Black Wood Cabinet with Glass Doors
I chose the Bodhi cabinet because I loved the gold hardware- it's oversized which gives it the right amount of bling.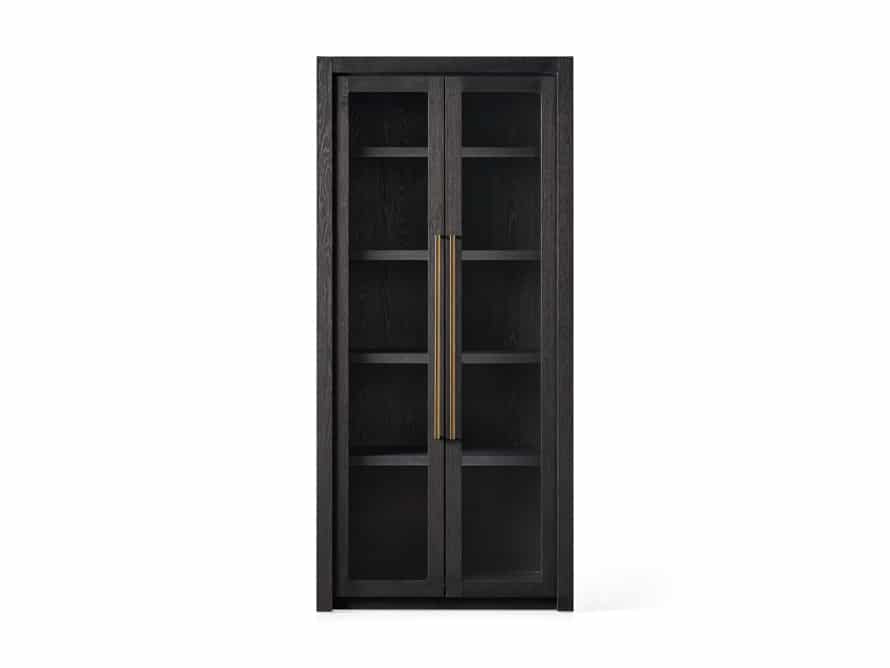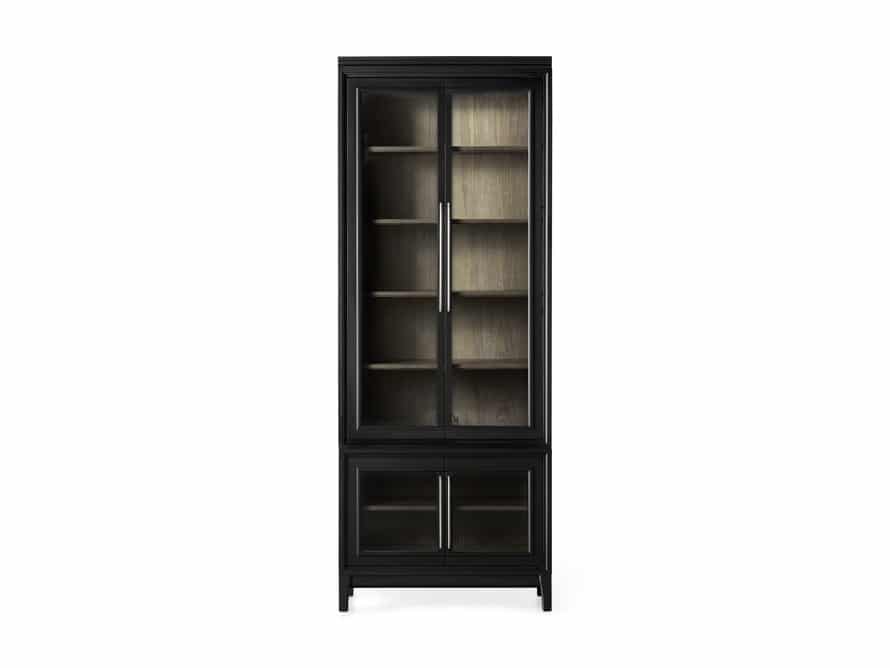 The Sycamore cabinet below has a gorgeous wood tone and that organic metal branch handle is stunning! There's no question as to why it's named the sycamore.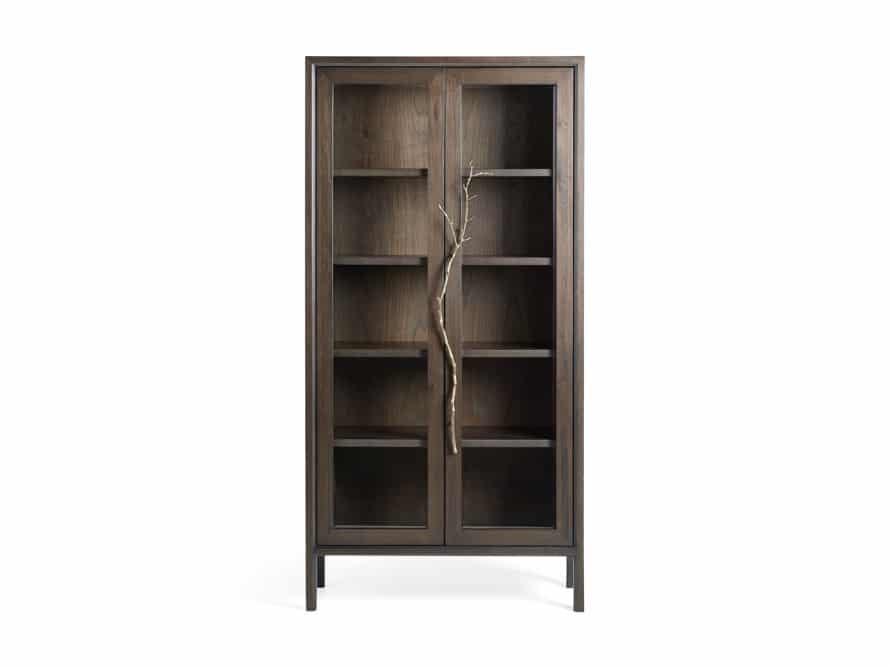 BALLARD DESIGNS
You know by now that Ballard Designs is one of my favorite retailers. While they don't have stores all over the country, there are showrooms in Atlanta, DC, Florida, Illinois, NY, NC, Texas and more.
As they continue to open more stores, my excitement grows that you can have a hands on experience with Ballard. Nonetheless, you can purchase online no matter where in the US you live and you will be delighted just the same.
The quality is superb and the furniture designs are well thought out and tested. Like these arched cabinets below, I just can't get enough Ballard in my life.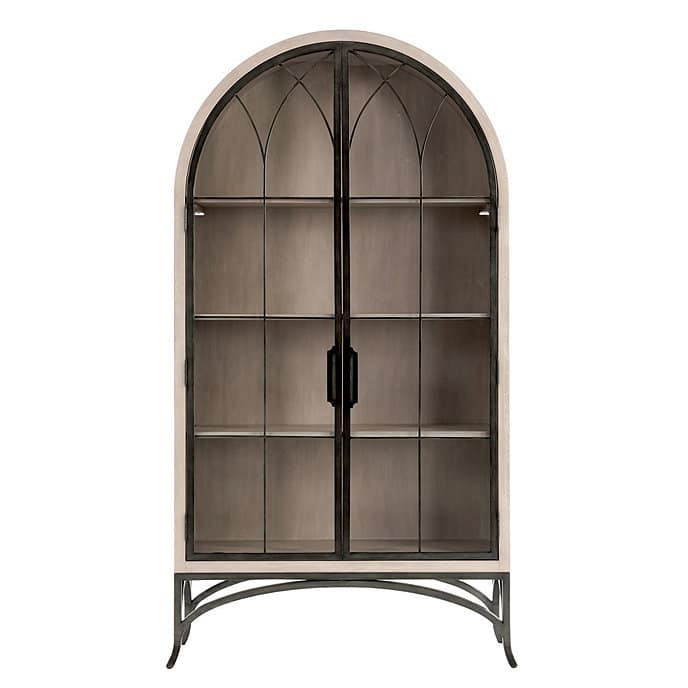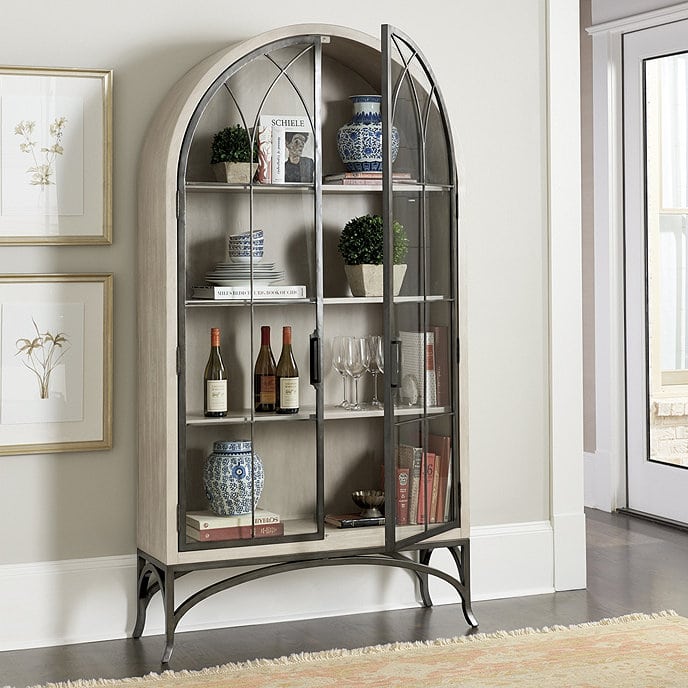 I ADORE the arch in a contrasting white on this cabinet, and then those little brass knobs just take this piece to the next level. It is gorgeous and styles very easily due to the large shelves (which are adjustable).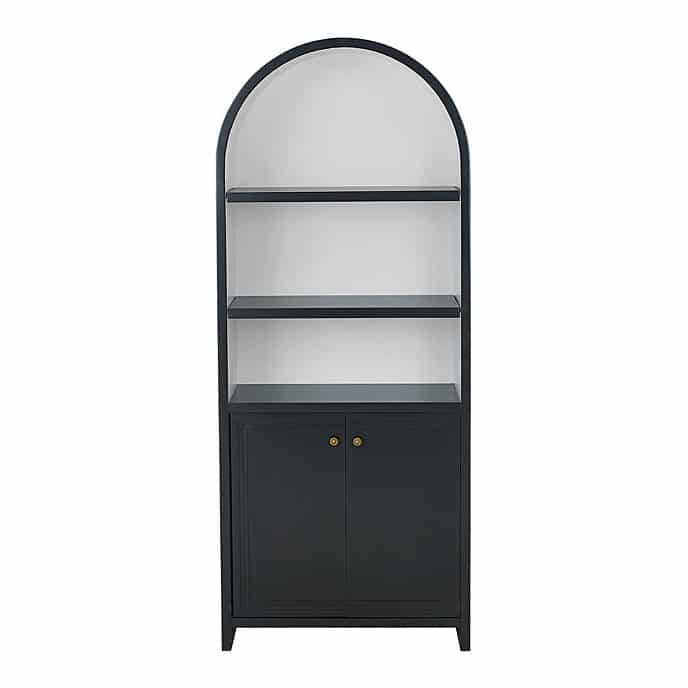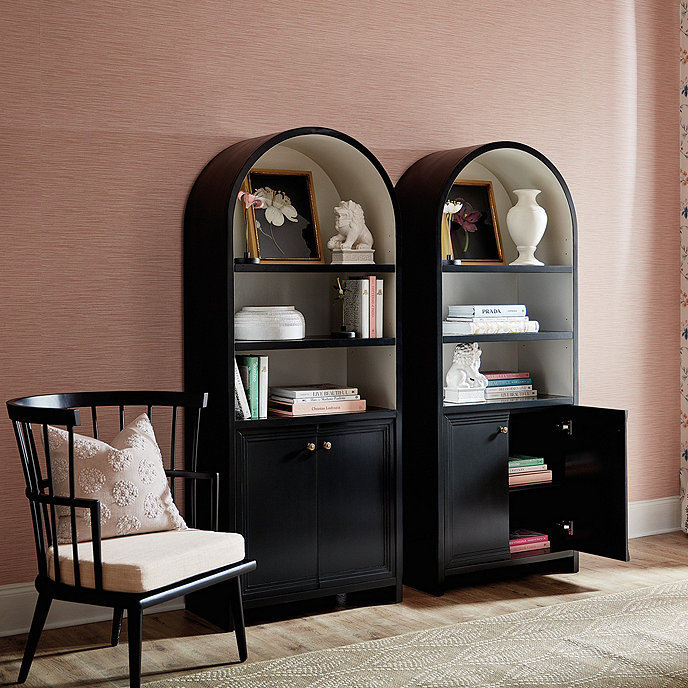 Albany Arched Black Glass Door Cabinet
CRATE & BARREL
When I think of a modern cabinet or storage bookcase, Crate and Barrel is one of the first retail store that comes to mind. They are known for clean lines, mixed metals and wood finishes.
And these cabinets fit that bill exactly, starting with this arched black glass door cabinet named the Ventana.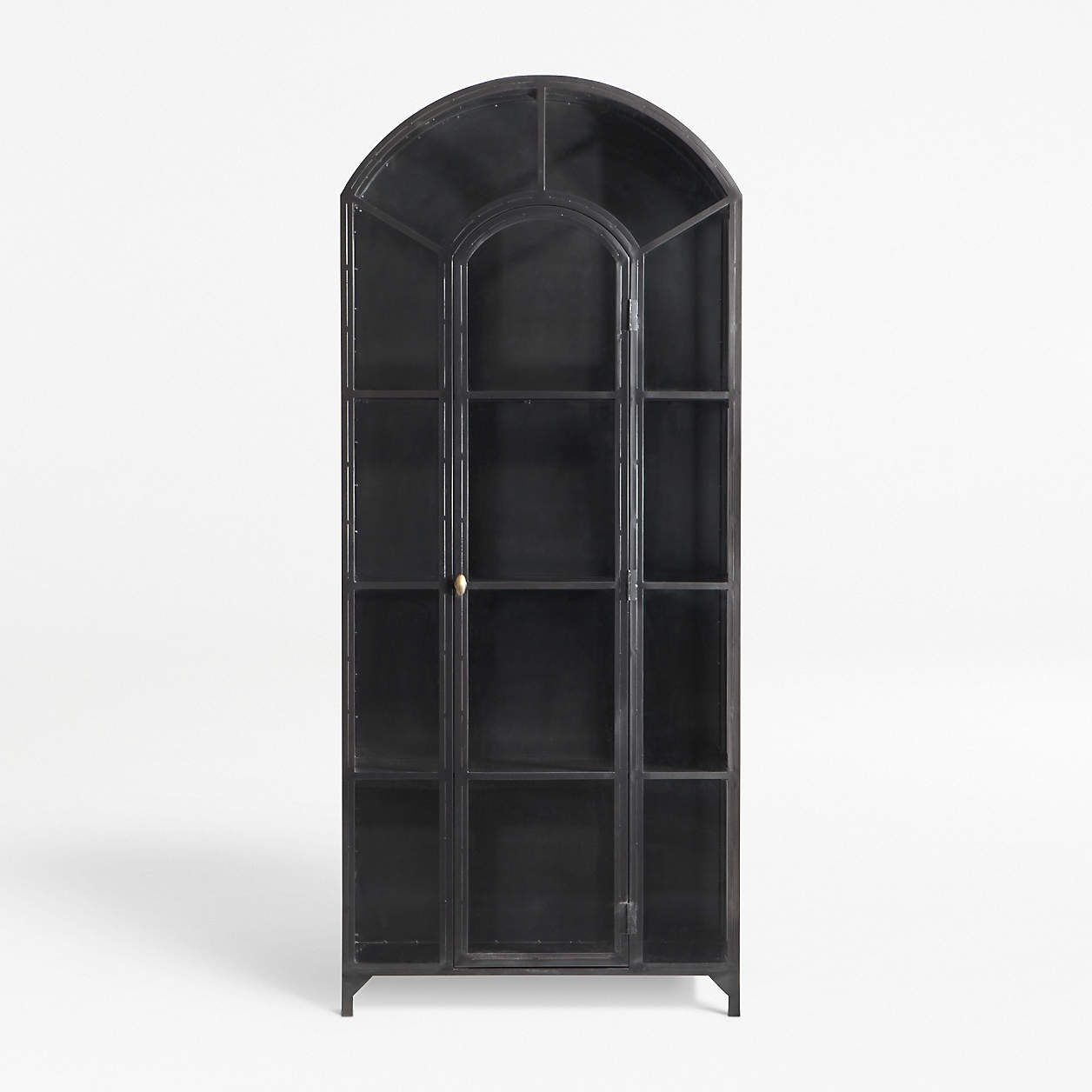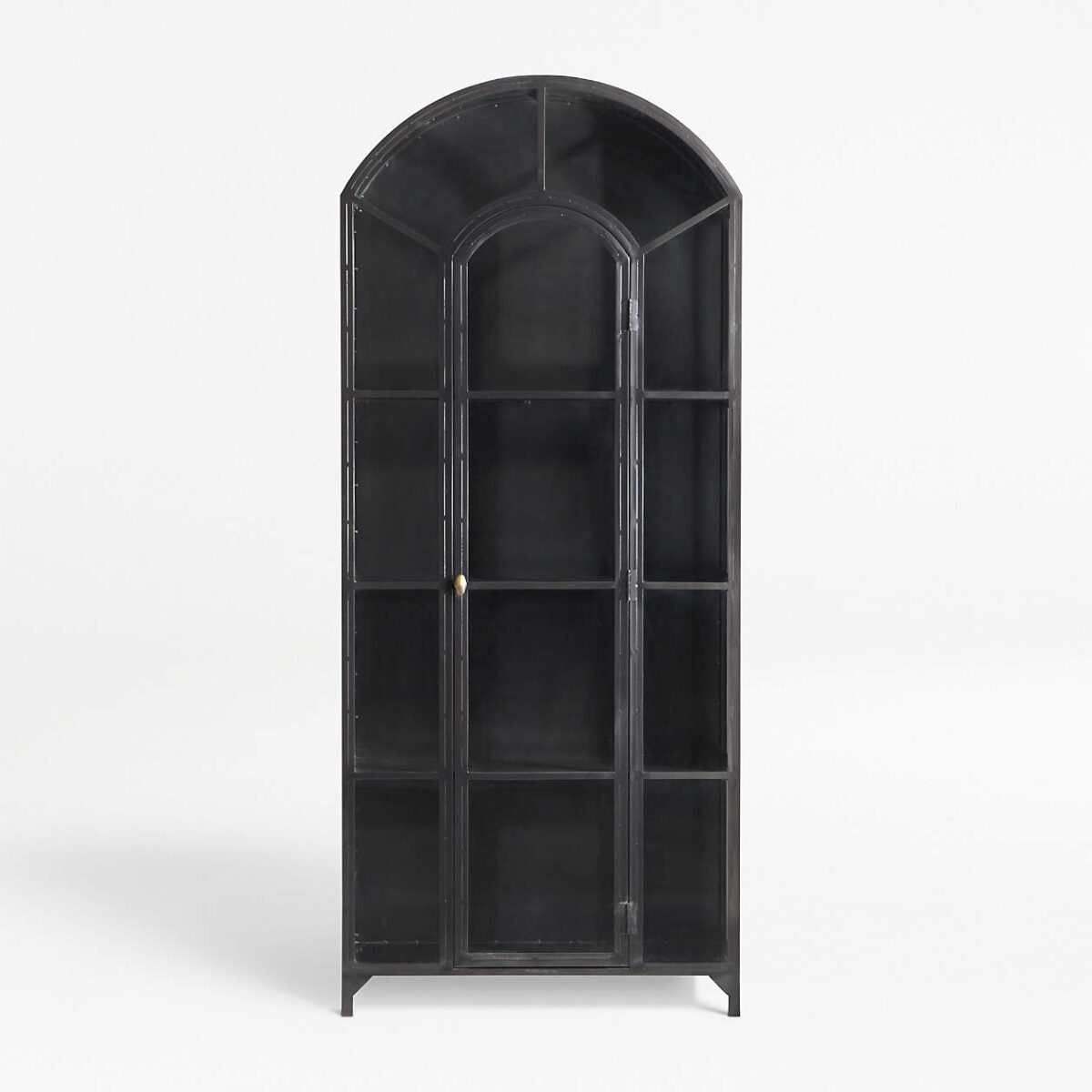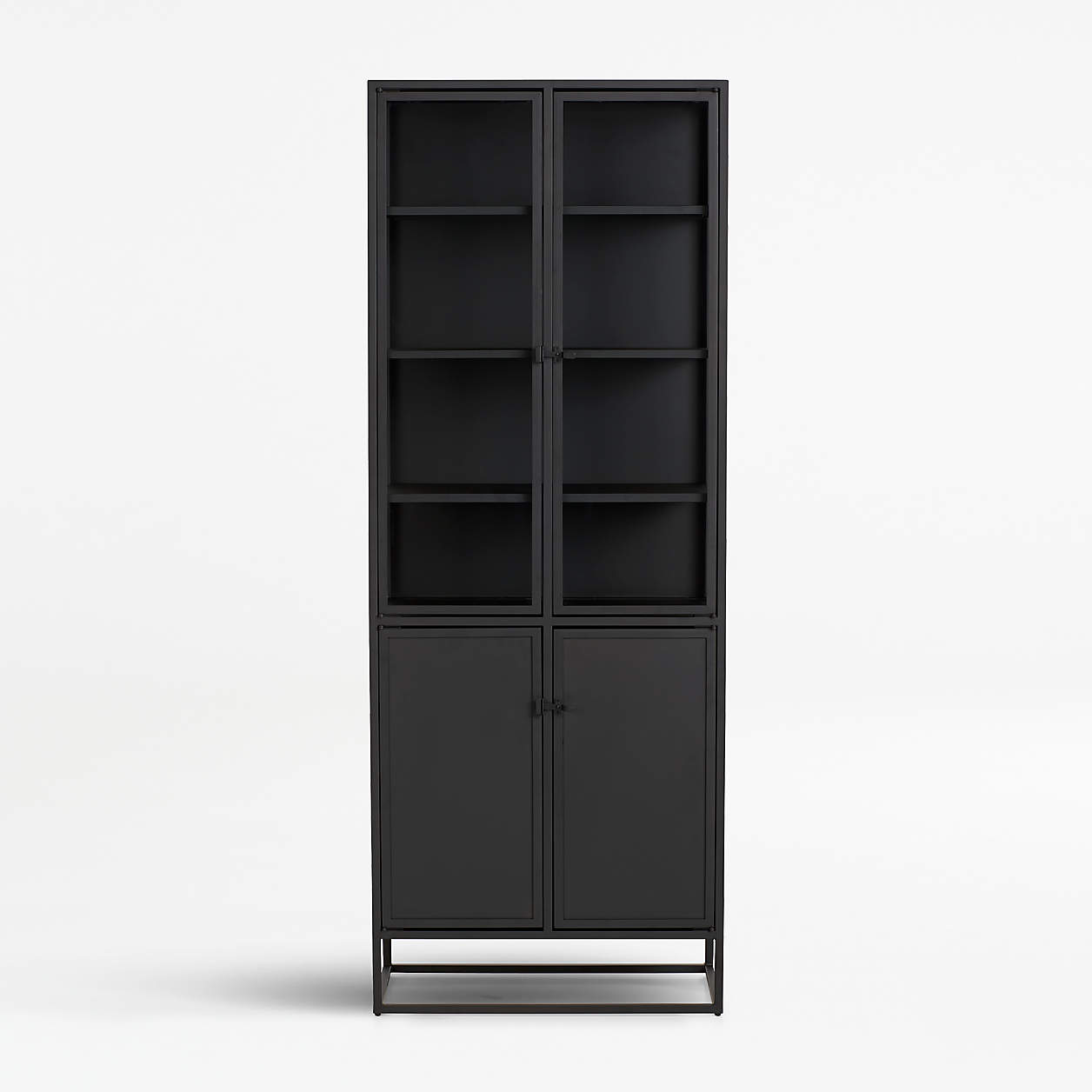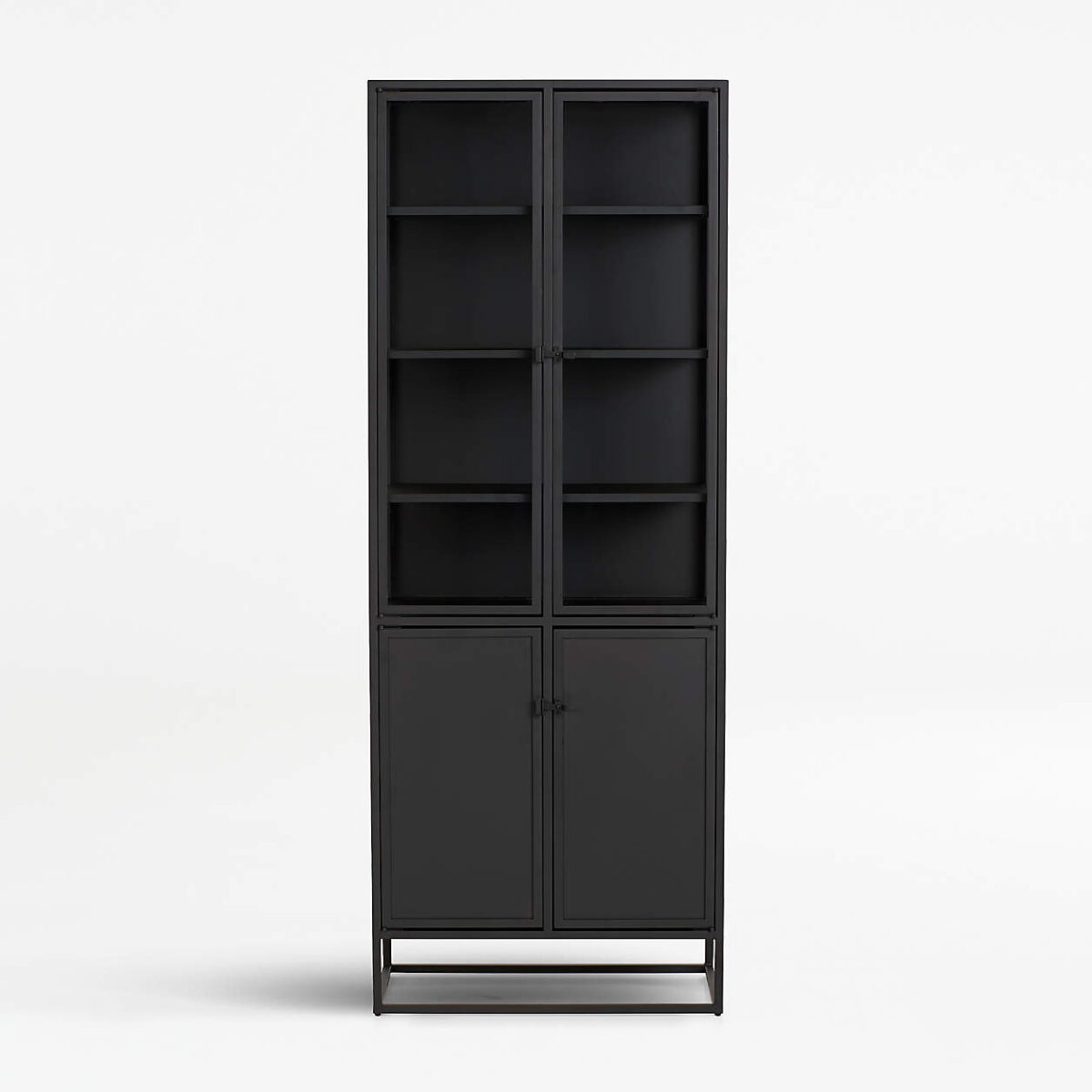 While most of the glass door display cabinets I am sharing today are black, you know I can't pass up on an amazing shiny and stunning, gold display cabinet to show off all of your collected pieces.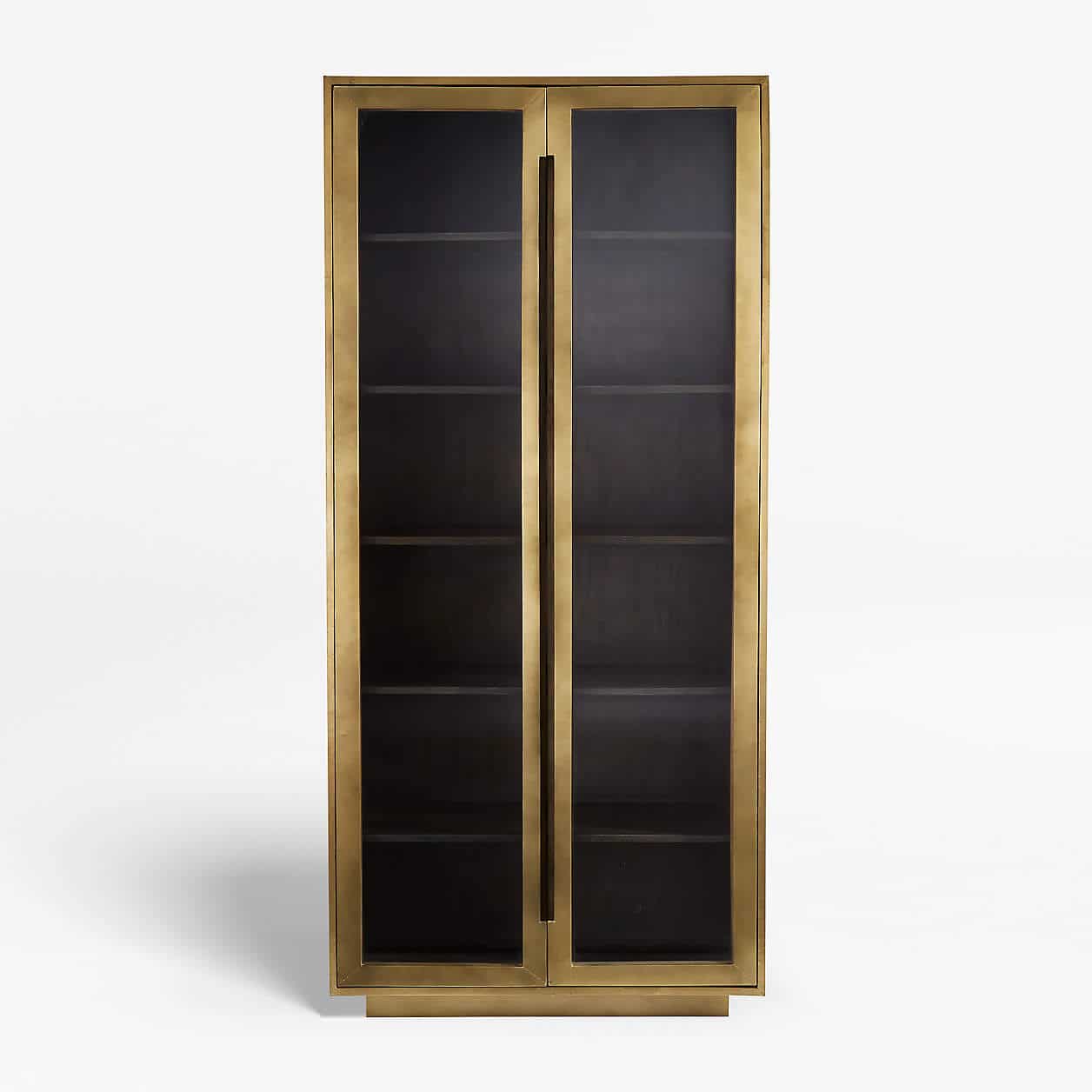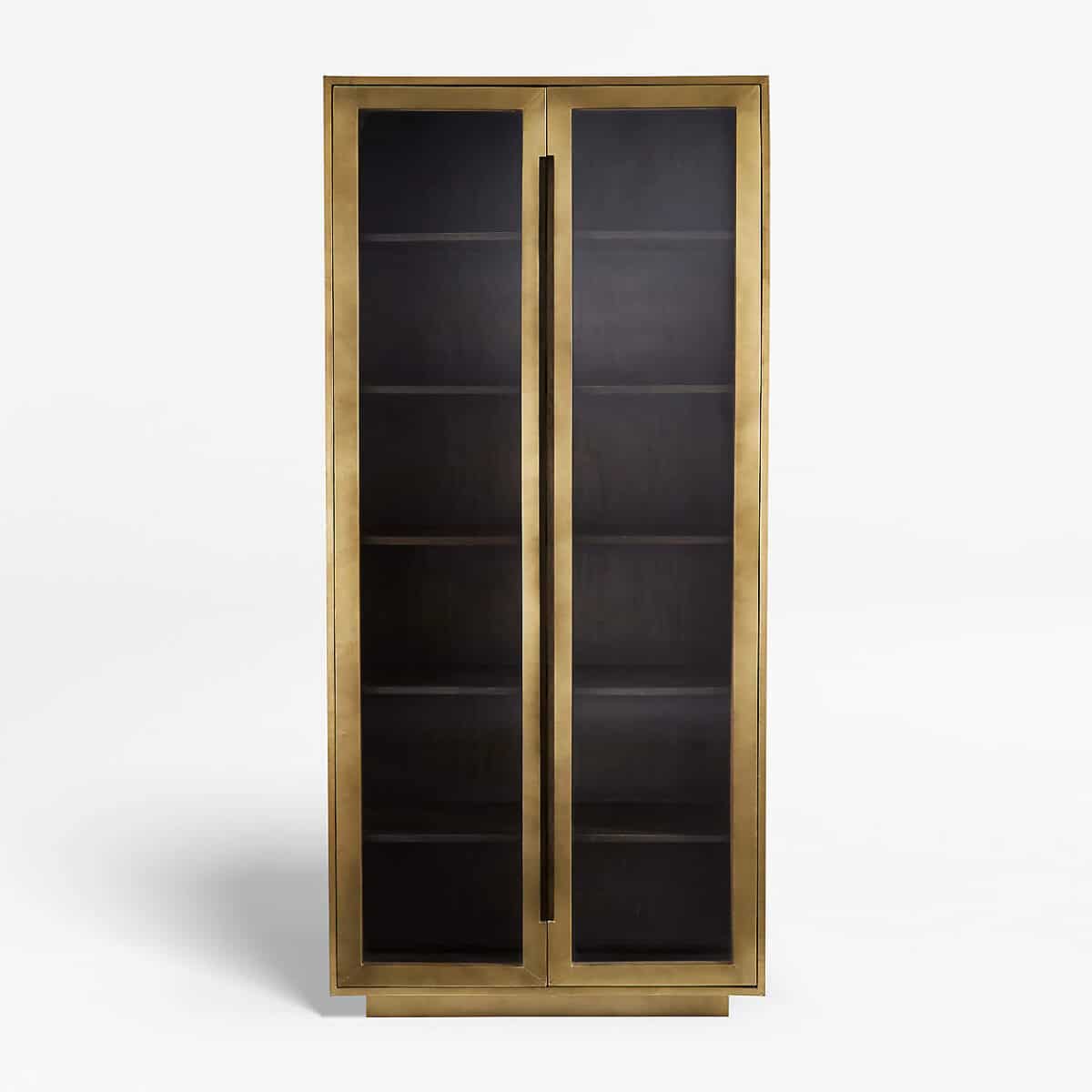 Gold Metal Glass Door Display Cabinet
IKEA
If budget is your primary concern, IKEA is 100% the place to shop for glass door cabinets. I've owned the Billy bookcases, Besta sideboard and more. It is a great price point for heavy, heavy duty glass door cabinets.
Here are a few of my favorites, but don't take my word for it- go to your local IKEA store (yes it's worth the 4 hours drive) to check them out for yourself.
Plan on spending 3-4 hours walking through the showroom floors (childcare is even provided for 1.5 hours in the staff supervised play area!).
Be sure to take inspiration photos of how each space is styled. It's a great way to get styling ideas for your own home.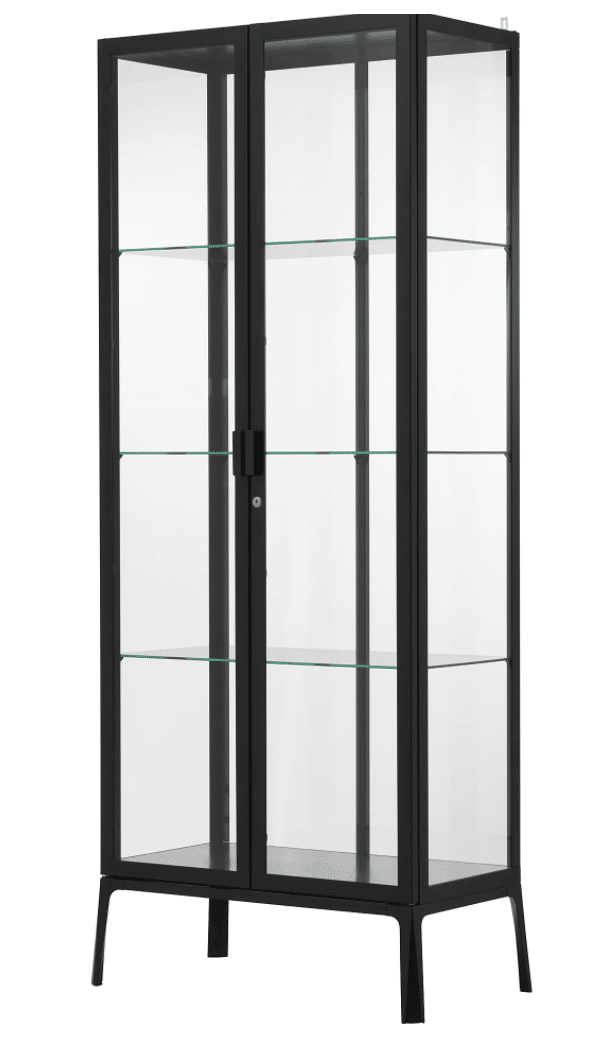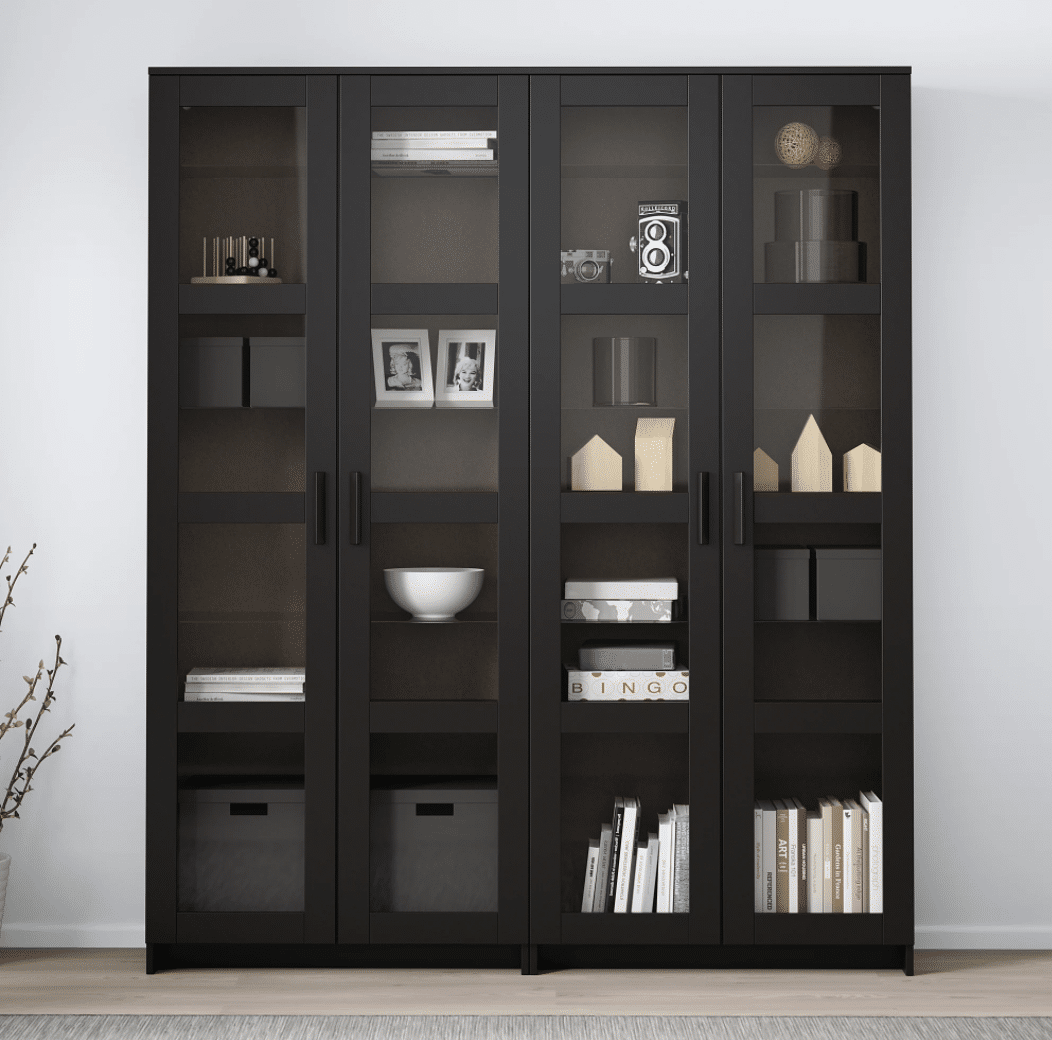 IKEA BRIMNES Glass Door Cabinet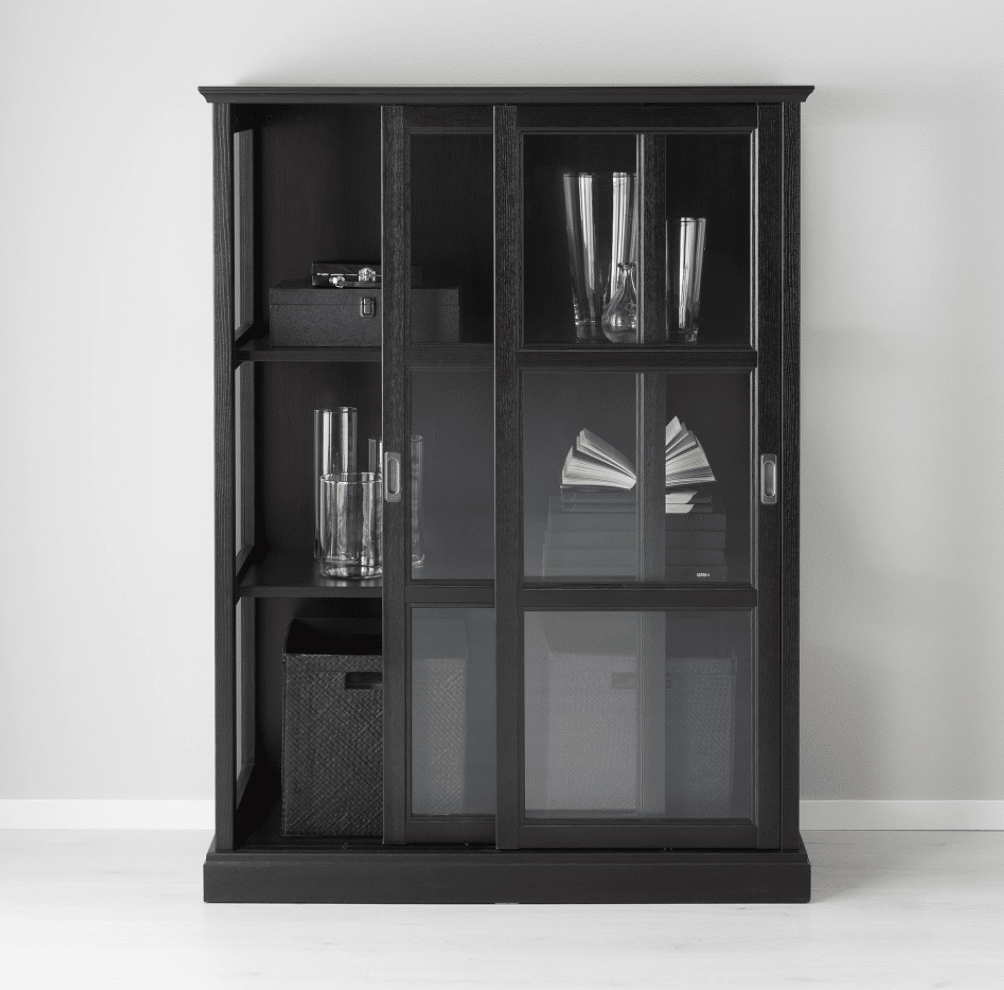 Perigold
Have you heard of Perigold? It's a division of Wayfair, but hosts designer brands.
What does that mean? Well, in short, designer brands that typically produce handmade/assembled, quality furniture pieces (most in High Point, North Carolina believe it or not) that are available to interior designers, furniture showrooms and sometimes select pieces are available online to consumers (that's you).
Like below, Four Hands is a brand that sells to designers. It is the introductory price point for designer furniture, comparable to Pottery Barn in price.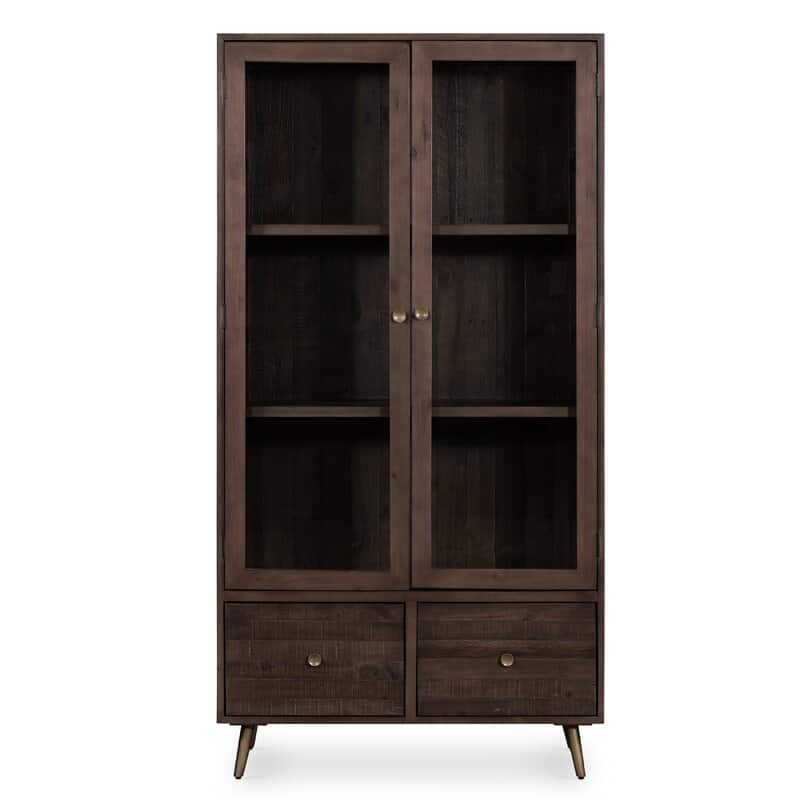 When I saw this rolling ladder bookcase, I had to include it in the roundup of cabinets. HOW SPECIAL IS A ROLLING LADDER!?! It's such a fun and unique detail.
If you have space for it in your home, it definitely won't be a piece everyone else has!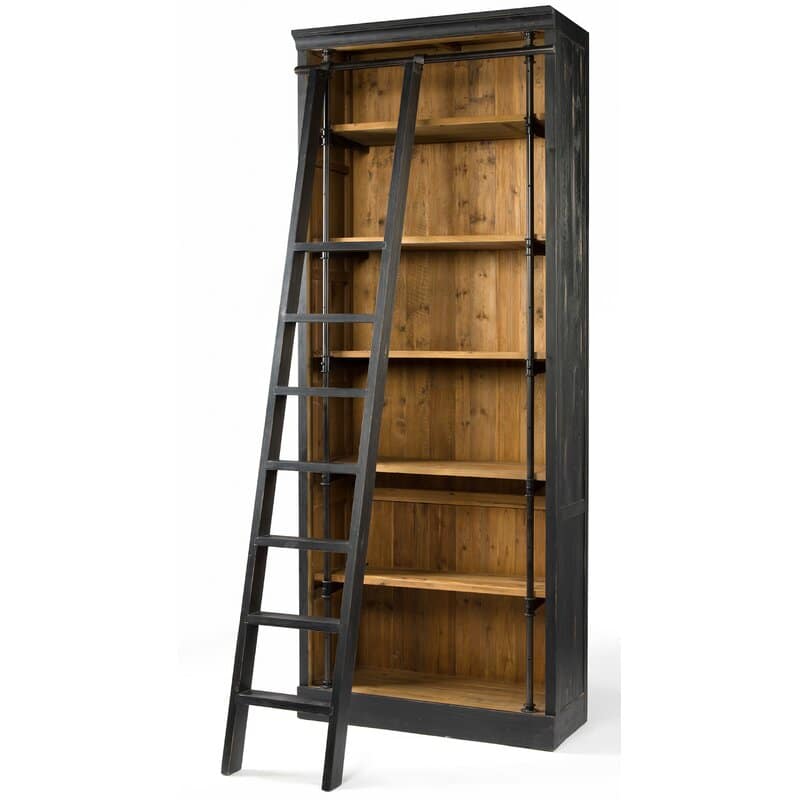 Pottery Barn
PB seems to be the go to for "nice" furniture. And if you are shopping retail, you can get the whole shebang from Pottery Barn.
So, I won't knock it totally. It's a great place to start if you are beginning to furnish your home and can't afford a designer, but want something nicer than Value City or IKEA (no shame their either, it's your money- you spend it where you want).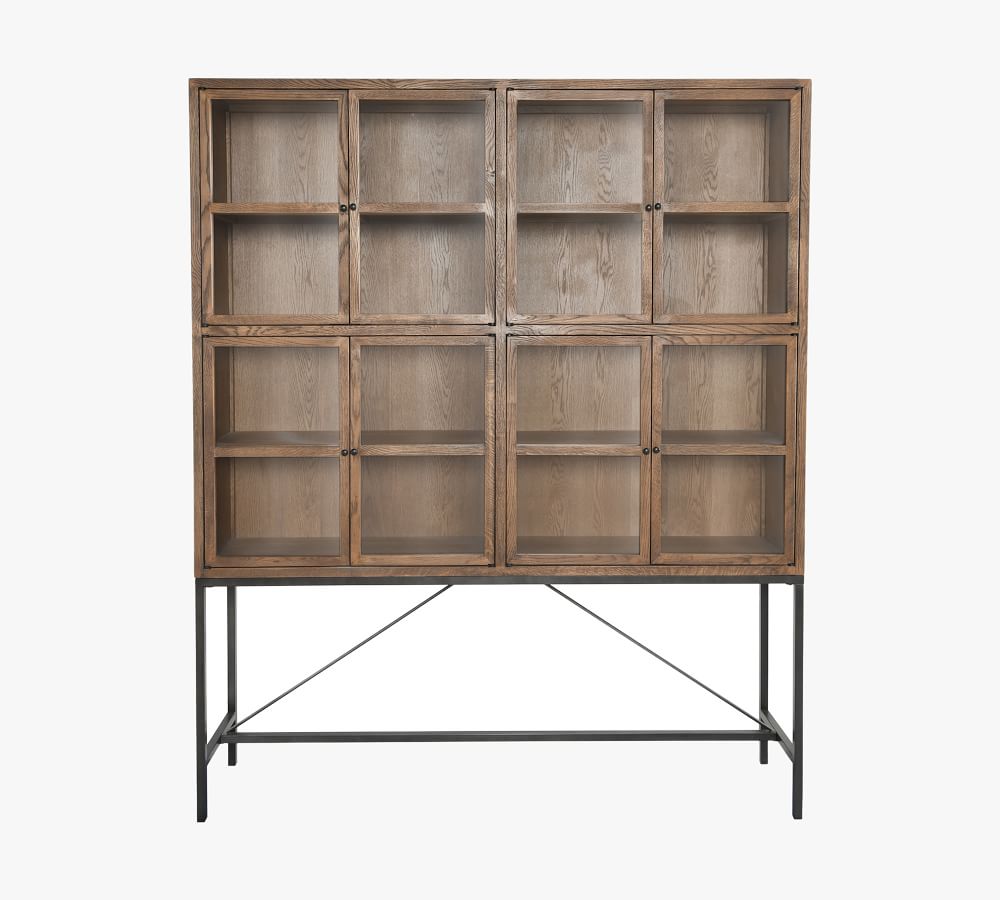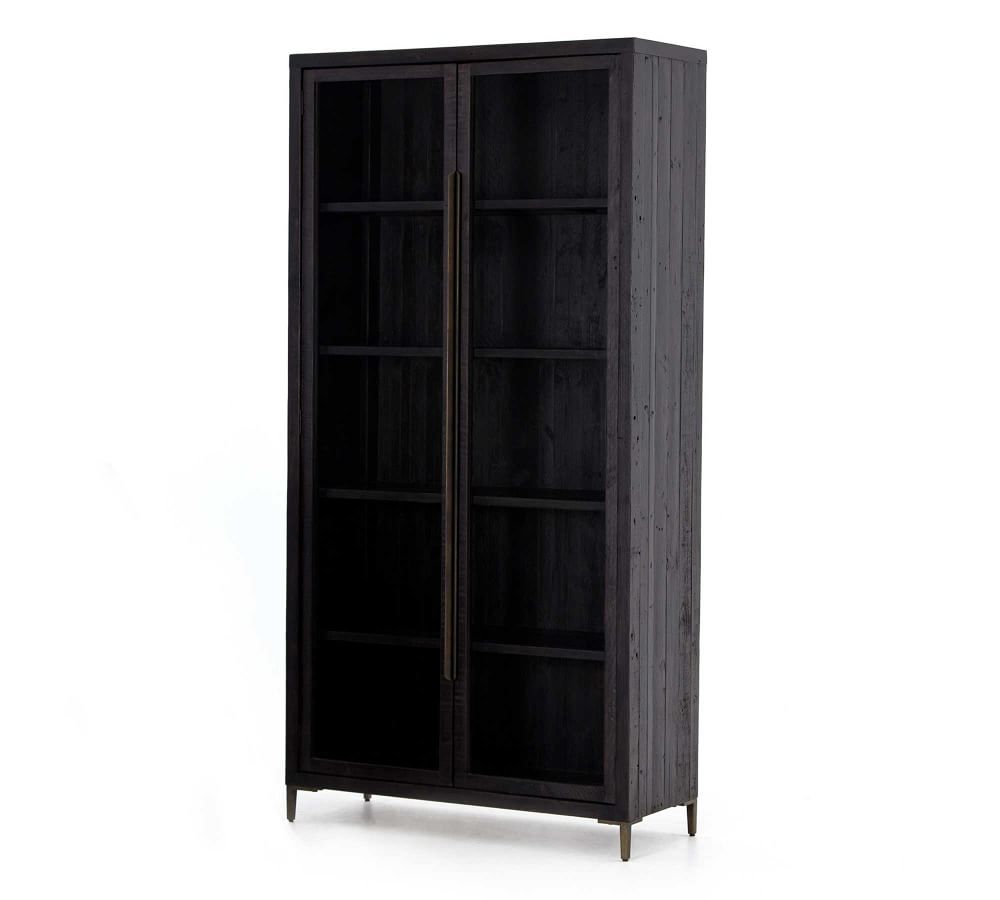 Braden Glass Door Display Cabinet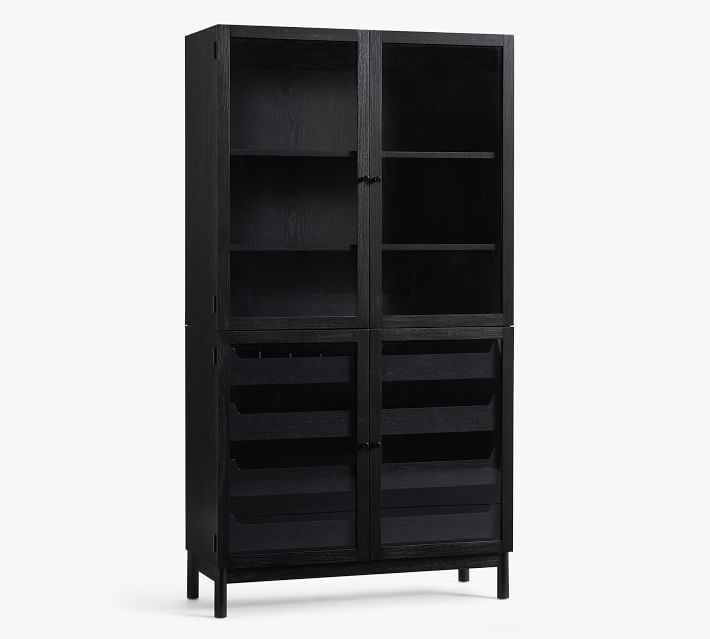 I love the Delores cabinet because it has cane webbing on the lower doors. Cane is coming in strong.
We saw a ton of can and woven pieces at High Point Market 2021, which means it's here to stay for at least another 2-3 years for designers. And I predict that translates to trickling down to large retailers and DIYer's for another 5-7 years.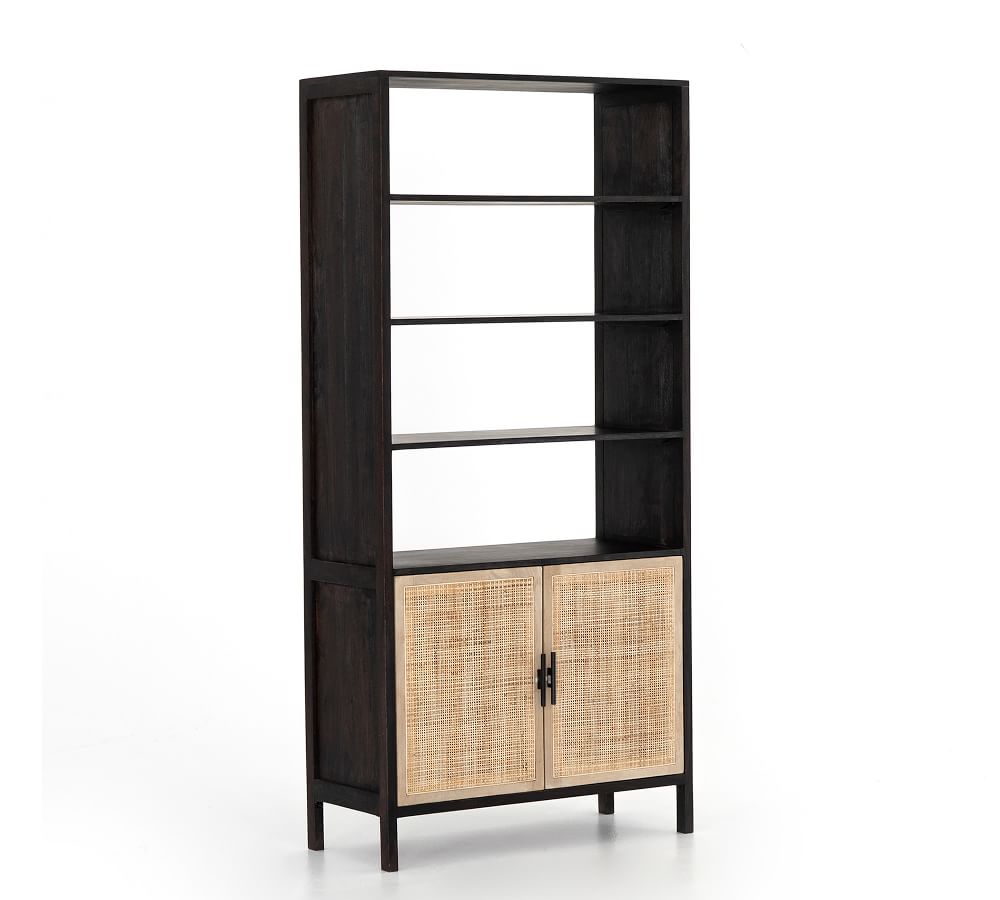 Wayfair
Quick, affordable, and any style you can think of, Wayfair has it all. Choose the glass cabinet of your liking here!
There are so many choices through wayfair, so I weeded out the small ones, cheapo ones and ugly ones. These cabinets made the cut, but you know things are selling out like crazy right now, so act fast.
If you LOVE the cabinet (like the scalloped one below) but it isn't in stock, it's worth waiting for it to come out of backorder. Make sure you sign in and click the alert button so you get an email when it's available so you don't miss it!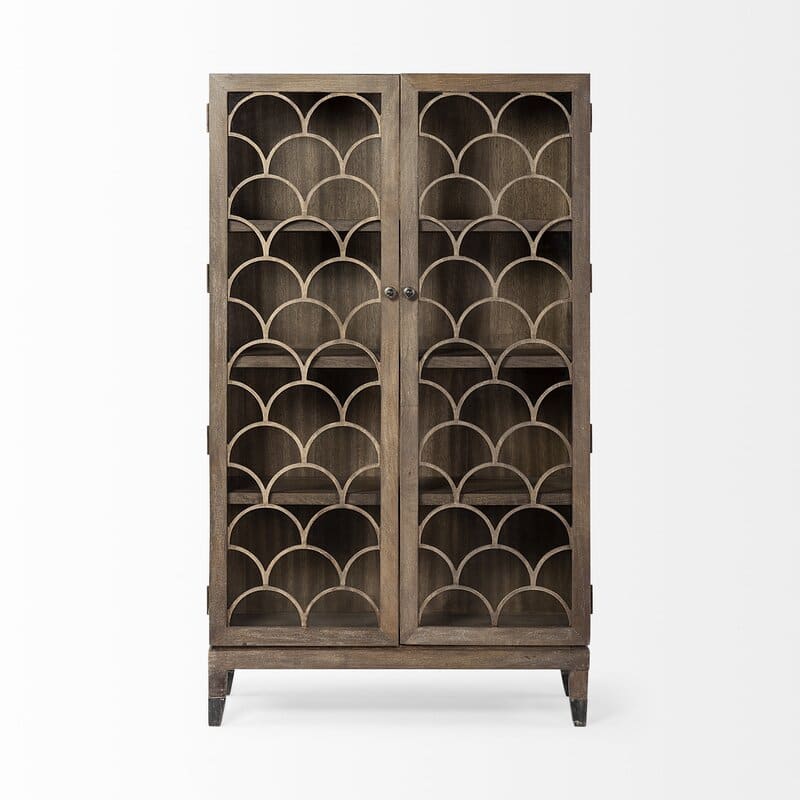 Particularly for this glass curio cabinet, I like the two tone going on. It feels traditional in some ways, but the wood color against the black provides nice contrast.
And it's backlit so you will be able to see all of your pretties in the cabinet.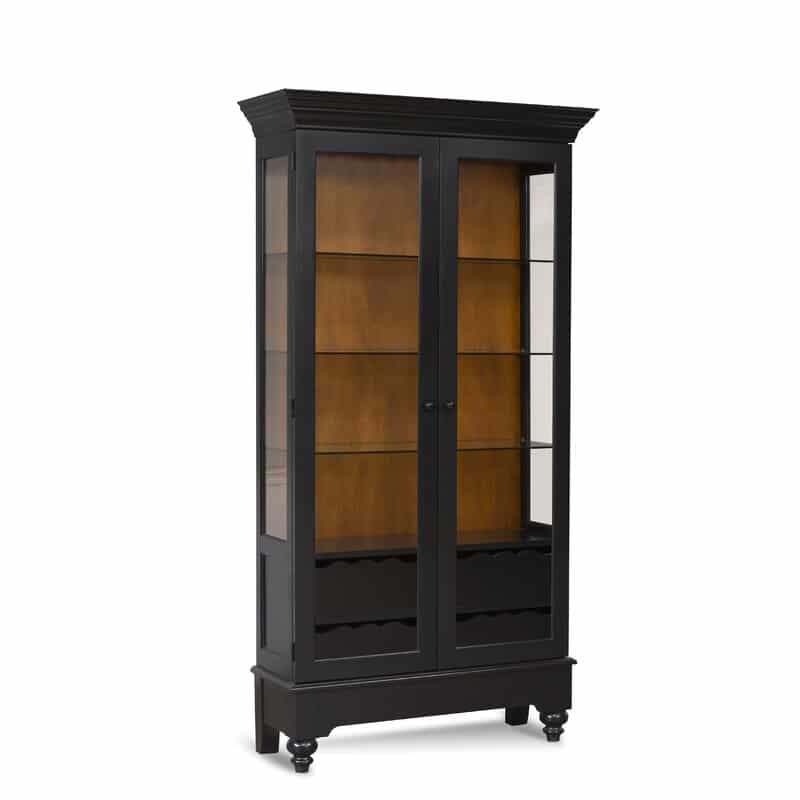 The handles on this white glass door display cabinet really steal the show here. The hardware is chunky and actually functions.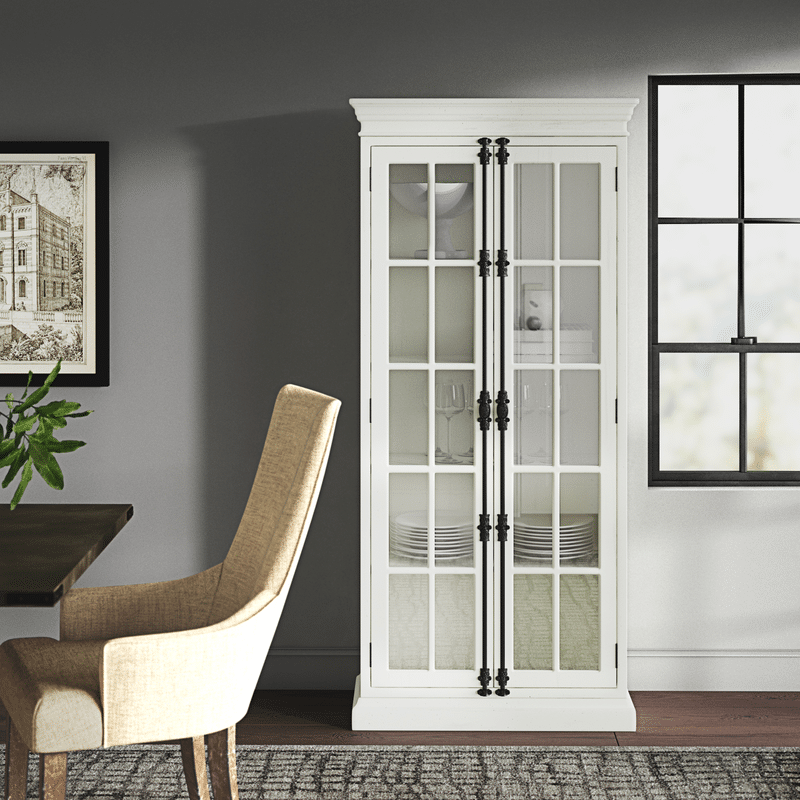 Next up is the Kelly Clarkson Home line which boasts a more traditional molding, but the modern style decorative glass door cabinet or china cabinet.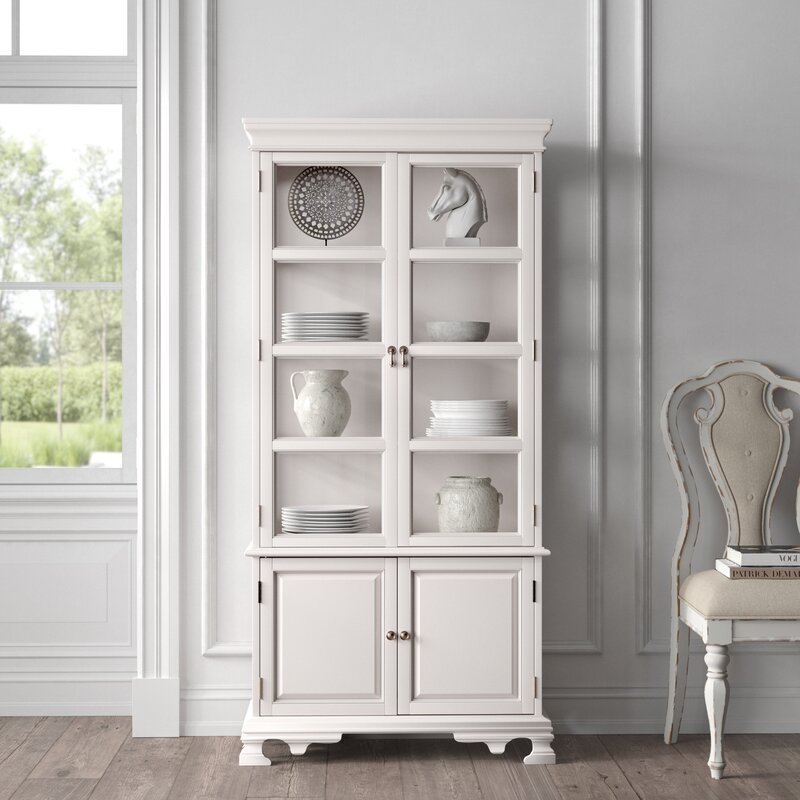 The brass hardware (handle) on this cabinet is why I added it to the list. It looks unique and a special detail that some of the other cabinets don't have.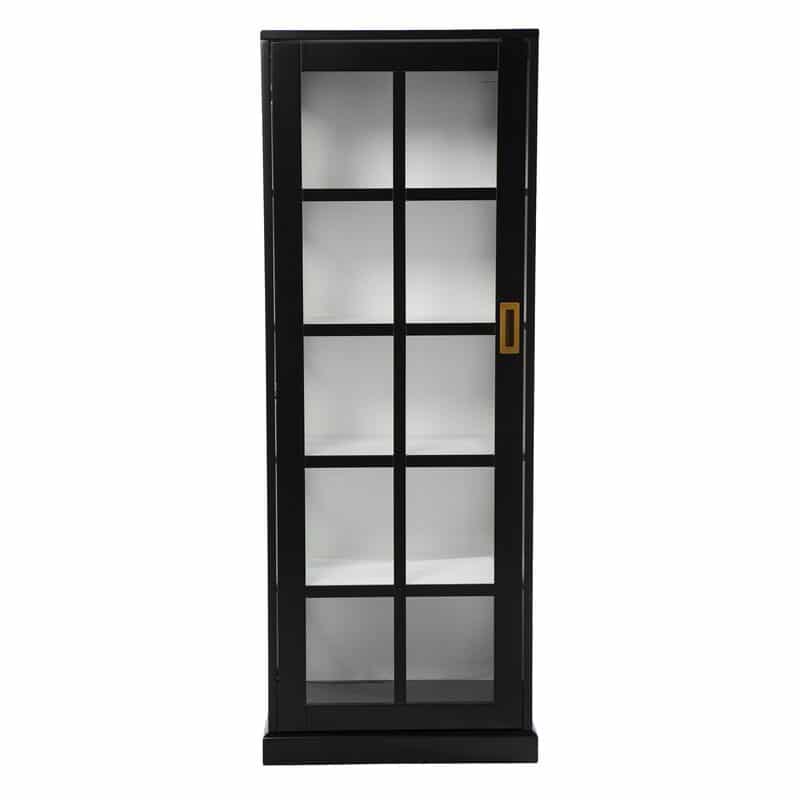 The Wimberly has glass doors and metal X beam details on the front panes. It would be great for housing books, large vases/bowls and a few decorative objects. You'll want to keep the styling simple since the cabinet itself provides so much interesest.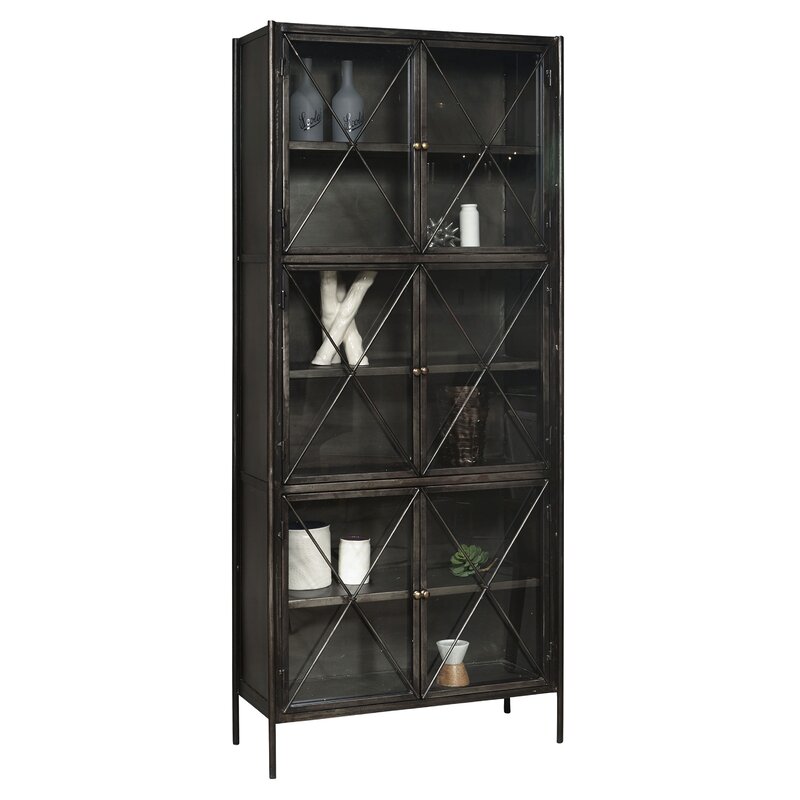 West Elm
Of all of the retailers (currently in 2021 having a HUGE backorder situation), West Elm has kept up with filling orders in thy typical 12-16 weeks timeframe. I am hopeful that backorders and shipping times will improve, but if you need fast, check West Elm.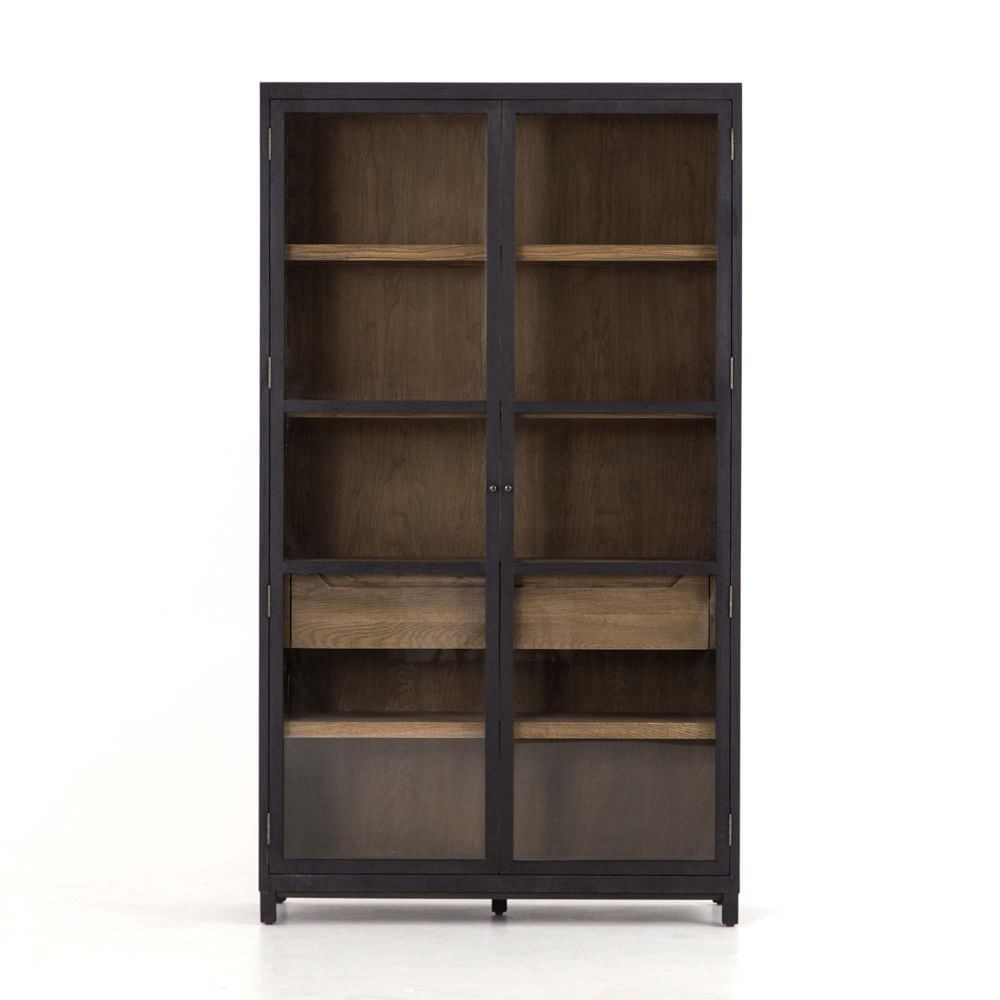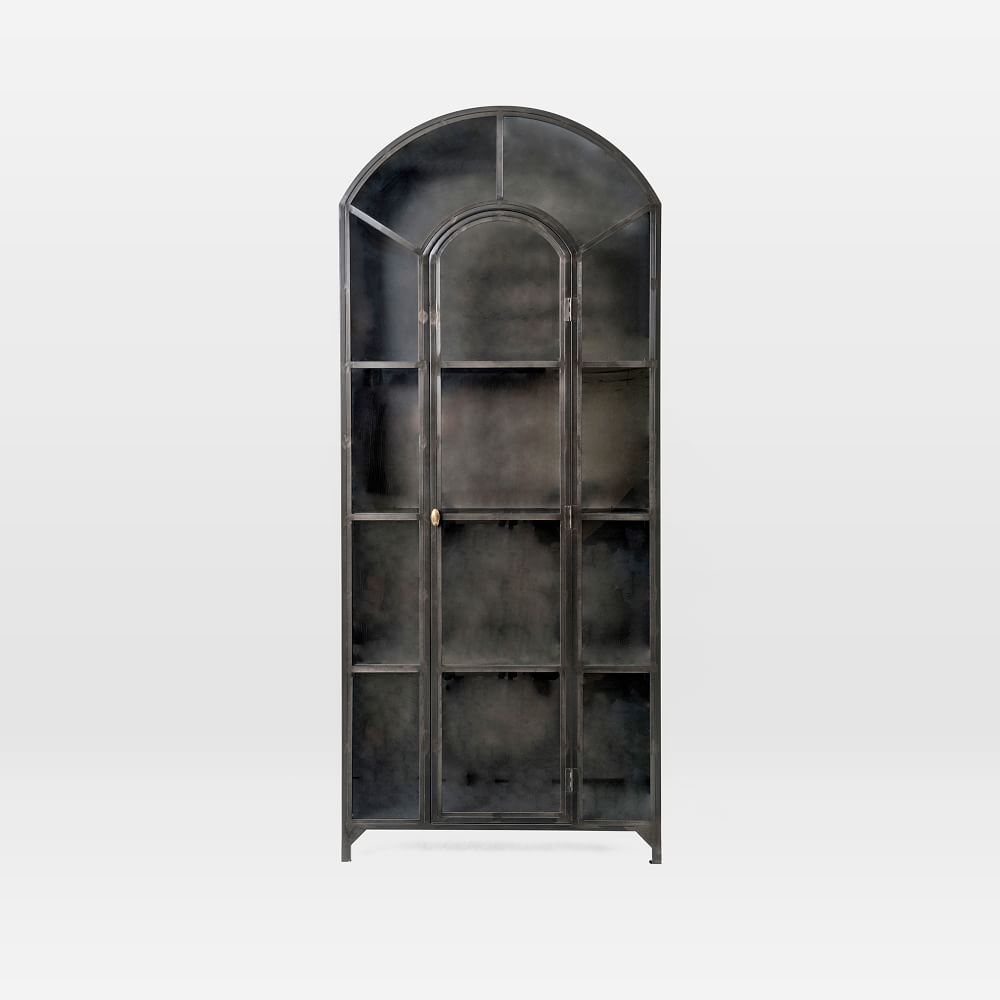 The Barrister cabinet unique in that the glass doors open out and up instead of side to side. It's common for housing legal code books for attorneys, but this piece has translated to a handsome modern glass cabinet for anyone.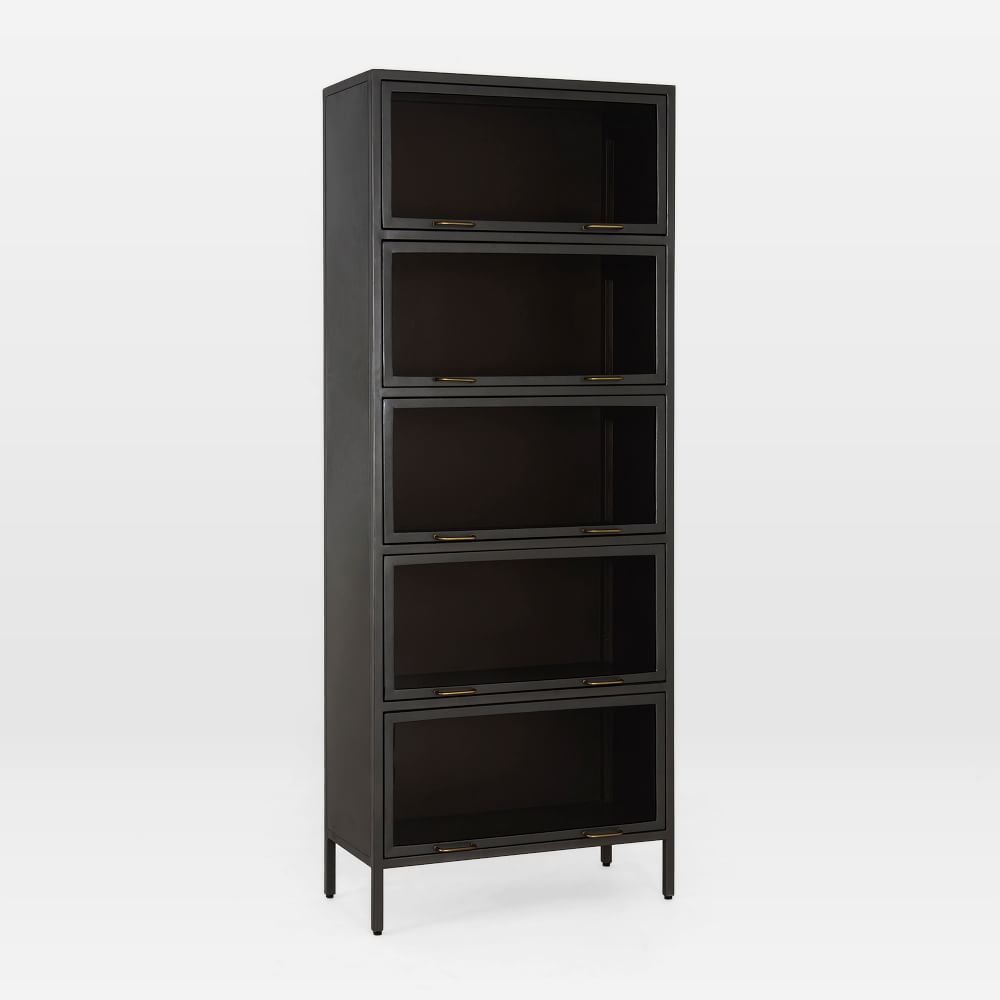 BEST Modern DISPLAY CABINETS WITH GLASS DOORS ROUNDUP
Before I go into how to source vintage cabinets, I'll share a roundup of the cabinets listed above with quick links for easy ordering. You can click on the photo and it will take you to the exact glass door cabinet.
Vintage & Used Display Cabinets with Glass Doors for Sale
Earlier in the post I mentioned that my favorite decorative glass cabinets are actually vintage or second hand. You can find quality wood pieces that have been restored or refinished.
It's a great way to own a piece of history, a quality solid wood cabinet, and own an expensive piece for less the second time around.
Chairish
If you have never bought used online, a great starting place for vintage cabinets will be Chairish. They are well vetted sellers (typically consignment stores or dealers). You can feel secure that your info won't get stolen.
The photos and description will tell you the condition of the item as well as any damage. Expect the pieces to be imperfect.
You can use the shipping calculator to see how much it will cost to have it trucked to your home.
Lastly, in my experience you will pay slightly more on Chairish than Facebook or local consignment, but it is the safest route for first time online buyers.
Ebay
You know my favorite source for vintage rugs is Ebay. It's also a great place for vintage furniture. Read my safe shopping tips here.
Instagram
Can you believe I buy things on Instagram? Did you even know you can buy furniture and decor on Instagram?
Fun fact: I have a shop on Instagram too @aprilwaltripinteriors then click the "View Shop" button! (No cabinets, but gorgeous handmade woven coasters and Ghaha fans.
Also, the running joke is that an Instgram ad can sell me anything. The program knows me so well that it serves me only the best, most pointed ads and they are exaclty the kind of thing I want to buy and love (leopard, big earrings, sailboat things, etc).
To be clear, I'm not suggesting you buy a cabinet from and Instagram ad, but know that I do shop Instagram A LOT and do my research to find trusted sellers. And that has resulted in great decor pieces.
You can see my favorite Insta shops in this post.
Facebook Marketplace
Much like shopping Instgram you can also shop facebook. The benefit of facebook marketplace is that it is easy to shop by term: curio cabinet, china cabinet, vintage glass cabinet, etc. You can use broad terms and find specific pieces that are within driving distance.
Always take a friend to the pick up and be prepared to pay cash or with a cash app like Venmo, Paypal or CashApp. Check with the seller for their preference before hand.
Local Consignment Stores
Lastly, local consignment stores will provide quality pieces for great a price. By local, I suggest a large enough city (50-100K people, higher median income) as this will mean once bought expensive furniture will be dropped at the consignment store to be resold.
Basically, hit the rich neighborhoods because they will have the best furniture- quality, brand, condition. Realistically, expect to pay $1,000- $2,500 for a high quality solid wood piece. It may be vintage and naturally stained, newer from retail but they got tired of it, or vintage and lacquered (painted) which is my favorite way to add color to a space.
Not finding the exact piece, but you like some similar ones? If the price is right, you can purchase it and have a local shop lacquer it for you. (Make sure you connections with one first).
The possibilities are endless here. If you plan to drive a distance, make sure you have a van, truck or large enough space for a large piece.
Last, but not least I'll divulge the name of my favorite local high end furniture consignment store, but promise not to buy up everything! It's called the Velvet Shoestring here in Williamsburg, VA.
Make sure you tag me in your Instagram or Facebook posts or stories if you visit. I'd love to see what you find at the Velvet Shoestring. I always find great tables, lamps and vases.
THE BEST MODERN DISPLAY CABINETS OF 2021 CONCLuSION
That's a wrap for my favorite style modern glass door and display cabinets. Whether you call them a china cabinet or modern bar cabinet these pieces can add interest to any room from the living room, basement, covered porch or guest bedroom.
Tell me your favorite type in the comments: black, arched, wood tone, tall and skinny or open shelves with doors below?
Bonus points if you tell me what you plan to put in it for styling and which room it's going in!