Are Gray Wood Floors the WORST Design Crime?
Are you looking for the best gray wood floors to install in your remodel? Keep reading to find out why I dislike gray wood floors and how you can work around them if you're stuck with this design crime.
INTERIOR DESIGN CRIMES
I'm starting a new series called "Design Crimes" where we will talk about a new crime each session. I'll fill you in on what decor decision the crime is, why it's a poor design choice for your home, & how to correct it, work with it, and great alternatives!
First, I don't want to offend you if you have one (or more) of these design crimes happening in your home because we all have to start somewhere. But I do want you to consider changing your gray wood flooring if you have it or choose another style when you are ready to renovate your home.
My goal is for you to make a wise financial investment with your hard earned money- because decor and furniture are expensive- and some of these choices can have a lasting impact on house value.
So let's make great choices for our homes and get started with the first design crime!
GRAY WOOD FLOORS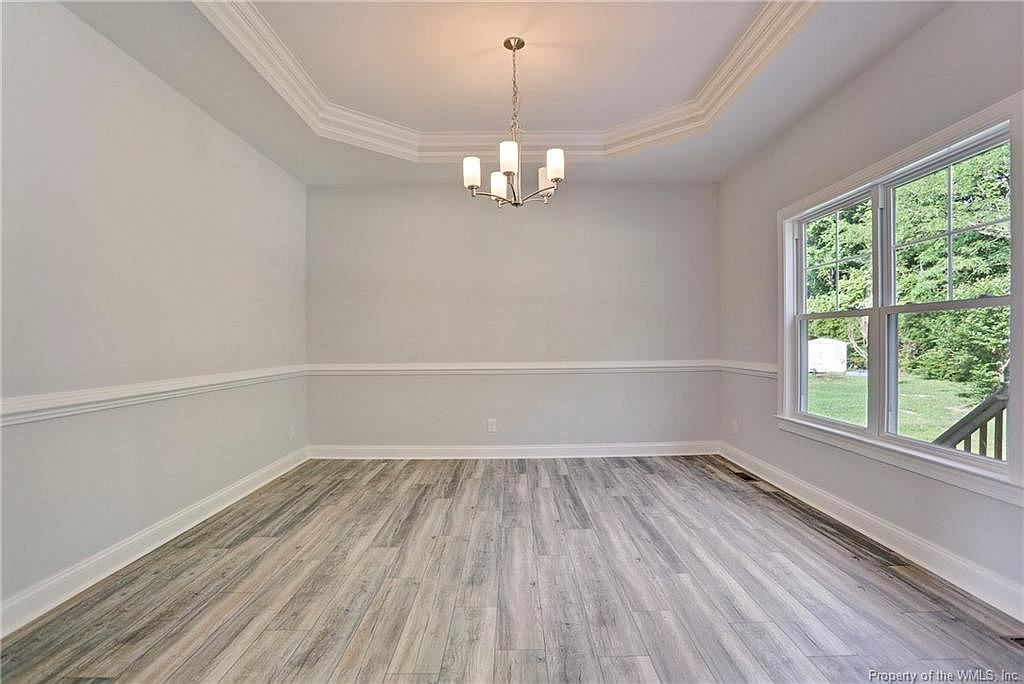 WHY I HATE GRAY WOOD FLOORS
Im going to give it to you straight. You don't live in a barn. Or outside on a deck that needs a good power washing. The weathered gray look isn't meant for interiors.
It came along somewhere in the DIY farmhouse style crazy and has stayed awhile. It didn't ever make its way into high end design or professional interior design plans. Because it isn't a timeless choice. And as designers, we want your money go be put to good use on solid things.
POOR DESIGN FOUNDATION
For one, it doesn't lay a good foundation for the room. All of you furniture and wall color will now be limited to the undertones of the gray flooring, likely green-gray or pink-gray.
That will make having a cohesive look impossible without looking cold and completely gray. Once you go gray with the flooring, you are now committed to gray everything.
INVESTMENT = MONEY
Next, it isn't a good investment. It is expensive to replace flooring in an entire house. And if you are paying to refloor the entire thing, let's choose a wood tone that will 1) match everything and 2) not be a trend or quickly date the home.
GRAY IS A TRENDY WOOD TONE
Lastly, the weathered gray oak is a trend. It came quickly and although it hasn't gone out swiftly, once Pinterest catches wind that it leaves you with a cold room and stuck with a gray scheme forever, it will be out like a trout and you'll be stuck with the price tag.
CONCLUSION: AVOID GRAY WOOD FLOORS
To recap, you should avoid installing gray wood flooring in your home because:
You don't live in a barn or outside
It makes the room look cold
Is very difficult to decorate around and create a cohesive look with gray
Won't hold resale value in the long run (5+ years)
Will cost you money to replace when the trend is over
It's a DIY trend
Gray wood flooring isn't timeless or natural (inside at least)
Probably is not real wood flooring (because the inside of a tree isn't gray)
Alas, you may have already made the gray flooring mistake. Or you moved into a home with gray wood flooring because many DIY'ers and builders are using gray everywhere. If you, don't despair- I will give you a few coping mechanisms to live with gray weathered wood floors.
HOW TO LIVE WITH GRAY WOOD FLOORING
So you have gray wood flooring (or you were considering it until you ran across this ghastly article). First off, I'm sorry. I don't mean to be the bearer of bad news or to tell you that the brand new floors you paid to have installed were a bad choice. Maybe you still love them. Good for you sticking with your style!
But I'm here to educate you and give you interior design guidance. So, we will move forward to cover up those floors as quickly as possible.
NATURAL RUGS
Step one in dealing with gray wood tone flooring is to cover it up. Like with any saturated wood stain (cherry or orange oak included) the best way to work them into a design plan is to cover them with sisal or jute.
Cover the space with a large natural fiber rug. As large as you can find- ideally 9′ x 12′ or 10′ x 14′. The more flooring you can cover the better. We do this to create a neutral foundation for the room. It will not detract from the other curated elements and furniture selections.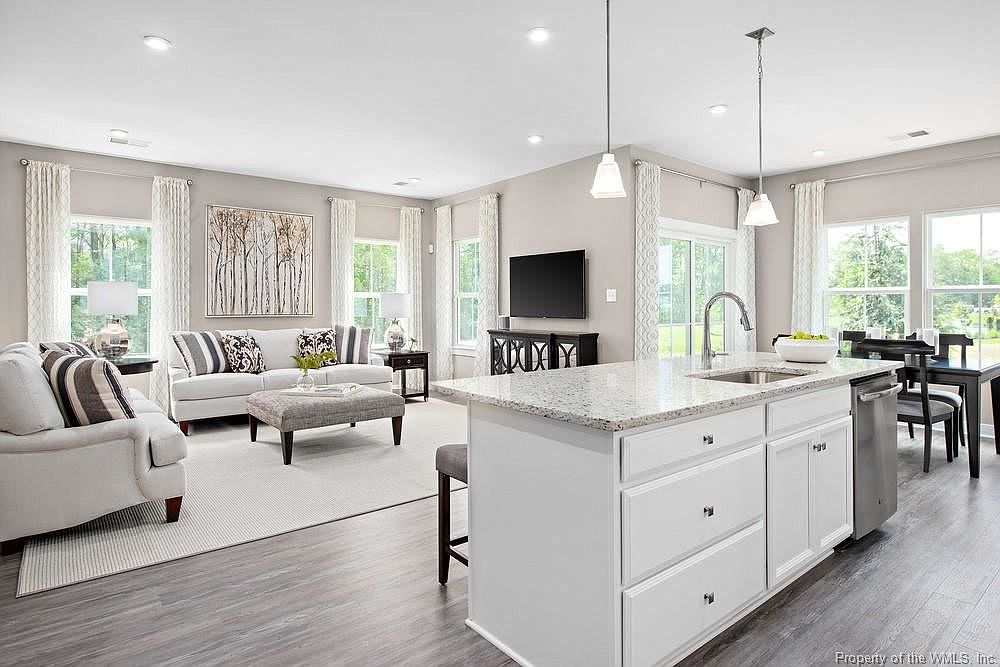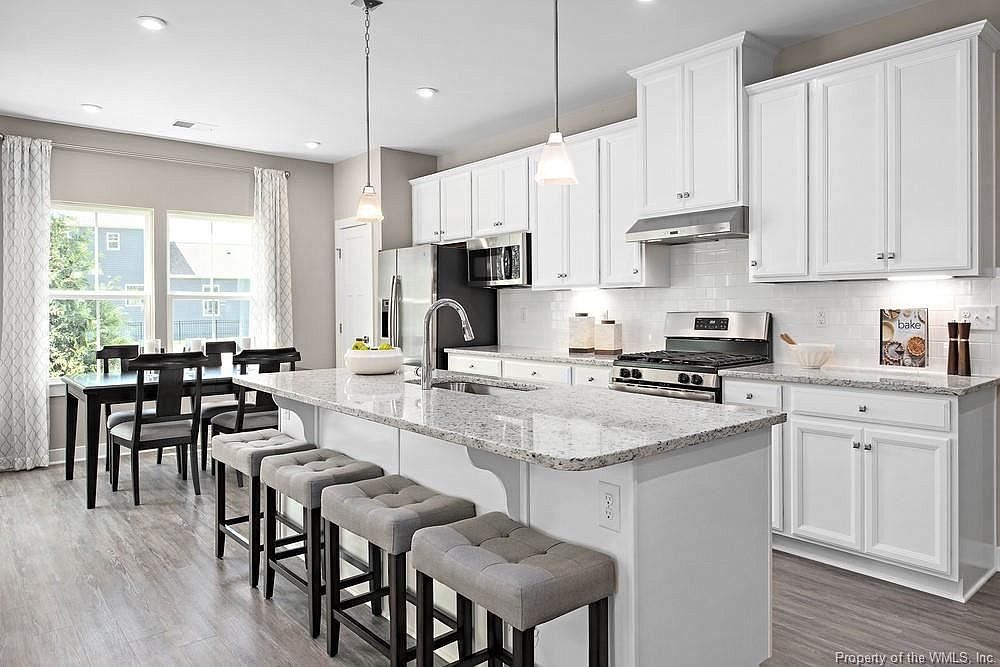 WARM IT UP
Next, to avoid that cold, colorless look you will warm things up with woven pieces (rattan, lighting, wicker, natural pillows, or linen) and a brass fixture or two.
In the two above photos, all of the accents are also gray and black and polished nickel fixtures. This leaves the kitchen and living room feeling very cold. While it may look "clean" and pretty, it doesn't have any warmth or natural elements to it. It looks like a warehouse, not a home style created over time.
How to Warm up Gray Floors
brass fixtures
woven or brass lighting
wicker or rattan chairs or stools
woven side tables
warm linens and pillows
ADD SOME COLOR
Lastly, you can use color in your furniture and decor. Dark to mid range blues typically pair well with cool colored gray flooring.
Avoid all gray paint on the walls as well. This will add to the cold feeling and flat feeling of no dimension. Instead, opt for an every so slight warm white, like Benjamin Moore Simply White or a Sherwin Williams White from this list.
WHAT TO USE INSTEAD OF GRAY FLOORING
Now that we've addressed the don'ts, let's talk about beautiful alternatives to gray weathered planks. The go-to choice for the professionals here is a classic natural finish oak flooring.
WHITE OAK OR WALNUT
You can opt for a light white oak for a newer classic to a mid tone walnut for a more traditional look. These two flooring choices will coordinate with essentially any fixture or furniture you install. As well as with virtually any paint color.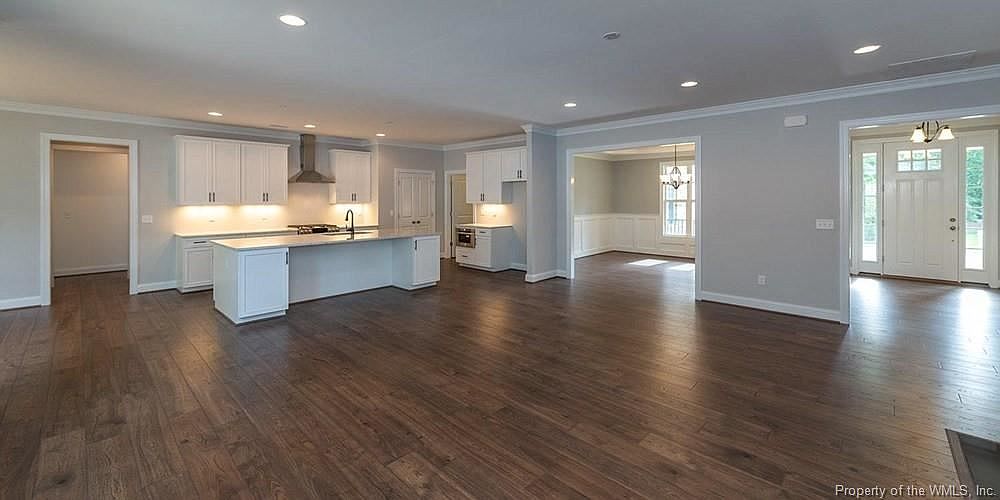 CONCLUSION
Are you still with me? Have I convinced you that gray wood flooring isn't a wise investment, even if you "love the look" right now. I've given you a few reasons to skip the weathered wood tones and opt for a classic real hardwood.
What types of flooring do you have and why do you love them or hate them?
Posts You'll Love
The Best Decorating Podcasts to Listen to in 2020
THE BEST 8 BENJAMIN MOORE WHITE PAINT COLORS IN 2020
Best Sherwin Williams Blue Paint Colors of 2020