PINK & BLUE SHARED BEDROOM: ONE ROOM CHALLENGE
Welcome back for Week 3 of the One Room Challenge. The goal is a pink and blue shared bedroom with a Parisian themed wall mural for the One Room Challenge Fall 2019! It's that time again.

Over the last year I participated in the One Room Challenge to makeover our guest bathroom and turn it from drab to a navy and gold serene space (see it here). I also gave our white dining room a colorful refresh with blue paint, green trellis wallpaper and a lot of blue and white ginger jars (see it here)!

Along the way, I shared a lot of skills like How to Paint Vinyl Floors, The Only Dining Room Decorating Rules & Measurements You'll Ever Need, and How to Budget for a Home Decor Project + a Free planning spreadsheet.
THE BEFORE
I previously shared the before. The first photo shows how the room looked 7 years ago before baby boy's arrival. We now have two, and the colorblock wall remained, but the furniture changed to the second photo's arrangement of black and white.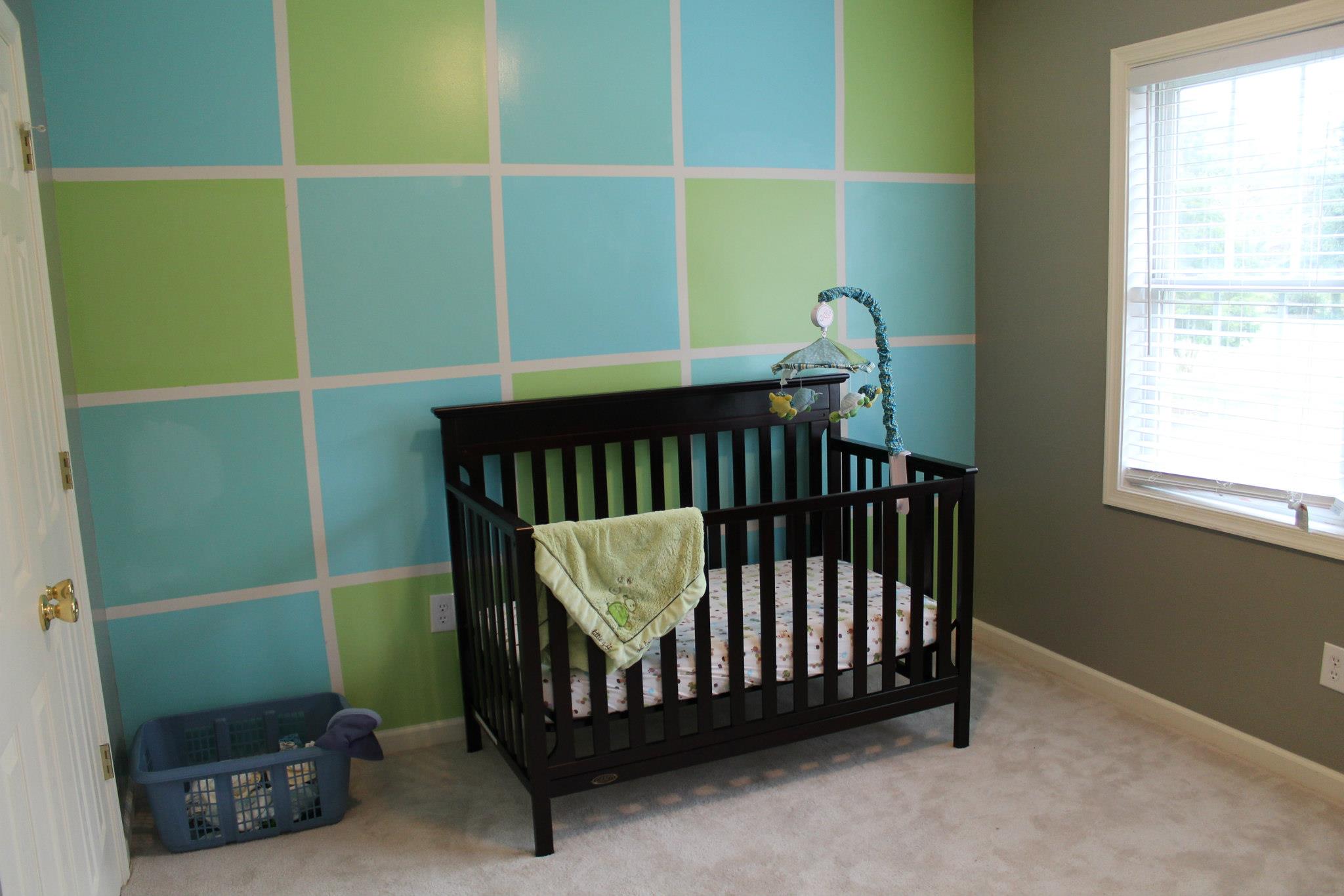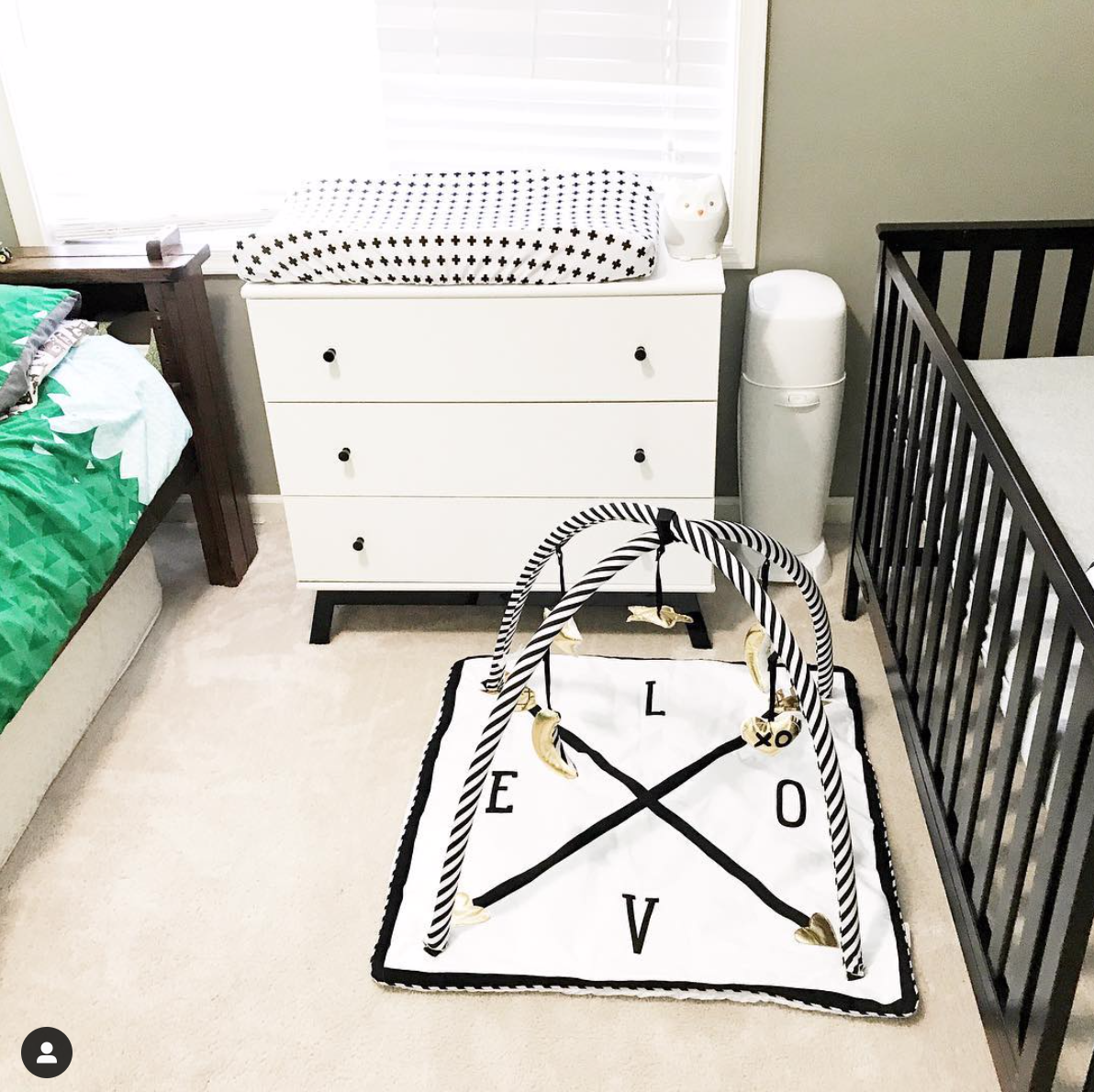 THE PLAN
Here is the preliminary design for the pink and blue shared bedroom. I am so excited to push my skills with this room. The bedroom itself is very small (10′ x 10′). There are double closet doors on one wall. A double window is on the outer wall and the door is on an angle. It makes for a very challenging layout to place furniture and accessorize.
Nonetheless, it is going to be fun to redesign. I've decided to go with a pink and blue Parisian feel. It was inspired by the ANewall mural. I will be drawing a streetscape mural on the wall myself, in lieu of a pasted mural. But it is inspired by both the Anewall piece and real buildings I've saved photos of.
While most of the decor in out house is loud and colorful, I want their bedroom to be restful and calm. Using subtle pinks and blues will be a great way to incorporate color without overwhelming the space.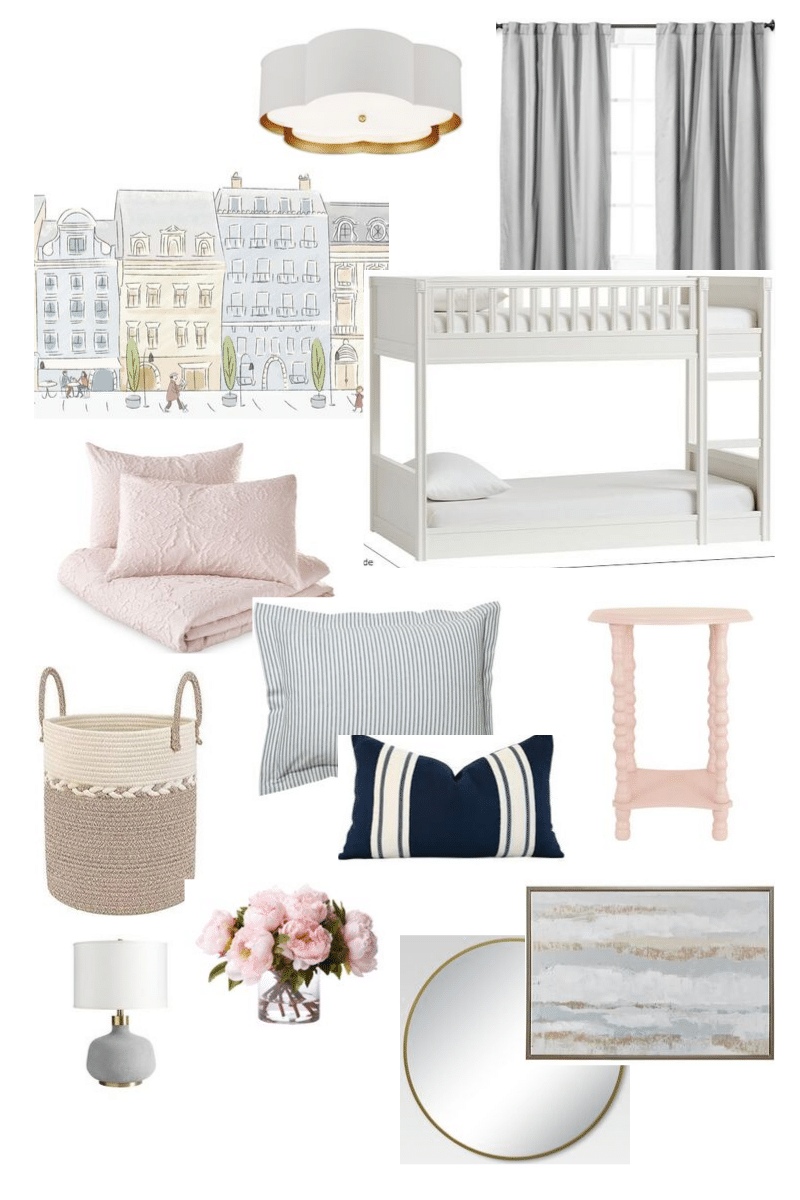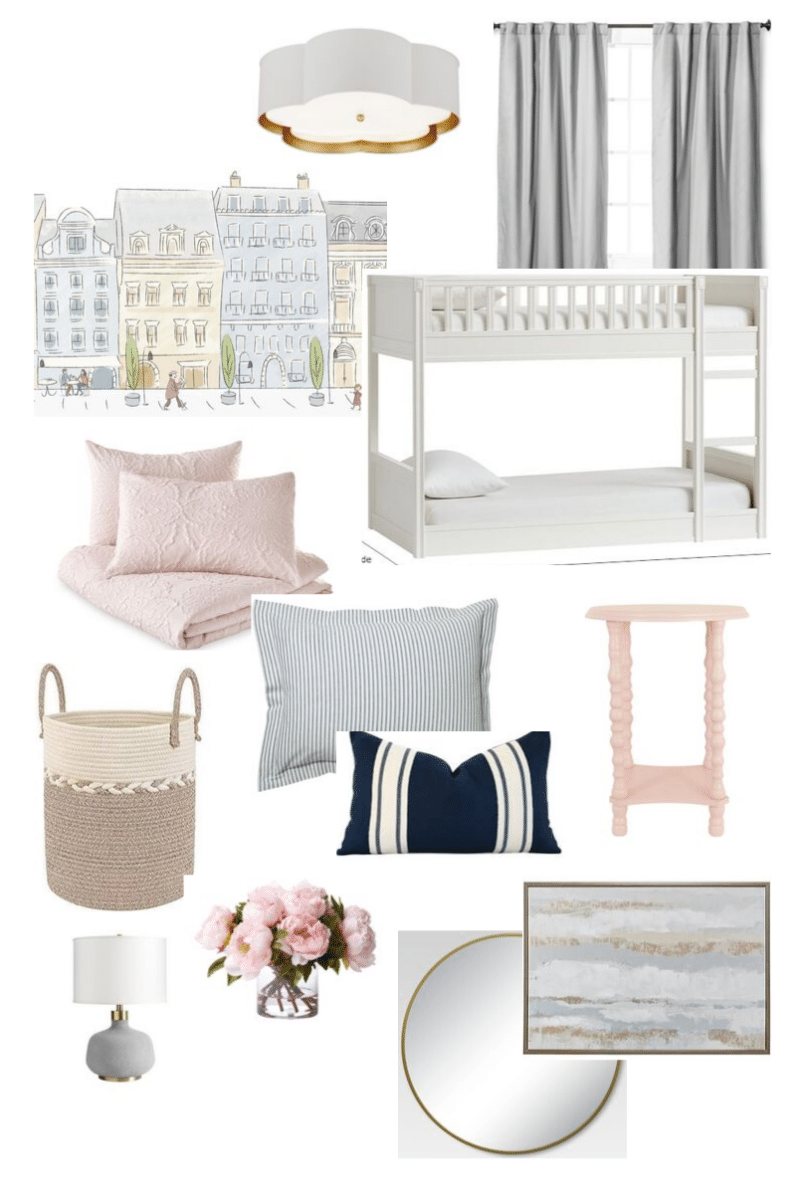 THE CHECKLIST
Next up is the checklist of what I plan to do! Each week when I post an update, this list will be at the bottom of the post with the items that I have completed checked off.
paint over color block walls with Benjamin Moore White Dove
pencil in mural
paint over penciled mural with Sharpie paint pens
paint in mural highlights
trim out bottom of bunk bed
install new light fixture
install curtain rods
hang curtains
source accessories
buy and hang artwork
buy new bedding
style the room & add finishing touches
line curtains
hem curtains
steam curtains
patch wall
paint one more wall again
THE PROGRESS
While I made progress, this week's progress brought problems.
I started by having my dad install the new light fixture. It went swimmingly. Whew.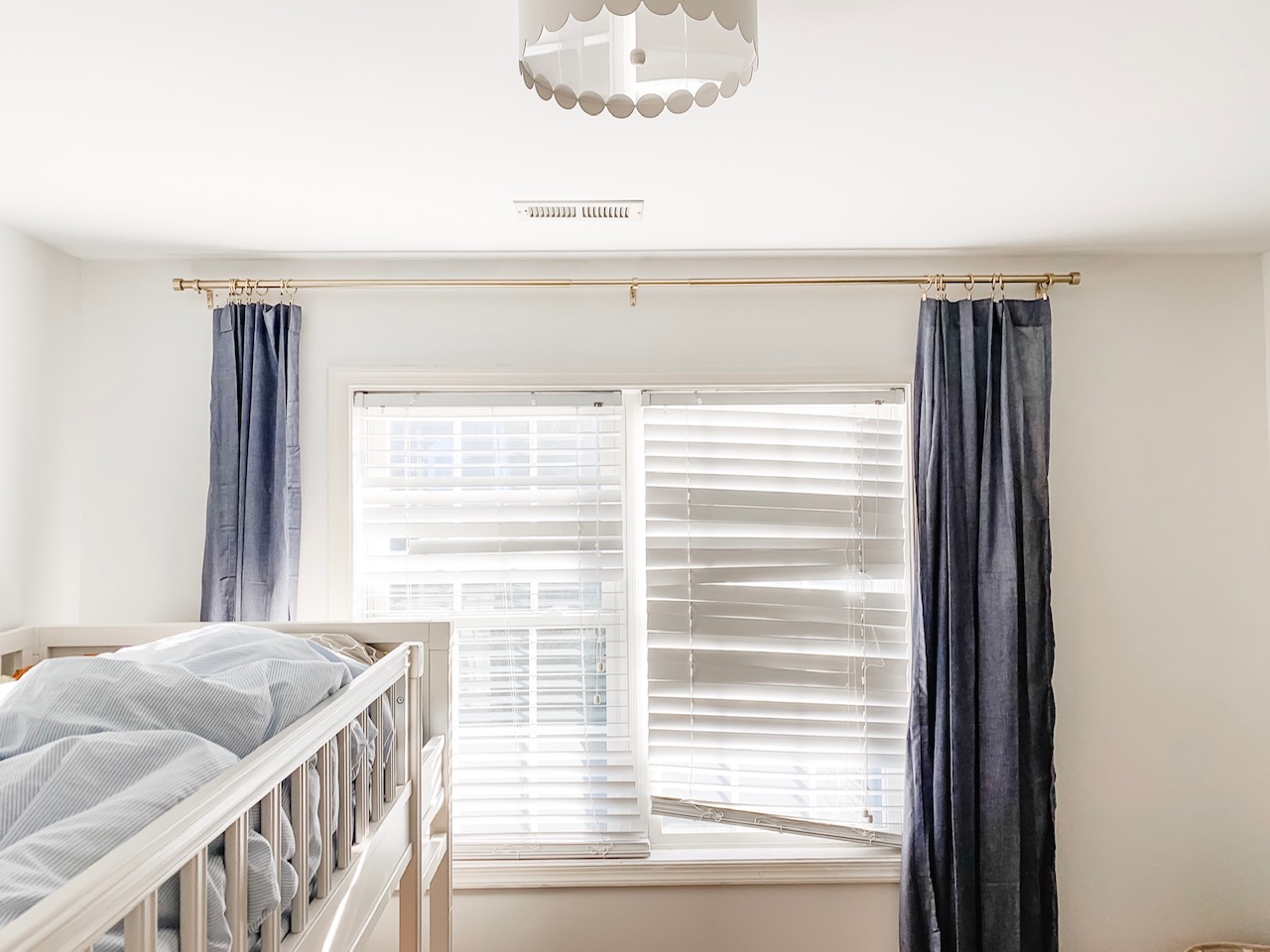 Next, I began swapping the tall gray dresser which resided in the closet with the smaller white dresser that was in the room. I pushed and pulled and got them switched. This also gave me an opportunity to clean out the kids' closet and pack away sentimental outfits, donate outgrown outfits and clean out the unused toys.
Problem 1) I still have an excess of books without a real storage system. 2) I also have boxes of clothing that I don't want to store in the closet, but I don't currently see a better place for it.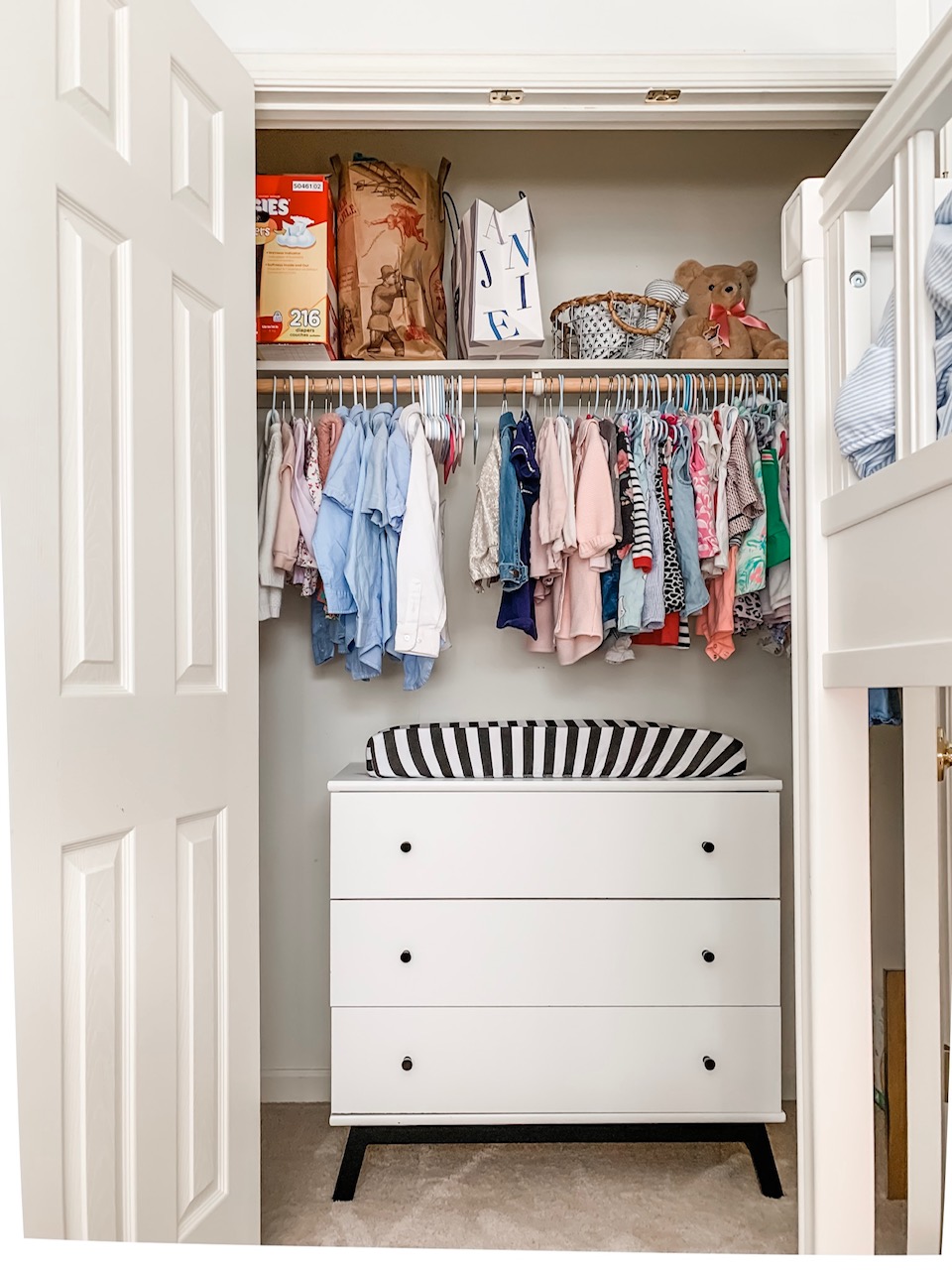 Then, I installed curtain rods. The hardware came fro Target. It's a brushed gold rod with flat round end disks. I have used this in another room because I love it so much.
Aside from accidentally hammering an anchor into a stud, which crumbled, because you don't need anchors when drilling into a stud, things went well. I moved the end bracket over by an inch because the anchor was stuck half way in the wall and wouldn't go in and wouldn't come out either.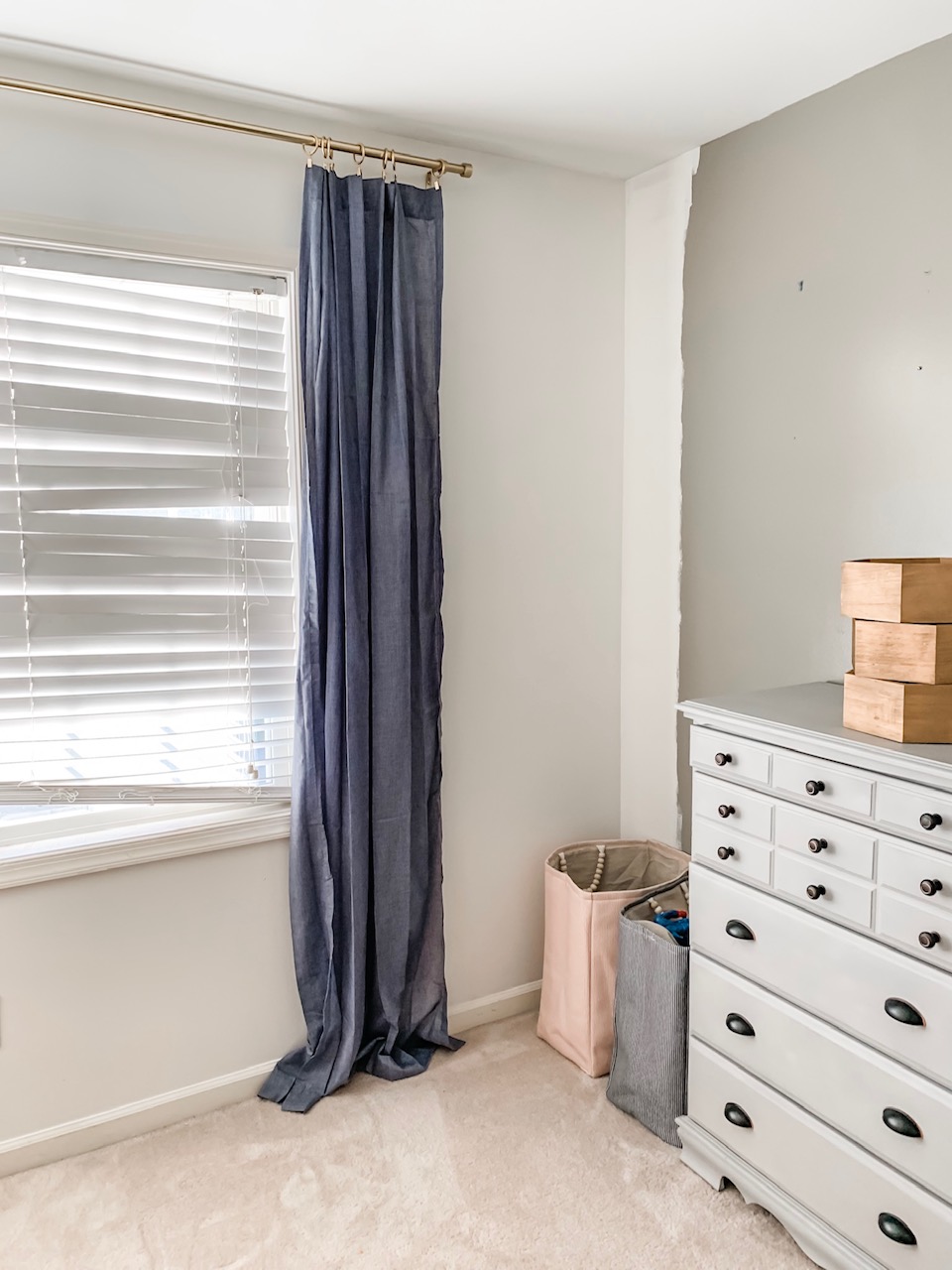 The curtains are up. I love the chambray look. I love the fabric, but Houston we have a problem. They are too sheer in this south facing room. Well, I knew this would be a problem, but I decided to use them anyways.
This adds to my list a few more tasks: line the curtains, steam the curtains, and take up the length of the curtains. Overall, I LOVE them! The color is amazing and the texture is subtle, but noticeable.
Do you love the progress pictures? I do! It's encouraging to share them and know that I am working towards a goal and that I am getting there- quickly!
Round Up
That's my week number 3 progress for the Fall 2019 One Room Challenge. I would love for you to stay up to date on how the room is coming along. I'm a procrastinator when it comes to my own house; I need the motivation.
Lastly, come back each Thursday Morning for an update and follow along on Instagramfor real time posts and stories. I can't wait to finish this pink and blue bedroom update and share all of my tips and advice along the way.
LOVE IT, PIN IT