The BEST CHRISTMAS MATCHING PAJAMAS FOR YOUR ENTIRE FAMILY – EVEN THE DOG
These are the best Christmas matching family pajamas for your whole family out there, we've even got to dog covered.
This post may contain affiliate links- meaning when you purchase through the link and I receive a small commission. It feeds my Starbucks addiction & for that I thank you! You can see my full disclosure policy here.
MATCHING CHRISTMAS PAJAMAS FOR YOUR ENTIRE FAMILY – EVEN THE DOG (2021)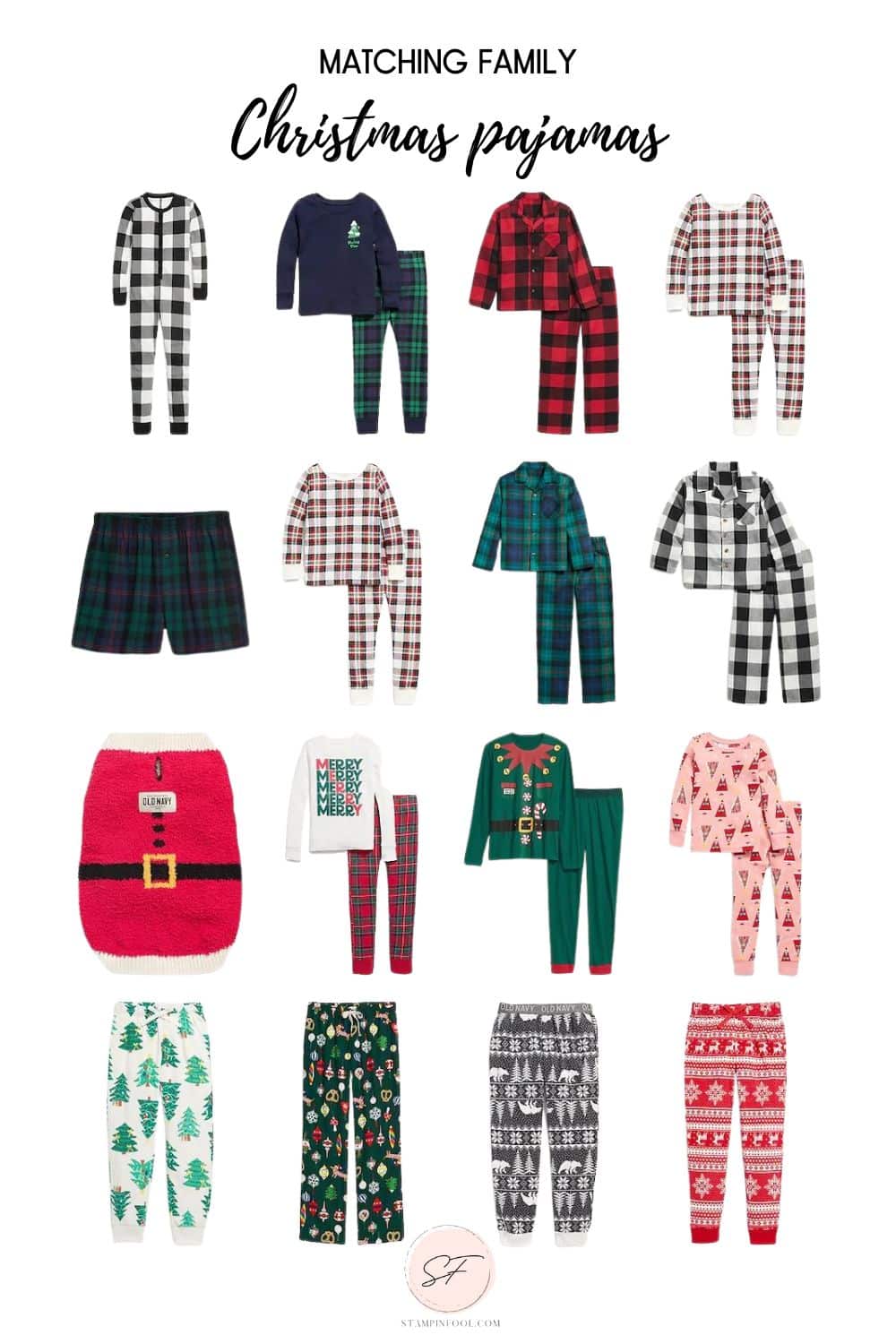 Are you on the hunt for the perfect matching pajamas for your entire family for Christmas this year?
I've got you covered for matching Thanksgiving pajamas, Christmas and winter pajamas from Old Navy. There's nothing cuter than a family photo of adorable kids in matching pajamas and the parents and dog in tow.
WHY WE LOVE MATCHING FAMILY CHRISTMAS PAJAMAS
We all know that spending time together is important, and we believe it's even better when you can do it in a way that brings everyone closer.
That's why we've rounded up this unique line of matching family pajamas. These products are designed with the whole family in mind – from the youngest member to the oldest!
They feature fun prints and patterns so there's something for everyone, no matter their age or style preferences. And they come in sizes from infants up to adults so every member of your household can get involved!
You can have a blast choosing between our many options from Thanksgiving to Christmas or even winter. Either way, we think you'll love these cozy PJs as much as we do!
You'll feel connected as a family as you enjoy lounging around together or watching a family movie in your matching attire.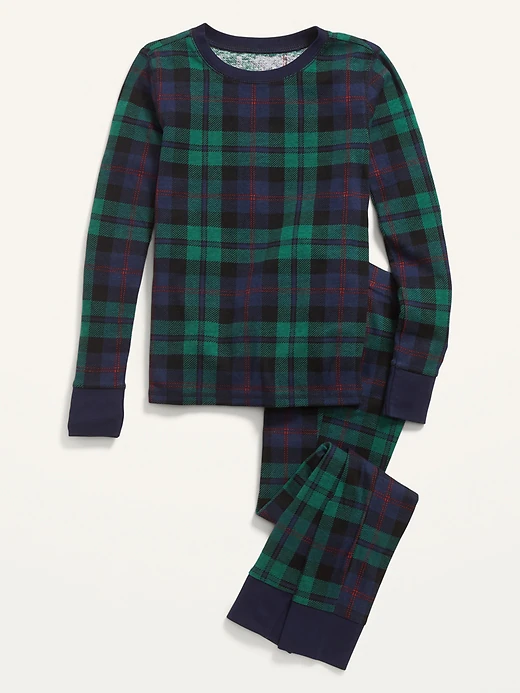 CHRISTMAS EVE MATCHING PJS TRADITION
We all know that spending quality time with the people we love is one of life's greatest joys. But sometimes it can be hard to find ways to do this, especially when our schedules are so busy.
Along comes our family Christmas Eve tradition of opening one present together in front of the crackling fire, in matching pajamas and then watching It's a Wonderful Life together.
Actually, it's two gifts- the first is always our matching family pjs. Everyone in the family gets a new pair (or at least t-shirt or bottoms depending on the theme) each year.
On Christmas Eve, after our big family dinner, after the kitchen is cleaned up, after the kids have opened all of the gifts with grandparents, after the house is emptied of guests and is quiet, we sit down in front of the fireplace for our own tradition.
Mom (me) hands out the wrapped Christmas pajamas. We open them together, run upstairs and put them on, and race back down for a small surprise.
Then we hand out one more gift to the kids and watch them open it. This is a tradition that my family did as a child and it really stuck. I looked forward to it every year.
One year when I was in high school, we go so carried away saying "just one more" that we opened all of the presents under the tree on Christmas Eve. Afterwards, we just laughed about it – and continue to laugh about it when we recollect.
I have to say opening one present on Christmas Eve is definitely my favorite tradition and I still look forward to it each year. When I'm searching for gifts, I always have that special Christmas Eve gift in mind.
What will it be, which one am I going to give the kids to open. And what will our pajamas look like this year!
The FAMILY Pajamas
Lately, we've been getting our matching family pajamas from Old Navy. This part of the tradition helps bring us together and create memories that will last a lifetime. Our children get to be part of an exclusive club when they wear the pajamas, because only members get them!
And as parents, we love how easy it is for everyone in the family to coordinate outfits for Christmas morning without fussing about it. Plus, there's nothing better than seeing your kids excited about wearing something you bought them!
So don't wait another day – buy some matching family christmas pajamas today and start making memories with your loved ones tonight!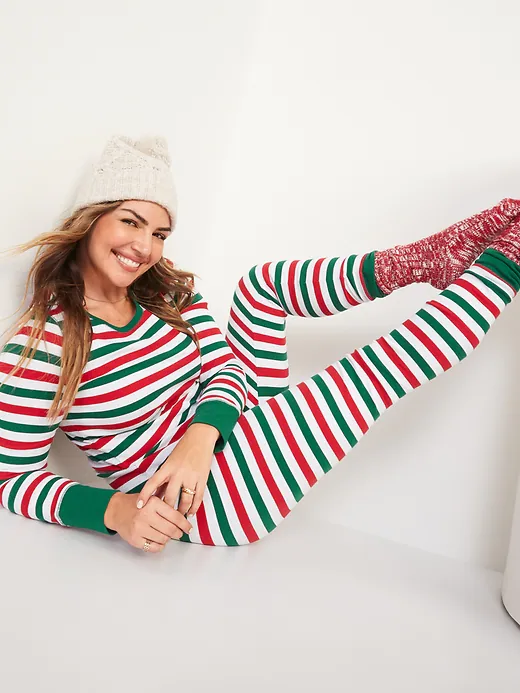 WHERE TO BUY MATCHING FAMILY PAJAMAS
Whether it's Christmas Eve traditions or just an evening at home watching movies on TV, nothing beats spending time with those closest to you while wearing comfortable clothing. Paired with some hot cocoa and popcorn (or whatever warm drink you like), this is sure to be an experience your entire family will cherish forever!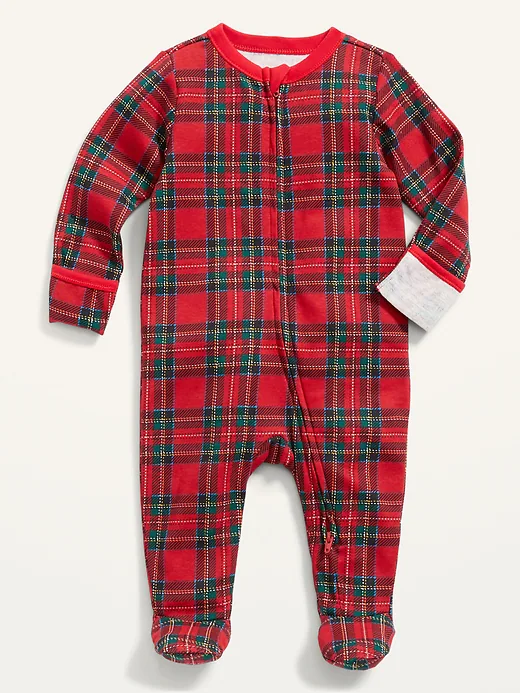 So what are you waiting for? Get yourself some matching PJs today – whether its for yourself or someone special – because who doesn't love to match while taking Christmas morning photos under the tree in a pile of gifts?!
OUR FAVORITE MATCHING FAMILY PAJAMAS – OLD NAVY
These matching Christmas family pajamas are a great way to show off your love and affection for one another. They're also incredibly comfortable, we wear them year round! It's a win-win situation.
We have all kinds of styles and colors available, so there is something that everyone will love. There are plaid, stripes and candy canes, t-shirts and shorts or flannel sets, pick the set that fits your family best.
Or mix and match! Last year my son and I wore green plaid while my husband and daughter wore red plaid- but we all had plaid.
BUT WAIT THERE'S MORE! (I couldn't resist sounding like an informercial). Old Navy even has coordinating pajamas for the dog! So your pup can celebrate in style too. After all, he'll be in all of the family photos!
Are you ready to see our picks for this year's matching family pajamas? You won't be disappointed!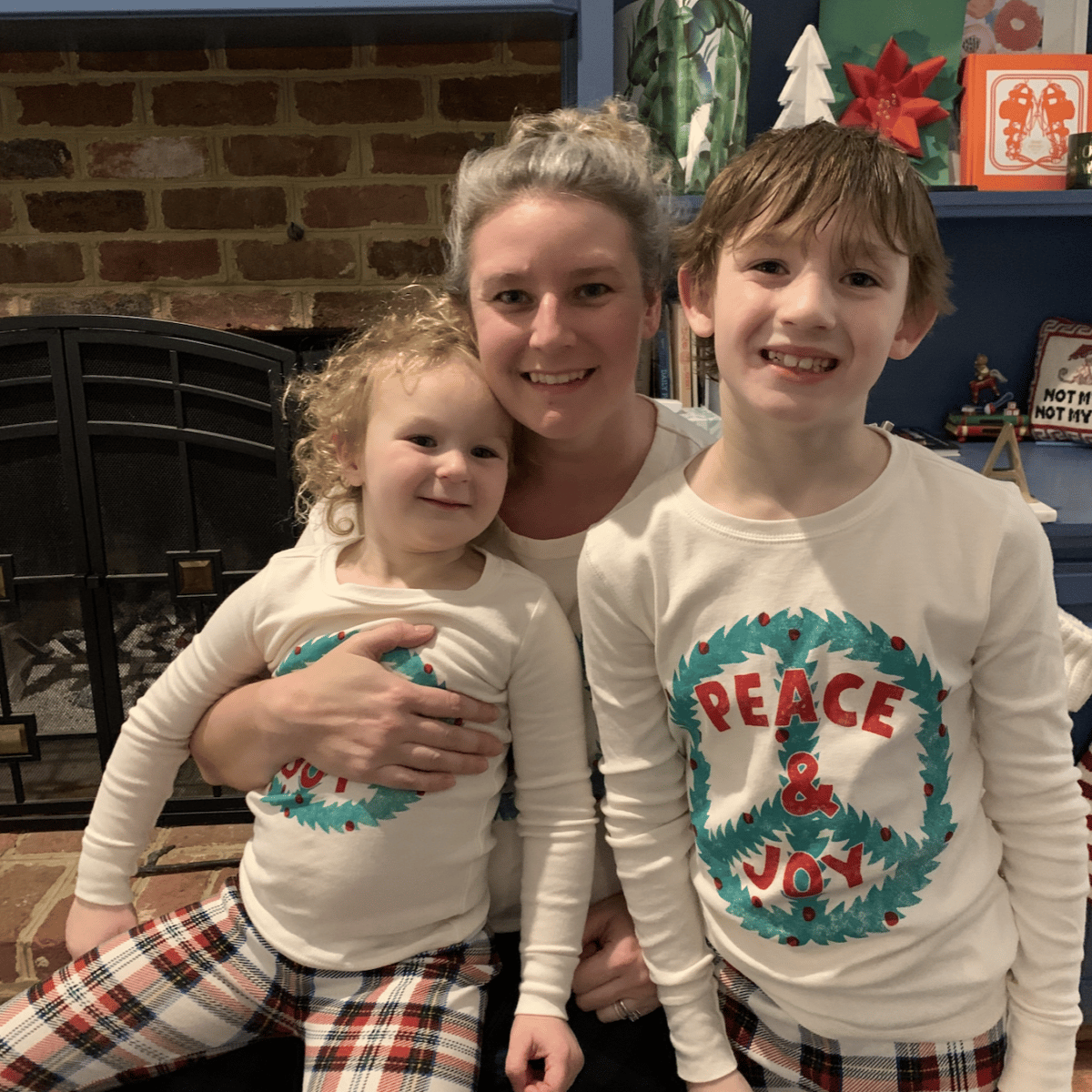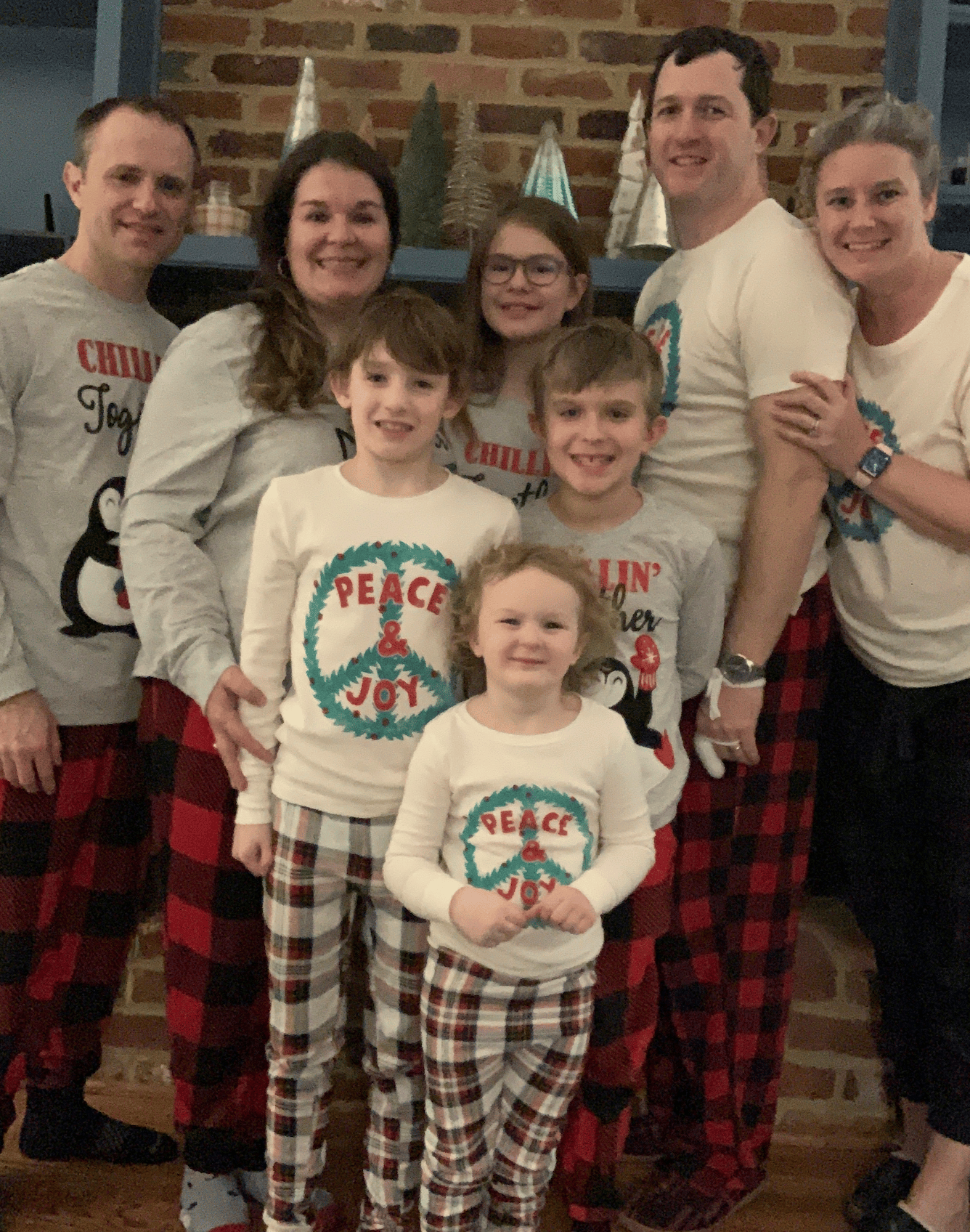 OLD NAVY MATCHING CHRISTMAS PAJAMAS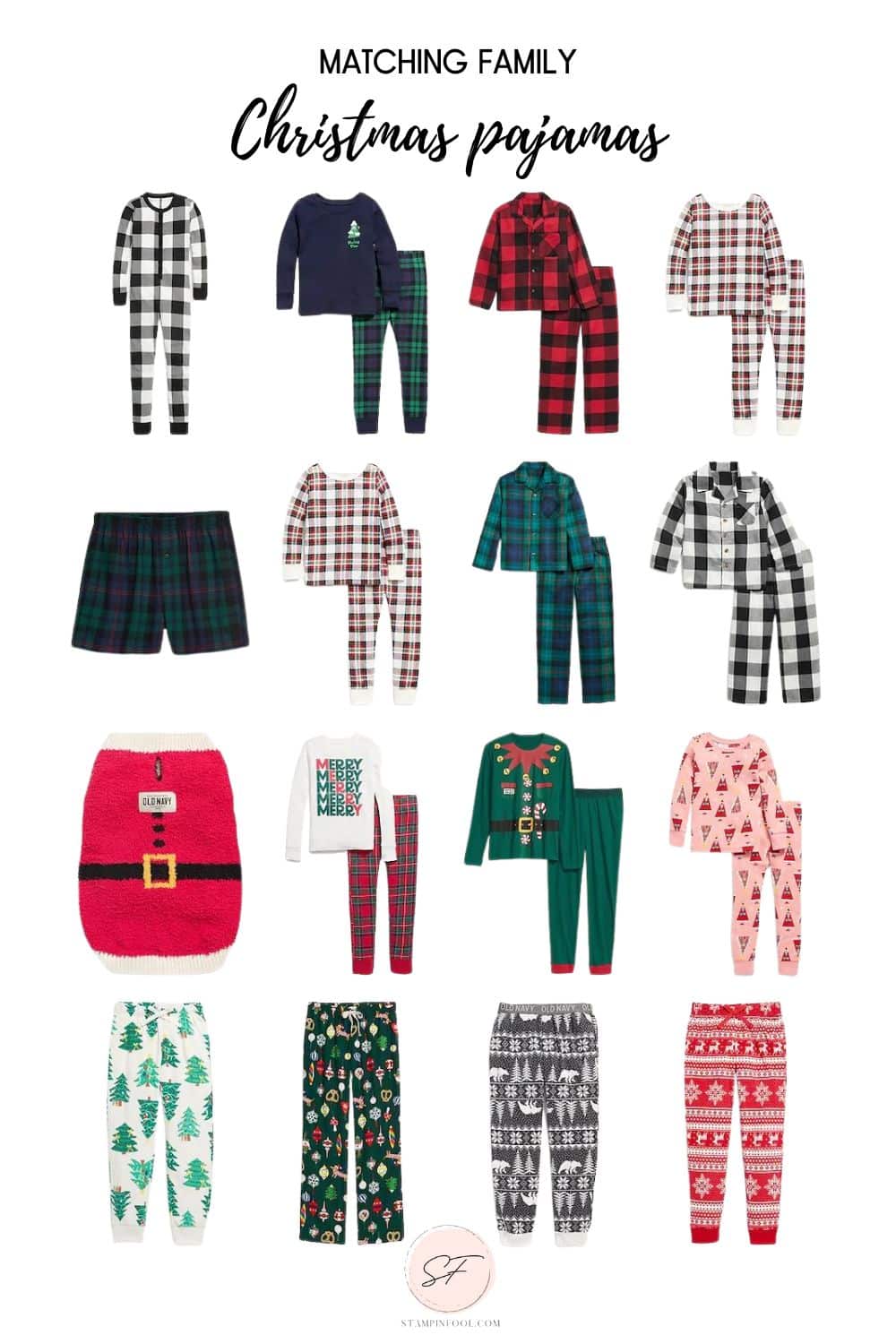 CONCLUSION ON MATCHING FAMILY PJS
Matching family pajamas are a great way to show your loved ones how much they mean to you. They're also super fun and cozy! You can even get matching PJs for your pets, too!
Perfect inexpensive present
Fun Christmas Eve tradition
New coordinating pajamas every year
Plus snacks and a Christmas movie (It's a Wonderful Life)
Wear them all year long
Younger kids get hand me downs from older kids
Pets match too!
They make adorable family photos (and Xmas morning too)
Merry Christmas to all, and to all a good, cozy night!
Christmas Posts You'll Love: