GET THE LOOK: DIY TRANSITIONAL LIVING ROOM
Today, we're doing something a little different that the normal How To blog post. I've drafted a typical family room layout and we're going to talk about how to choose pieces that fit.
This room is approximately 20′ x 20′ feet, almost square. It has a fireplace on one wall adjacent to two openings to pass through the space. The wall on the left has a window and the wall on the right has a sliding glass patio door.
Rug
We started with the rug as an anchor for the room. A 9×12 rug fills the seating area, but leaves clearance for walkways. You could also pull off a 10×14 or 12×15′ rug in this space to make it feel all encompassing.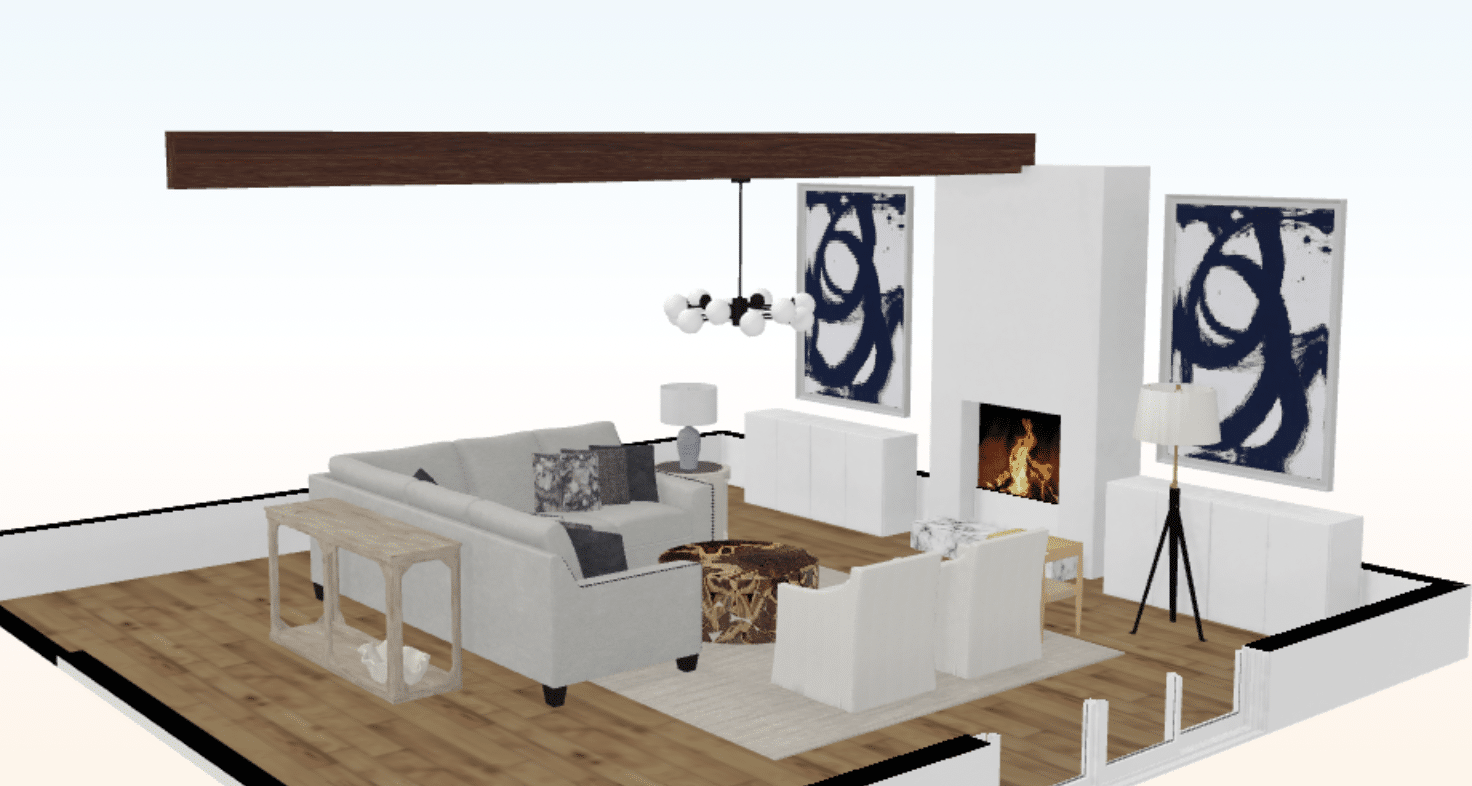 SOFA
Next, we want to choose a sofa. For this transitional family room, a sectional sofa was the perfect piece of furniture for lounging and snuggling up to watch movies. Because we need to maintain 36″ walkways around the seating area, a 110″ sofa is the best size for this room.
Coffee Table
Then, you will add a large 36″ – 50″ coffee table centered within the sofa so that everyone has a place to put down a drink. Round coffee tables and cocktail tables work great with an L or U shaped sectional sofa.
Favorite Designer Coffee Tables | Coffee Table Dupes
Additional Seating
Add in one or two accent chairs that provide additional seating for times you are entertaining guests or have a lot of people in your home- Thanksgiving, Christmas, birthday parties and need a few extra seats.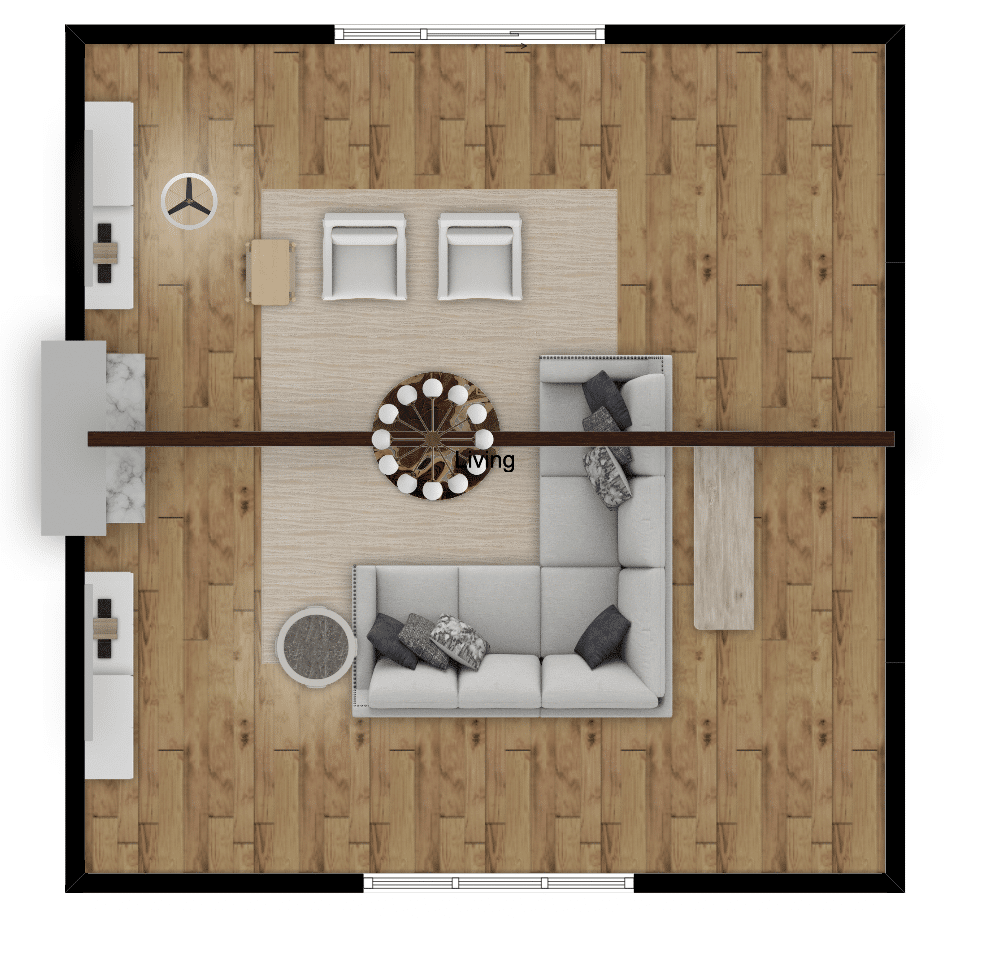 Accent Tables
My rule for tables is that every seat needs a place to put a drink, so for that, you'll want to add end tables to the sofa and chairs and perhaps a tiny martini table beside the accent chairs.
Console Table
Next, add a console table behind the sofa that you can style and detract from walking into the room and looking at the back of a sofa. Add lamps (2), a stack of coffee table books, and a large shallow vase/bowl to style the table.
Your console table should be 60- 72″ long to cover a large portion of the 110″ sofa back. If you cannot find one long enough that is within budget, buy two 40- 50″ tables and smoosh them side by side to create one large piece.
Lighting
Because the room is large, you will need a large chandelier to bring the room down and together. For a room this size, 36″ is a minimum and you can go larger to 48″.
If you have standard 8′ ceilings, opt for a large flush mount fixture so that you get the impact without cutting into the headspace.
Built-Ins or display cabinets
In this example, the room is 20 feet square which is large. If we only placed a sofa and chairs, it would look empty. So to keep with the scale, we want to add narrow, but tall pieces flanking the fireplace to draw attention to that wall.
To fill that space, you can place cabinets, built in's or a chest with art above it. In this living room, I've opted to go for lower cabinetry with art above. This way the space is balanced, but there is hidden storage (for toys or games) and the space isn't empty.
Art
When decorating a living room, there will most likely be large walls behind furniture that need something to complete the look. Large artwork is your friend!
Behind lower cabinets, console or chests, opt for art pieces that are 2/3 the width of the furniture, usually in the 36-40″+ range. If you have a sofa wall, you will need a much larger piece of art that is also 2/3 the length of the sofa, 60″ to 90″ wide.
Tips for choosing and hanging art
Lamps
In addition to the chandelier, you need accent lighting in your living room/family room. It's not unusual to have 4-6 lamps in a room this size. Add table lamps to the end tables, two lamps to the console table and a floor lamp or two.
If you have built-ins or a chest, you can place a mini lamp there as well.
CurtaIns
Finish off the living room with curtain panels. First deal with light control and privacy- use blinds or roller shades to provide privacy.
Next, measure for curtain hardware, adding 10″ to each side of the window/sliding door to hang them high and wide. Make sure to double the panels so that you have a full looking window treatment on each side.
LIVING ROOM FURNITURE GUIDE
Here are the basic pieces you will need to make your living room feel complete.
Large area rug
Overhead light or chandelier
Sofa or sectional
Accent chairs
Coffee table
Side tables
Table Lamps (2-4)
Floor Lamp
Large 60″+ Artwork
Curtain panels and hardware for each window
Console table
Built -ins/chest/cabinet/accent pieces to fill in the gaps
GET TO LOOK OF THIS TRANSITIONAL LIVING ROOM
This post may contain affiliate links- meaning when you purchase through the link and I receive a small commission. It feeds my Starbucks addiction & for that I thank you! You can see my full disclosure policy here.
Here are the specific links to purchase the exact or similar items to replicate a transitional living room in your own home. Make sure to measure and use a floor planner to ensure the dimensions will fit in your space!