Your guide to a successful step-by-step bathroom renovation or remodel. Learn how to create an updated look you'll love!
Step by Step Process for a Bathroom Remodel
Are you looking for a fresh start and excited to embark on your bathroom remodel? Let's face it– bathrooms can be one of the most intimidating rooms in our homes to remodel. But with careful planning and the right tools, this project can be both rewarding and achievable.
Here, we will break down each stage of a successful bathroom remodel into simple steps so that you can confidently work through each component and create a beautiful, updated space!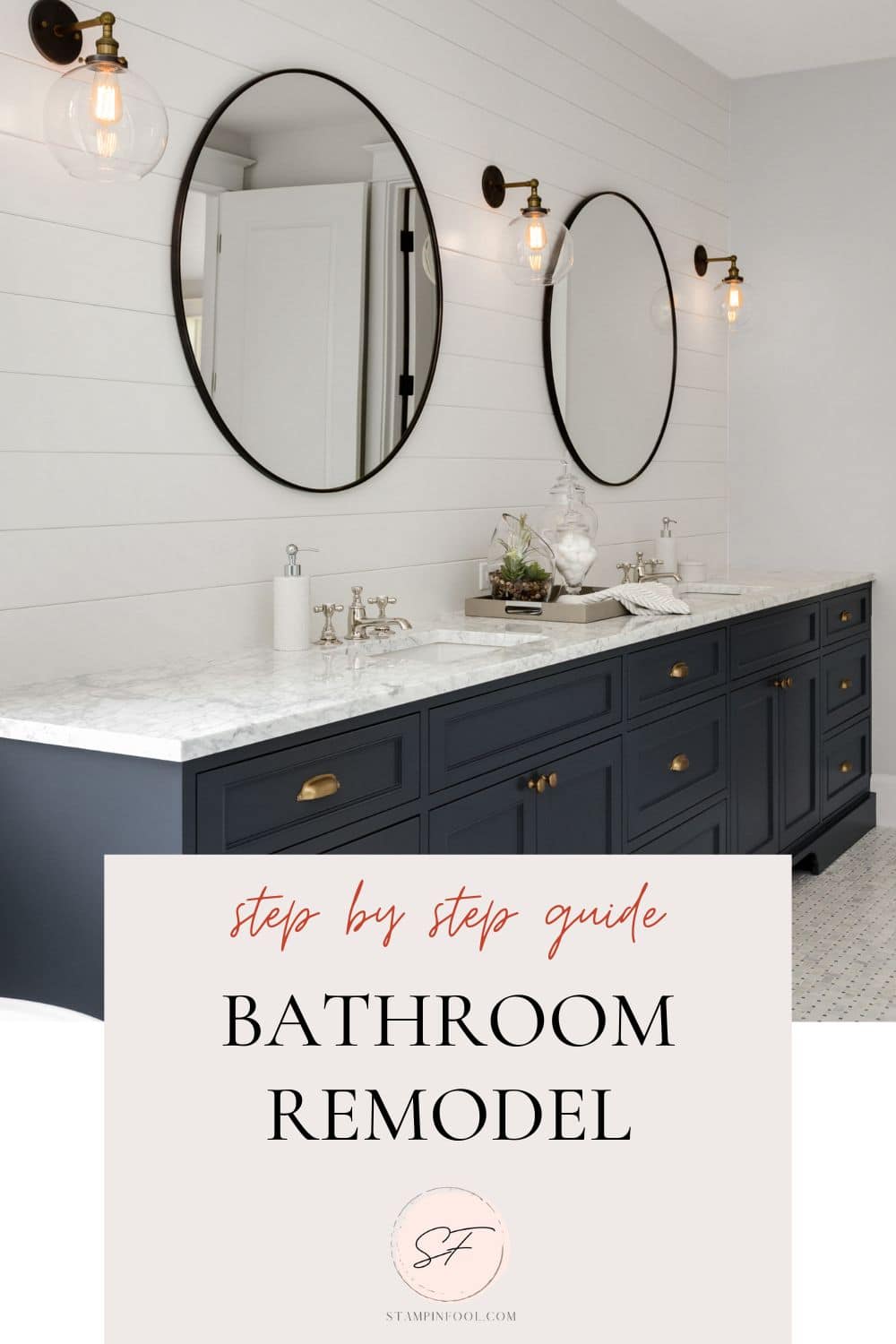 Bathroom Remodel STEPS
Before you start planning your remodel, it's a good idea to familiarize yourself with the steps of the remodel process. The list below is in the general order of how your reno will go, however some steps may be concurrent or vary slightly depending on your contractor's preference.
Start planning inspiration images for your new bathroom
Make tentative fixture & material selections
Interview contractors & price the job
Hire a GC & sign a detailed contract
Begin ordering materials
GC pull permits
Demo
Structural & Framing
Electrical rough in
Plumbing rough in
Drywall
Waterproofing
Tile/Flooring
Paint
Vanity/Cabinetry installation
Template Countertops
Plumbing installation
Shower Glass
Lighting, Mirrors, Hardware
Final Walkthrough + Punchlist
Now that we've been over the list of steps for your bathroom remodel, let's review why it's so important to properly plan ahead.
Bathroom Remodel PLANNING
The number one step to a successful bathroom remodel is planning because things go wrong when you don't plan. Here are important reasons to plan out the materials, fixtures and details:
Photos, choosing fixtures and tile ahead of time can give you a more accurate bid or quote from your contractor before signing a contract
Make sure materials and fixtures are in stock or can be shipped in time to start the reno
Have a few backup options and materials in mind in case a delay happens
Before signing a contract, make sure your details are decided so that they can be included in the contract- the selections you make are the selections you are paying for, so include it in the contract so they don't swap for cheaper materials
Signing a DETAILED CONTRACT is a MUST. Make sure it spells out timeline, conduct, who purchases what materials, details of the design, material preferences- wood type, grout color, paint brand etc.
Be flexible to a point- contractors are humans too and they make mistakes, have to reschedule & need grace
bathroom DESIGN
There are a thousand tiny details to plan in your bathroom remodel, so I'm going to make a bulleted list of the most important. As you choose materials, those will have their own design decisions that come along with them.
Spelling out each detail before breaking ground is a great way to plan time to resolve anything you forgot or that the contractor needs to research or find a subcontractor for. Along with spelling it out, make sure to include the manufacturer, size, color and SKU for each product.
As far as the design implementation, for the smoothest process with your contractor, include photos with text describing the details you are looking to achieve.
Start gathering design inspo on Pinterest!
Next, head over to Ferguson/Build because they have categories that cover a lot of the decisions you'll need to make, plus you can check availability.
Let's jump into our bathroom design detail decisions you'll need to make:
recessed lighting style, size and placement
wall paint color, sheen, brand and type for each surface- ceiling, trim, walls, vanity, base, doors
flooring
tile- floor field, walls, shower wall, shower floor, niche
grout color and type for each location
niches- size, location, design, finish (schluter, mitered)
drain- product, size and location
shower system- showerheads, controls- location/height, where is it centered
shower glass & handle hardware
shower glass installation- U channel, clips, framed, frameless
toilet
paper and towel holders and placement
vanity or custom design- wood species, stain or paint color and finish, foot /base detail, door style, cabinet material and box material
cabinet hardware and placement, size, finish
linen cabinet location, size, paint finish, clearances for doors to open, hardware and placement
thresholds- shower and room entry material, height, placement
door style and hardware
mirrors- location
hand towel holders- location
sconces beside mirrors- location
countertop material- edge, thickness, backsplash, seam location, vein mapping
sink and faucets
shower towel hooks and location- wall or shower door
decorative lighting/chandelier or flushmount- location
bathtub- brand, style, drain location, faucet and control location, clearance from walls
window location, size and window treatments/shades/privacy film
Favorite Bathroom Product Sources
You have so many selections to make for your bathroom remodel so it's easy to get fatigued. Sometimes it's easiest to find images you love and choose products that support that look.
Lastly, if you are struggling to make all of the decisions or need you selections reviewed, reach out to a designer for help! It's work paying for advice because a bathroom remodel is such an investment you'd hate to mess it up!