Free Paint Tracker and Planner Chart Printable for your Home!
Use this FREE printable Whole Home Paint tracker and planner printable worksheet to keep track of every paint color in your whole home!
Are you thinking about painting the entire interior of your home, or even a room or two? As a homeowner, I am constantly trying to remember which paint color I used and in what finish for a room. Whether I need to touch up a spot or someone asks which paint color I used. I forget which paint I used in the upstairs hallway 5 years ago or the kids bedroom last year.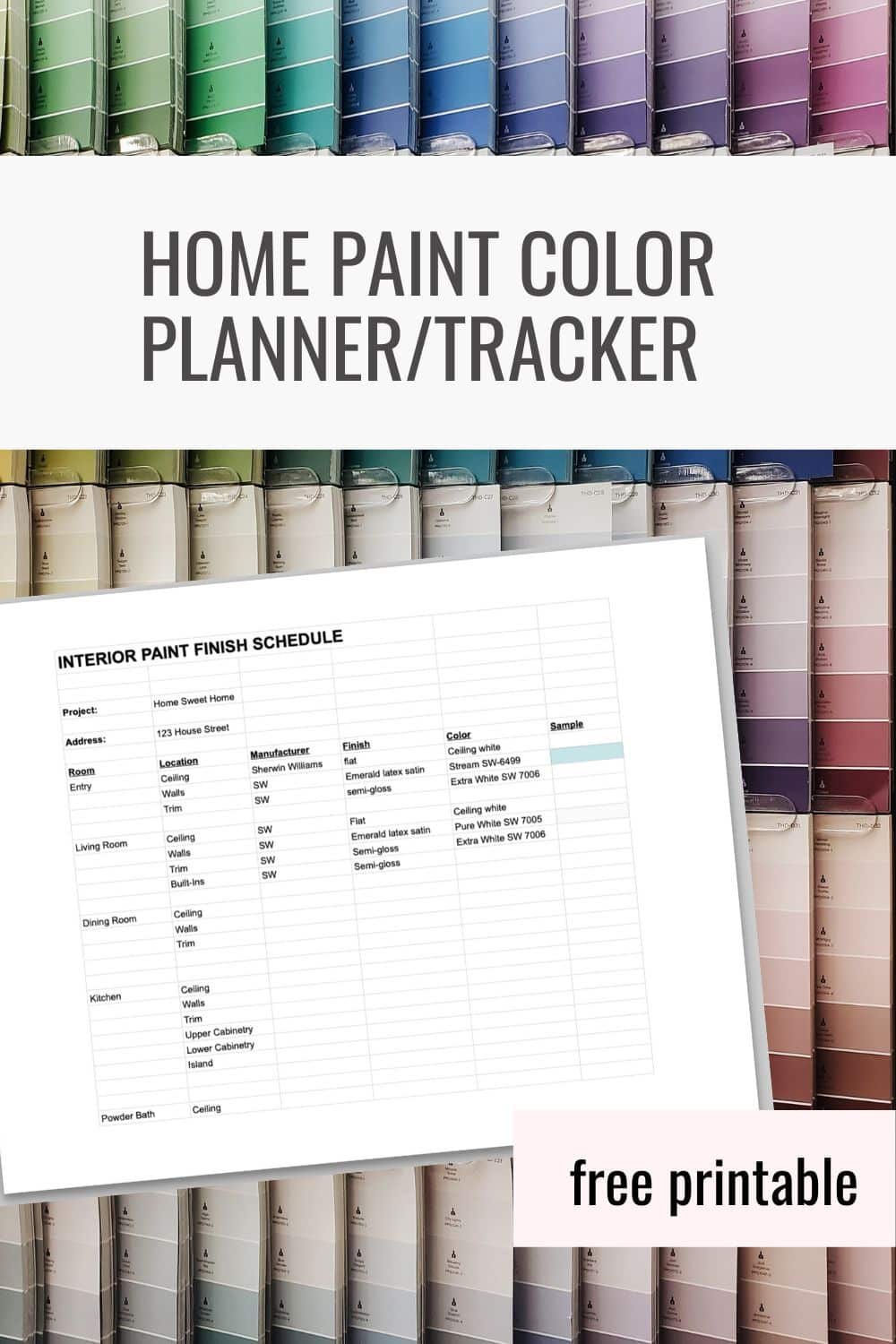 Are you struggling to keep it all straight and don't know where to start? Or are you ready to start painting rooms, but want to make sure the paint colors coordinate with each other?
Well, search no further, because we're going to talk about what a paint schedule it, why you need it & this list is going to keep everything organized for you. Plus, you'll get a FREE printable paint planner template to get you started.
Not only will the paint planner help you plan the flow of your paint colors choices throughout your home, you have a complete listing so that you don't forget to specify a room, finish (sheen) or color.
Are you ready to get started with this comprehensive interior paint planner guide?\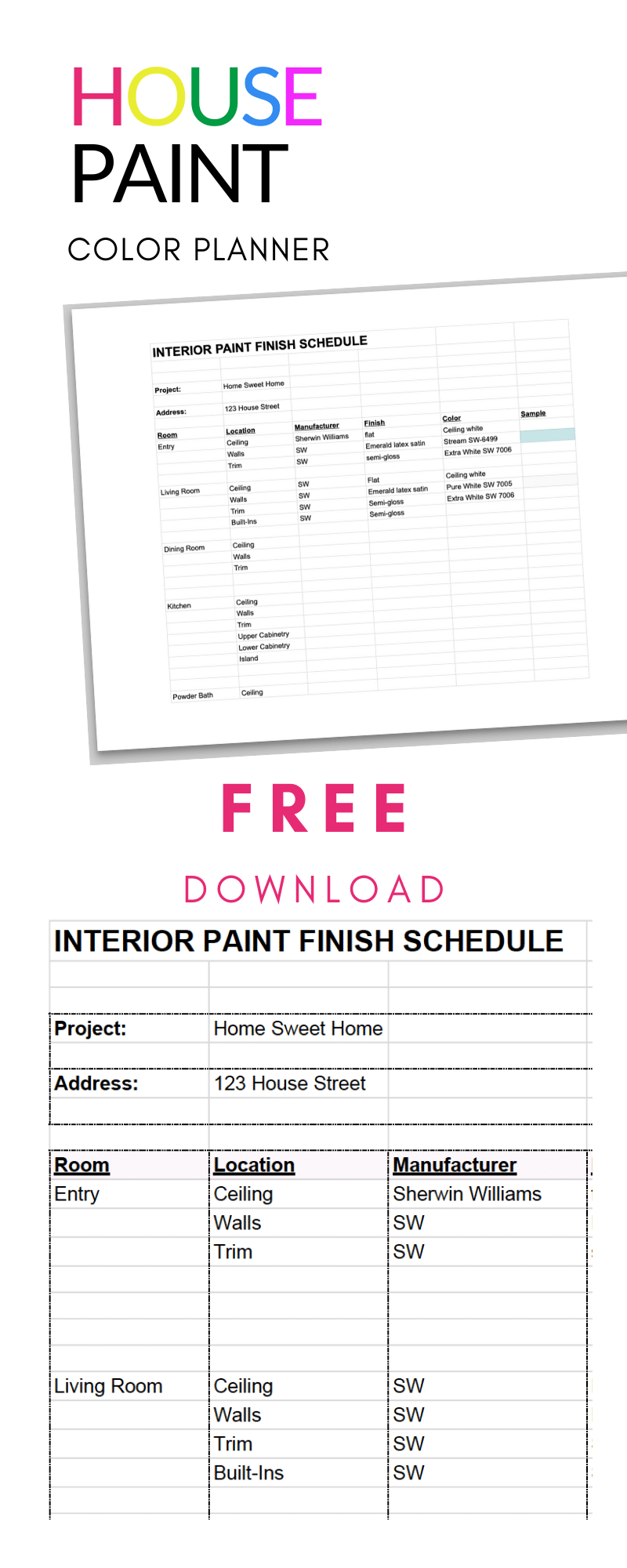 WHAT IS AN INTERIOR PAINT FINISH SCHEDULE + HOME PAINT TRACKER?
First, let's address the word "finish". It can refer to either the sheen (flat, satin, semi-gloss, etc.) or to the final stage of construction making everything esthetically pleasing.
Here we will use finish both ways. The "finish schedule" will refer to the final work, "finish work", done on the project (your home). And we will also use the word finish, as a column on the interior paint schedule to refer to the paint sheen.
THE PAINT SCHEDULE (PAINT COLOR PLANNER)
Next, we can address what the paint schedule actually is. The paint schedule is a listing of every room in the house as well as the detailed information about the paint that will be used in it. We're calling it a "planner" or tracker here.
You will use a spreadsheet to track these things. This includes: the room, the application location- wall, ceiling and trim choices, the paint manufacturer, the finish (sheen), and the specific color and paint number, as well as a color swatch. [See graphic below]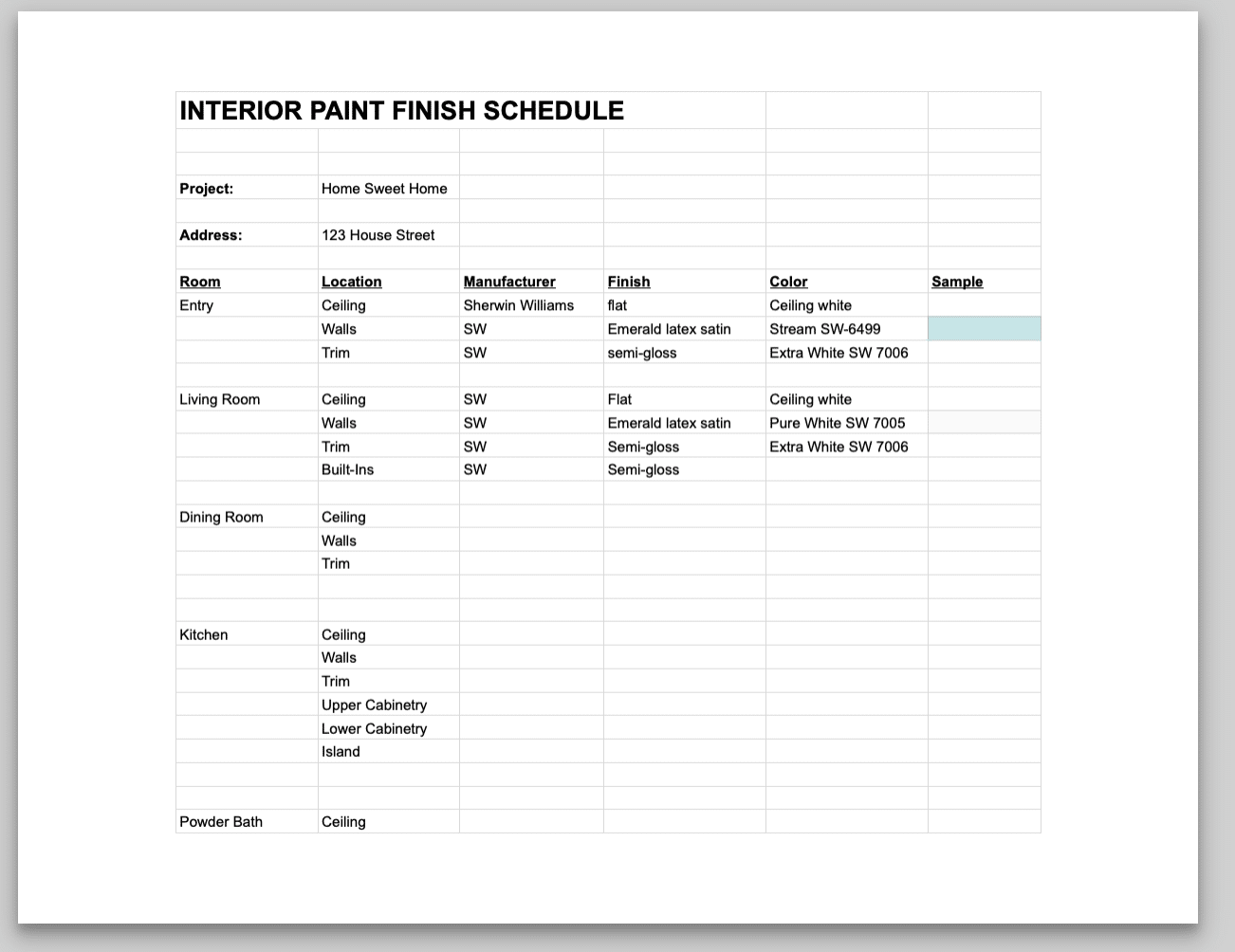 ---
Directions: Click link > Go to File > Make a Copy > Click OK.
Now you can edit the google document.
Or click here to download the Excel version: Interior Finish Paint Schedule (xls).
---
HOW TO USE THE INTERIOR PAINT PLANNER / FINISH SCHEDULE
First, use the directions above to download the spreadsheet as a google document or Excel spreadsheet.
Next, fill in the project name and address.
COLUMN 1: PAINT PLANNER ROOM
Then, review the room list and modify or add rooms to the bottom as needed. If you remove rooms, make sure you remove the entire row, not just the first column. Also remember to remove my examples notes in the first room.
COLUMN 2: PAINT LOCATION
After you have included each room or area of your home in the first column, you will move on the the featured location for each room. For example, if your living room has a fireplace that will be painted, you will add a line for "fireplace". If there is an interior closet in a room, you will add that as well.
In addition, if the room will have different colors on walls, you will specify each wall individually. The same goes for doors. I have listed trim to include doors, but if the doors will be a different color, you will need to add "doors" to column 2.
COLUMN 3: MANUFACTURER
The next column is where you will list the paint manufacturer information. While you may mostly choose the same manufacturer for each room, you may find a color or style of paint from another company that you fall in love with and want to use, such as Farrow & Ball or Fine Paints of Europe.
So you will need to keep that information included in the paint schedule for future reference.
COLUMN 4: PAINT FINISH
Paint finish. In column four you will specify that paint sheen. Additionally, I like to include the specific product so there is no confusion if I need to reorder or repaint later.
It keeps it really clear and organized for both yourself and as an amazing resource for your buyer if you ever sell. Just think how happy you would be to buy a freshly painted house, with colors you love and have the guide to every finish and color handed to you!
COLUMN 5: PAINT COLOR & CODE
The most fun column of them all is the color specification. Here you should include both the color name and manufacturer assigned number so that there is no confusion, if you accidentally jot down the incorrect color name.
COLUMN 6: PAINT SAMPLE
In the final column there is space for the paint sample. You can either include a paint chip, or an approximate color to represent the color family (blue, red, green, etc.). This may not be as helpful if your colors are very similar, but it adds a layer of confirmation.
GENERAL TIPS FOR USING AN INTERIOR PAINT TRACKER OR WHOLE HOME PAINT PLANNER
Lastly, I will leave you with a few general tips to make the most use out of your whole home paint planner. Tracking all of this information will be immensely helpful over the life of your home ownership.
Print out a blank copy and jot down the colors or finishes you think you may use. Use it as a working tool to plan your entire color palette.
Keep a copy with your paint cans.
Give a copy to your painter to keep everything straight.
I also recommend posting the paint schedule to the door of each room with the room info highlighted. This is especially helpful for a new build or when multiple rooms have been hired out.
Include a copy with your sales package when you list your home on the market. This is an invaluable resource for a new buyer.
Make additional notes if you end up disliking a color or finish.
Take the paint schedule to the paint store with you while ordering paint.
BUT BEFORE YOU PAINT
Before I leave you with this home paint tracker, I want to make sure you have all of the resources you need to choose the best paint colors for your space. So, make sure you read these two posts first: Best White Paint Colors and All About Paint Undertones.
And as an added bonus, here are all of my posts on paint in one place.
PAINT FINISHES
Before we wrap this up, let's briefly talk about paint finishes. I tend to prefer certain finishes for walls versus trim. And there are a few finishes I NEVER use.
So let's get into it. I will list the finish (sheen) and then the areas I would use it.
High Gloss
I love to use high gloss when it can be sprayed. But, if you have a great painter, use it on:
trim
built in bookcases (floor to ceiling)
exterior doors
lacquered ceilings
Semi-Gloss
this is the most common trim choice
built in cabinetry to match trim
kitchen cabinets
stairs & rails
interior doors
dark, bold colors (to bounce light around)
Satin
I opt for Satin on walls that need cleaning durability
When I don't want a high sheen on walls
And when I know I will be doing touch up paint
Eggshell
NEVER
I never use an eggshell finish because you cannot touch up a spot with an eggshell finish. It will show, you must repaint the entire wall.
Instead opt for satin or a super flat (meant for durability & cleaning)
Flat
Ceiling paint
There is super durable contractor grade flat paint on the market now at major retailers (ask your paint store)
Use flat on walls where you don't want high reflection
Flat looks great for white paint colors, hallways
Flat cabinet fronts where you want a matte look
Easy to touch up
FREE INTERIOR PAINT COLOR PLANNER & SCHEDULE DOWNLOAD
Directions: Click link > Go to File > Make a Copy > Click OK. Now you can edit the google document.
Or click here to download the Excel version: Interior Finish Paint Schedule (xls).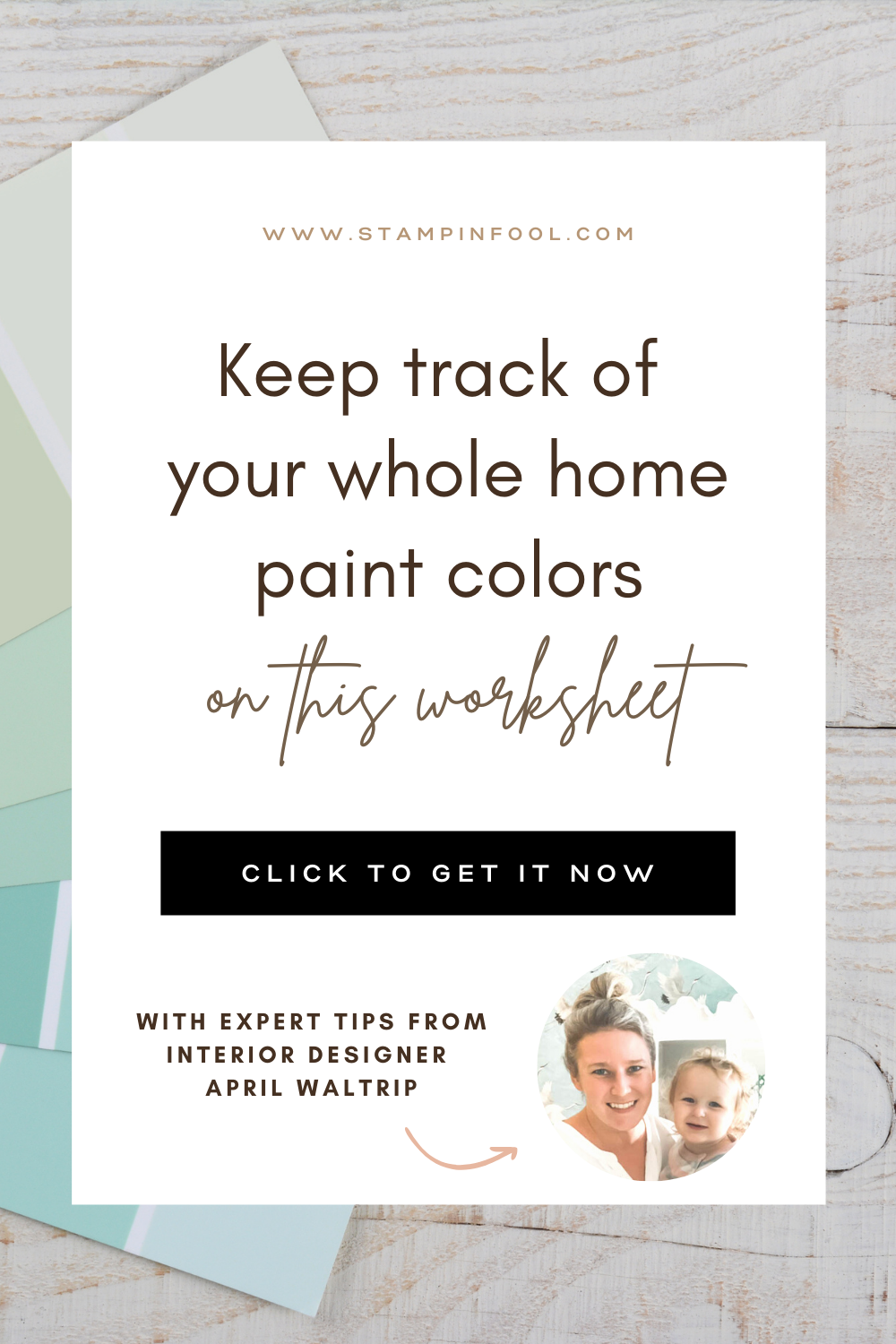 ---
OTHER RESOURCES
Lastly, I will leave you with a short list of other posts about paint that you will find helpful in choosing the best paint color for your house or room.