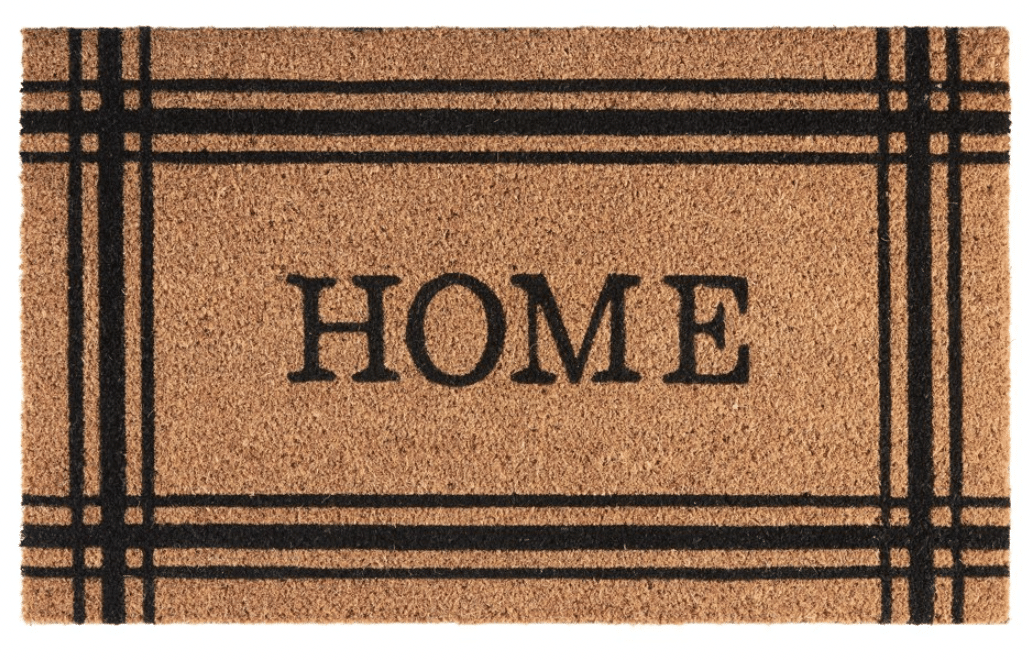 MUST HAVE NEW FALL DECOR AT WALMART: PUMPKIN SPICE EDITION
These affordable, new fall decor pieces at Walmart will take your deck or patio from blah to pumpkin spice in no time.
This post contains affiliate links- meaning when you purchase through the link and I receive a small commission. It feeds my Starbucks addiction & for that I thank you! You can see my full disclosure policy here.
Do you have a patio? If so, do you want to make it look great for fall?
But if your patio isn't decorated properly, then it won't be as inviting as it could be. That's why we created this guide on how to decorate your patio for fall with affordable finds from Walmart!
We hope you find some inspiration in here that will help make your outdoor space feel more cozy and comfortable.
While you don't have to go all out, there are definitely some things that can help bring out the best of this season's style to your deck or patio while making sure everyone feels at home outside all year long.
What to Buy to Decorate Your Deck for Fall
Start by grounding the space with a rugs to add warmth underfoot.
Next, hang string lights give off a soft glow that makes any evening feel special even after the sun goes down.
And nothing beats curling up next to a fire pit with someone special on those chilly nights!
It doesn't matter what kind of space you have either – whether big or small, covered or open-air – because these tips are universal enough that they'll work anywhere!
AFFORDABLE FALL DECOR HIGHLIGHTS
I want to highlight a few of my favorite finds from Walmart for your deck!
DOOR MAT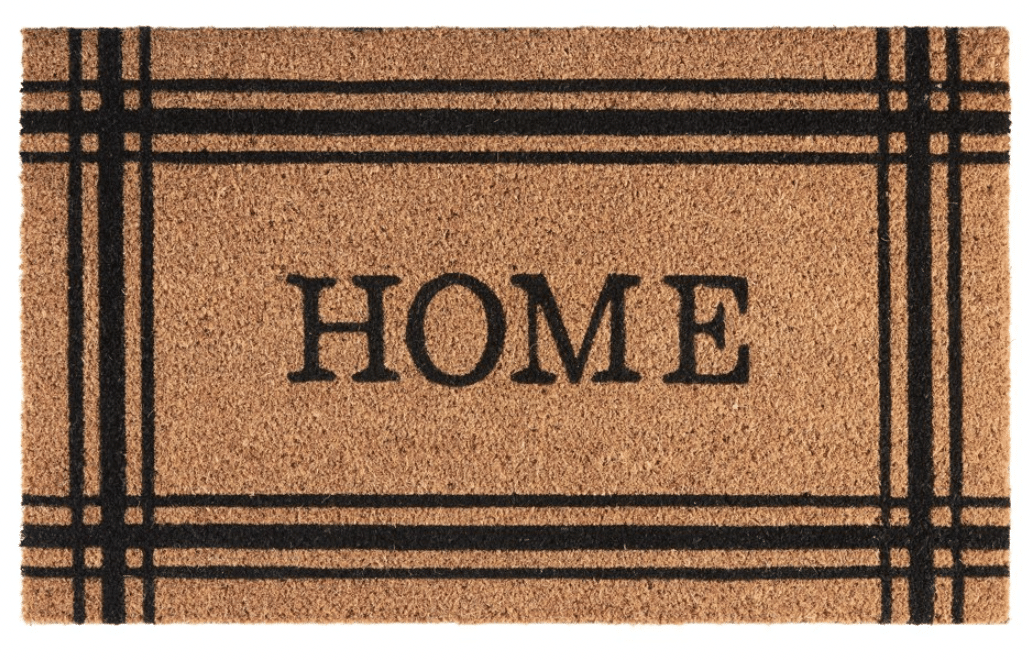 What I love: This natural coir doormat has classic striping in black against the natural color. The home text is a sophisticated way to add style without looking cheesy.
golden MUSTARD throw pillows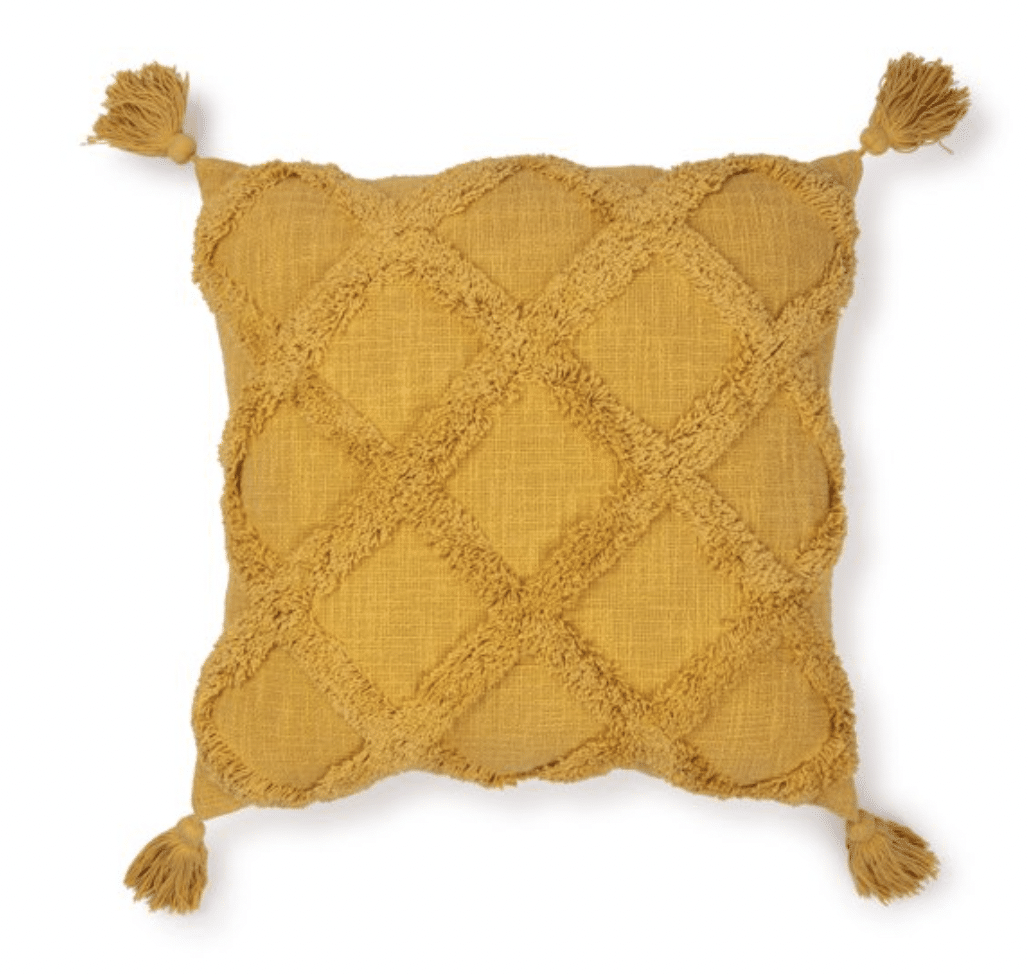 Next up are these mustard/curry colored throw pillows that are 20″ x 20″ with tassels and a textured trellis pattern. These pillows also come in creme, white, merlot and burnt orange, perfect for your fall colored palette.
WINDOWPANE WALLPAPER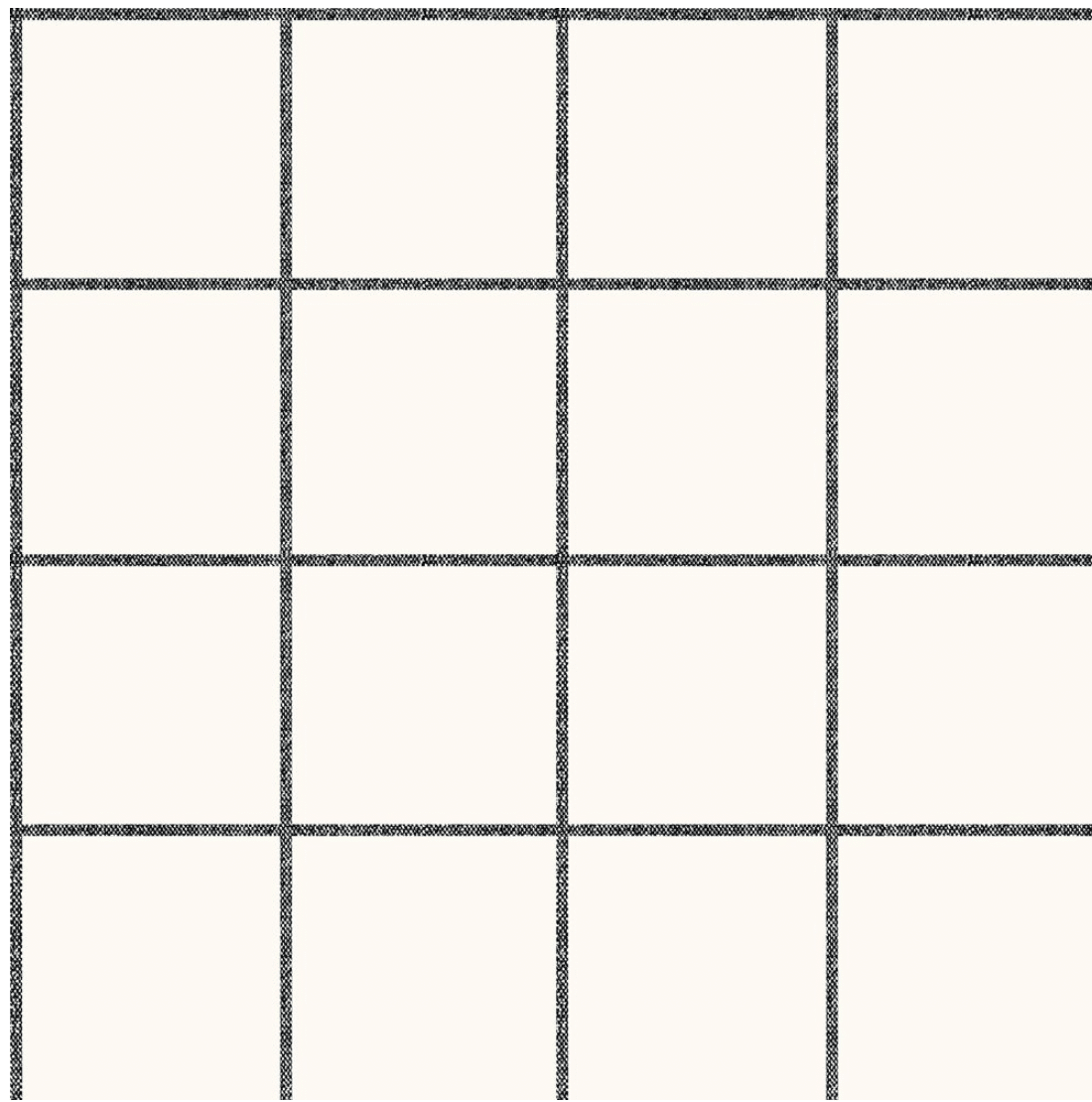 Okay, this one is a little different because you can't wallpaper outside. But I had to include it in my favorites list because you cannot go wrong with windowpane wallpaper.
It is a classic design and it's on sale right now. So if there is a room, bookshelf, or area that needs wallpaper, scoop this one up ASAP!
faux Terracotta planters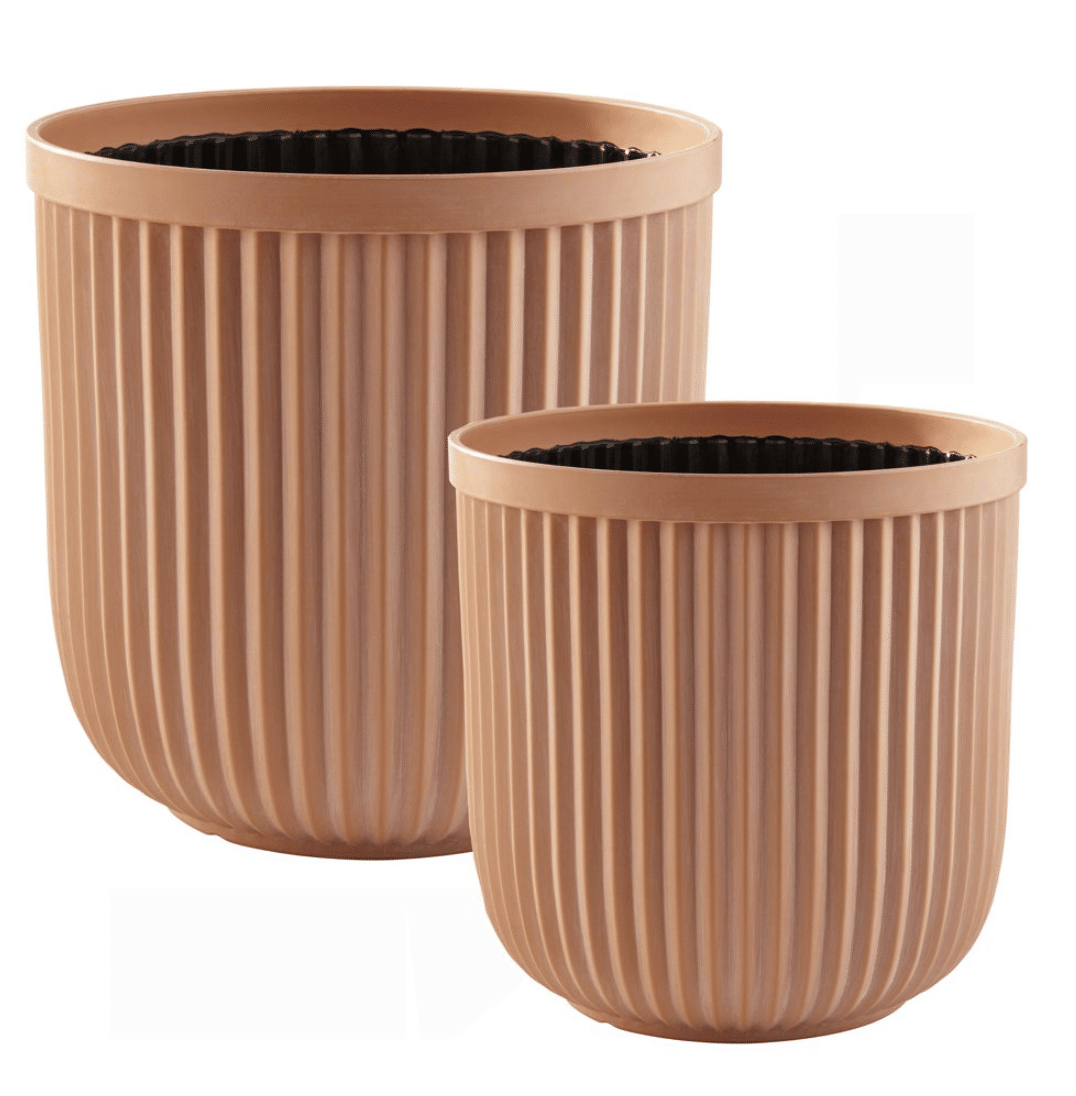 Lastly, I'm highlighting these faux terracotta planters for a few reasons.
1- They are large enough for medium plants to grown in. Theres's nothing worse than your plant struggling because it's in too small of a planter. So, for these terracotta planters, add mums or coneflowers to bring fall vibes to your deck.
2- The terracotta color will bring warmth to your patio which is a way to bring in fall colors without having to buy all new furniture. It can help transition your summery decor into feeling a little more like fall.
THE QUICKLIST
Here's the list of everything you need to get your deck or patio fall family ready:
Outdoor Rug (8×10)
Outdoor sofa or rocking chairs
Fire pit
Lanterns
String lights
Planters
Throw pillows
Doormat
Extra seating like a garden stool or hanging chair
Where to Buy Affordable Fall Decor
Today we are focusing on where to find affordable fall patio decor, and Walmart ticks all the boxes.
Walmart is the place to go! We have everything you need to get your patio ready for fall. From outdoor rugs and pillows, to fire pits and woven egg chairs, we've got it all.
I love that the Better Homes and Gardens brand sold exclusively at Walmart has a variety of products that are perfect for every budget.
Best part about shopping these fall finds is that no matter what kind of budget you have – big or small – we have everything covered so everyone can enjoy their favorite season without breaking the bank.
Shop these finds and more at Walmart's below!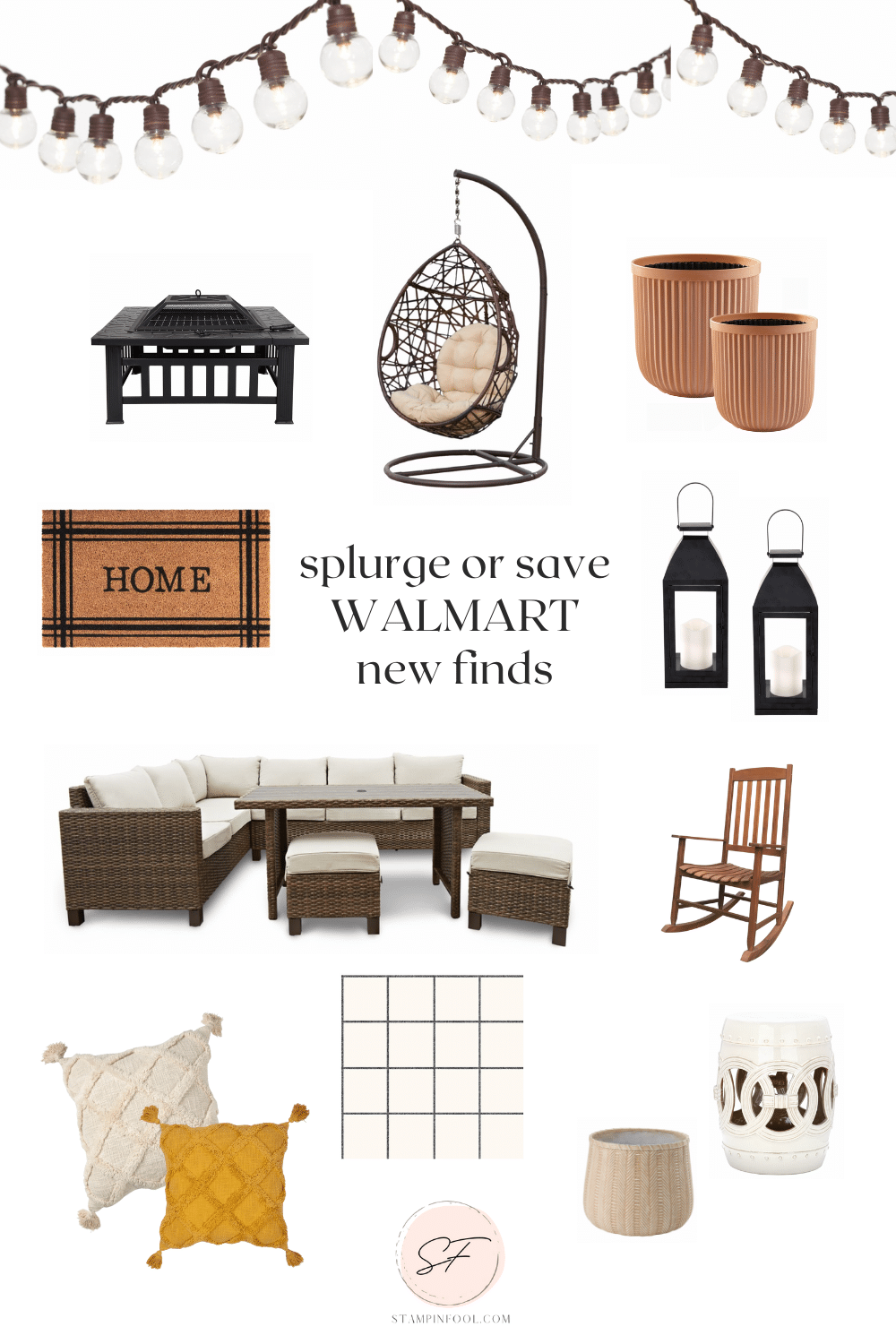 Here are the links to the above items available at Walmart to add a little bit of fall to your home!
String Lights | Black Battery Powered Candle Lantern | BH&G 5 Piece Patio Set | Wood Porch Rocking Chair | Wood Burning Fire pit | Hanging Wicker Chair | Garden Stool |Terracotta Planters | Woven Resin Planter | Doormat | Tufted Pillow |Windowpane Wallpaper
QUICK LINKS FOR NEW WALMART FALL DECOR
Here are the quick links for all of the above new fall decor pieces from Walmart!
And don't forget to check out the fall decor at Walmart! They have all of the essentials so you can get ready for this fall without any hassle.
Need help finding the perfect selections for your home, become a client. Online or in person.