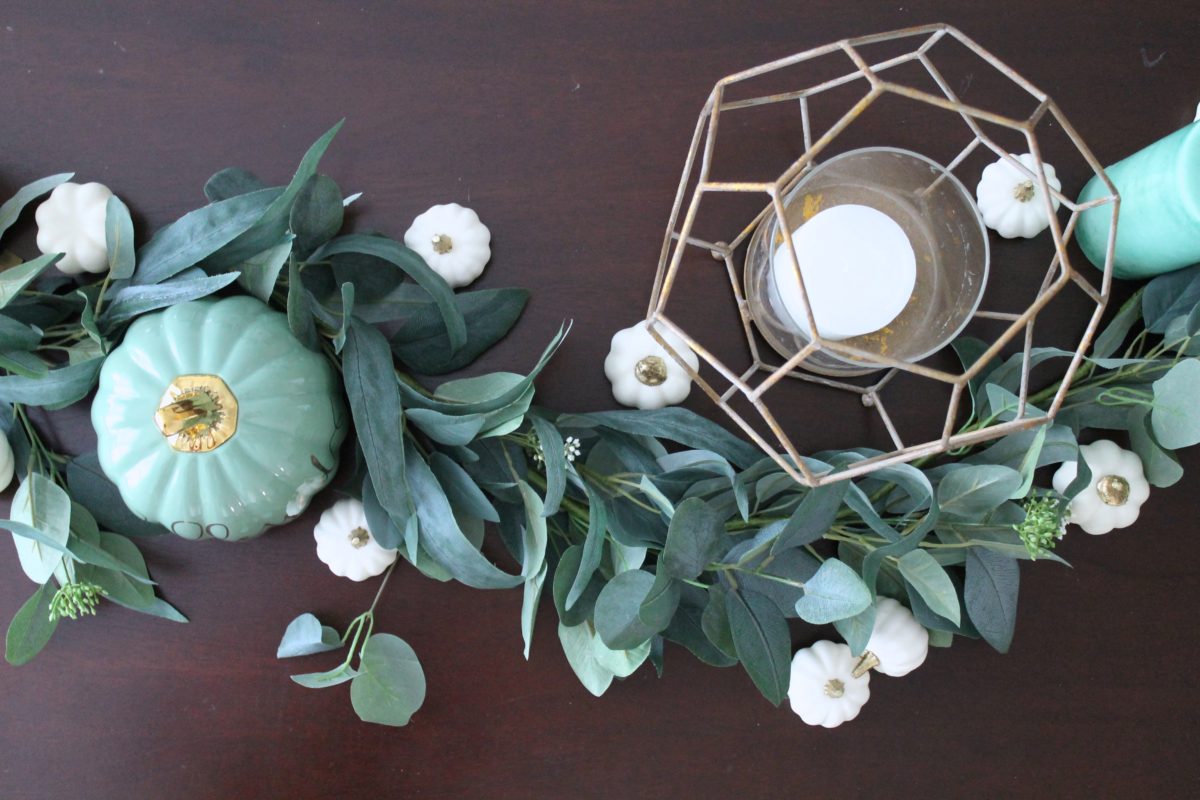 HOW TO CREATE A FALL TABLESCAPE IN 5 MINUTES
Are you ready to learn how to make a quick, but beautiful fall tablescape? I am so glad you are here. I can't wait to share with you.
You can see hundreds of ideas on table decor my Fall Tablescape & Dinner Party Pinterest Board
Fall decorating doesn't have to be difficult. You can create a beautiful #tablescape within minutes in 4 easy steps.
When you think bout fall what comes to mind?
pumpkins
mums
candles
burlap
copper mugs
plaid
lush eucalyptus greenery
mini pumpkins in white and blue
rattan or woven cane
gourds
marigold linens
butternut squash
fallen leaves
burgundy
cable knit sweaters
bonfires
Is this resonating with you? These are definitely things that come to mind when I am asked to describe fall. I am thinking of how front porches, table settings, family photos, and bonfire dinners look. The smell of the air getting cooler and wanting to put on a warm chunky sweater with a pair of my most comfortable jeans.
I wanted to bring this feeling to my dining room table. I am going to share with you what items to choose and how to arrange them into a simple, but pretty fall tablescape theme.
Why make a fall tablescape?
Oh fall. Who doesn't love a great dinner party? Whether you have a party coming up or not, adding a little bit of color and seasonal decor to the table is a great way to warm up a room.
So whether it's for your dining room or your wedding table, this tablescape tutorial wins it all.
You can easily add these few items to your breakfast nook, dining room table, or translate it to your mantle. Fall decor is easy to fit into any style whether traditional or farmhouse, boho or modern glam. You can create a tablescape that fits your taste with a few small tweaks.
What to Buy
ivory candles
eucalyptus greenery
small white/ivory pumpkins (15-20)
a pop of color (pumpkin, vase, lantern, fresh flower heads)
centerpiece lantern, large hurricane candle holder, cake plate or the like
How To Arrange a Fall Tablescape
As promised, I am going to show you and tell you how to arrange the pieces in a visually pleasant way, while keeping it super simpler. Below I have a video showing each step in time lapse.
1. Start with the centerpiece.
First, place the hurricane, cake plate, etc. (large centerpiece) in the middle of the table.
If indoors on a dining or kitchen table, it should be directly under the chandelier.
This is where a large pillar candle or your largest pumpkin should go. Place it in the hurricane or on the raised cake pedestal.
It should be the tallest piece of the table design.
Learn how to choose the perfect size chandelier
Off to the sides of the centerpiece, you can place any other large pumpkins or vases. You want to arrange them symmetrically.
2. Add greenery.
Next, weave in greenery.
Eucalyptus leaves work great for this and the carry over to other seasons well for those who like to keep a limited number or decor pieces.
After you have laid the greenery on the table, work it into a half circle around the middle centerpiece.
Then curve it in the opposite direction around the other large pumpkins.
Fluff out the individual strands of leaves so that they are full and spaced evenly in all directions.
You want the branches to look natural, not standing upright.
3. Add pillar candles.
Add in 2-6 pillar candles.
Alternate them in front of and behind the greenery all along the table.
The longer the table, the more pillar candles you will need.
I recommend flameless candles so that they don't drip, but still provide an intimate ambiance.
4. Add mini seasonal filler.
Last, but not least begin adding in your seasonal filler, in this case, mini white pumpkins.
You will need a least 15-20 to spread out.
Start from the center and begin placing them one on each side.
Work your way down the table adding symmetrically.
Make sure they are on both sides of the table and greenery.
Take a step back and move them around as needed filling the gaps evenly.
If you love color, choose a filler that adds a pop of color. In my example, I used teal candles and large pumpkin.
You can add color with apples, flower heads, pears, pinecones, lemons, ears of dried corn, cotton branches, dried oranges. The list goes on!
VIDEO
Below is the time lapse video I made showing each of the steps. I will recap them with photos below.
1. Centerpiece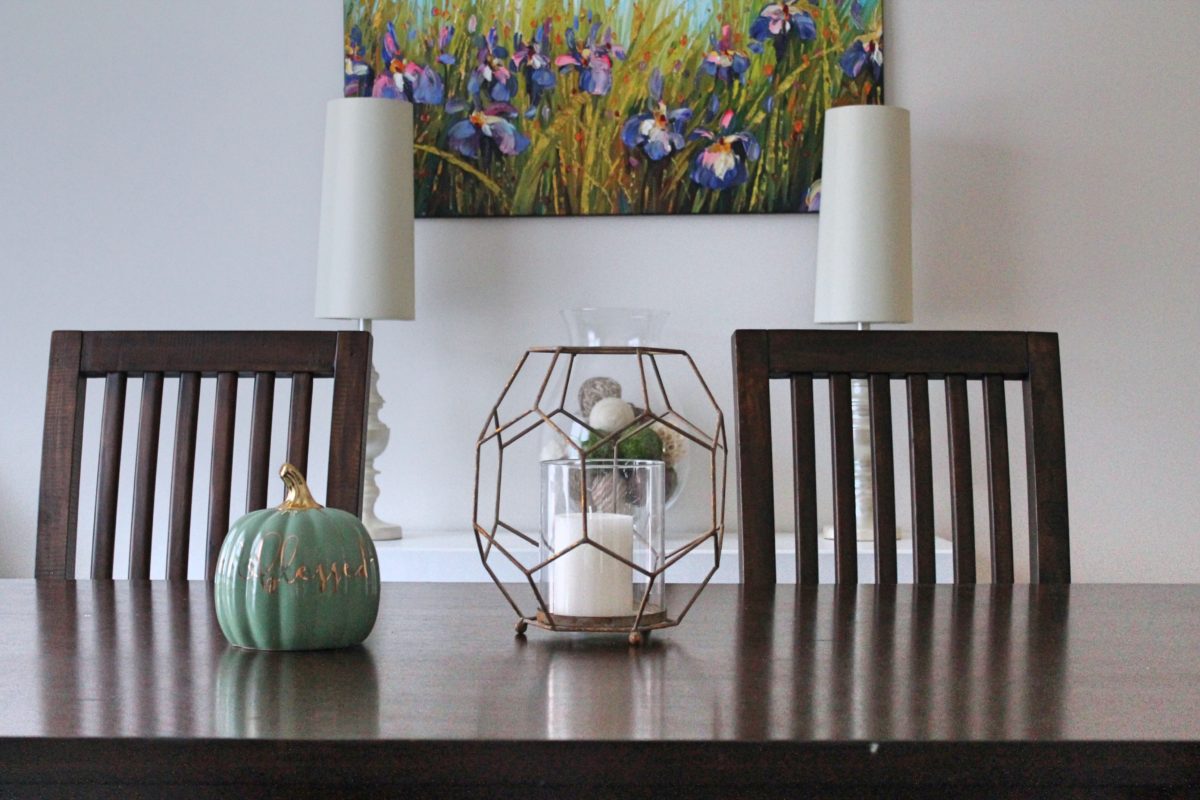 2. Add greenery.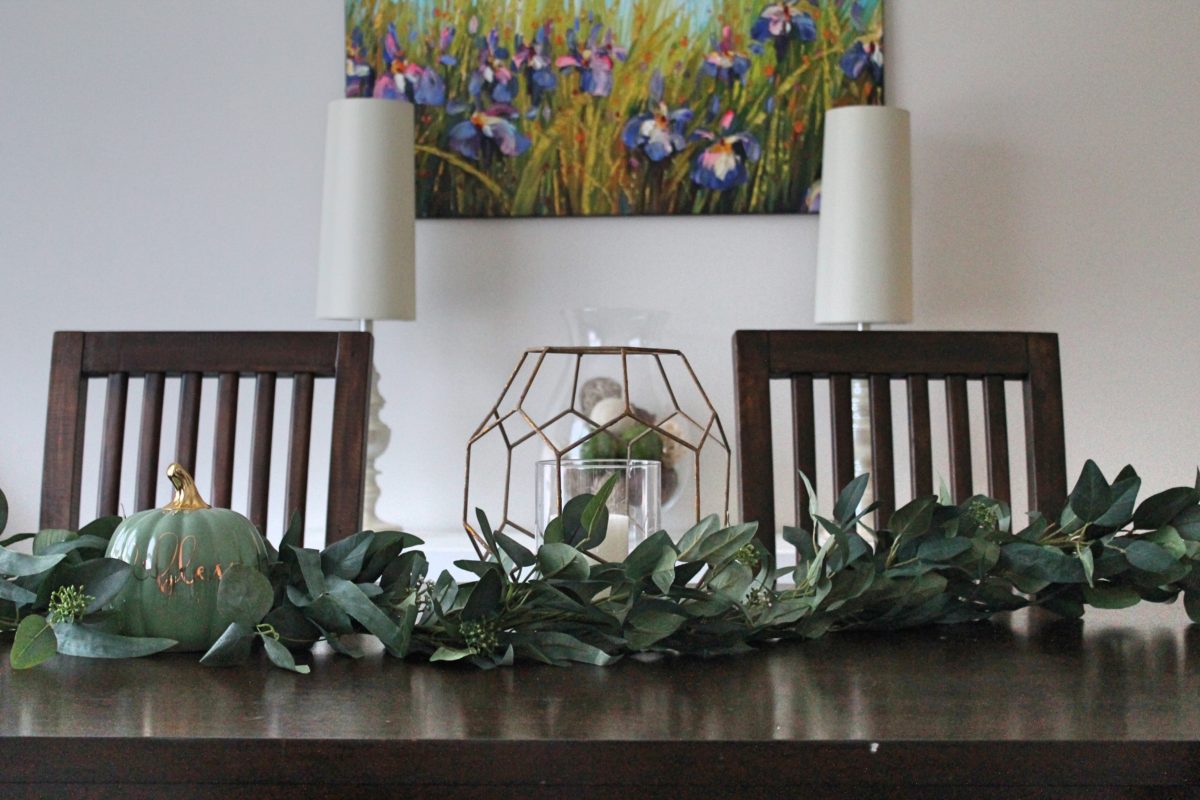 3. Add pillar candles.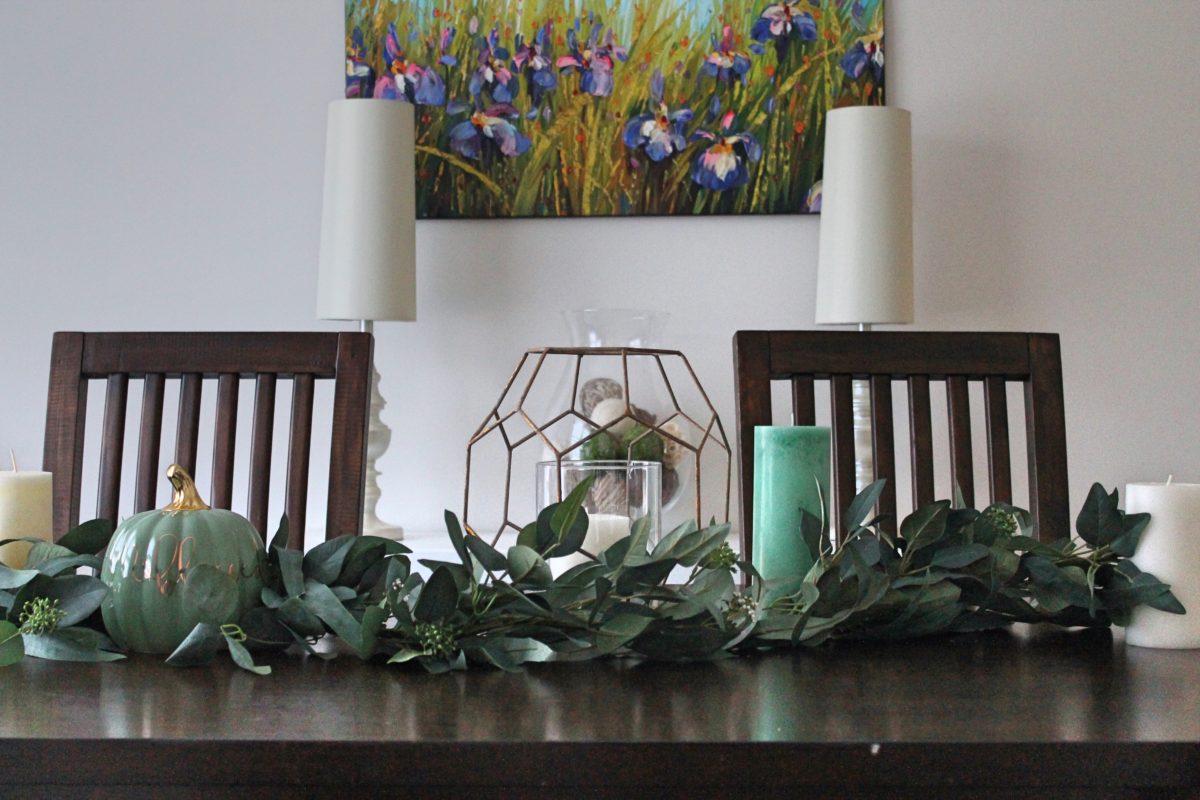 4. Add the seasonal filler.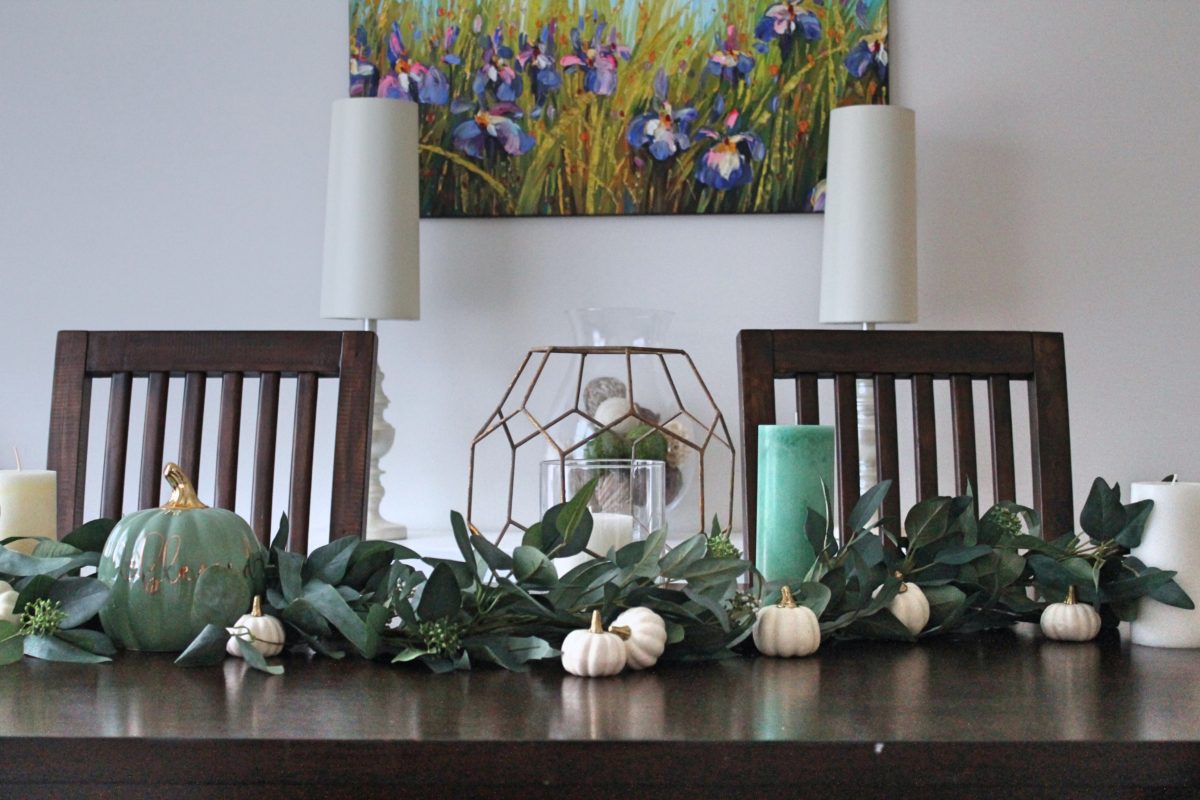 A Huge Thanks to Big Lots
I want to take minute to thank Big Lots. I was shopping last week and posted live Instagram stories while shopping. A team member reached out to me and thanked me and offered to send me a care package. I am absolutely grateful for the beautiful pumpkin they sent!
Sources
For this centerpiece I used a large green pumpkin that @biglots gifted me #gifted + a hex gold candle holder from @homegoods
Greenery: Eucalyptus @hearthandhandmagnolia @target
Candles: White pillar and Teal pillars @homegoods
White Mini Pumpkins: @target vase fillers by Threshold
Conclusion
It's that simple to create an elegant fall tablescape for your taste in 4 easy steps.
Place centerpiece.
Fluff greenery.
Add candles.
Mix in mini seasonal filler.
You can create this quick and easy, but beautiful centerpiece and tablescape in no time. It can easily be swapped out for each season by adding a pop of color, seasonal flower or representative fruit for each corresponding season.
You can see hundreds of ideas on table decor my Fall Tablescape & Dinner Party Pinterest Board
Happy Fall Decorating!