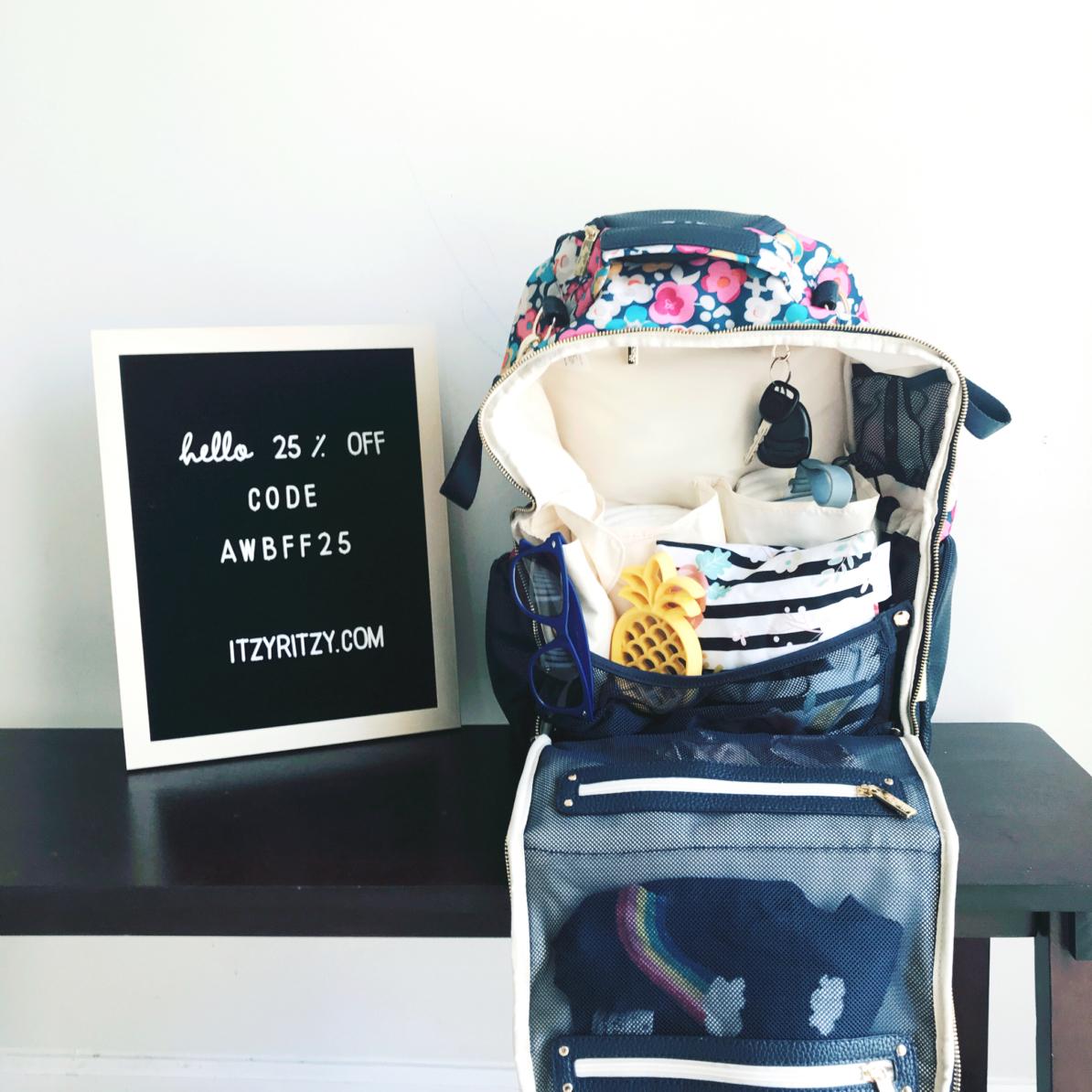 Life is hectic with kids and businesses to run. We are on the go a lot. Whether shuffling from one office to the next, dropping at summer program, grocery shopping (or Target browsing), or hitting parks, museums, and community events for the kids.
KEEPING IT ALL TOGETHER
To make sure I'm prepared, I keep a go bag in the car. I have a fully packed diaper bag with spare clothes for the kids (because water parks and hoses pop up in unexpected places), diaper, a few toys, meds, a blanket, shopping cart cover, teething necklace, a spare pacifier or four, lady products, chapstick, and granola bars. I leave it in the car. ALL THE TIME. Seriously!
That means to get out of the door, all I need to do is fill water bottles for the kids and myself, grab a few pieces of fruit, and the kids. Don't forget the kids. This is a life saver. All I need is already in the car, I just drop in the water bottles, sippy cup and fresh fruit. I restock diaper and wipes as needed.
I didn't do this with my first. I loaded and unloaded the diaper bag every single time. I took it into every store. Something clicked this time around. I keep a small purse with my wallet, phone and keys. Because everything I could ever need is in the bag already. In a store? I likely won't need clothes, snacks, diapers, blankets, etc. All I need is a wallet. Everything else can wait until we get back to the car.
For outings, like the park or museum, a diaper bag was getting heavy and hard to juggle while carrying baby. Now, I have the Boss Backpack style and it is perfect! I can carry it without it falling off of my shoulders and it has everything to sustain us without an hour of packing before we can leave the house.
Because I rave about this bag so much, I have a discount code just for you. Head over to itzyritzy.com and use CODE: AWBFF for 25% off of your entire order, for anything on the site- including my favorite backpack bag. #itzyritzyinsiders @itzyritzy
Want to see how it's packed? Check out my list of baby shower must haves that fill my bag.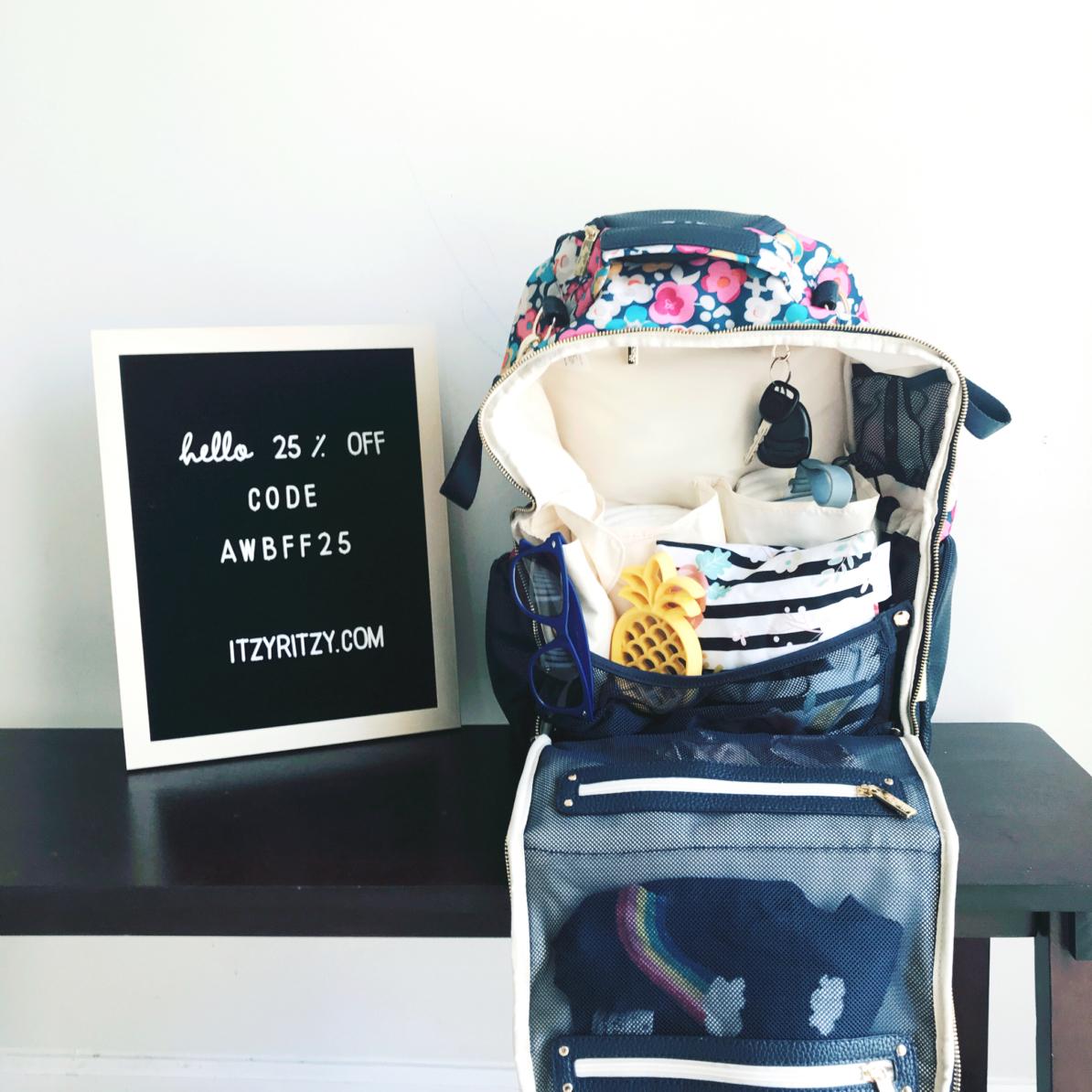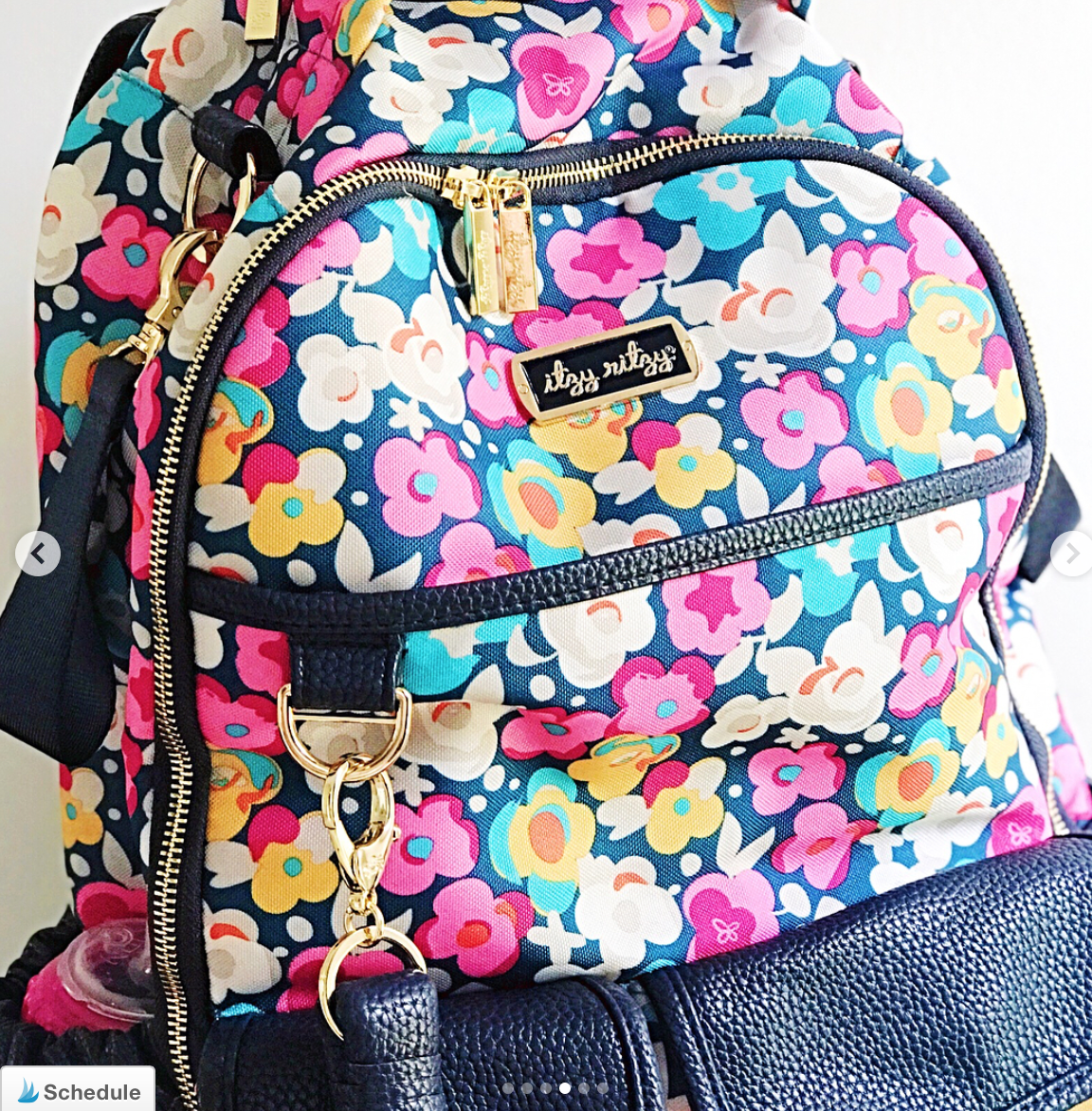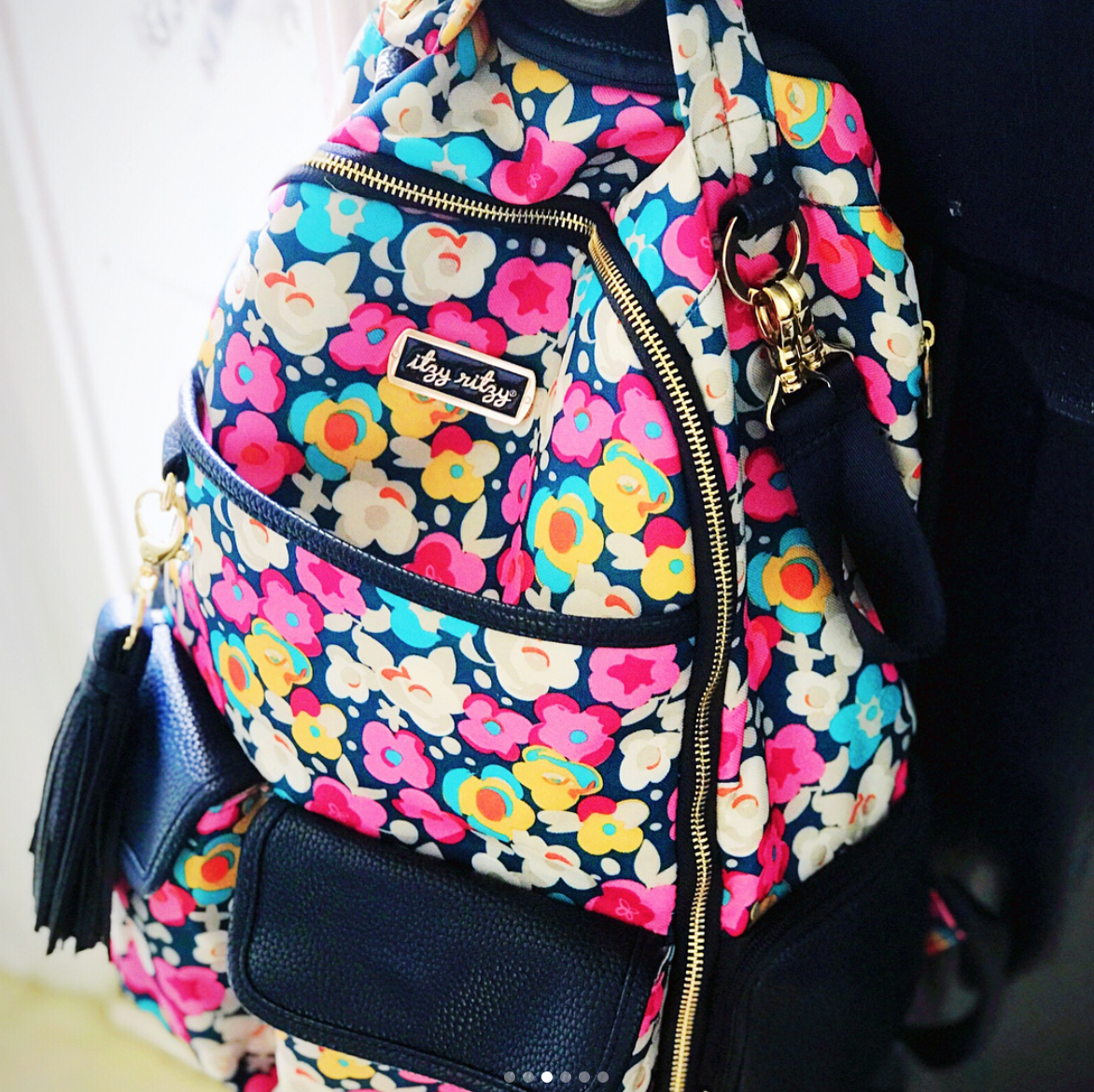 BABY SHOWER MUST HAVES
If I had one tip for the new mom, it would be to do the whole car backpack diaper bag thing. It seriously saves so much time, skips lugging the whole house, and being at a restaurant to realize you forgot a change of baby clothes and you're covered in poop. So get that new mom the backpack dapper bag of their dreams and tell them to try this little trick of leaving the bag in the car.
Here are my must have things to go into this car backpack:
BOSS BACKPACK
The everything bag. Comes with a changing pad, tons of pockets and clips and in these three awesome colors combos for any mom's style.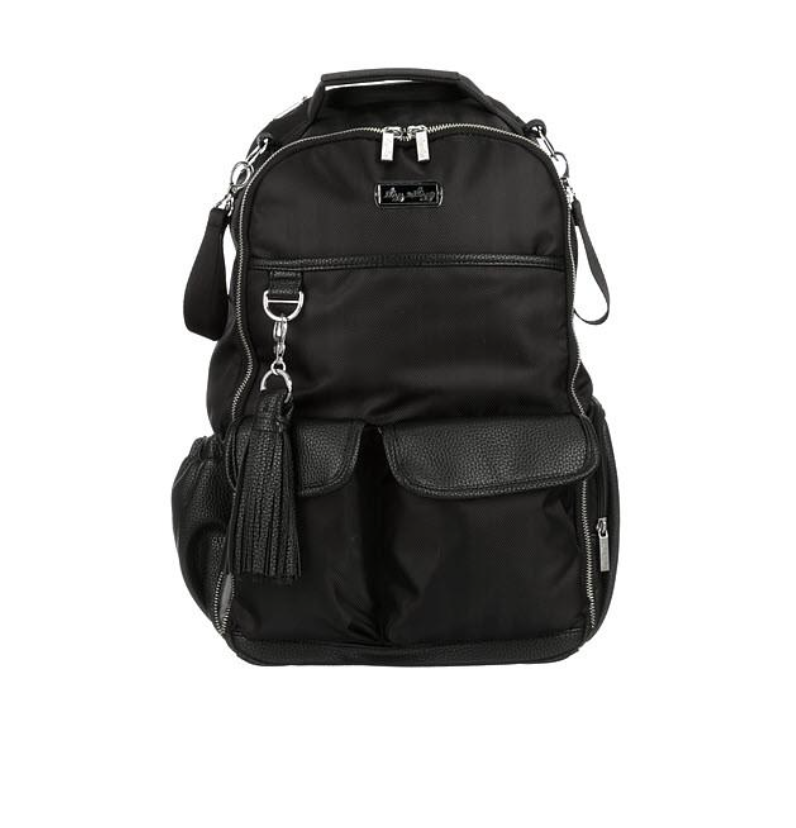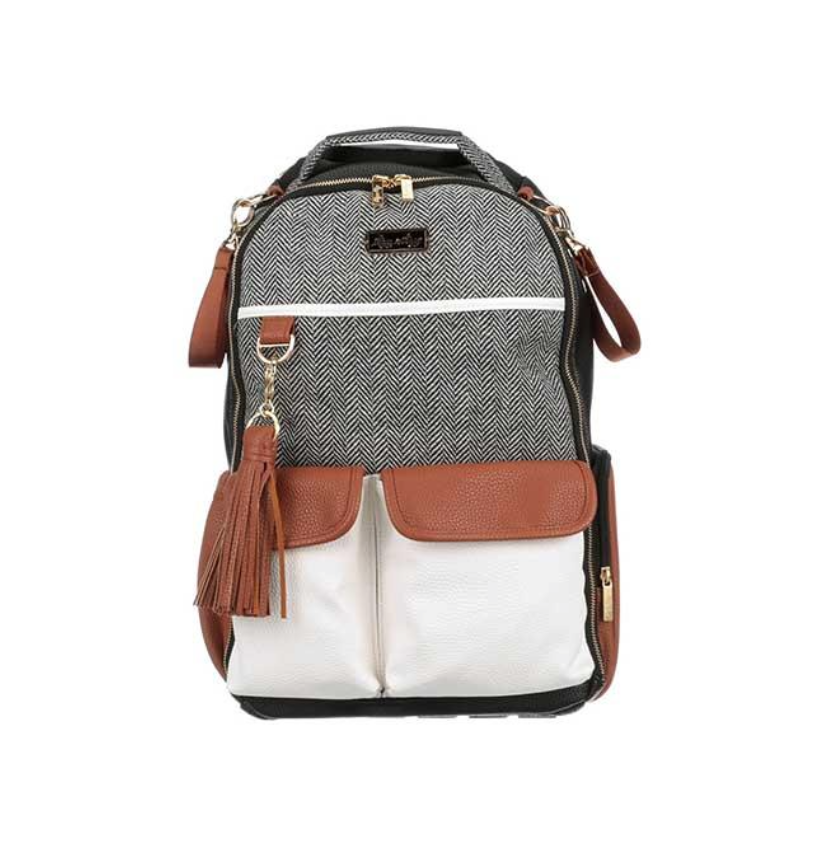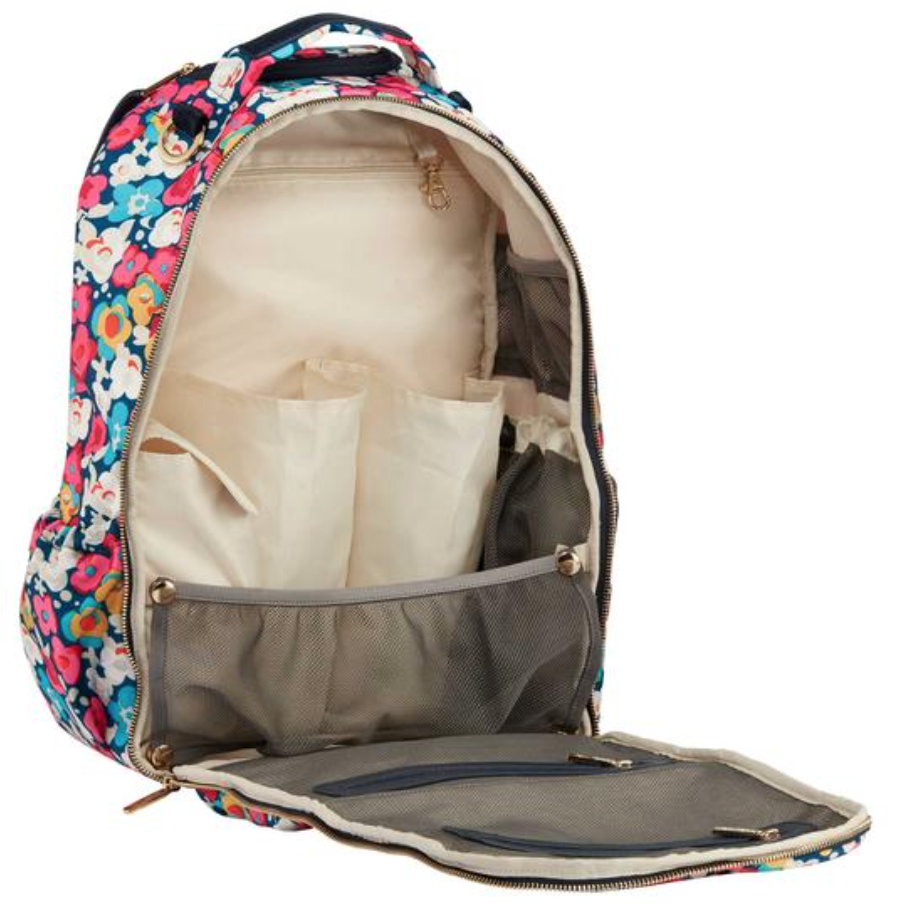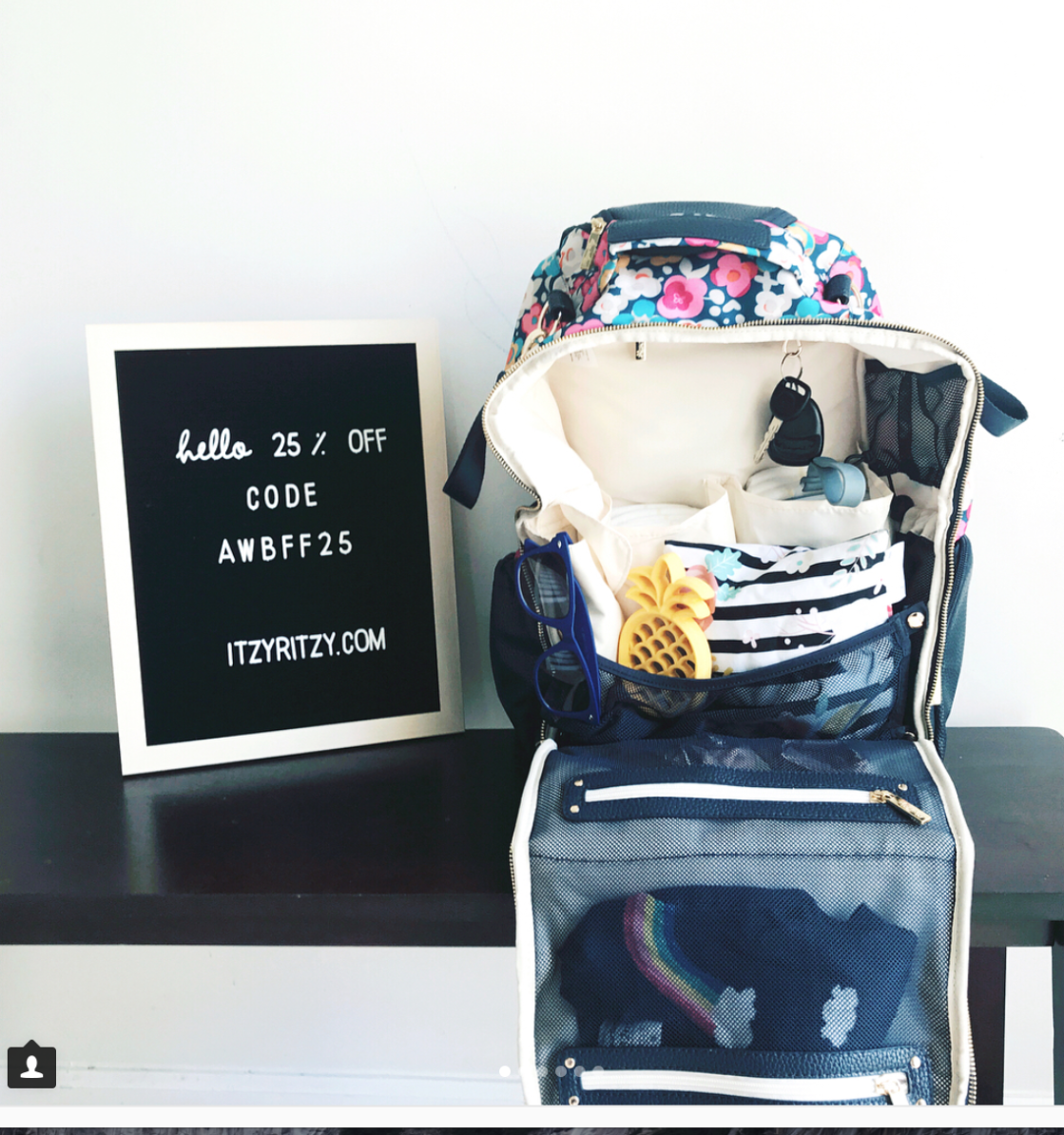 Teething Toys
Silicone, Food grade, BPA free adorable teeters. These are HUGE. You may be thinking, oh a small cute teether, think again. It's the size of my entire hand- fingers included, which is perfect for baby to get a good grip and chew away. The textured back helps massage sore gums.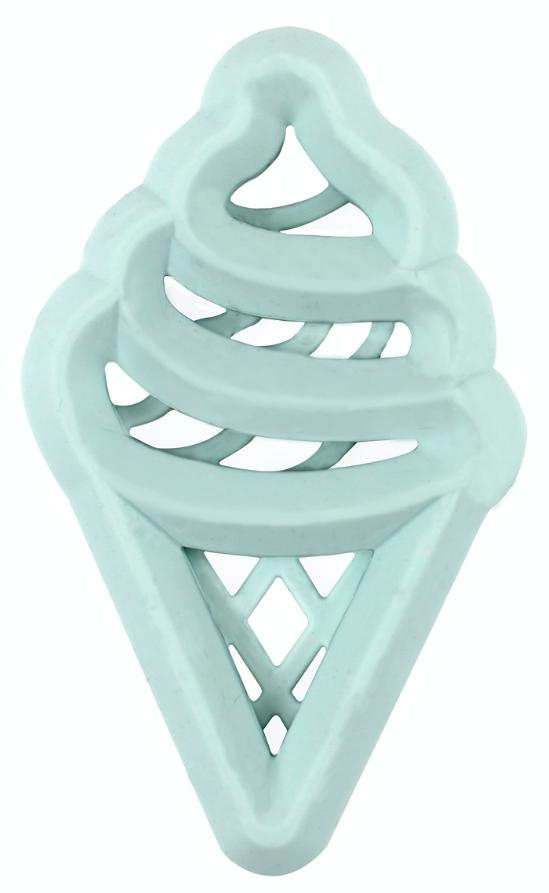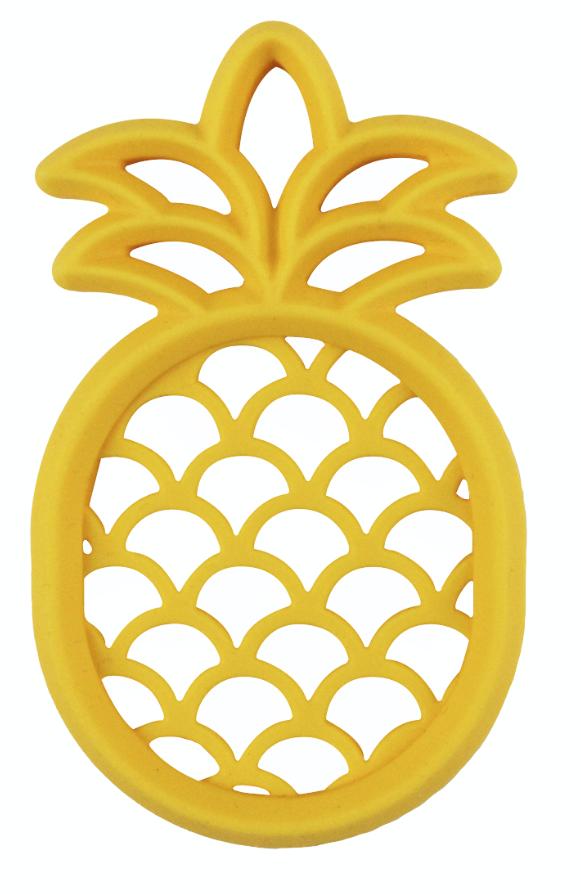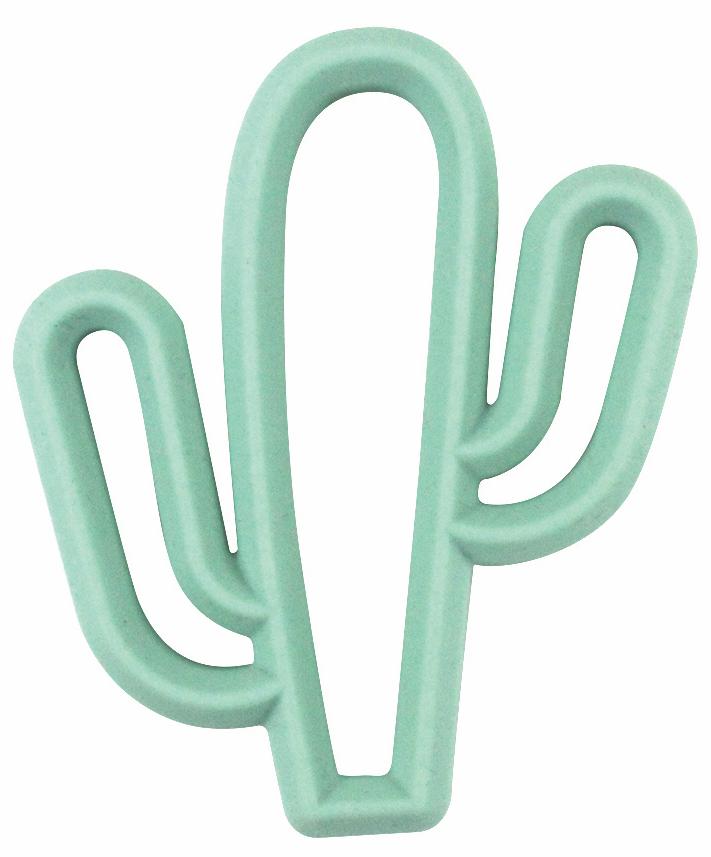 Teething Necklace
These two teething necklaces are my absolute favorite. They neutral colors go with everything! And they look like a grown up piece of statement jewelry, not a tack baby toy. I don't leave the house without wearing one, and I keep an extra in my backpack. Helen can few on it while in a shopping cart for entertainment. It's great!
My mom gifted me the gray palette for christmas and I recently bought the chevron necklace to round out my outfits.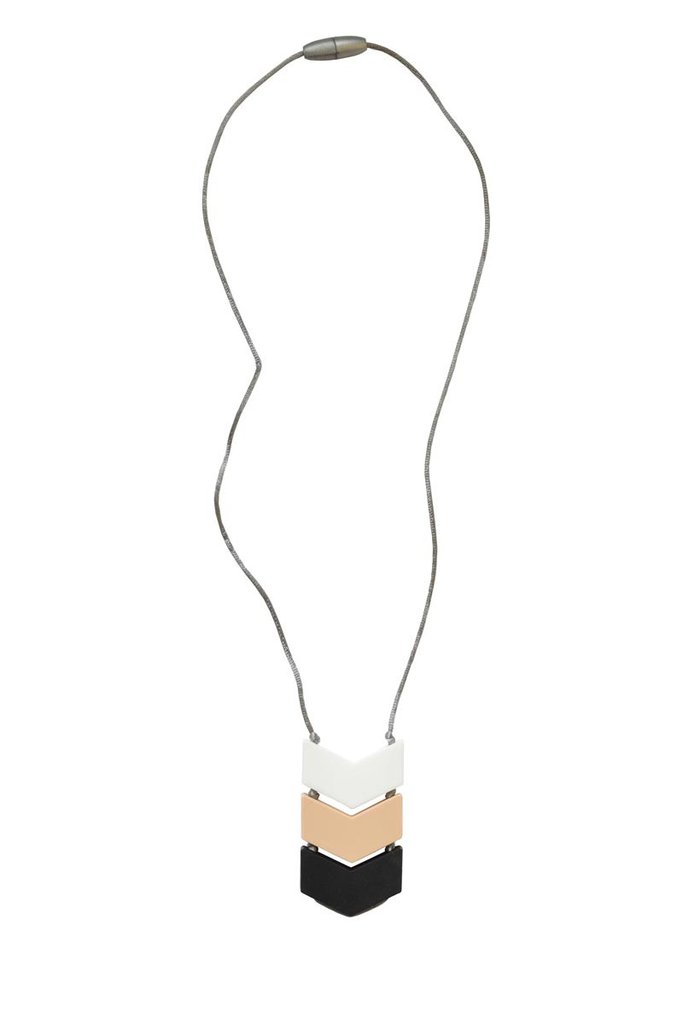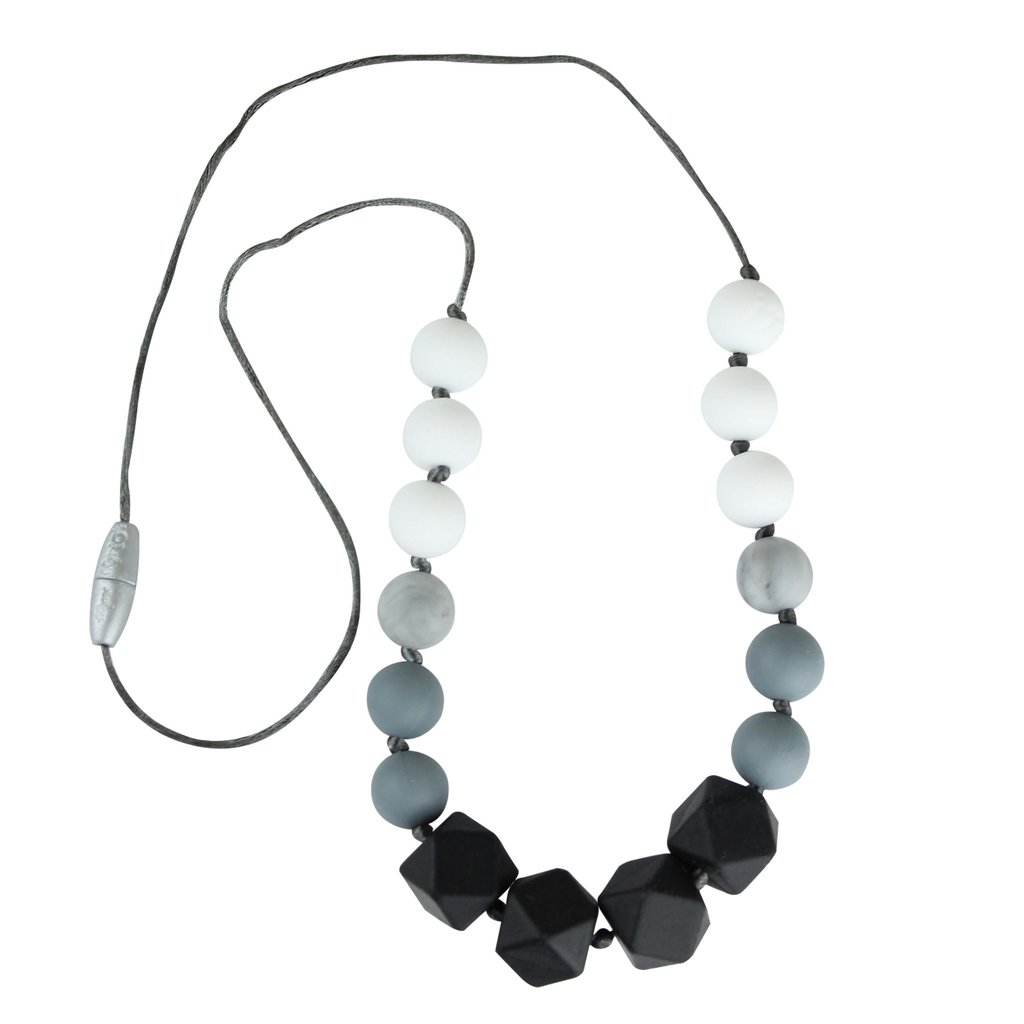 Reuseable Snack Bag
I am trying to make a conscious effort to reduce single use products. Call me crunchy, hippie, but I feel compelled to make small changes where I can. My husband rolls his eyes at them, so I won't judge you for thinking I'm crazy! Enter reusable snack bags. Each kid has one and they go everywhere we go.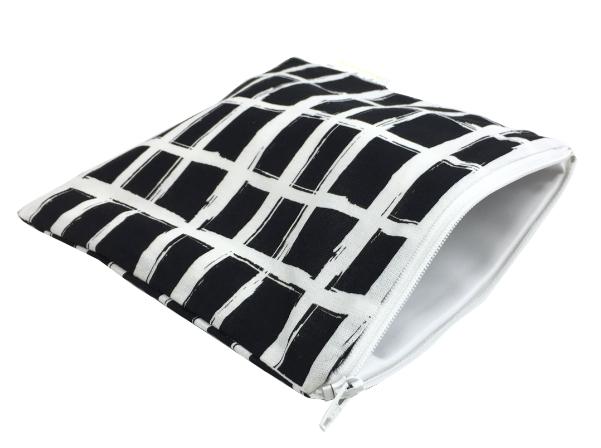 Shopping Car Cover
Having a shopping cart cover is like Clorox. It keeps the germs away because, well, babies chew and lick everything. Do the sweet baby a favor and grab a cart cover. You won't regret it.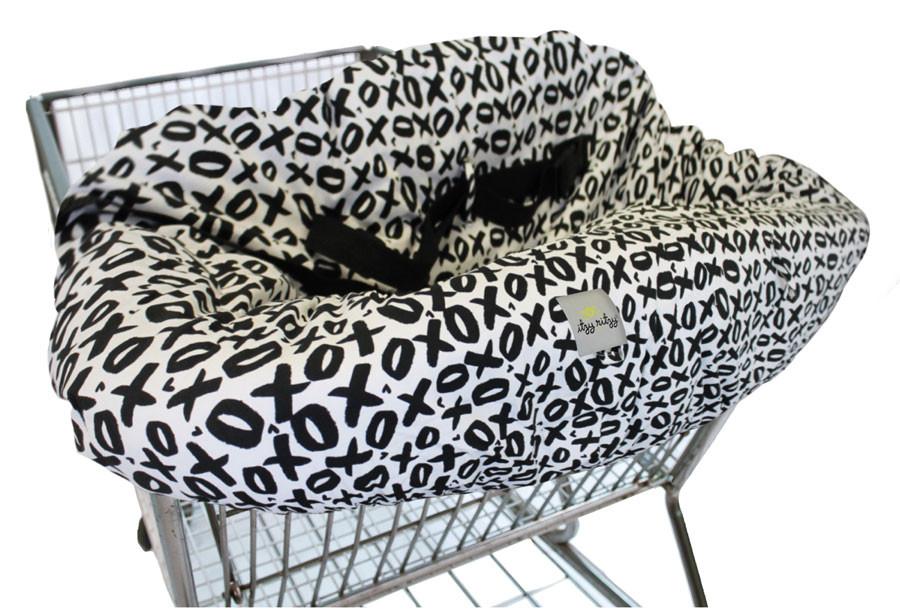 Because I rave about these things so much, I have a discount code just for you. Head over to itzyritzy.com and use CODE: AWBFF for 25% off of your entire order, for anything on the site- including my favorite backpack bag. #itzyritzyinsiders @itzyritzy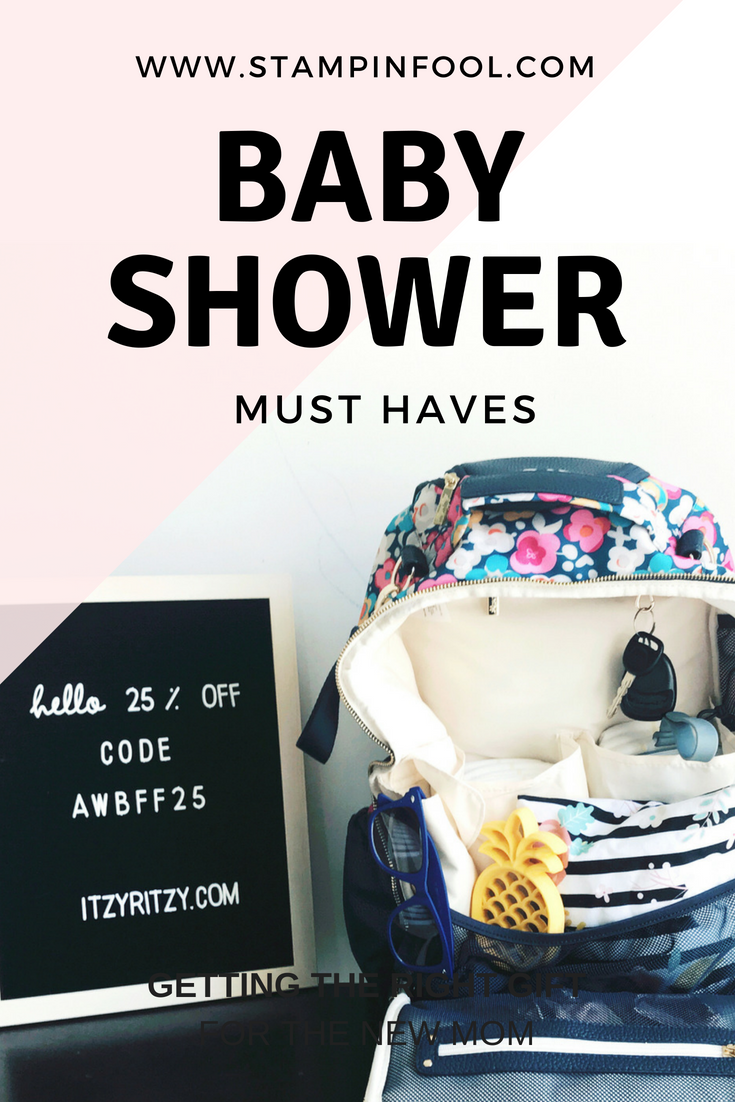 SaveSave