THE ULTIMATE GUIDE TO 21 MUST HAVE PATIO UMBRELLAS
An ultimate list of stylish and fun patio umbrellas to make your outdoor entertaining area shine this summer- we've got you covered.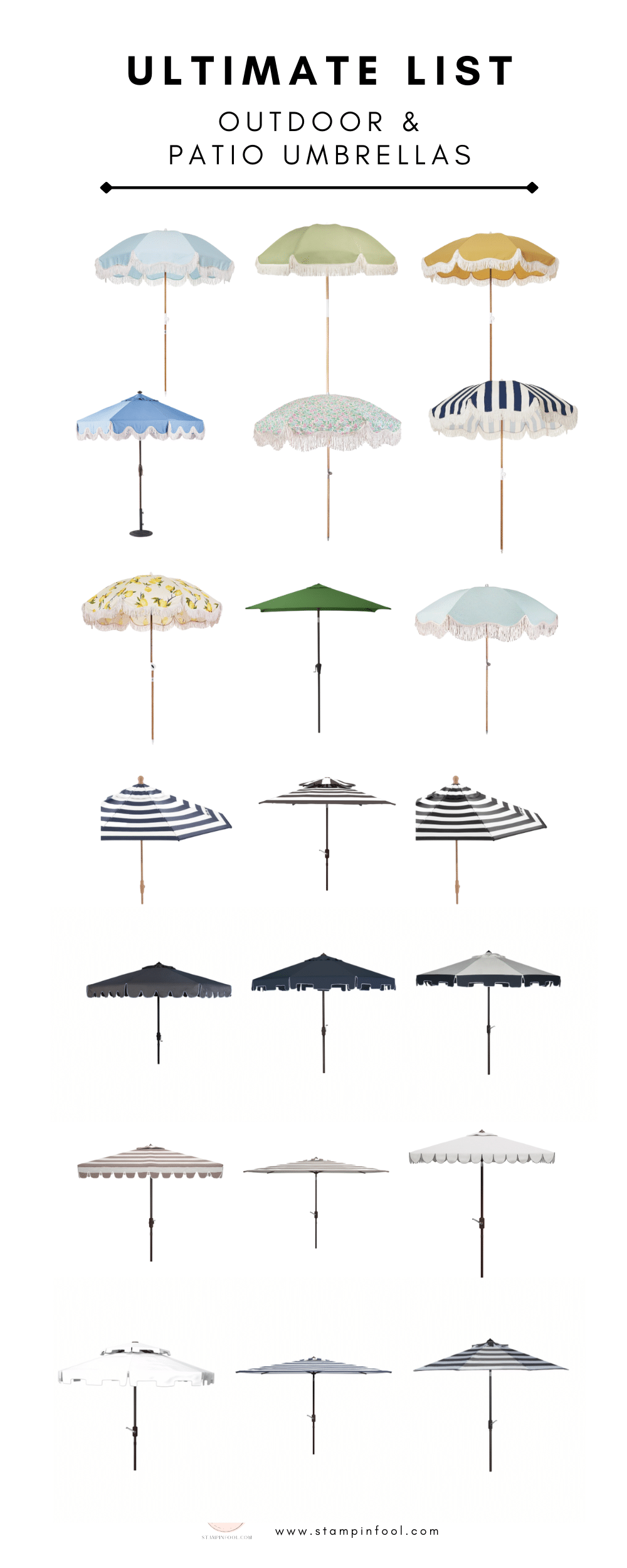 Have summertime sadness (is that dong playing in your head now?)? Grab a patio umbrella and head outside for some vitamin D. It makes such an impact on mood and happiness.
And the same can be said for a great patio umbrella!
Why settle for boring, when you have have one of these high style, fun and flirty outdoor umbrellas in your entertaining space.
HOW TO CHOOSE THE RIGHT PATIO UMBRELLA FOR YOUR SPACE
Because there are so many great shapes and styles of outdoor umbrellas available, you can choose one that matches your personality and patio needs.
Here are a few things to consider:
Is the patio umbrella going to be used for an outdoor dining table/
Will you need to add shade to the patio seating area?
Do you want a centered umbrella or cantilevered umbrella?
How large is the area you need to shade?
Is a round or square shaped patio umbrella best for your layout?
Do you need a patio umbrella or a beach umbrella?
What are your style/color preferences?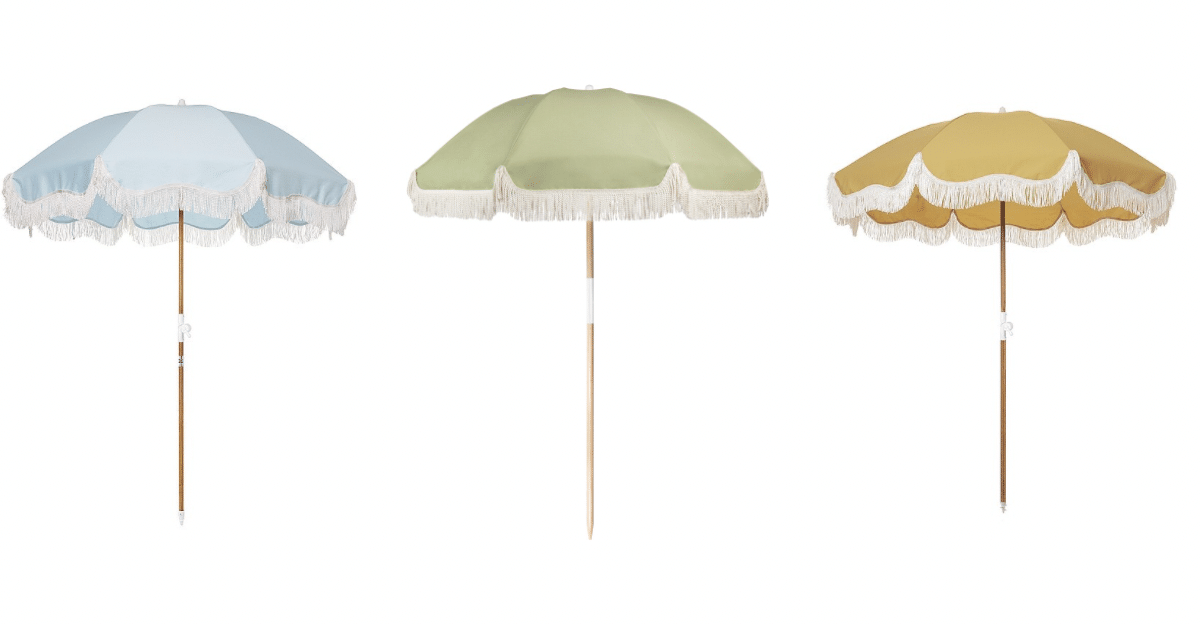 TYPES OF PATIO UMBRELLAS
There are a few types of umbrellas you will see on the market when searching for the perfect patio addition.
Table umbrella
Freestanding umbrella
Cantilever umbrella
Tilting: which is often a mechanism of a table or freestanding umbrella.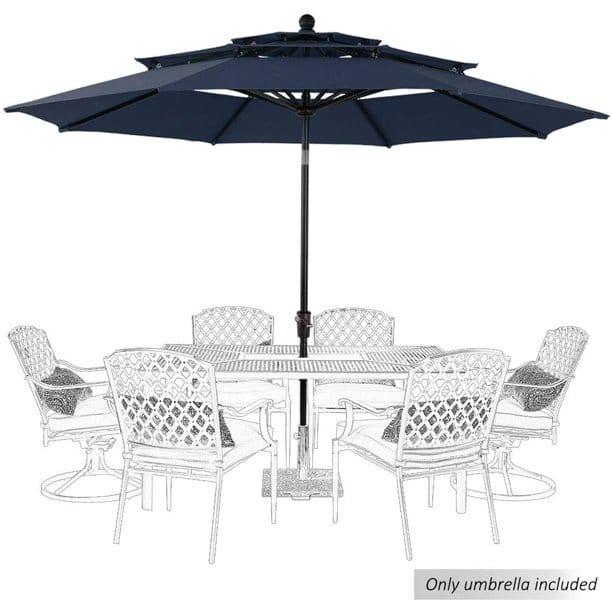 SHAPES OF PATIO UMBRELLAS
You will get to choose the shape of your umbrella. Here are the most common outdoor umbrella shapes:
Round (octagon)
Square
Rectangular
Sunshade (triangle wall mounted)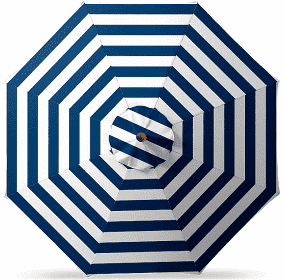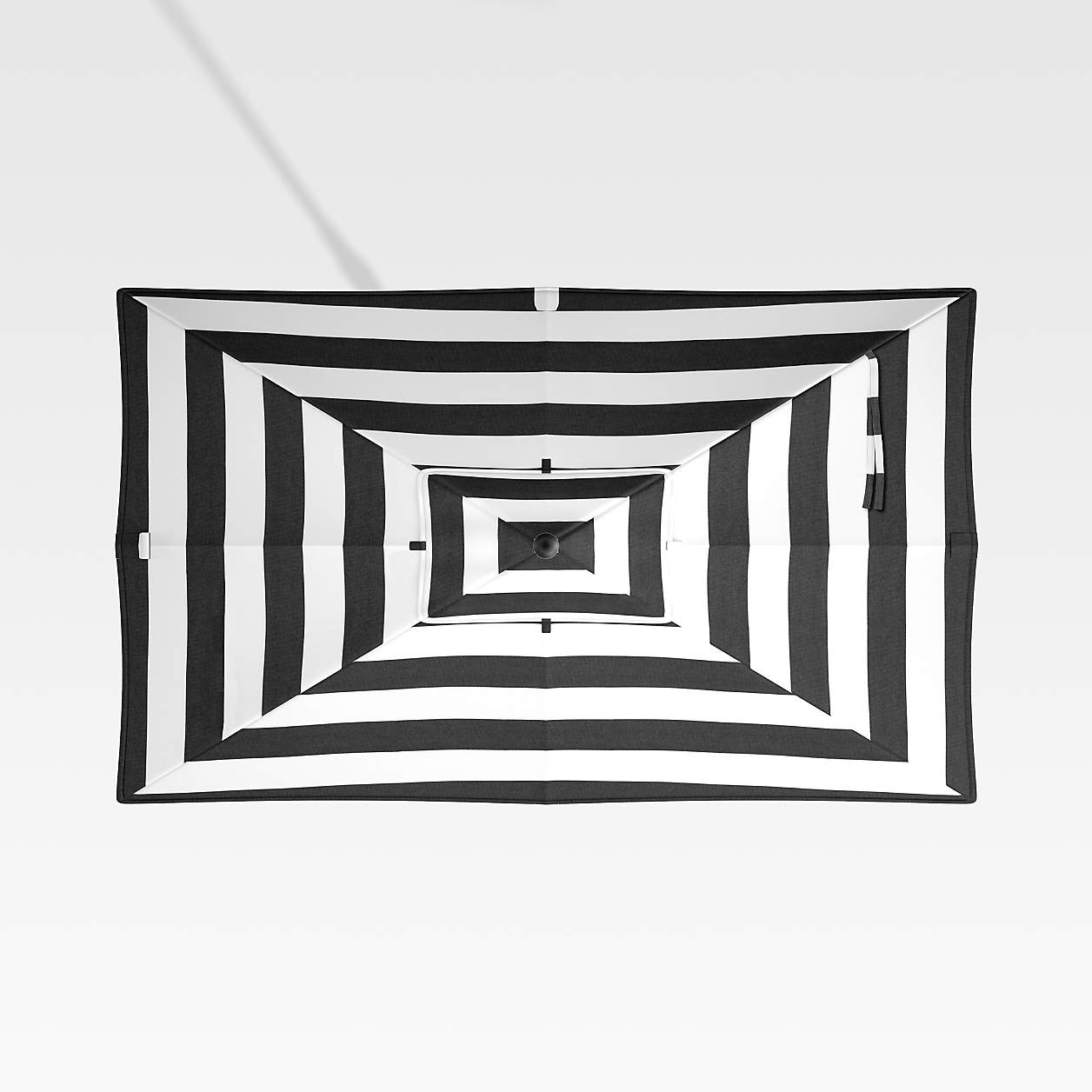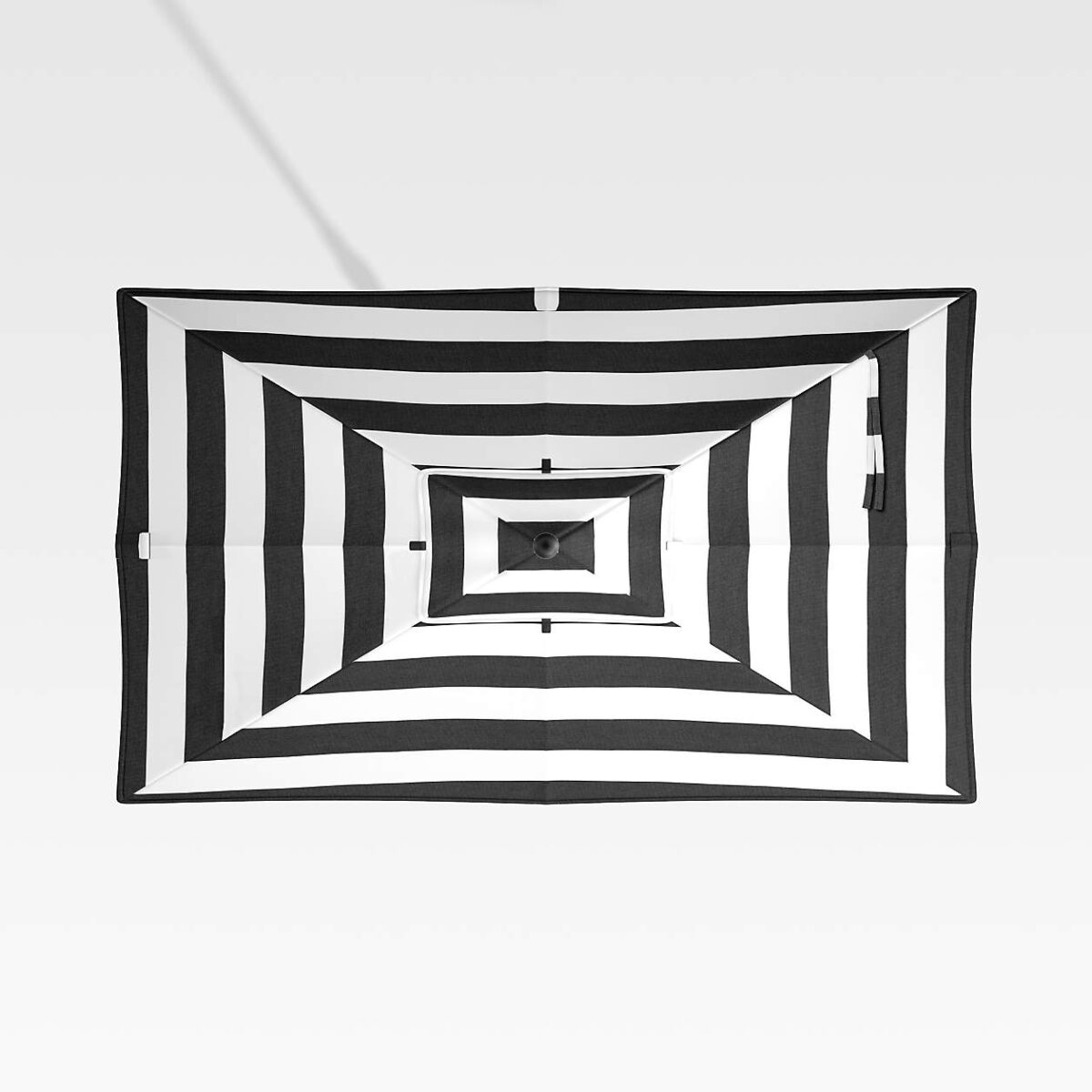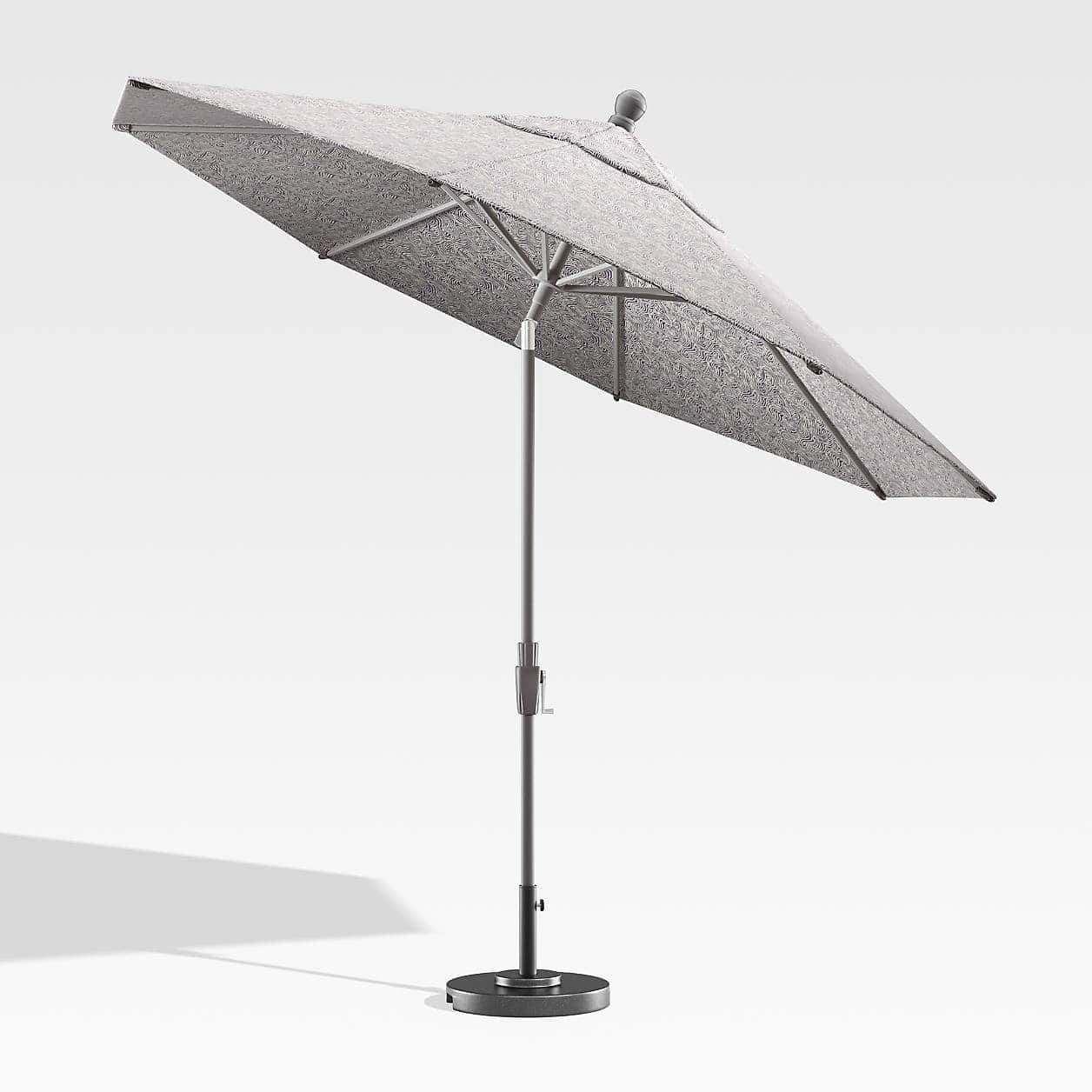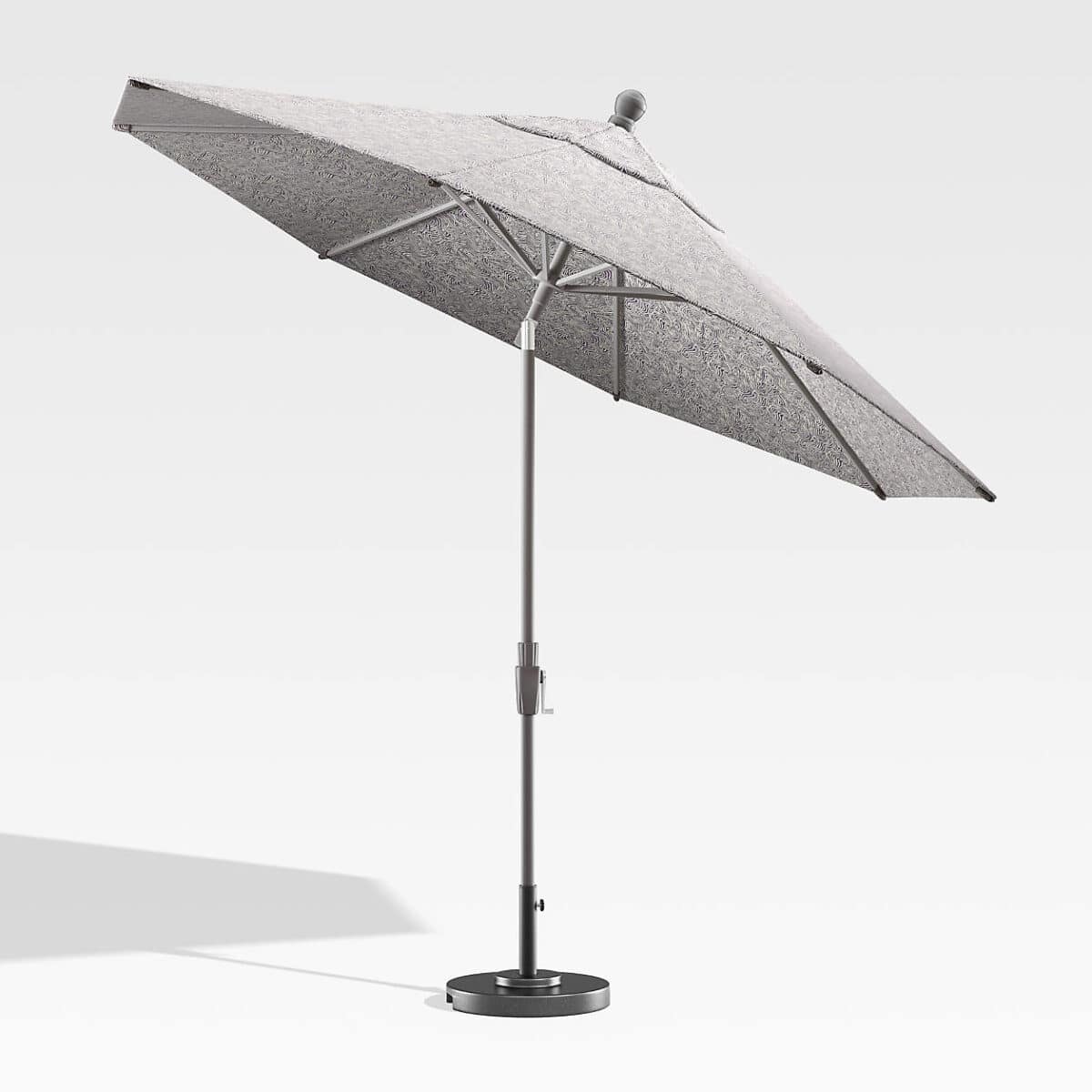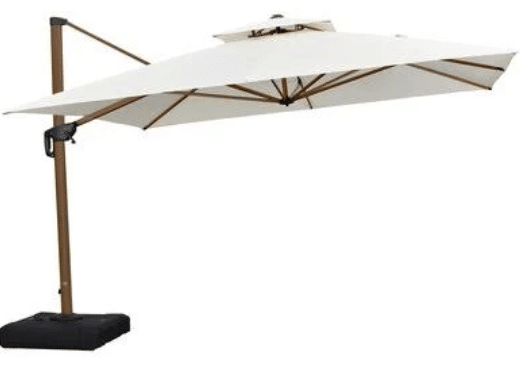 While it can be style and color that weigh heavily on the decision, don't forget to measure your space needs to ensure you have proper sun coverage.
BEST PATIO UMBRELLA SIZE
You'll need to consider a few factors before choosing the right size umbrella. How large is your available space (measure, measure, measure)?
Will the umbrella dominate the design of the space (if too large or visually heavy)?
Is there another way or multiple ways to provide shade?
Is the umbrella purely decorative?
Can the umbrella or seating be moved to follow the shade as the sun moves throughout the day?
Generally, the table umbrella should extend over the dining area by 2′ on all sides. Remember there will be chairs pulled out with people sitting in them.
This is where the umbrella shape comes into play for best coverage.
Don't choose a small round umbrella for a large rectangular table or seating area. It won't provide enough shade.
Here is a chart with basic patio umbrella size guidelines:
Tables 30-36″ round need 6-8′ umbrellas for sun coverage.
Tables 40-48″ round need 8-10′ umbrellas.
Tables 50-60″ rectangular need 9- 10'+ umbrellas or larger.
Larger tables are better suited with custom umbrella holes and multiple umbrellas.
For seating areas, aim to shade each sofa with a 10'+ rectangular umbrella paired with smaller umbrellas over accent chair seating.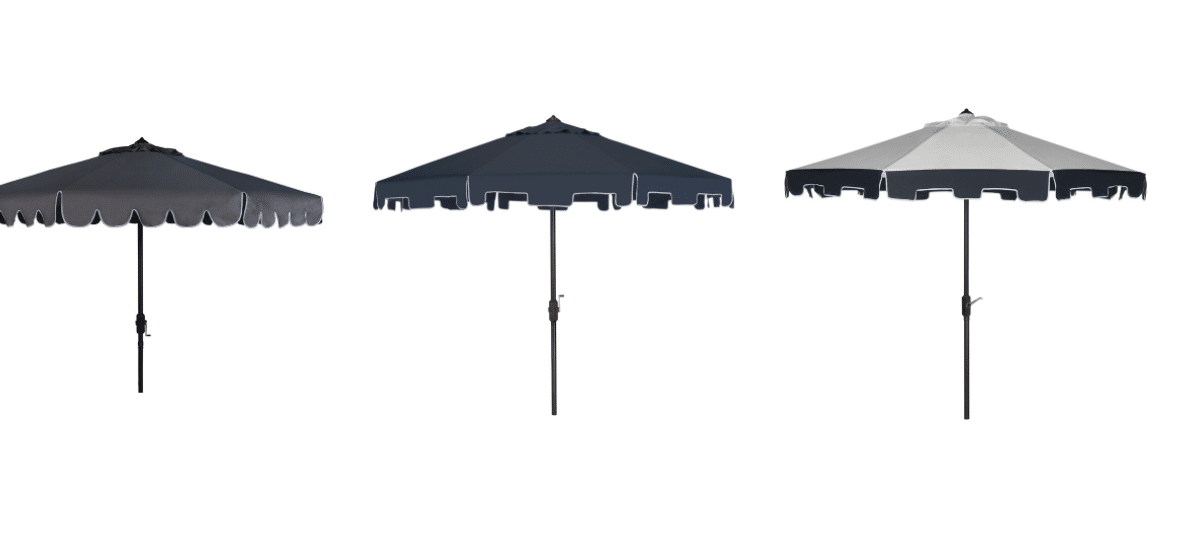 FABRICS & DESIGN DETAILS
Here's where you can have fun. Outdoor umbrellas come in lots of shapes and sizes, but the color and fabric can really show off your style.
There will be options like scallops with contrasting a edge color, fringe, lemon printed fabric, stripes, vented double layers of cutouts and more.
Choose you favorite coordinating color, pick a design detail like scallops or fringe & then choose your functional feature such as a cantilever or tilting umbrella.
When it comes to fabrics, you can choose sun and rain resistant fabric like Sunbrella.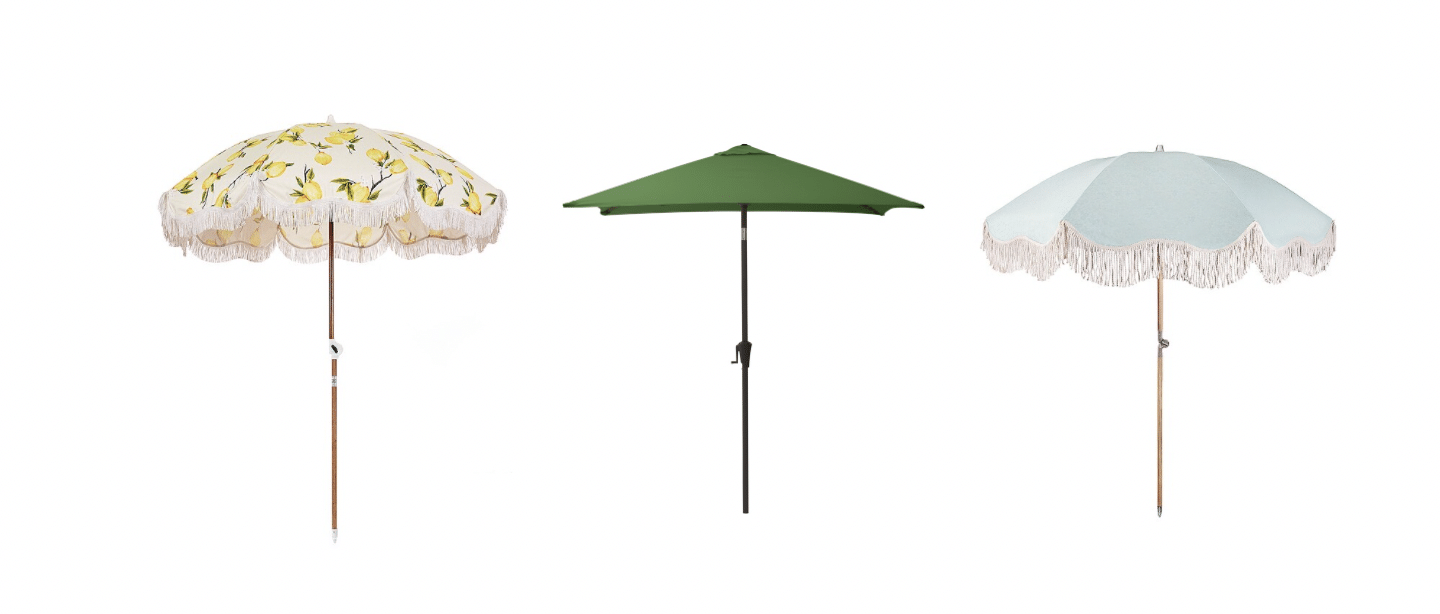 PATIO UMBRELLA BASES
Along with your outdoor umbrella, you will need an umbrella base to hold it in place.
This will secure the umbrella so that it won't tip over, fall on you and your friends, or fly away (so long as you're not outside in hurricane weather).
Here are the guidelines for the patio umbrella weight base in each size.
20 lb base – Is appropriate for small tables (think bistro). Don't go larger than a 6′ table umbrella with this 20 to 29 lb base.
30 lb base – Used for 6.5′ table umbrellas.
40 lb base – If you have a table umbrella that is 7′ & under this base will work. It only supports small approx. 4 foot freestanding umbrellas so move up a weight for freestanding.
50 lb base – If you want to use a freestanding umbrella, you can start with a 7.5′ freestanding. Use for up to 9′ umbrella when paired with a table.
70+ lb base – The KING. These umbrella bases can be used for free standing umbrellas up to 11′, so almost any residential umbrella. However, these are large and not great to fit under a table.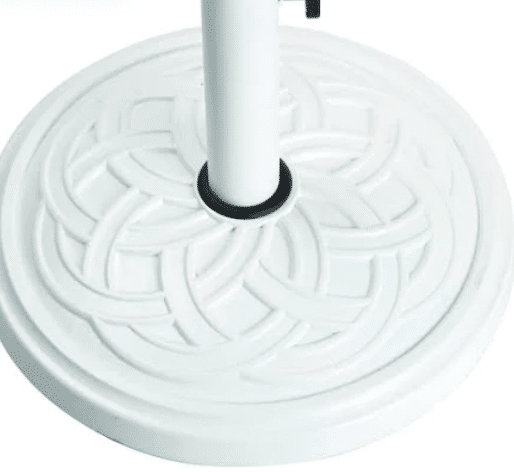 General OUTDOOR umbrella tips
As always, safety first. If you have crazy winds (I'm looking at you Santa Ana) spring for a commercial grade base.
Close umbrellas after use.
Bring them in when bar weather hits to prevent damage from rain and high wind.
Clean them annually with dish soap and water, let sun dry.
As with everything, you get what you pay for. And because you want your umbrella base to last a long time and fit your changing needs, I highly recommend splurging on the heavier, quality base that you can use for years to come.
You'll be able to move it around from table to seating areas, and shade larger groups of friends and sitting areas.
You will never say you wish you got a smaller umbrella base, but you might say you wish it were larger & heavier! Buy once, cry once.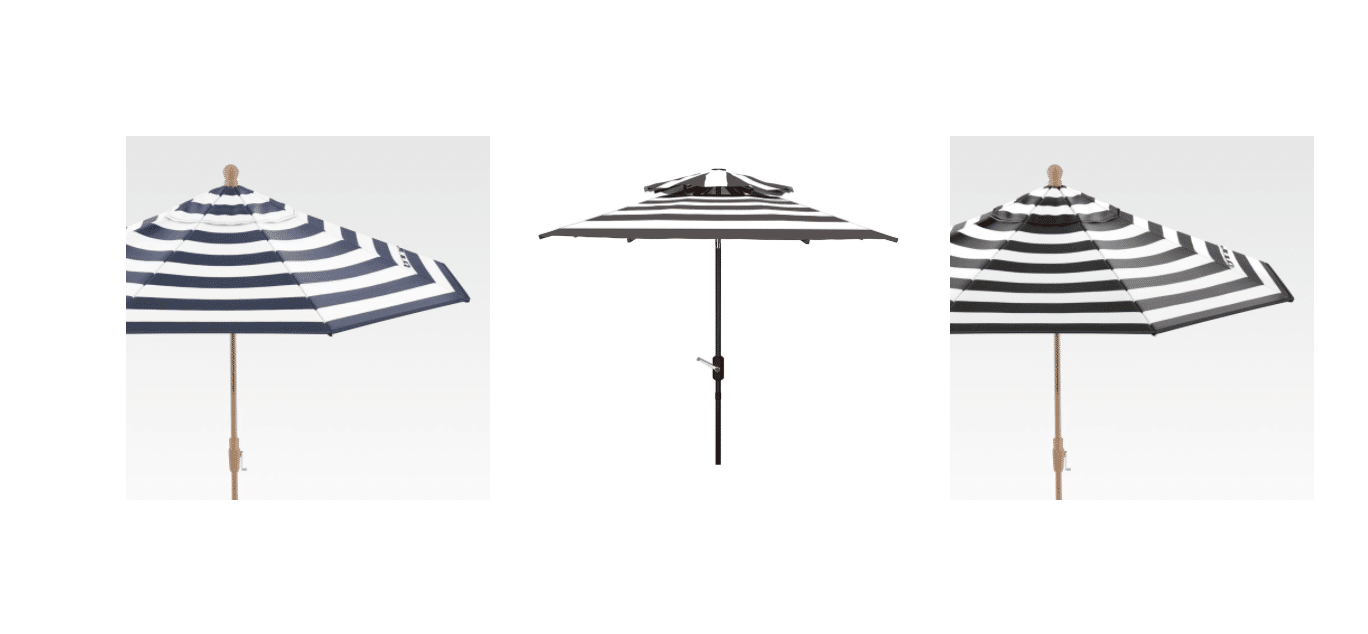 FAQ'S Patio Umbrellas
Let's answer a few outdoor umbrella frequently asked questions before we get to my favorite umbrellas.
WHAT SIZE UMBRELLA IS BEST FOR MY PATIO SOFA?
You outdoor sofa umbrella should be approximately 2′ wider than the sofa width and length to provide coverage in full sun. Most outdoor sofas are 83″ to 85″ or 100 to 120″ for sectionals. For these you will need 10′ to 11′ + coverage.
WHAT SHAPE UMBRELLA IS BEST FOR MY PATIO SOFA?
A rectangular shaped outdoor umbrella can be cantilevered over an outdoor sofa for best shade. For accent chair seating, smaller round umbrellas may be used.
WHAT SIZE UMBRELLA IS BEST FOR MY PATIO DINING TABLE?
You outdoor dining table umbrella should be approximately 2′ to 4′ wider than the table to provide coverage in full sun.
WHAT SHAPE UMBRELLA IS BEST FOR MY PATIO DINING TABLE?
If you have a rectangular table, consider a rectangular cantilever umbrella. For round or square tables, a round (octagon) umbrella is best.
What size patio umbrella do I need for a 48″ table?
For a 48″ patio table, you will need an 8-10 foot umbrella to provide proper shade with a 50 lb base.
Should I buy a wood or aluminum patio umbrella?
MY FAVORITE PATIO UMBRELLAS & OUTDOOR UMBRELLAS
You've made it to the fun part, shopping! Below are a roundup of my favorite outdoor umbrellas in all shapes, sizes, colors and patterns.
I've even included a few beach umbrellas for fun!
Happy shopping!
This post may contain affiliate links- meaning when you purchase through the link and I receive a small commission. It feeds my Starbucks addiction & for that I thank you! You can see my full disclosure policy here.(affiliate links included for convenience)
Do you need help planning the perfect outdoor entertaining area? We are available by zoom or in person consultations to start your projects today. Inquire now.