Sherwin Williams Stardew Paint Color Review with undertones, comparison and photos of rooms with Stardew paint. We've even created a few moodboards to get you excited about Stardew.
Sherwin Williams Stardew Paint Color Review – SW 9138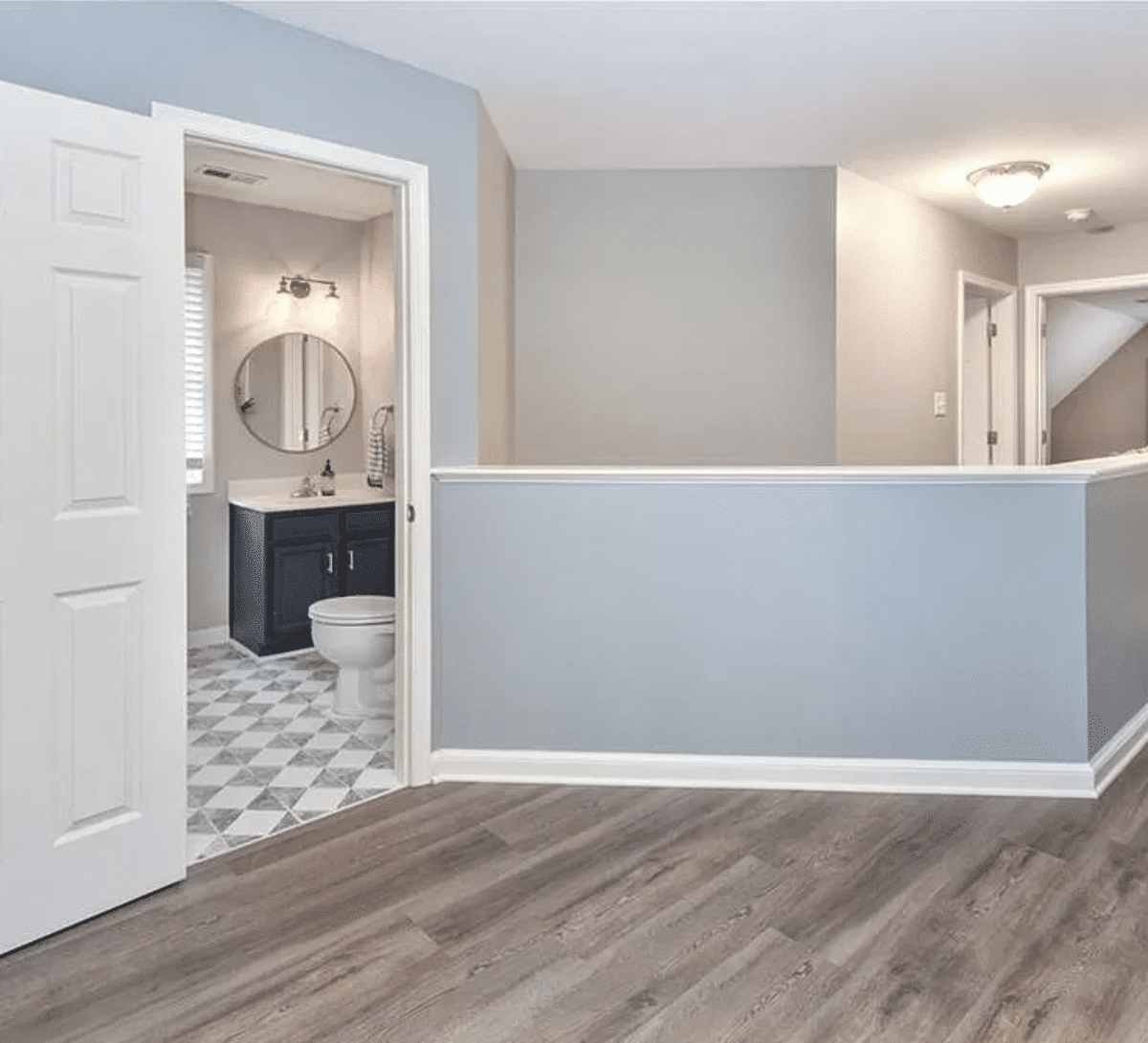 SW Stardew Quick Facts:
Manufacturer: Sherwin Williams
LRV: 43
R:166 G:178 B:181
Hex Value: #a6b2b5
Color Collections: 2017 Holistic, 2020 Haven, Dreamer, Living Well – Unwind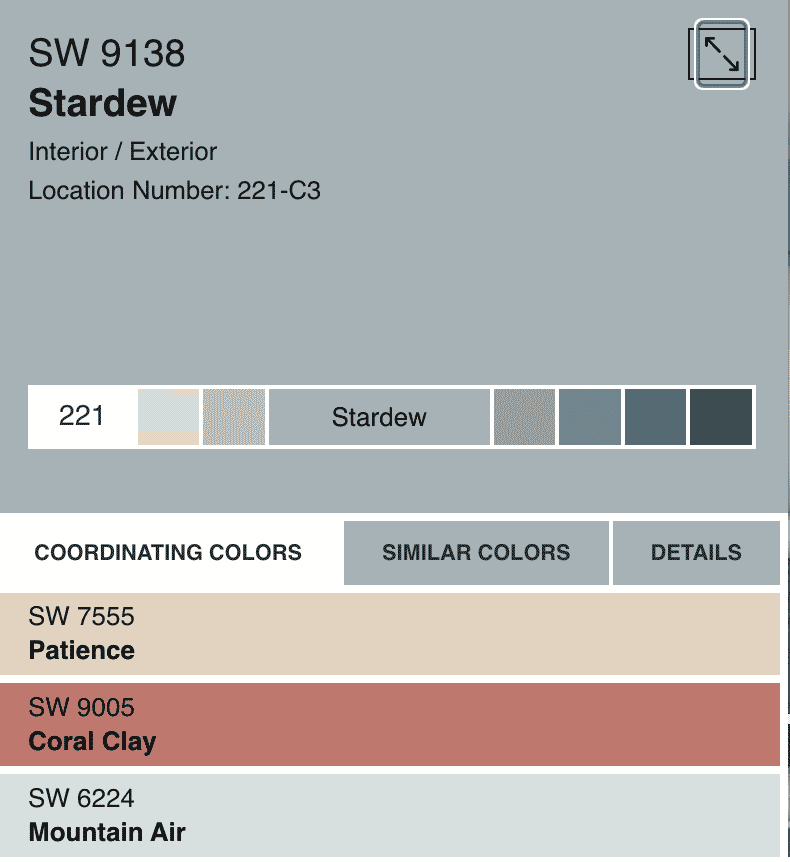 Coordinating Colors
SW Patience
SW Coral Clay
SW Mountain Air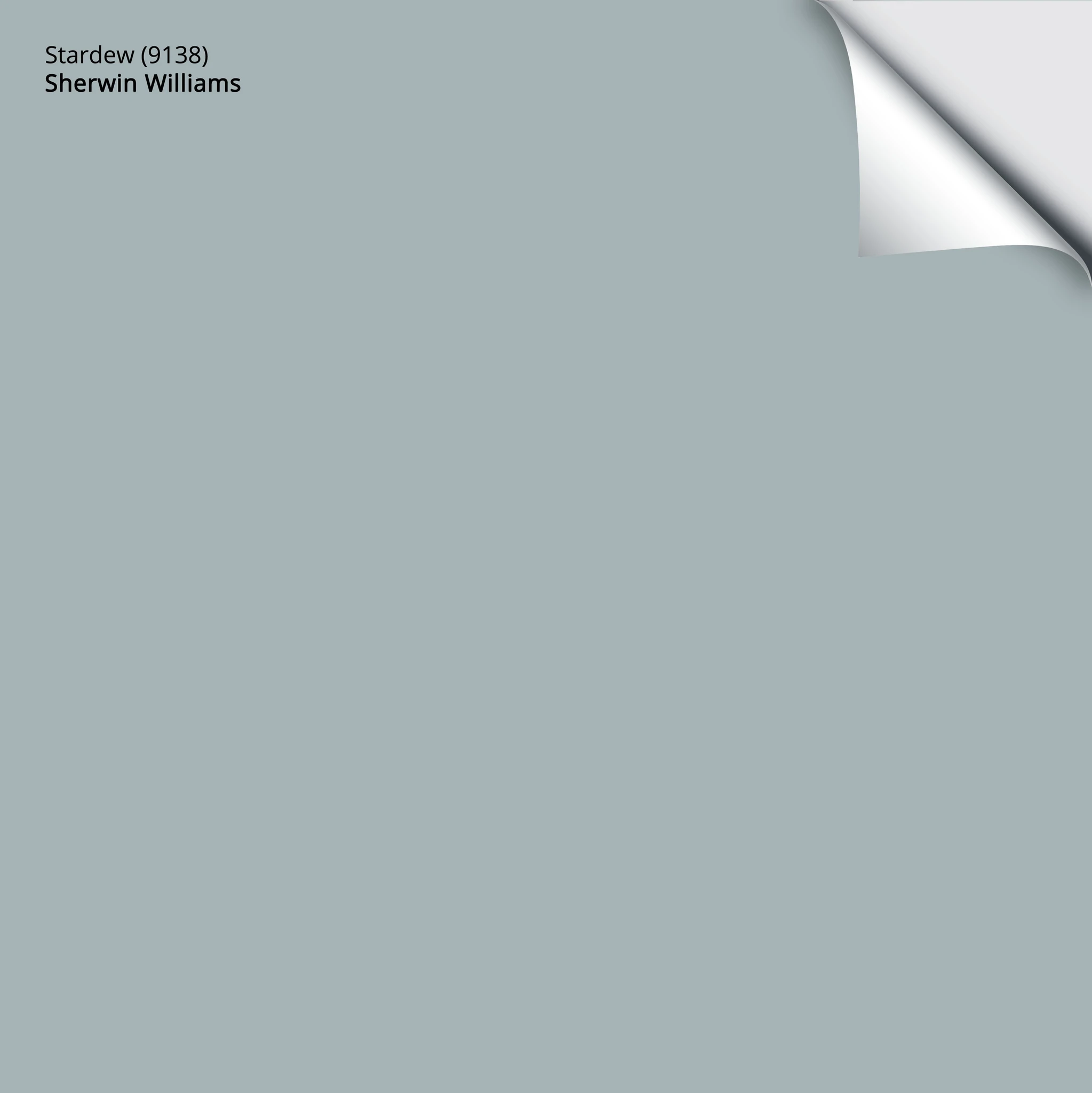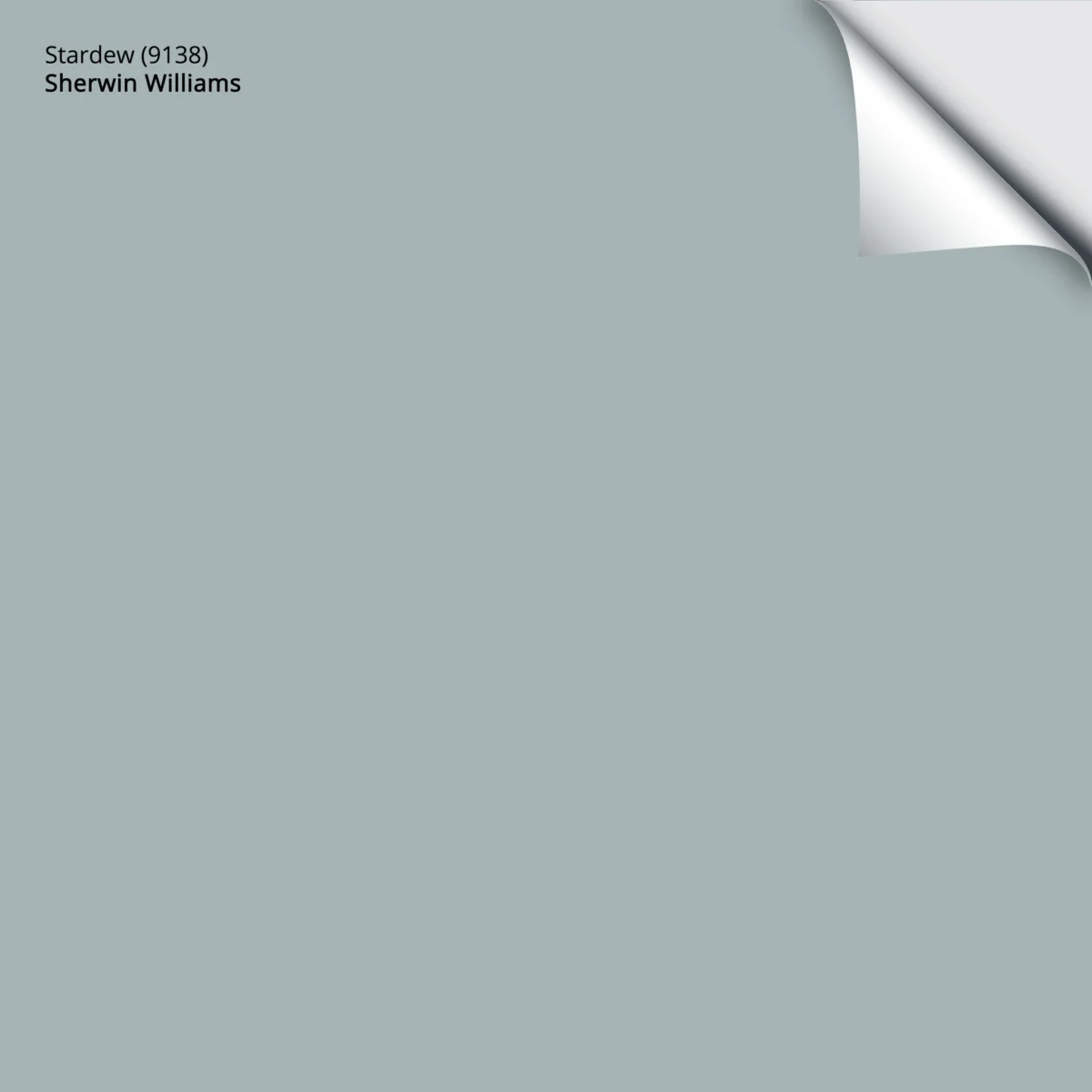 IS SHERWIN WILLIAMS Stardew BLUE Or Gray?
Sherwin Williams Stardew is a dusty blue color. It is situated in between to the blue grays and blues (like Rainwashed).
Based on your lighting conditions, especially with great southern exposure, it can pull light blue, much like the Tradewind and Sleepy Blue.
When you step back and take a look at Stardew in comparison to the colors above and below it, you will see that it clearly reads blue, but does lend itself to that gray feel. Look at the color comparisons below.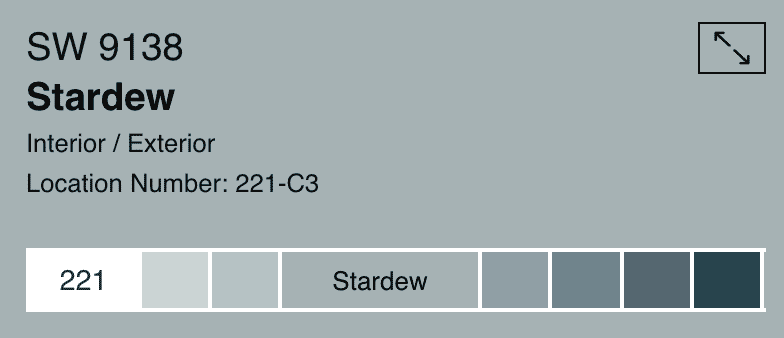 WHAT'S THE LRV OF Stardew?
The light reflective value of Stardew is 43 (from 0 to 100, where zero is absolute black). With an LRV of 43, the color will reflect slightly less light than it will absorb.
Even in a well lit or sun washed room, it won't reflect back a ton of light, like a whiter paint color such as Pure White or White Flour (LRV of 87).
WHAT ARE THE UNDERTONES OF SHERWIN WILLIAMS Stardew?
Hue: Blue
Value: Light value
Saturation: lower intensity (not pure hue)
Sherwin Williams Stardew is a blue paint color that leans blue or blue- gray depending on the lighting.
PHOTOS OF SHERWIN WILLIAMS Stardew
If you are looking for photos of Stardew paint in actual rooms, here are a few to help you make a decision.
I painted our hallway Stardew right before listing our house for sale.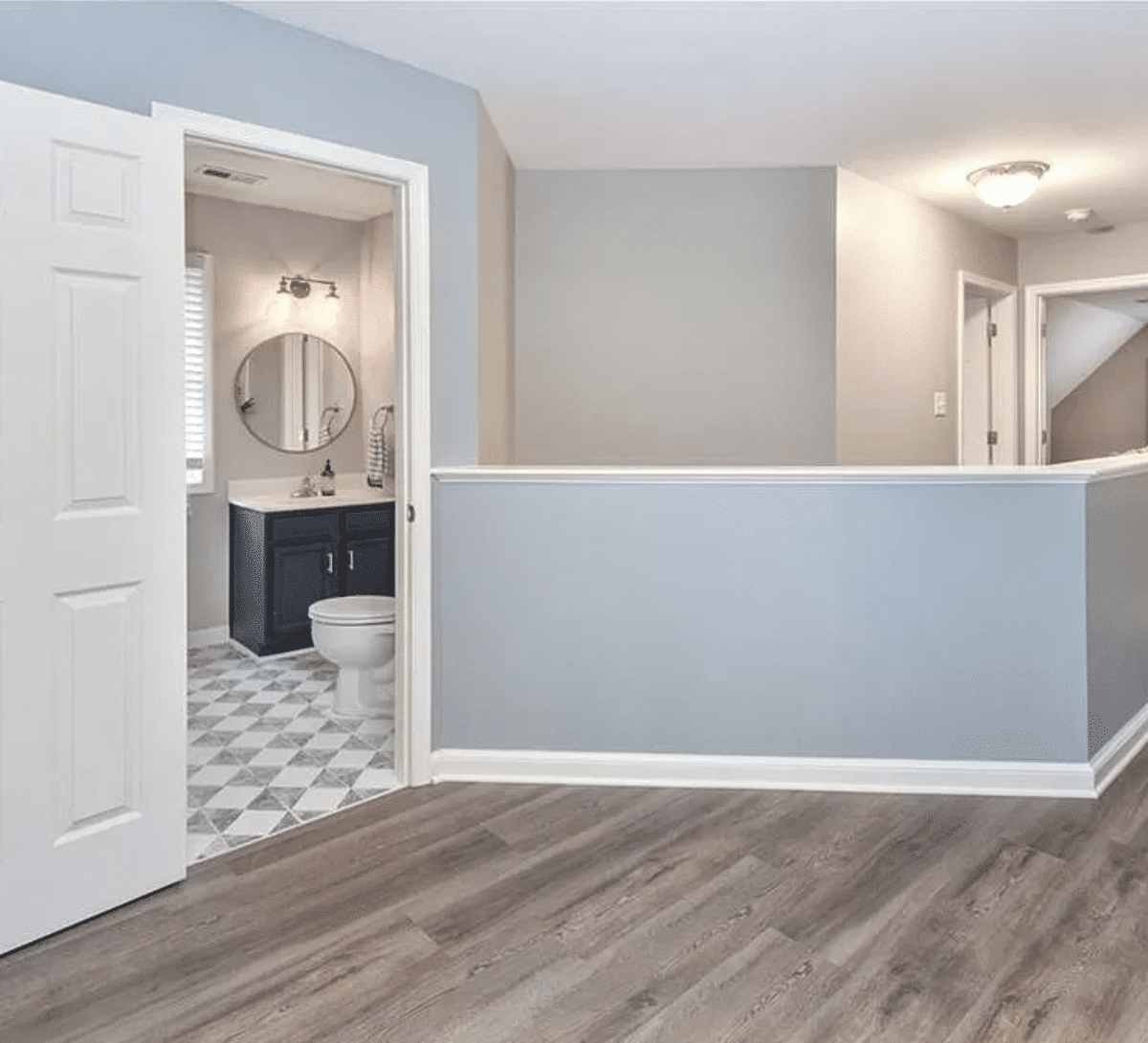 Stardew PAINT COLOR IN BATHROOMS
SW Stardew Moodboards
To further inspire you to try out Sherwin Williams Stardew, here are a few mood boards created around the paint color.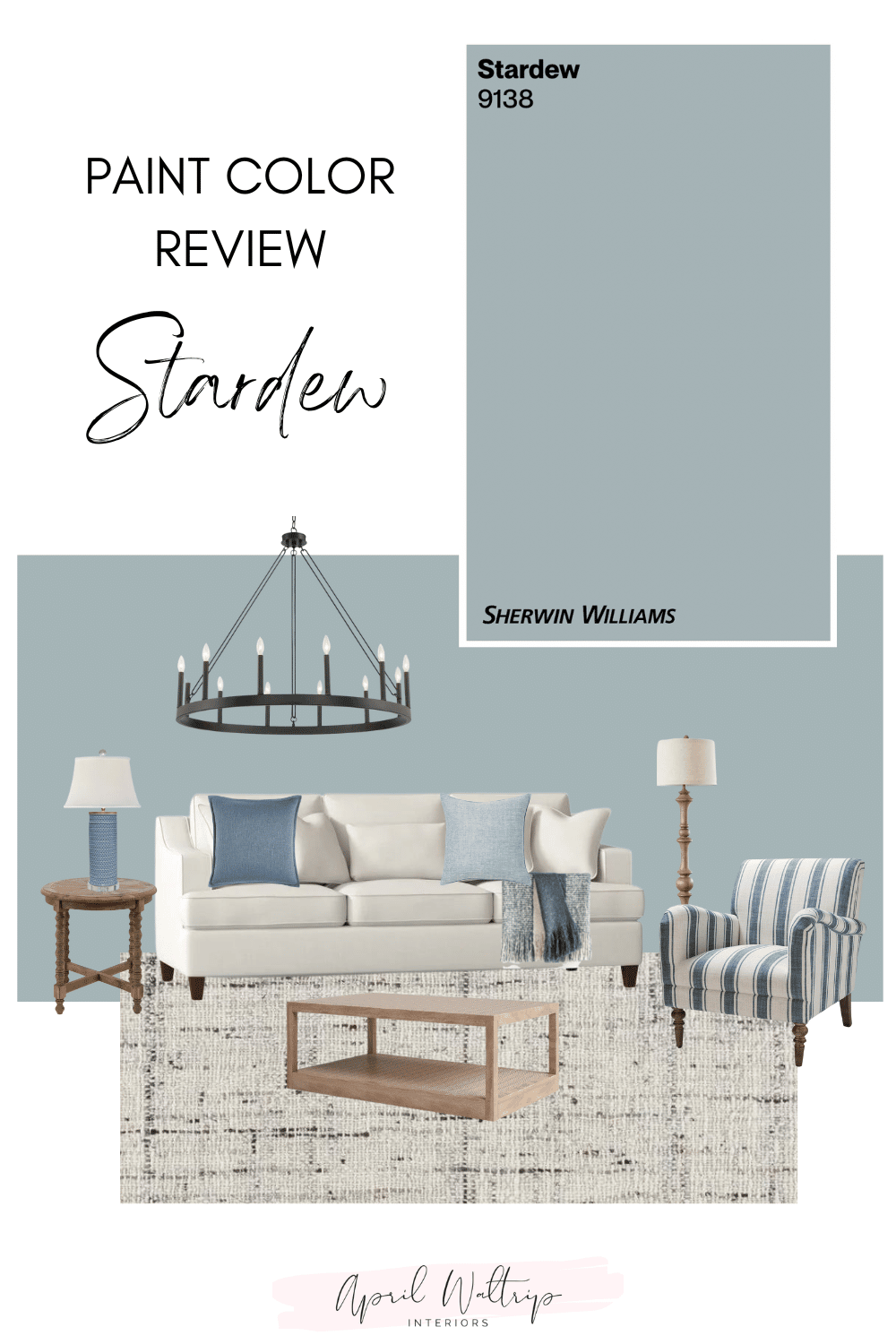 First is a family room/living room moodboard with Stardew walls, a neutral sofa and light wood tone accent and coffee tables.
The room is completed with a blue striped chair and lighting in coordinating blues and wood tones.
Finish off the space with blue linen and blue velvet throw pillows.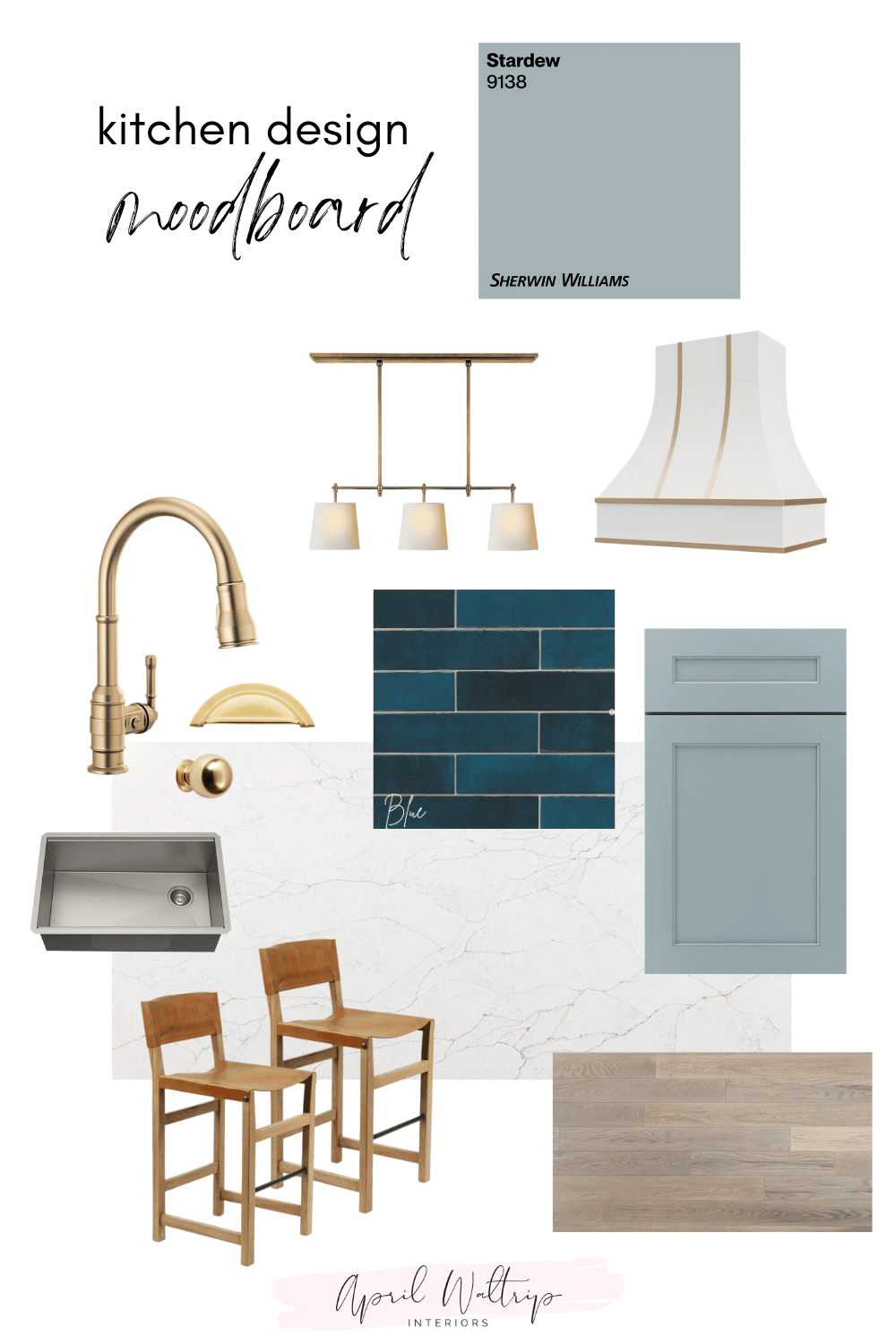 Next we have a transitional kitchen design featuring Stardew blue cabinetry, darker blue backsplash tile paired with quartz countertops and light oak wood flooring.
The space is completed with warm brass fixtures and lighting while the range hood from Hoodsley echos the brass accents.
Lastly, cognac colored leather counterstools ensure the space has plenty of warmth and doesn't feel too cold or stark. This marries the countertops with the warm brass finishes.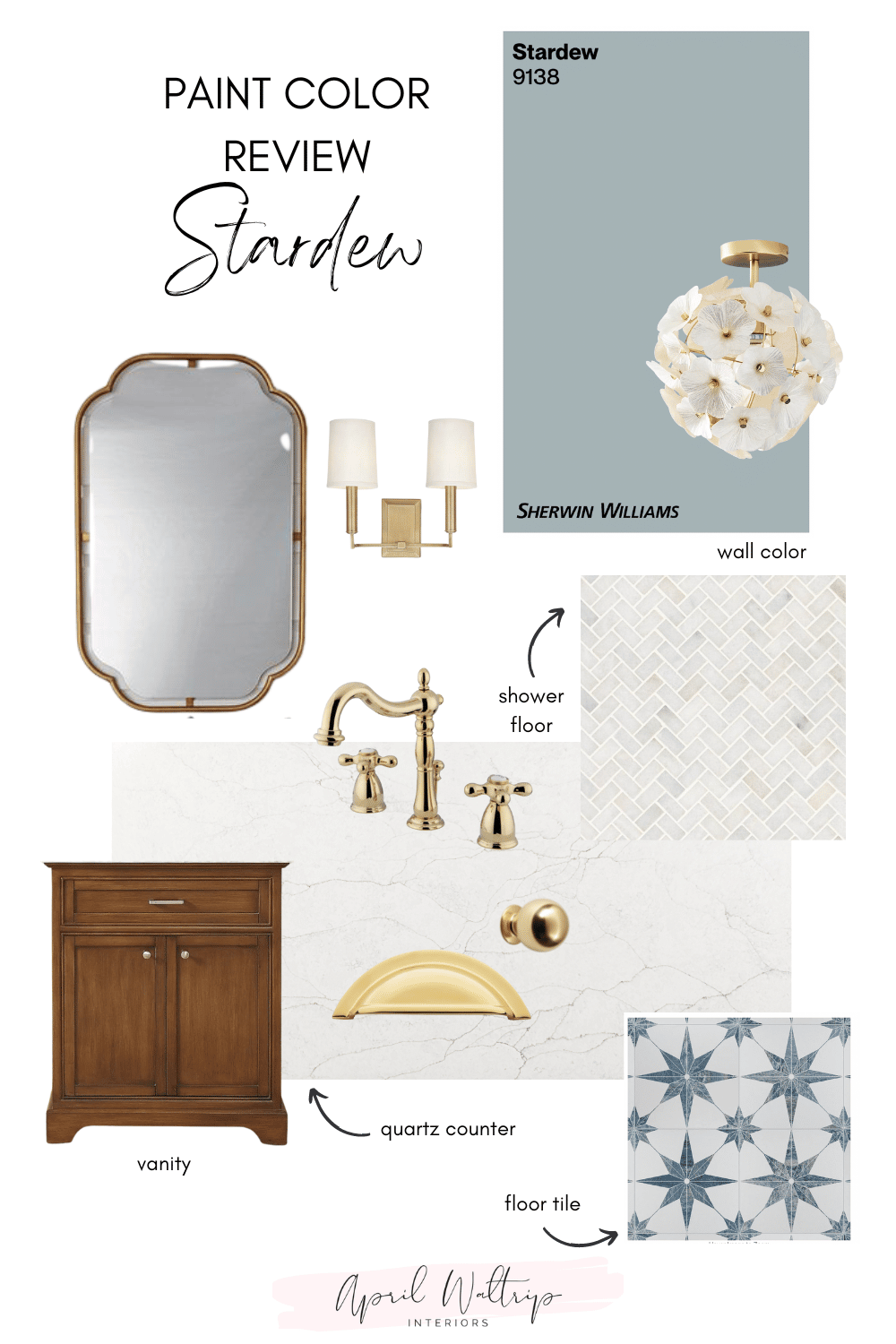 Above is a gorgeous primary bathroom design moodboard that features Stardew wall color to compliment the warm wood vanity and marble shower tile.
Unlacquered brass fixtures, faucets and hardware lean traditional, but don't scream 80's shiny yellow brass.
DON'T GUESS, TEST!
I ALWAYS recommend testing large swatches of your paint colors before committing to the entire house. It's an expensive mistake that you don't want to make, so I recommend using Samplize peel and stick swatches to test out your favorites.
Spending $25 on paint samples is always cheaper that a kitchen full of cabinets you hate and a heartache you can't afford to fix.
Delivered overnight so you can make those pressing decisions in a crunch
Crazy accurate color from my favorite paint vendors like BM, SW & Farrow & Ball
No painting, no mess, no clean up!
Peel and stick (and come off clean)
Or don't peel off the back and use over and over again!
So, don't forget to test your paint colors!!
The colors you see in other people's homes won't look the same in your home. Often times, photos are edited, lightened or color corrected.

Don't rely solely on photos to make your decision- trust the process and sample the paint.

*Expert Advice*
SHERWIN WILLIAM Stardew CONCLUSION
Sherwin Williams Stardew is still wildly popular among designers, DIYers and contractors. If these rooms or mood boards have you feeling inspired, I encourage you to try out Sherwin Williams Stardew in your home!
Stardew is in the blue paint color family
It has an LRV of 43
It looks great with Greek Villa & Pure White trim
It has a blue gray feel to it that borders on light blue
Looks great in bathrooms, powder rooms and bedrooms
It's muted color that isn't pure (i.e. it's desaturated)
Looks best in rooms with lots of natural light and/or southern exposure