Are you looking for inexpensive, but beautiful curtains for your home? These velvet curtains from Amazon check all the boxes.
THE BEST Velvet CURTAINS ON AMAZON (AFFORDABLE & GORGEOUS)
Grab a pair or two of these gorgeous green velvet curtain panels for your own home (or blue, pink or mustard) from Amazon. These beautiful curtains come in at a shocking $53 for a pair of two panels, which is half the price of most curtain sets.
Additionally, they are made in 95″ and 108″ lengths, which is perfect for 8′ or 9′ foot ceilings. Don't forget to grab the curtain measurement worksheet and my best tips for hanging curtains here.
All About the Velvet Curtains
Ready Made: Package includes one pair of 52″ wide x 95″ long luxury velvet curtain pair.
Light Control: With these luxury blackout velvet panels you get 75% sunlight out for bedtime
Energy Smart: These thermal insulated curtains will make a budget noticeable difference, lower your heating & cooling cost by preventing sunlight & draft from getting in.
Luxury Look: With opulent tones and elegant drape, these sumptuous velvet curtains frame your views in pure luxury.
The window panels come in your choice of six rich colors to coordinate with your decor. Hang thru rod pocket or with curtain clips (as shown)
Easy Care: Machine washable in cold water, tumble dry. Quick ironing or steam clean as needed.
Enjoy this adorable video I made showcasing the green curtains in my guest bedroom (wait for the dog at the end)!
If you're on Instagram, you can follow along below and see the video with music, which makes it 100x better. (Plus, look at that cute pup).
AMAZON Velvet CURTAINS PROS & CONS
Adding curtains to any room adds a soft layer amongst all of the hard surfaces like floors, tables and trim work. It's an affordable way to bring in color and texture.
It can set the tone of the room- velvet for moody or cozy spaces and linen look for more casual and relaxed rooms.
We've bought a lot of curtains in our years owning our interior design firm, and while custom window treatments will always be 10/10 they also come with the price tag of $1,000's per window. These velvet drapes from Amazon make our cut for affordable, budget friendly alternatives to the real thing.
PROS
Sold in pairs (2 panels in each pack)
Affordable for multiple panels at $53 for a pair
Comes in 95″ and 108″ length for 8′ and 9′ ceilings
Blackout blocks out light well
Ships quickly and well packaged
CONS
Not available for 10′ ceiling length
Made from synthetic not real velvet
Wrinkles may take time to fall out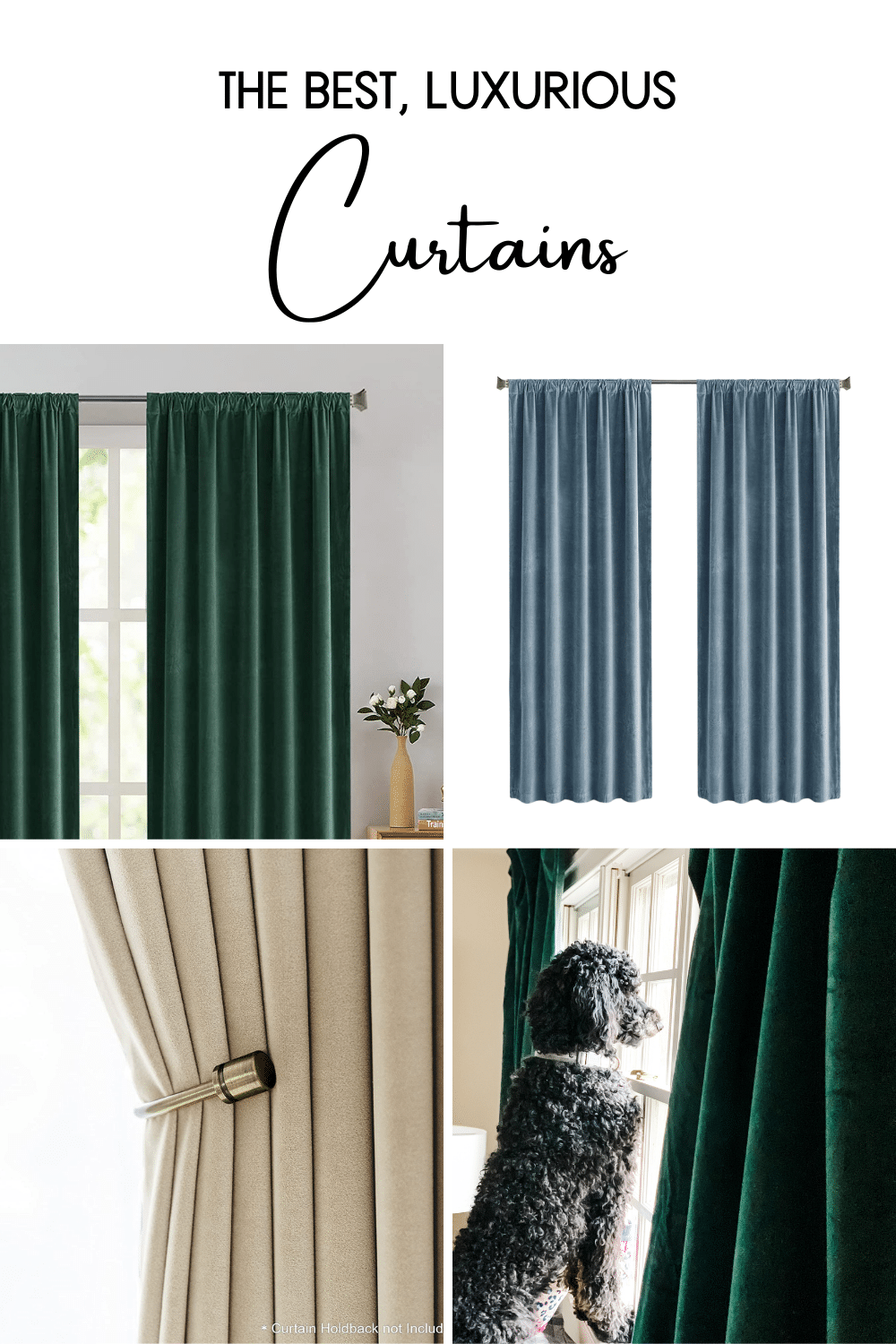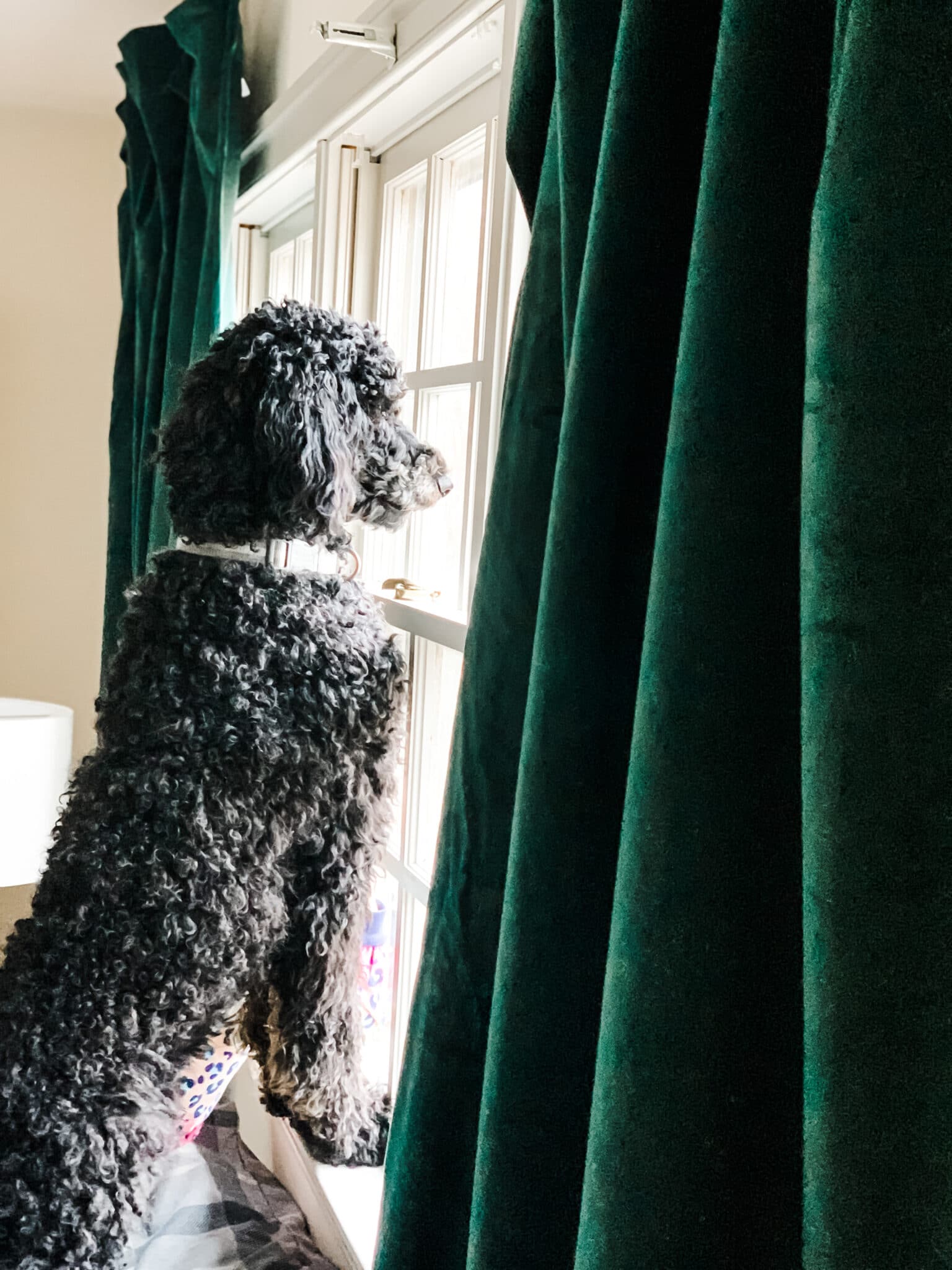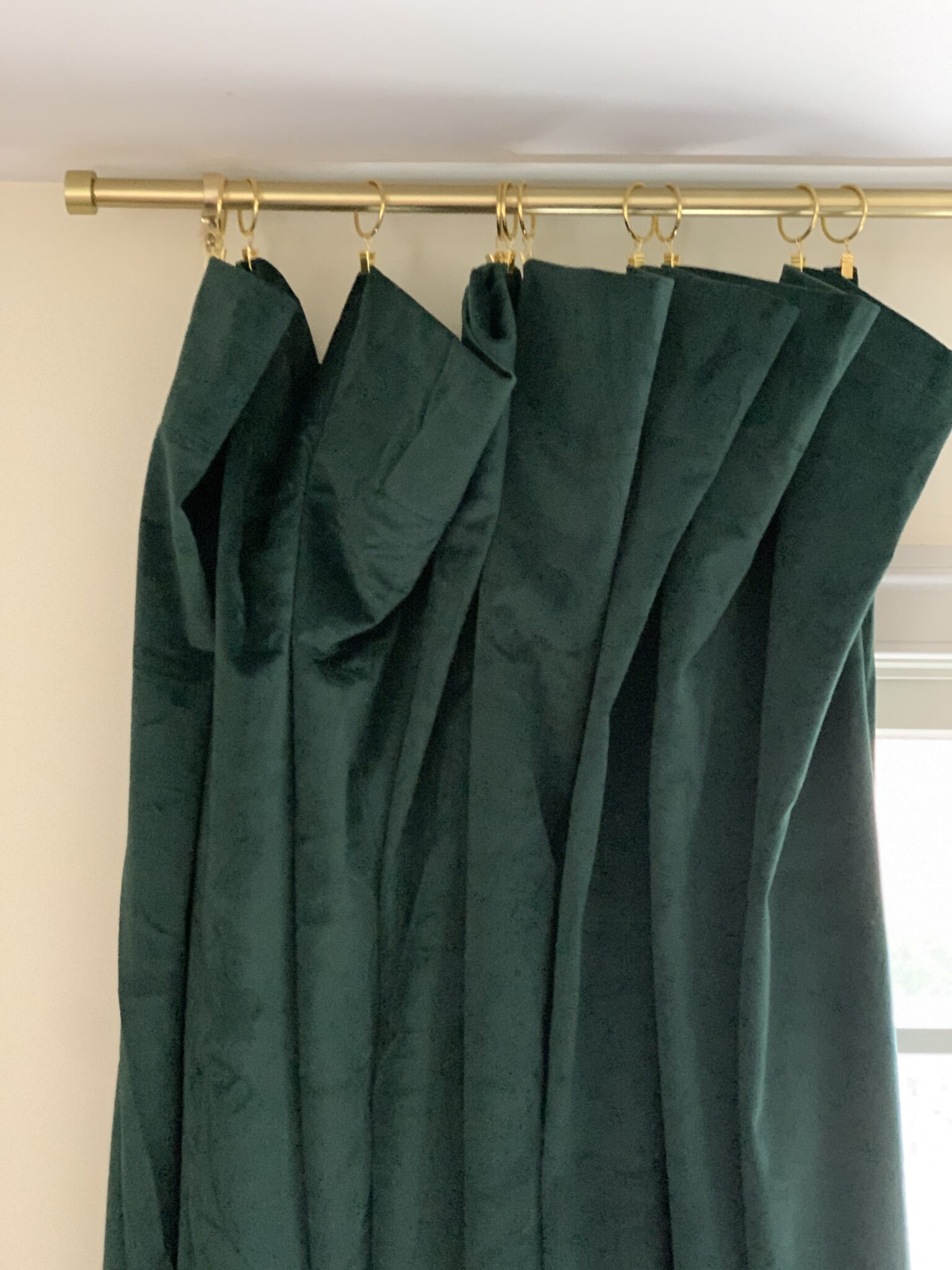 FINAL THOUGHTS ON THE BEST AFFORDABLE VELVET CURTAINS
If the key word for you is affordable or quick shipping, these faux velvet curtains from Amazon are the winners. While they aren't real velvet, they do come in multiple colors, blackout control, and heavy weight synthetic fabric.
When properly installed with nice hardware and rings/clips they can look luxurious and custom to the space. But, don't be mistaken, they are not the same level as custom, so if you've ordered custom drapery and that is what you are accustomed to, this will not fit the bill.
The major pros for these green velvet curtains are that they are inexpensive at $53 for a pair, come in long lengths, ship quickly and block out light well.
For the everyday DIY decorator, these curtains are 10/10!