The Ultimate Kitchen and Entertaining Gift Guide
PART 1
If you or someone on you list loves kitchen products and entertaining friends and family, this ultimate gift guide will have everything you need to stock you kitchen, organize your pantry and entertain like a pro. From kitchen linens to my favorite everyday utensils, gifting will be as easy as clicking "add to cart".
To come up with this comprehensive gift guide, I've gone though each of my kitchen drawers and cabinets, scoured entertaining magazines and websites, and listed the exact items I use daily. I've minimized my kitchen to only the essentials that make the most sense, have a clear purpose and are used more than once a year.
You won't be disappointed by these gadgets, whether for your own kitchen, a new home, a hostess gift, gifts for mom, something for your favorite friend who loves to cook, or for the neighbor you're not sure what to buy. With this gift guide, you'll be able to cross off lots of people on your gift giving list.
A few Notes
I've included Amazon links (affiliate links) for each of the items on the list for your convenience (at no extra cost to you). If you are looking to stock your own kitchen or take time to research the tools you need, head out to your local kitchen store and test out the utensils.
Make sure to feel the quality, read reviews (for in store or online items), and buy the things you love.
If you love bright colorful items, stock up. If you're more of a neutral lover, go with classic white or stainless items. I want to you love what you buy and own.
Linens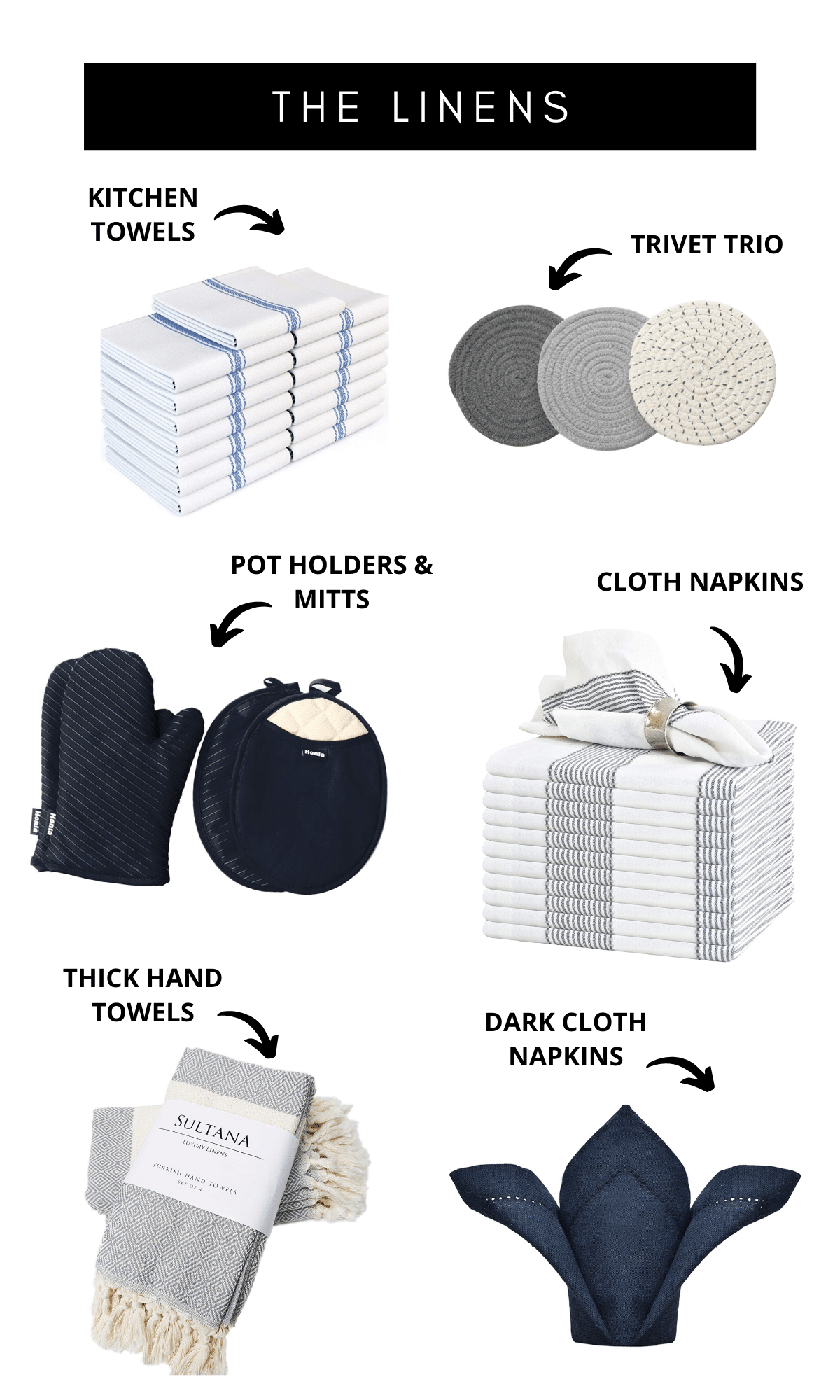 Classic White Kitchen Towels (set of 12) / Trivets Trio (set of 3) / Oven mitts & pot holders / All cotton cloth Dinner napkins (set of 12) / Navy dinner napkins (18 x 18, set of 12) / Turkish hand towels (set of 4) / Navy dinner napkins (18 x 18, set of 12)
Even if you're a kitchen minimalist, linens will still be on you must have list. An as I try to be environmentally conscious, I use flour sac and cloth towels to clean up spills, dry dishes, and wipe everything in the kitchen down. You'll loves gifting the thick hand towels with fringe.
Keeping with a classic kitchen, I've picked out light and dark cloth dinner napkins to swap out for paper towels. the dark napkins are great for a more formal party, of if you have young children who get colorful food on everything. The white striped napkins are great for everyday use.
To launder everything on this list, throw it in the washing machine with hot water, baking soda in the drum and a splash of vinegar in the fabric softener well. They will come out clean and fluffy with no residual smell.
Next up are your entertaining serving ware essential items.
Serveware

Jamie Oliver Large Wood Cutting Board / Large Slate Cheese Board / 3.2 Quart Porcelain Serving Bowl / Acacia Round Flair Serving Bowl / French Countryside Oval Serving Platter / Salad Servers / Serving Spoons (set of 6) / Ramekins (8-12) / Gold Plastic Disposable Dinnerware (serves 40) / Rectangular Serving Trays / Le Creuset Pitcher / Glass Drink Dispenser / Coasters
This roundup of serve ware is for the hostess of the hour. If it's your mother, or your best friend, or maybe even your dream to host, these items are necessary to make every party go off perfectly.
You'll find serving platters, cheese plates, large utensils for dishing out your favorite foods and pitchers for water as well. Lastly, I've included my all time favorite time saver, gold and white disposable plates & service for 40 guests, because who wants to do dishes after you've cleaned the house, cooked all of the food and hosted an amazing party. Skip the dishes and toss these disposables.
Glassware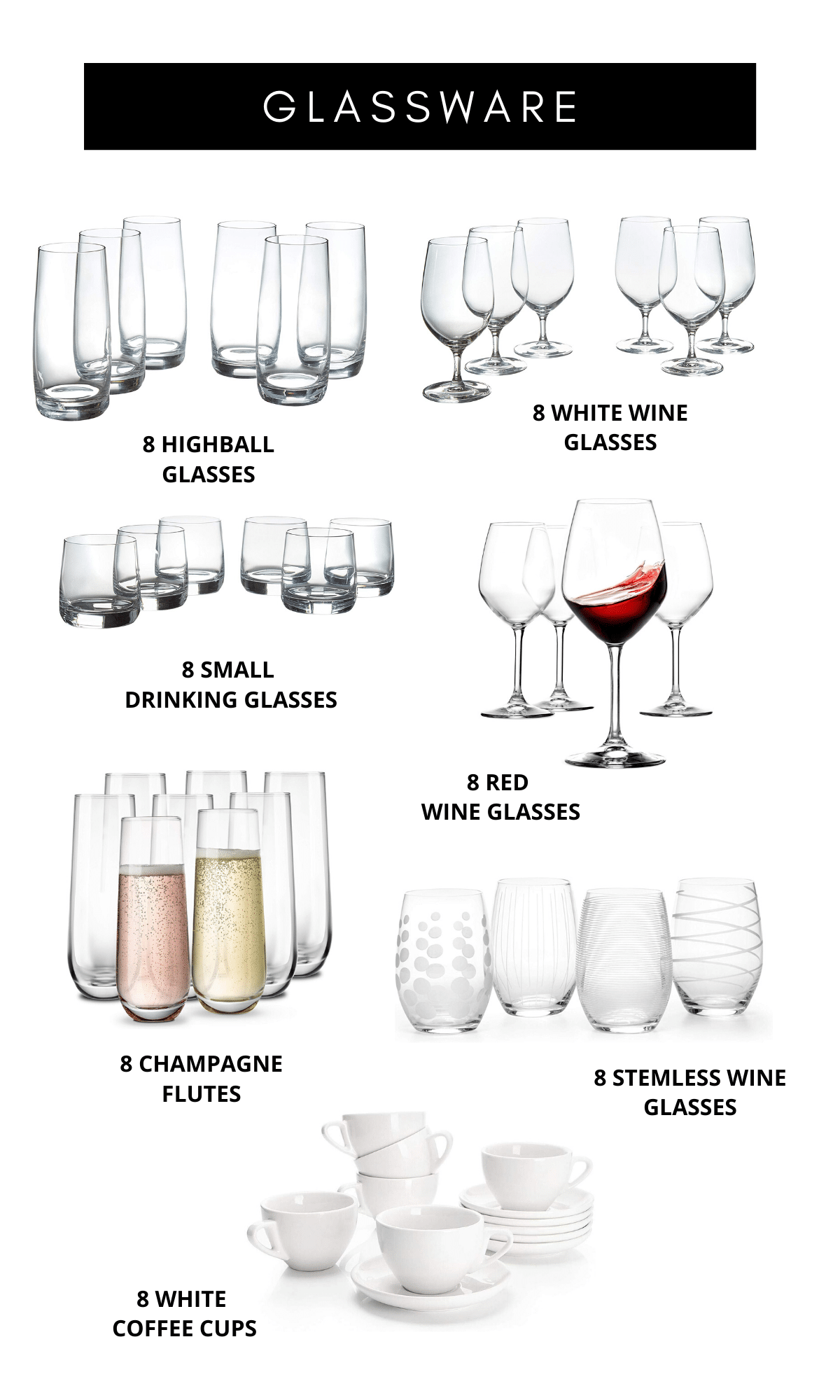 Stone & Beam Highball drinking glasses / Stone & Beam Stemmed drinkware / Stone & Beam Small drinking glasses / Red wine glasses /Mikasa White wine glasses / Champagne flutes / Cappuccino cups with saucers
Glassware is my second favorite tabletop thing to shop for because there are so many fun choices. Regardless of what you choose, you'll want to have at least 8 of each type of drinking and wine glass on hand for entertaining and everyday use.
In this list, I've included a few stemless options because they fit into upper cabinets so well. Cappuccino cups with saucers are also included for those fancy after dinner coffees.
PART 2
Stay tuned for Part 2 of the Ultimate Kitchen 7 Entertaining Essentials. Part 2 will include: Cooking Essentials, For the Wine Enthusiast, Baking and Cooking, Storage & Organization, Small Appliances, and Coffee Lovers Edition.