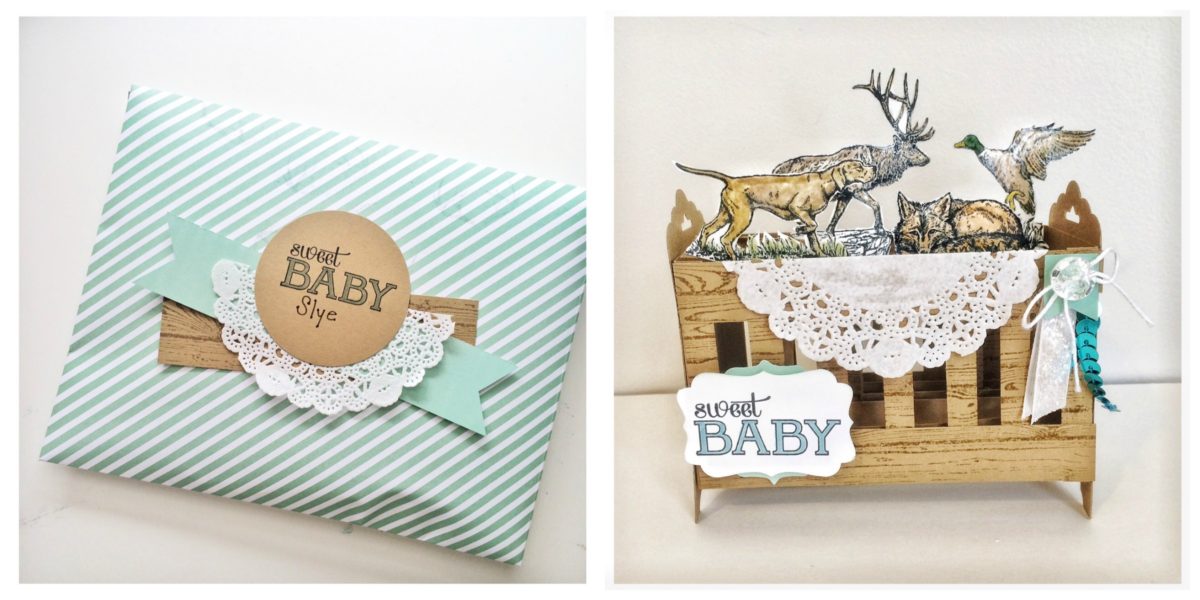 You've seen it. The Wilderness Awaits stamp set. You've thought, 'That would make a great manly, hunting card.' You probably have not thought that it would make a cute baby card. In fact you probably thought like I did, "Hmm, this looks a little bit like dead animals in a baby crib, cute. Not."
I had this initial idea of WOW, this would make the perfect baby card. A cute crib with animals. I didn't want baby animals that were cutesy, I wanted real animals, nature, hunting, woods. And The Wilderness Awaits delivered. I quickly got over my creeped out feelings when the card started coming together as a perfect baby shower card for my nature loving, hunting friends who are having a cute baby boy. Nature Nursery = card win.
I started by stamping the Hardwood stamp onto Crumb Cake card stock and assembling the crib. I stamped the animals in Momento ink, colored them in with Blender Pens, and carefully cut them out. I added a thin layer of Crystal Effects to the animals mixed with water, and applied with a paintbrush to make them shine. The colors looked dull without the touch of Crystal Effects. Finish it off with a Doily and a little banner with ribbon and it looks adorable.
I used the 2015-2017 In Color Envelope Paper (Mint Macaron) and my favorite envelope punch board to make an envelop that fits to size, while the card is designed to lay mostly flat. Add a banner of Mint Macaron paper, Hardwood grain crumb cake, and a doily and the card is tied into the envelope.
While this amazing card took about an hour to create, I did all the hard work in measuring and figuring out the easy way to do things. You now have the benefit of having the dimensions and tips and tricks at your fingertips, which will significantly reduce the amount of time it should take you to recreate it. I will have a the full color, step by step photo Tutorial available here on the blog shortly.