How to Choose the Right Nightstand Size
How to choose the right size nightstand for any bed size- king to twin. From the bedside table height to choosing the right width, this post has you covered.
When it comes to furnishing your bedroom, nightstands aka bedside tables, are essential to functionality and design. You'll need a nightstand for storage!
You will need to choose the right size and scale nightstand so that your bedroom functions well and looks like it was designed by a pro (you are the pro)!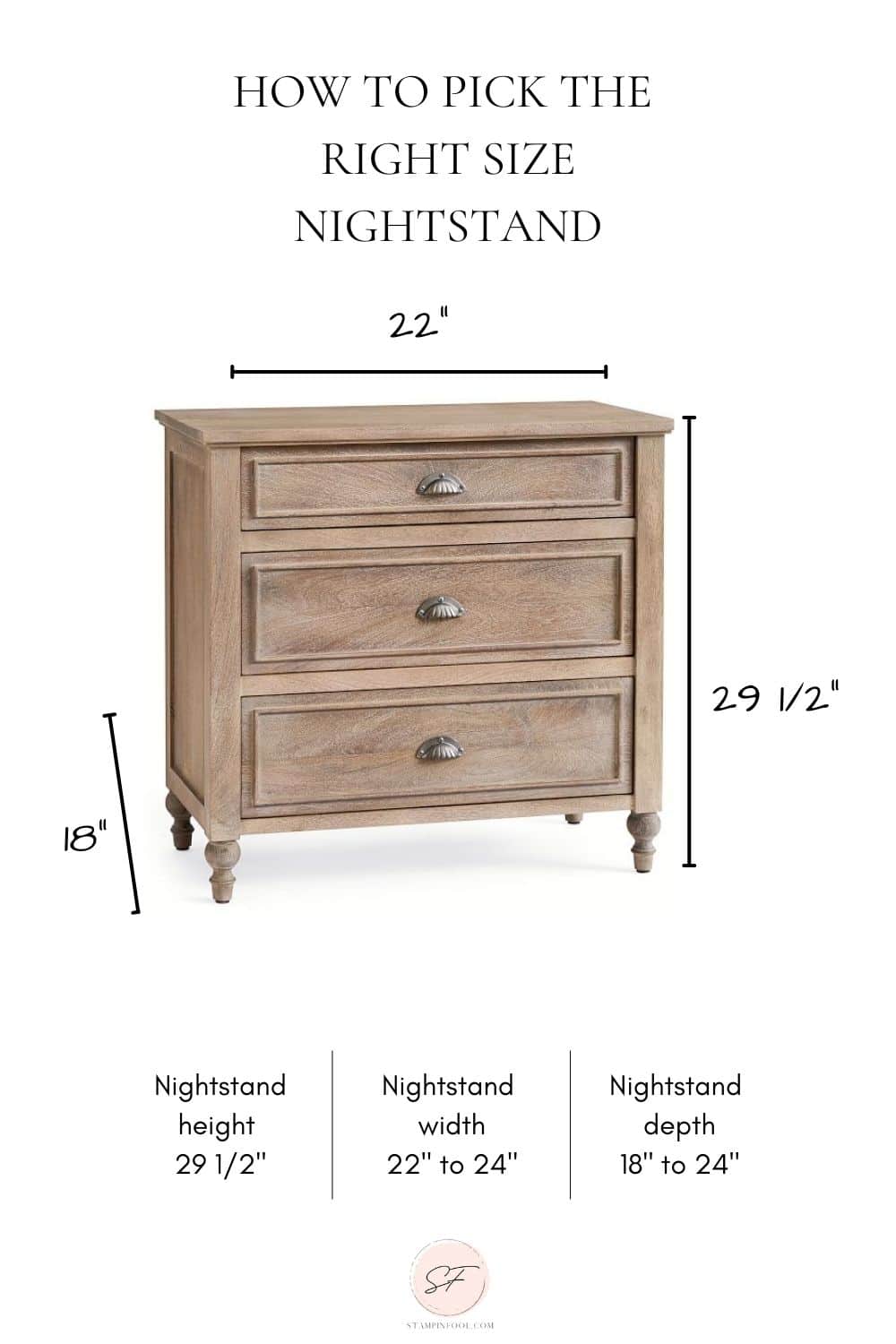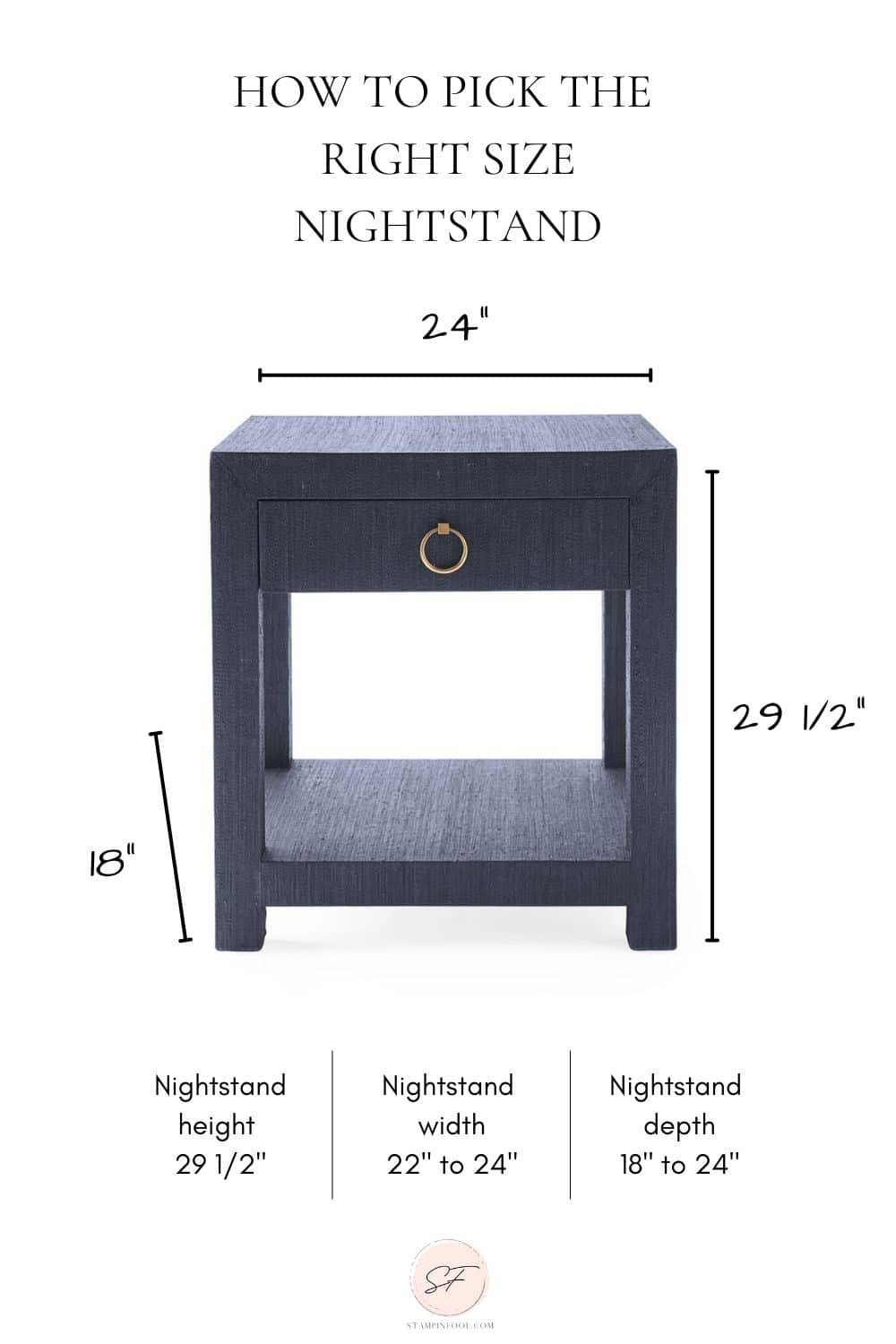 Things to consider when choosing the right nightstand
Nightstand should be close in height to the bed height so that you can reach what you need
It should be narrower than your bed itself for a balanced look
The surface should be large enough for large lamps
Consider how much storage space you need; if you have extra area and need more storage, larger nightstands will provide the necessary drawer and shelf space to accommodate items like books and other night time necessities
Lastly, don't forget to keep style in mind when you select nightstands so that it complements the overall design of your bedroom.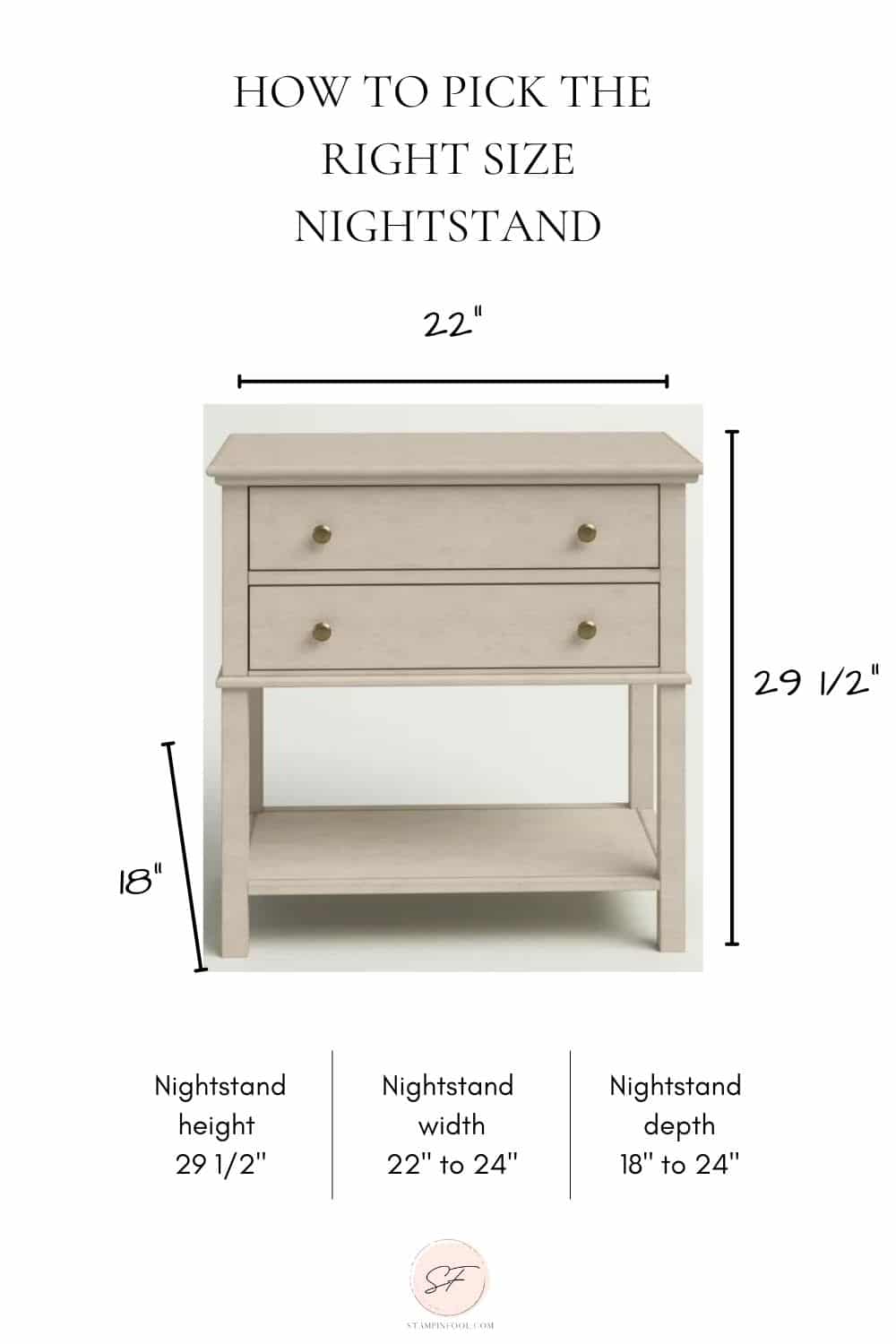 CHOOSING BEDROOM FURNITURE
Once you have decided on the style of furniture for your home, measure the room so that you can properly space plan. I like to use this laser measure and this (free) room planner from RoomSketcher.
Make sure to include doorways and windows in your plan.
Start with the long side of the rug parallel to the main wall – 8×10 if a small room and 9×12 for a larger space
Place bed perpendicular to rug
Add in nightstands to each side
Place 28″+ lamps on nightstands
Layer in mirror, dresser, chest, bench or additional pieces
BEDROOM LAYOUT
Ideally you can fit a nightstand on each side of the bed, with lamps for reading and light. Then add a dresser or desk to the room. If you have an exceptionally large bedroom, 20'x 20′ you can add additional pieces of furniture like a bench, chaise, seating area with cocktail ottoman, chest or dressing table.
COMFORTABLE FURNISHINGS
As always, function over form comes into play when decorating your bedroom. Select comfortable furniture, part of comfort is the right size, i.e. not too large for the room.
You also want space to move around in your bedroom. I want your nightstands to be large enough to hold a lamp, glass of water, a book and any other night routine things you have. So we will discuss the top dimensions to fit best.
Step one is to select a comfortable bed. Next, invest in great bedding- think silky, soft sheets and a clean white duvet cover with fresh, fluffy pillows.
Lastly, choose a dresser large enough to hold you clothing and nightstands to keep those evening routine items close by, but secured away out of view.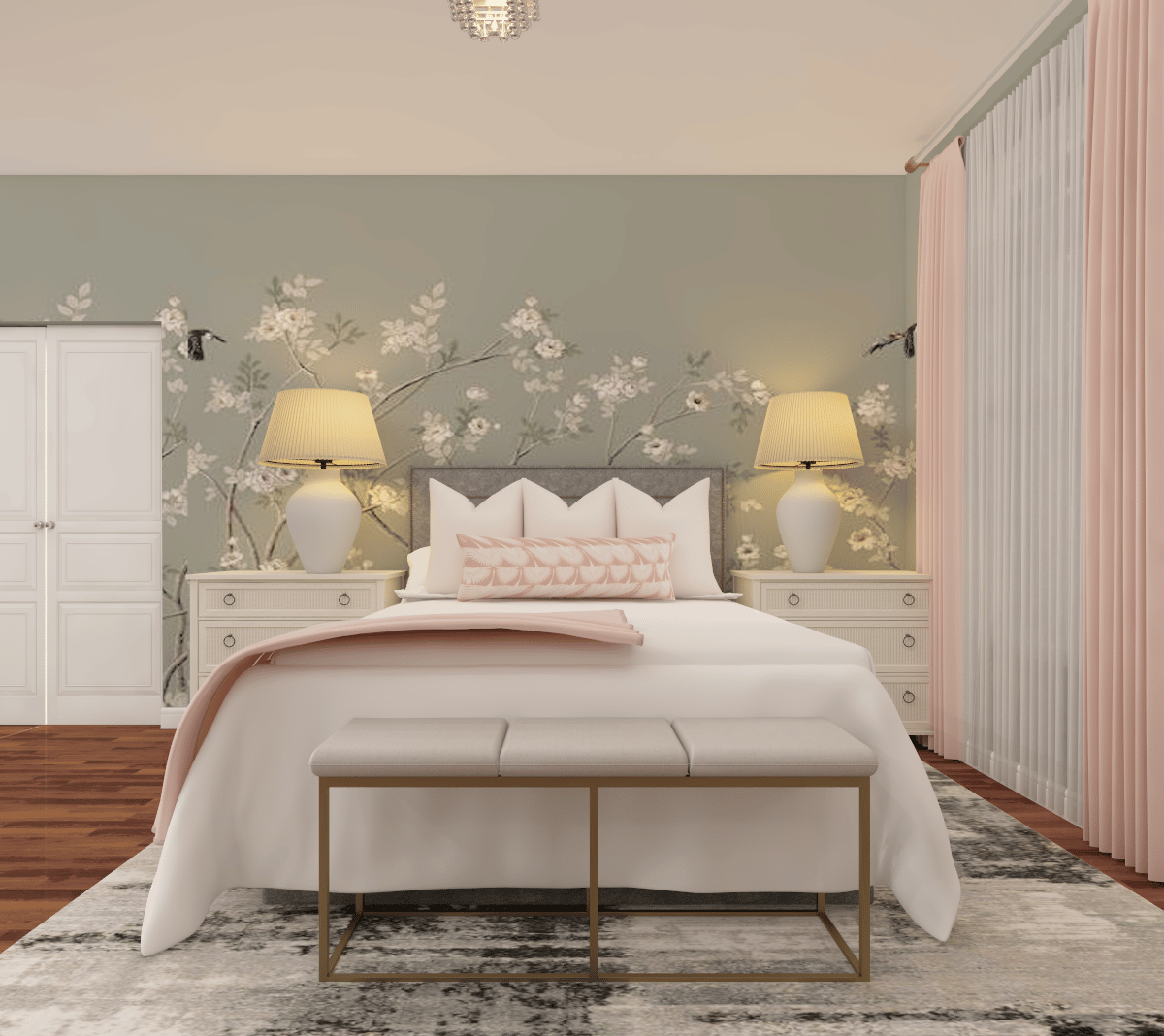 NIGHTSTAND HEIGHT
The best nightstand height is between 28- 30″ tall. The goal is to get the tabletop to be with an inch or 2″ of the mattress top. When you choose a nightstand this height, you can easily reach the lamp, place a glass of water or grab your book.
If you have an exceptionally low bed, like Crate and Barrel or West Elm platform beds, you will likely need a slightly lower nightstand. Pay attention to the bed height.
On the flip side, if you have a massive bedroom and a California king size bed, your nightstands should be large, substantial pieces of furniture like a chest, 36″ table or dresser.
RULE OF THUMB: 29 1/2″ is a great nightstand height
NIGHTSTAND WIDTH & DEPTH
For twin size beds: Opt for 18″ to 22″ wide nightstands. The depth can be in the same range.
Queen beds: 22″ to 24″ x 23″ to 27″ is a great size range for nightstands paired with a queen bed.
King bed: 23″ to 25″ and larger width and depth will work well with you king size bed. If you have a California king and an 18′ x 18′ bedroom or larger, you can use a chest as a nightstand. A chest will take up wall space so that the room doesn't look bare. Chests make great nightstands in such large spaces.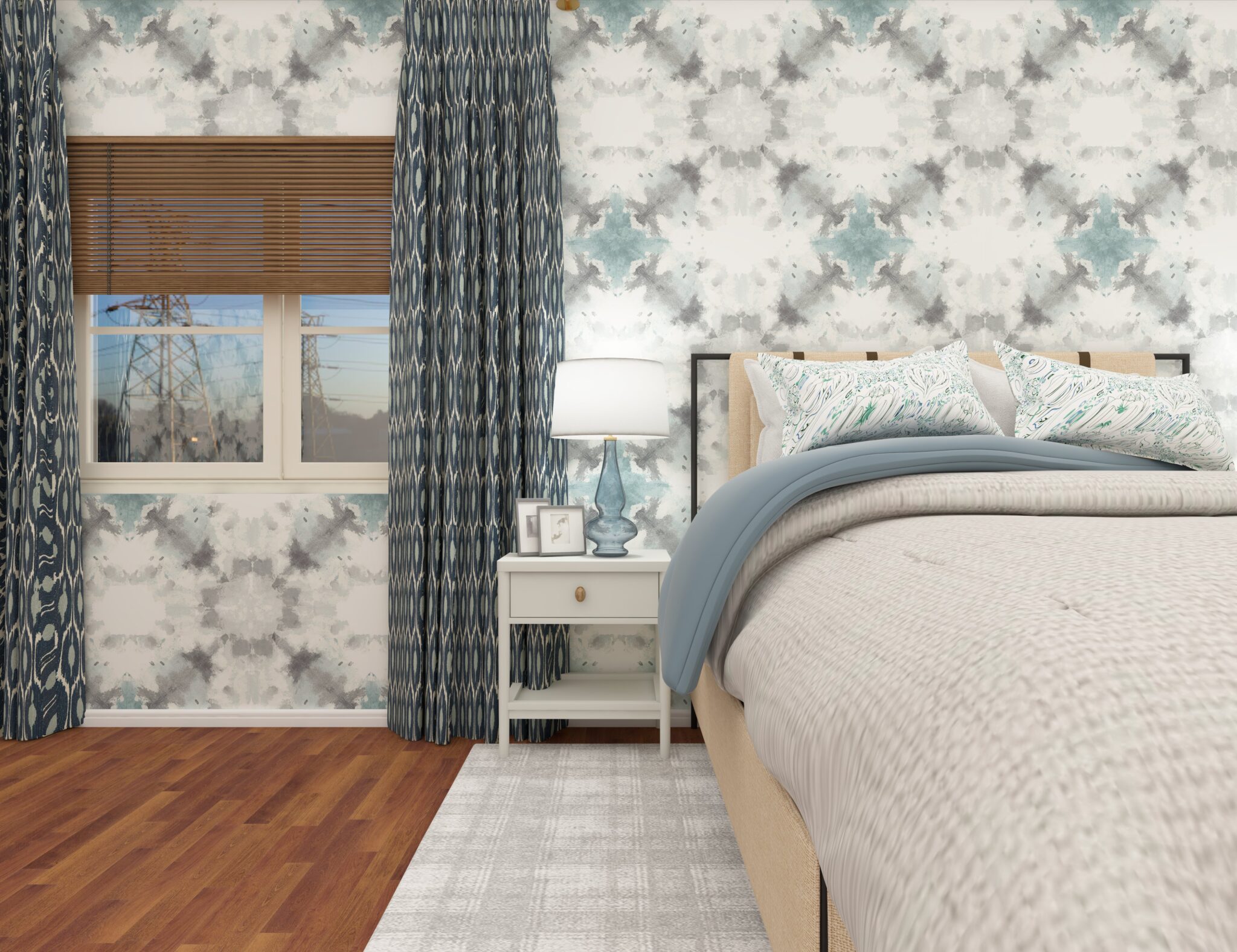 NIGHTSTAND SUGGESTIONS
You can read more about finding the right pieces for your home decor bedroom design project on these two posts about choosing the right size bedside lamp and bedroom furniture pairings.