Sherwin Williams Sea Salt Paint Color Review with undertones, comparison and photos of rooms with Sea Salt paint
SHERWIN WILLIAMS SEA SALT PAINT COLOR REVIEW – SW 6204
The first time I heard about the paint color Sea Salt was in 2014. I must have read about it on a blog somewhere, or maybe Pinterest, back when you had to be invited to join. (Do you remember that? My best friend and I joined a waitlist to get an invite from Pinterest).
Sea Salt was just starting to storm bathrooms and bedrooms as a blueish green paint color that was fresh and spa-like. It was touted as a relaxing, cool spa color to make your bathroom feel like a retreat.
I quickly painted our primary bathroom and later the downstairs powder bathroom with Sea Salt. And it looked totally different!
The upstairs bathroom was north facing, with one small window above the loo and a tub/shower combo, linen closet, walk in closet and two sink vanity. It didn't get a lot of natural light, but the color gave the room some "color". As in, not white and not sterile, but definitely leaned green.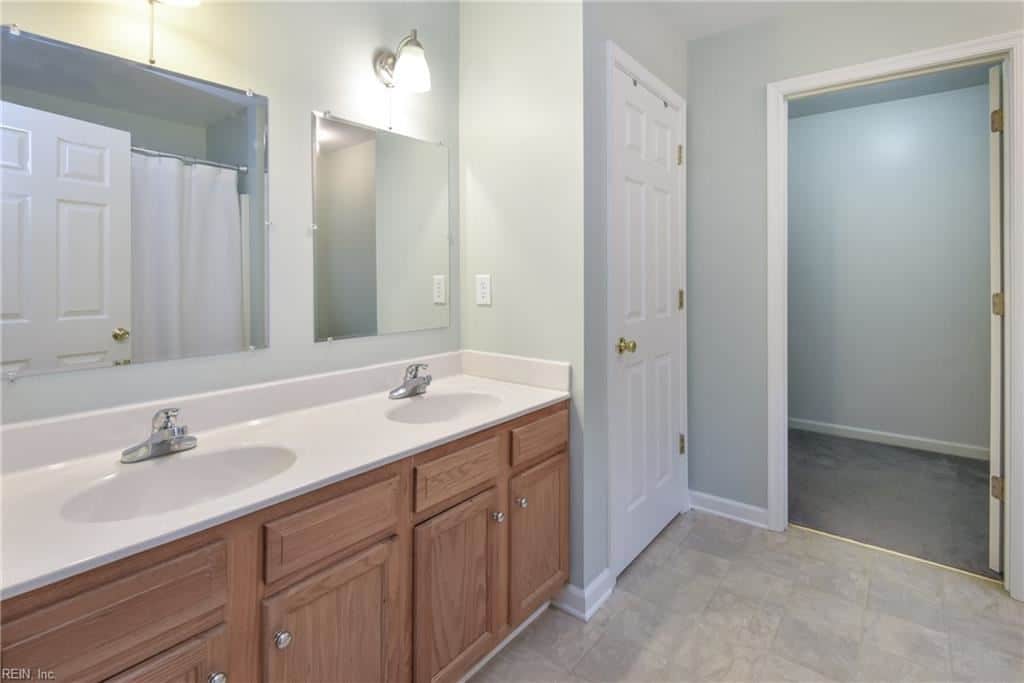 As for the downstairs powder bath, although it is also on the back, northern exposure side of the house, and only has one window, it actually gets great natural light in the day.
The color has a hint of green, but really does have that blue, spa like feel to it (pictured below).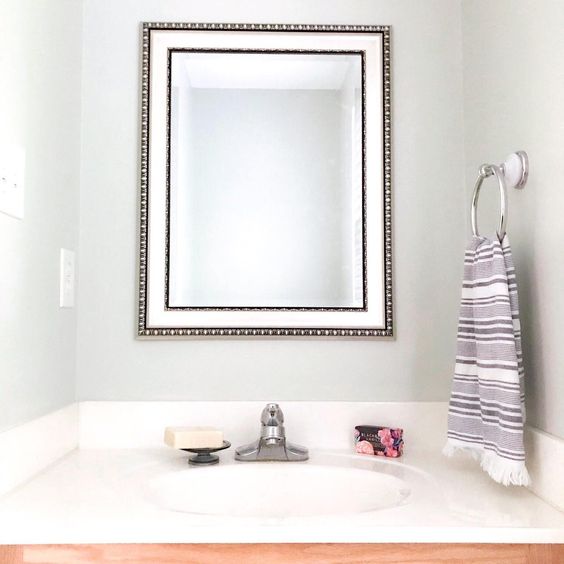 SW Sea Salt Quick Facts:
Manufacturer: Sherwin Williams
LRV: 63
R:205 G:210 B:202
Hex Value: #cdd2ca
Color Collections: Rejuvenation – Fall/Winter 2021, Living Well – Recharge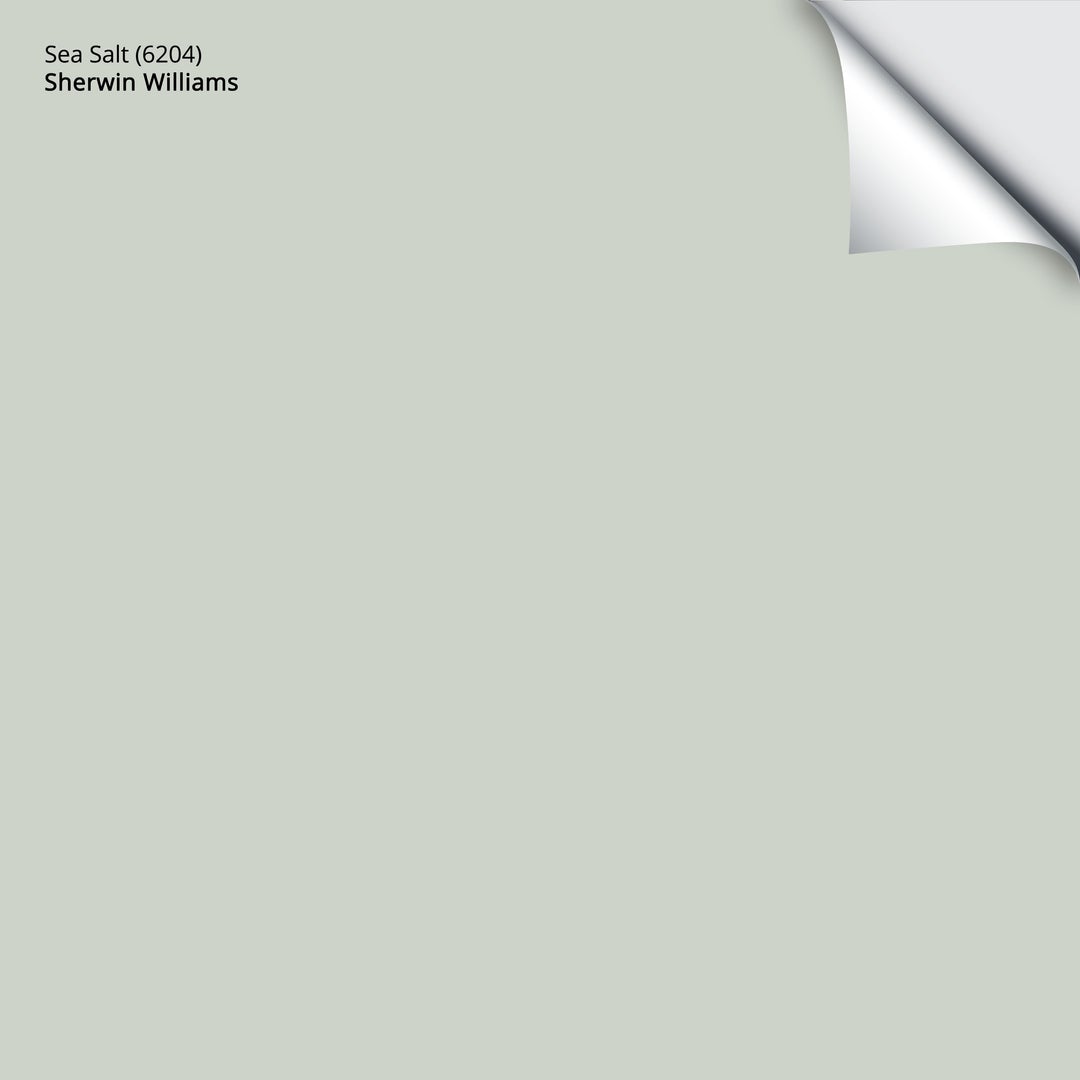 Is Sherwin Williams sea salt green or blue?
Sherwin Williams Sea Salt is GREEN. It is situated in between to the green grays (Aloof Gray) and green blues (Rainwashed).
Based on your lighting conditions, especially with great southern exposure, it can pull light blue, much like the Tradewind and Sleepy Blue, which are next to it on the digital color cards.
When you step back and take a look at Sea Salt in comparison to the colors above and below it, you will see that it clearly reads green, but does lend itself to that spa feel. Look at the color comparisons below.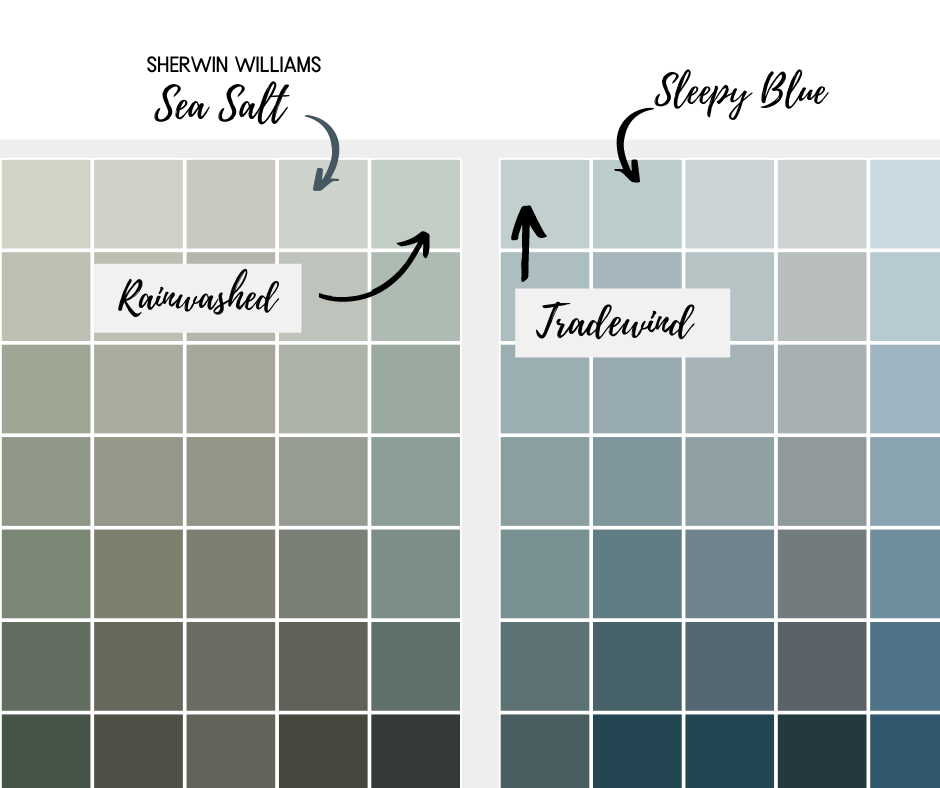 WHAT'S THE LRV OF SEA SALT?
The light reflective value of Sea Salt is 63 (from 0 to 100, where zero is absolute black). With an LRV of 63, the color will reflect slightly more light than it will absorb.
Even in a well lit or sun washed room, it won't reflect back a ton of light, like a whiter paint color such as Pure White or White Flour (LRV of 87).
WHAT ARE THE UNDERTONES OF SHERWIN WILLIAMS SEA SALT?
Hue: Green
Value: Light value
Saturation: lower intensity (not pure hue)
Sherwin Williams Sea Salt is a green paint color that leans green blue and green gray depending on the lighting.
Photos of sherwin williams sea salt
If you are looking for photos of Sea Salt paint in actual rooms, here are a few to help you make a decision.
Sea Salt Paint Color in Bathrooms
By far the most common room to paint the color Sea Salt is a bathroom or powder room to give it that spa like, relaxing feel.
Sea sALT Paint color in Living Room & Dining Room
While bathrooms may be the most common place you will find Sea Salt, it's not the only place. These examples of living rooms and dining rooms flooded with natural light really look great.
Sea Salt Paint Color in bedrooms
Sea Salt Paint Color in Laundry & Mud Rooms
SEA SALT COLOR SCHEMES
If you are looking for paint colors to pair with Sherwin Williams Sea Salt, consider dark blues like Tempe Star & Gale Force. For whites, Pure White will give a stark contrast whereas Greek Villa will keep with off white, warm feeling.
Sea Salt looks best in rooms with lots of natural light.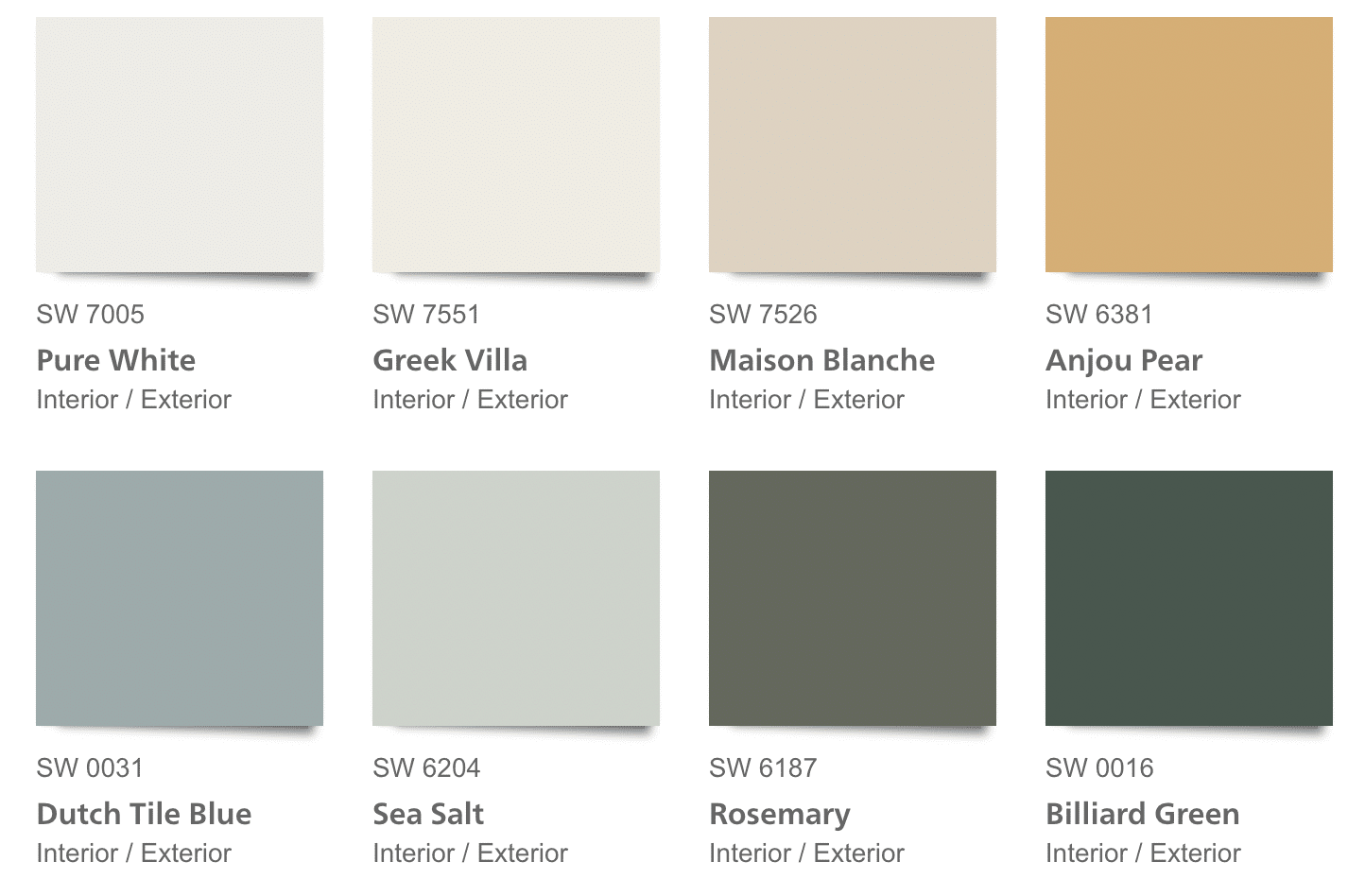 FAQ's About Sherwin Williams Sea Salt
What color is sea salt by Sherwin Williams?
SW Sea Salt is defined by Sherwin Williams as a Green paint color. It's in the green family along the lines of green blues, not to be confused as a blue-green color.
Is Sherwin Williams sea salt warm or cool?
Sea Salt is green and it can be warmer than some blues, but cooler than other greens. Remember, when we talk about warm and cool, we are comparing colors, not looking at the color alone. Sea Salt has a muted, muddy low intensity saturation.
What accent colors go with Sherwin Williams sea salt?
Sea Salt looks good with Sherwin Williams Pure White, Tempe Star, Dutch Tile Blue, Greek Villa and Rosemary.
Don't Guess, Test!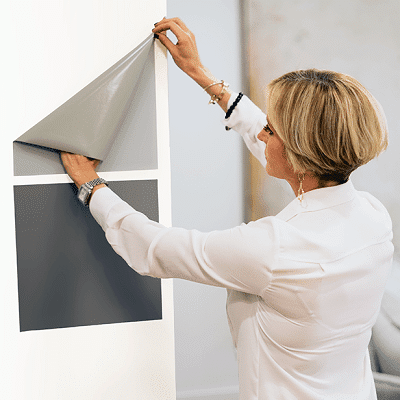 I ALWAYS recommend testing large swatches of your paint colors before committing to the entire house. It's an expensive mistake, so I recommend using Samplize.
Ships within 24 hours
Simple peel-and-stick application
No painting, no cleanup
No wasted material, no storage
Real manufacturer paint
Displays color just like a wall
Repositionable
Or don't peel off the back and use over and over again!
Don't Forget to test your paint colors!
Finally, as always the colors you see in other people's homes won't look the same in your home. Often times, photos are edited, lightened or color corrected. Don't rely solely on photos to make your decision- trust the process and sample the paint
So choose a few colors you want to try LARGE swatches of those colors!
Choosing the wrong paint color is an expensive mistake you do not want to make!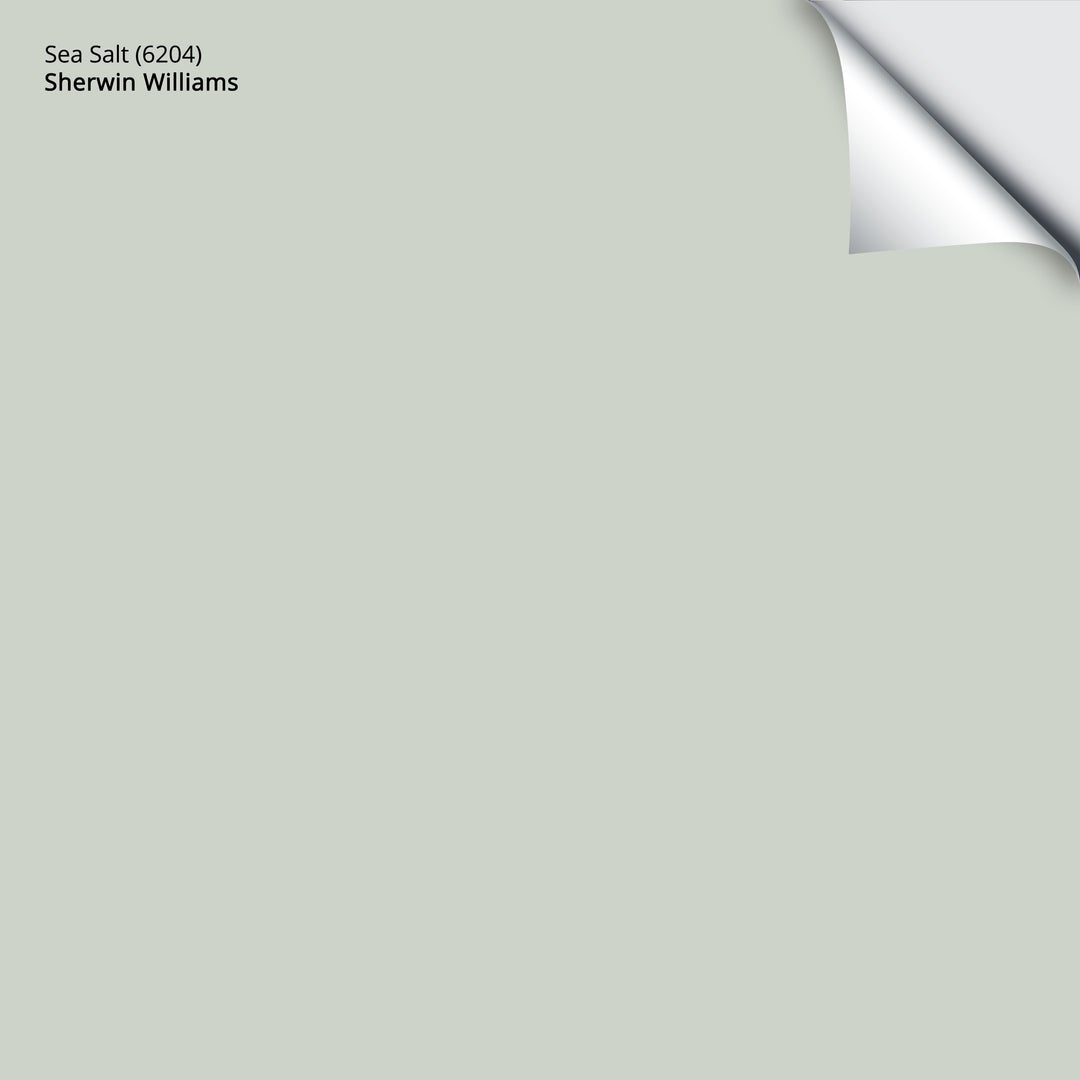 Sherwin William Sea Salt Conclusion
Sherwin Williams Sea Salt is still wildly popular among DIY and contractors.
Sea Salt is in the green paint color family
It has an LRV of 63
It looks great with Greek Villa & Pure White trim
It has a green gray feel to it that borders on light green blue
Looks great in bathrooms, powder rooms and bedrooms
It's muted color that isn't pure (i.e. it's desaturated)
Looks best in rooms with lots of natural light and/or southern exposure