23 Swoon Worthy Home Coffee Stations
Do you want to create the coffee station of your dreams? Use these 23 home coffee stations for inspiration to create your own in home coffee station.
By now you probably know that I'm anti farmhouse decor, in the modern sense, unless you live in an actual farmhouse. So for this post, I've skipped any farmhouse decor type coffee stations and opted for upscale professionally designed spaces.
My hope is that you can take away the major elements in these spaces and apply them to your own home to create the perfect in home coffee station.
Let's get started with our coffee bar journey.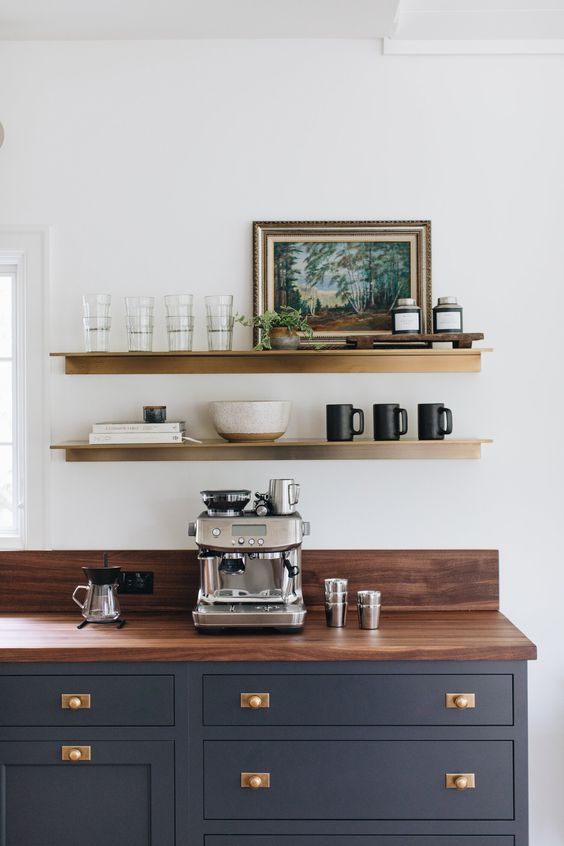 What I love about this coffee station: It's a counter and not a built in. We can all free up a little bit of counter space to add a coffee maker and a floating shelf for mugs.
The key is to keep the coffee mugs all the same style and color. Add a piece of art & upgrade your counter pulls.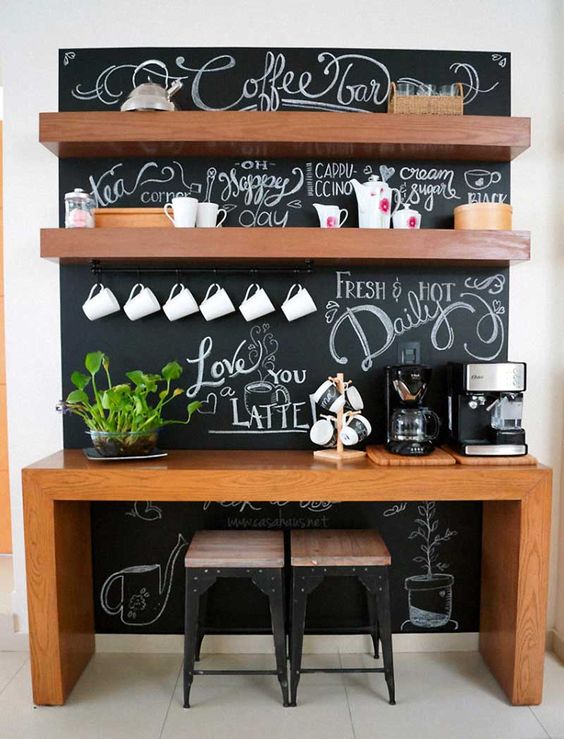 While this coffee bar is the least traditional of the roundup, I do love that it incorporates stools, hand drawn coffee lingo and black and white for a neutral palette.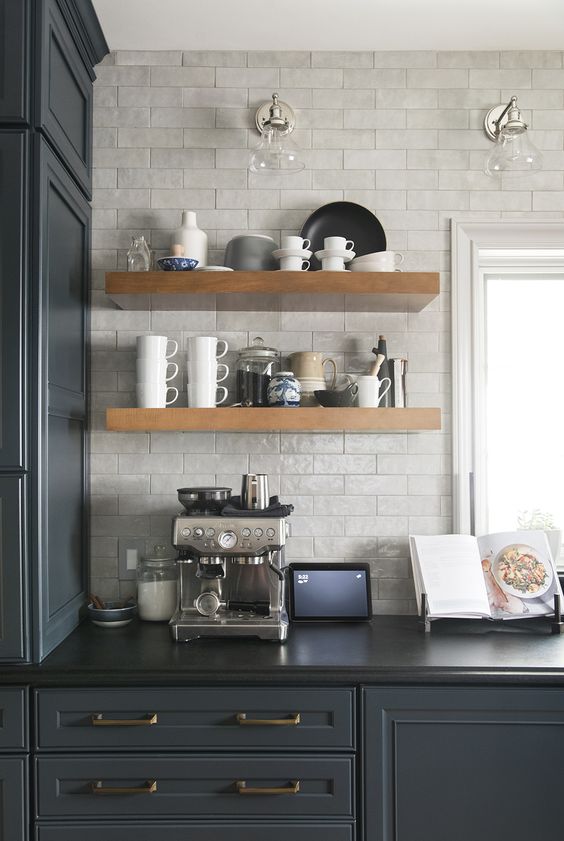 Here is a great example of a countertop coffee station. I love the kitchen combo of dark stone counters with navy cabinets and aged brass handles. In addition, they used the counter space and shelves well to tuck a coffee maker into the corner without overcrowding.
Another tip is to carry your backsplash tile all the way to ceiling and add sconces overhead for a magazine worthy look.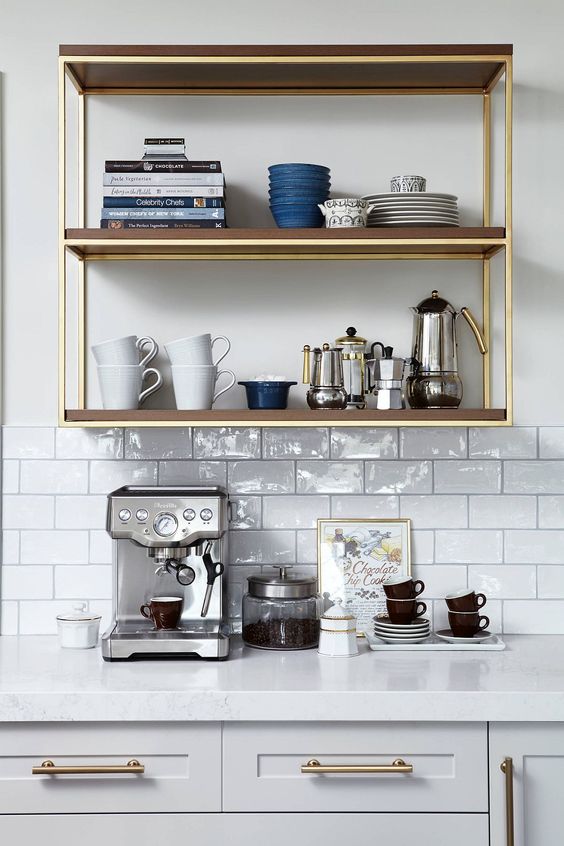 Here's another example of a coffee station that utilizes vertical real estate by hanging a shelf to hold cups and coffee supplies and reserving the counter for the coffee maker and fixings.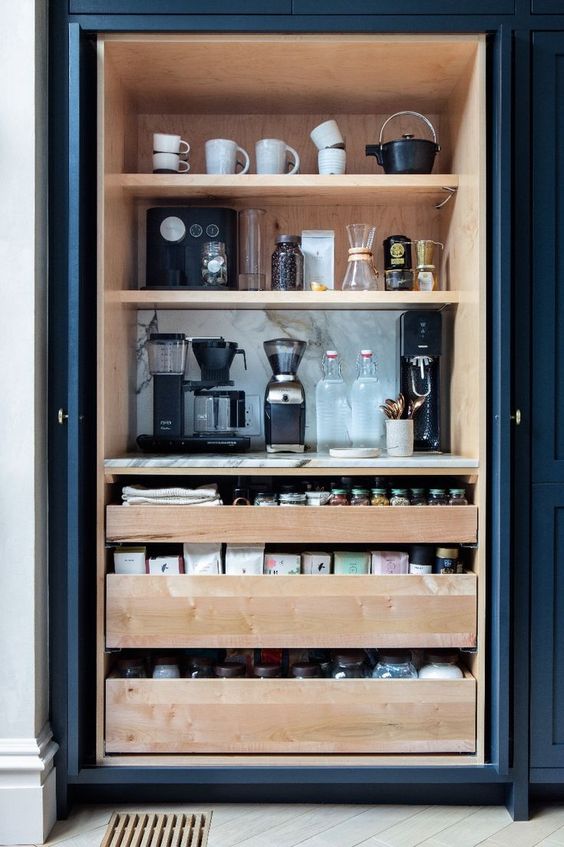 This swoon worthy coffee bar is what blue built-in dreams are made of. Maybe your budget can't support a full built in coffee station, but you might be able to decicate a drawer to cabinet to coffee supplies.
Keep it organized & like things together.
Dedicate one shelf to the coffee maker.
Paint cabinets blue with gold pulls.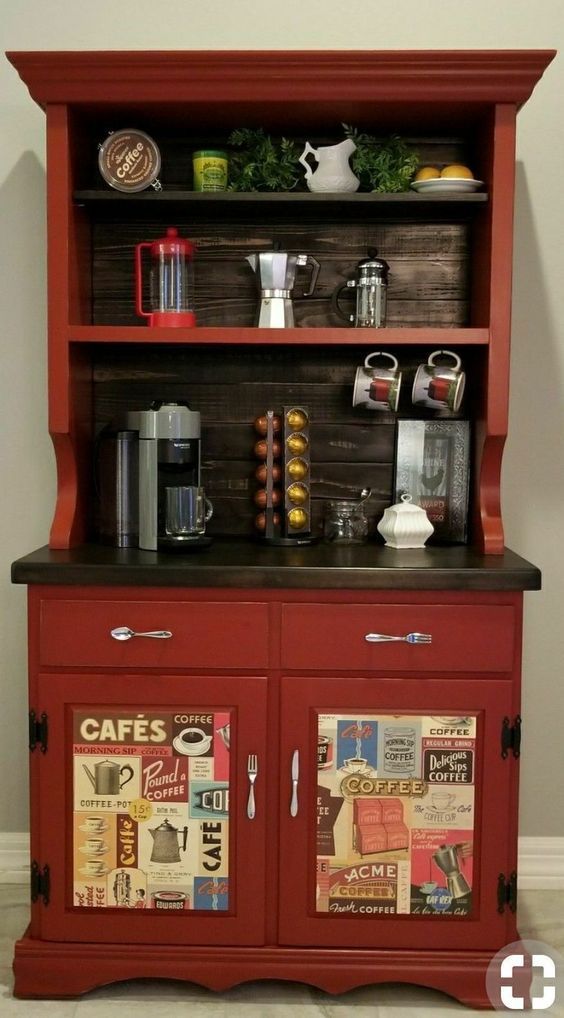 Hutch turned coffee station. You can tell this coffee bar isn't professionally done, but I still really like the concept. And given that hutches and armoires are readily available at consignment shops and on Facebook marketplace, you could easily paint a hutch and use it as a high style coffee station.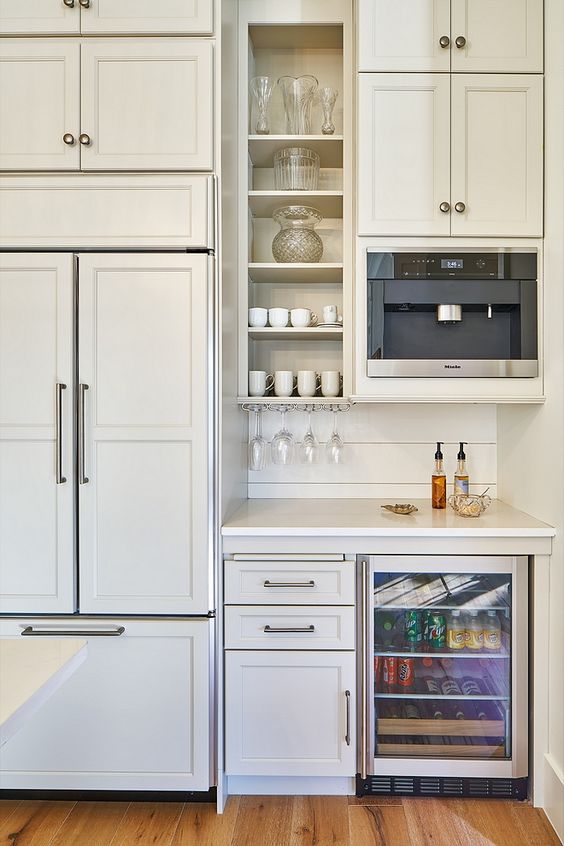 We all love built in cabinetry and this little nook is no exception. Key takeaways here are the warm white cabinet color paired with oak flooring (which we know can be a struggle) and concealing most of the cups and accessories for an uncluttered look.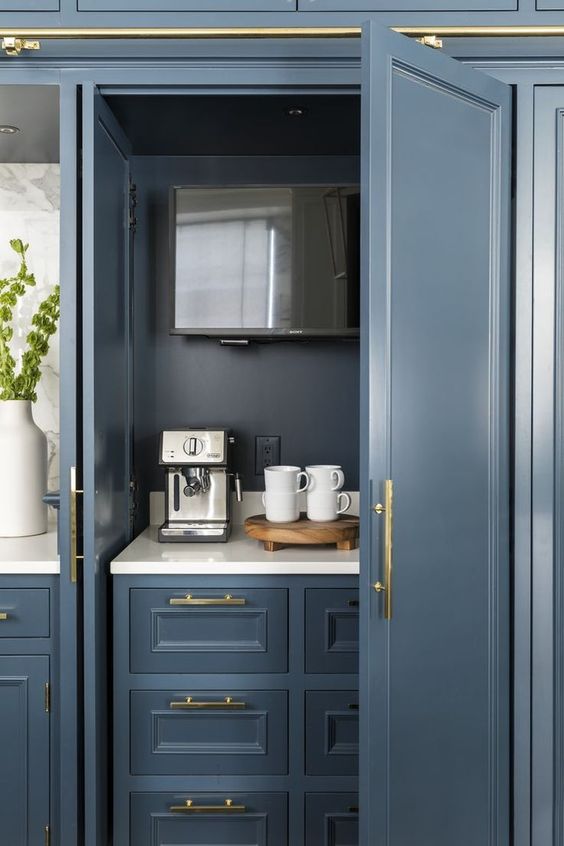 This blue built in coffee station cabinet blows my mind. Can I build one into my home? Probably not, but we can use the concept to make our own coffee bar space.
Painted cabinetry is in.
Those large gold bar pulls are showstoppers.
Add additional hardware like the decorative cabinet rail above the cabinets for a luxe look.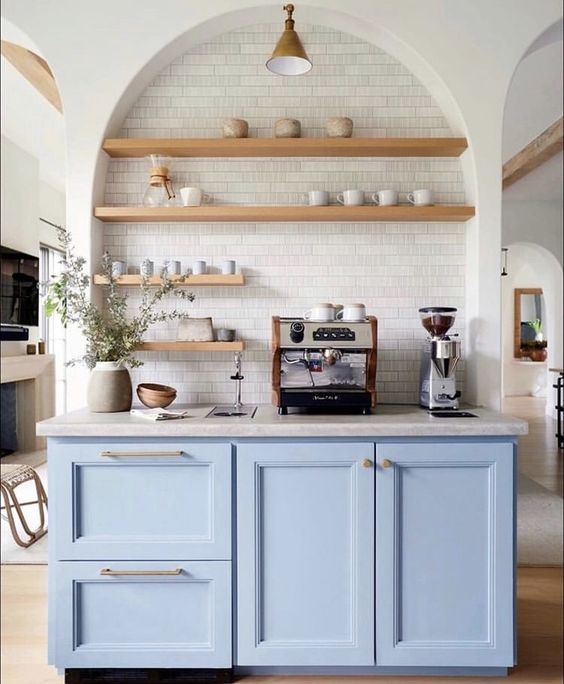 For this particular coffee bar, I like that it's freestanding. This means you can take a builder grade cabinet, paint it and place it in a living or dining room and create your own coffee station where you use it most.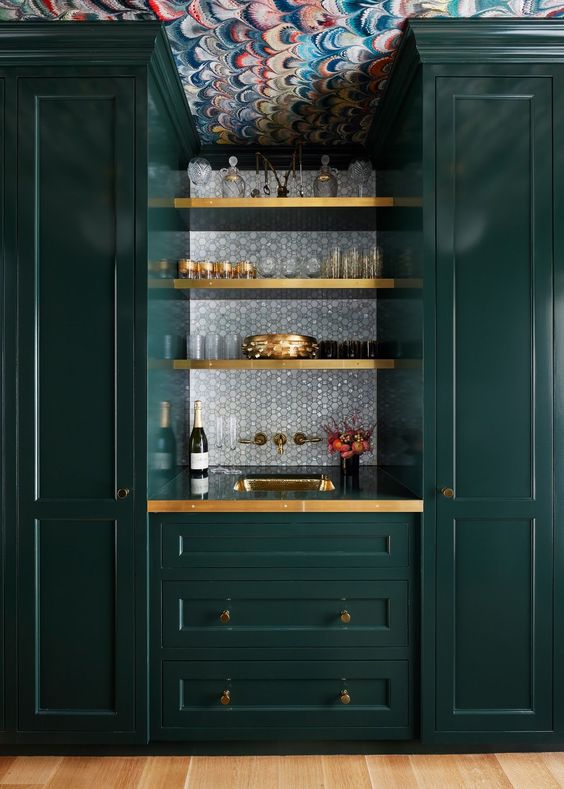 While this bold green built in is technically a wet bar, it translates well to coffee bar. Take hints from the tile to the ceiling, wallpapered 5th wall (ceiling), bold cabinet color and gold shelves and pulls. It's a bold look, but I'm loving it in an otherwise subtle room.
Scandinavian meets natural in this coffee space. The cabinetry screams IKEA hack while the stacked subway tile steals the show. Add DIY built in shelves and presto, you have a dedicated coffee station.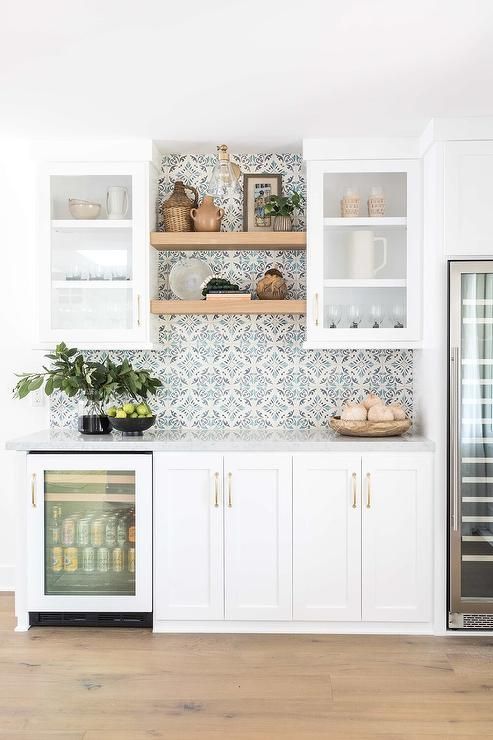 This is what my LaCroix dreams are made of. Even though the built in fridge may by my second favorite part, the patterned tile is my 1st. With everything else white and light wood toned, go bold on a colorful pattered tile to make the space pop.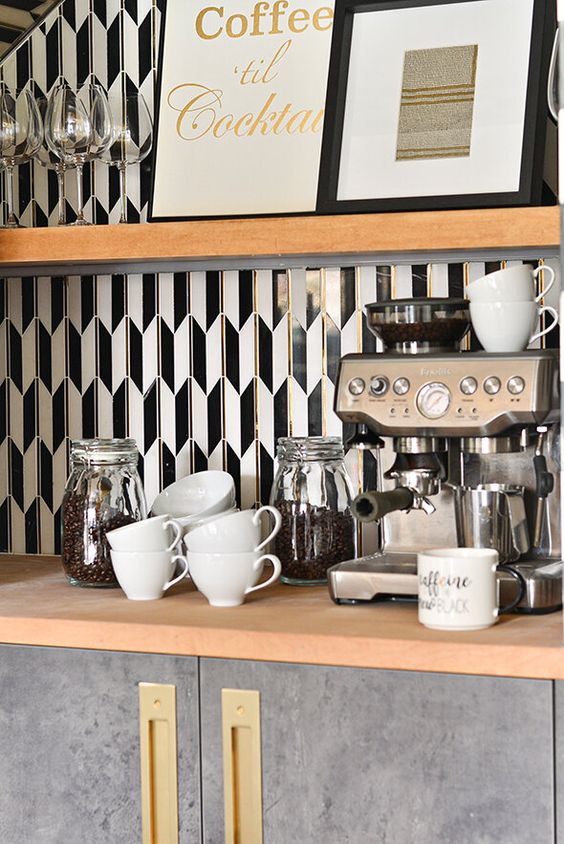 This graphic black, white and gold tile really shines, no pun intended. It's the perfect space to make a coffee or a cocktail.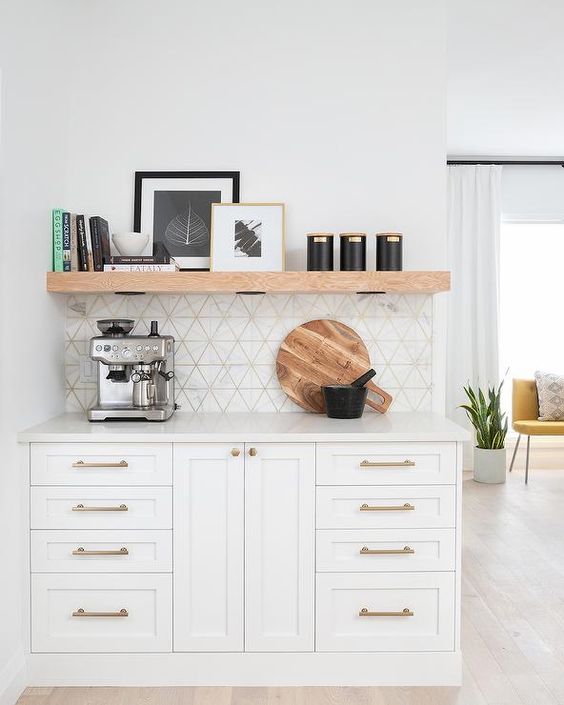 This is another great example of using wall space between a kitchen living or dining room to add a coffee station.
Tile or wallpaper to the ceiling.
Add a shelf or two.
Add art, coffee cups and coffee maker.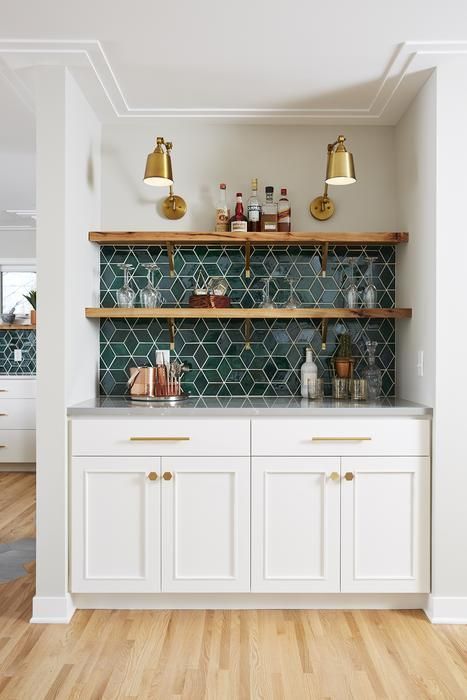 Built in bar or coffee bar? This one can go both ways. Again, I love the vibrant patterned tile here. the color grabs your attention and says,"Hey! grab a drink." You can't go wrong with one pop of bold color paired with warm white and gold.
Up until now, we've focused on the cabinets, paint and tile, but this home coffee station highlights the drawers and organization that go into making it the perfect functional space.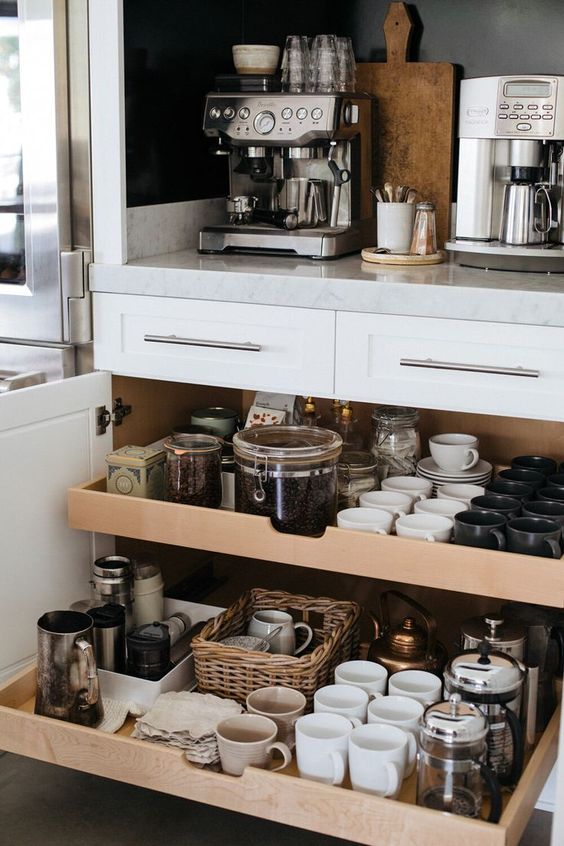 Take measurements of your cabinets and order pull out cabinet drawers for around $50. This simple upgrade will make you fall in love every time you open the cabinet. Don't forget to stack like things with like things.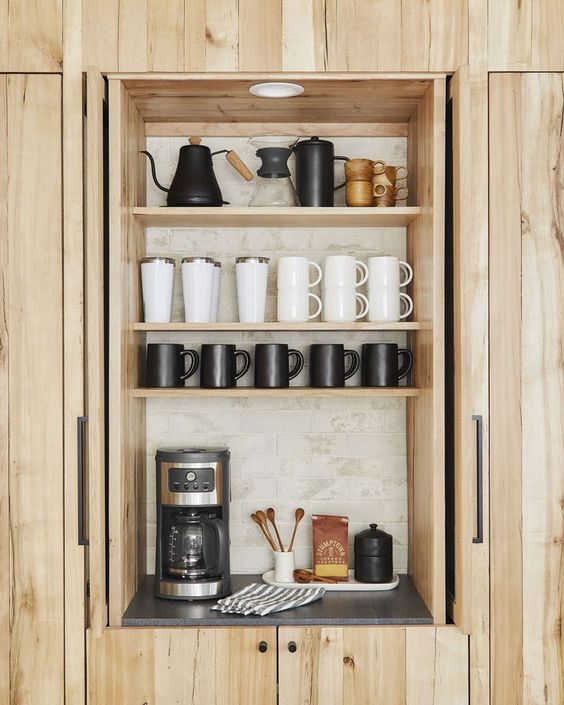 We all know I have a hard time going neutral with anything in my own home, but I can certainly appreciate this birch colored built in coffee station from Emily Henderson. I love the black and white coffee mugs paired with the warm wood tones. It's simple, but well executed.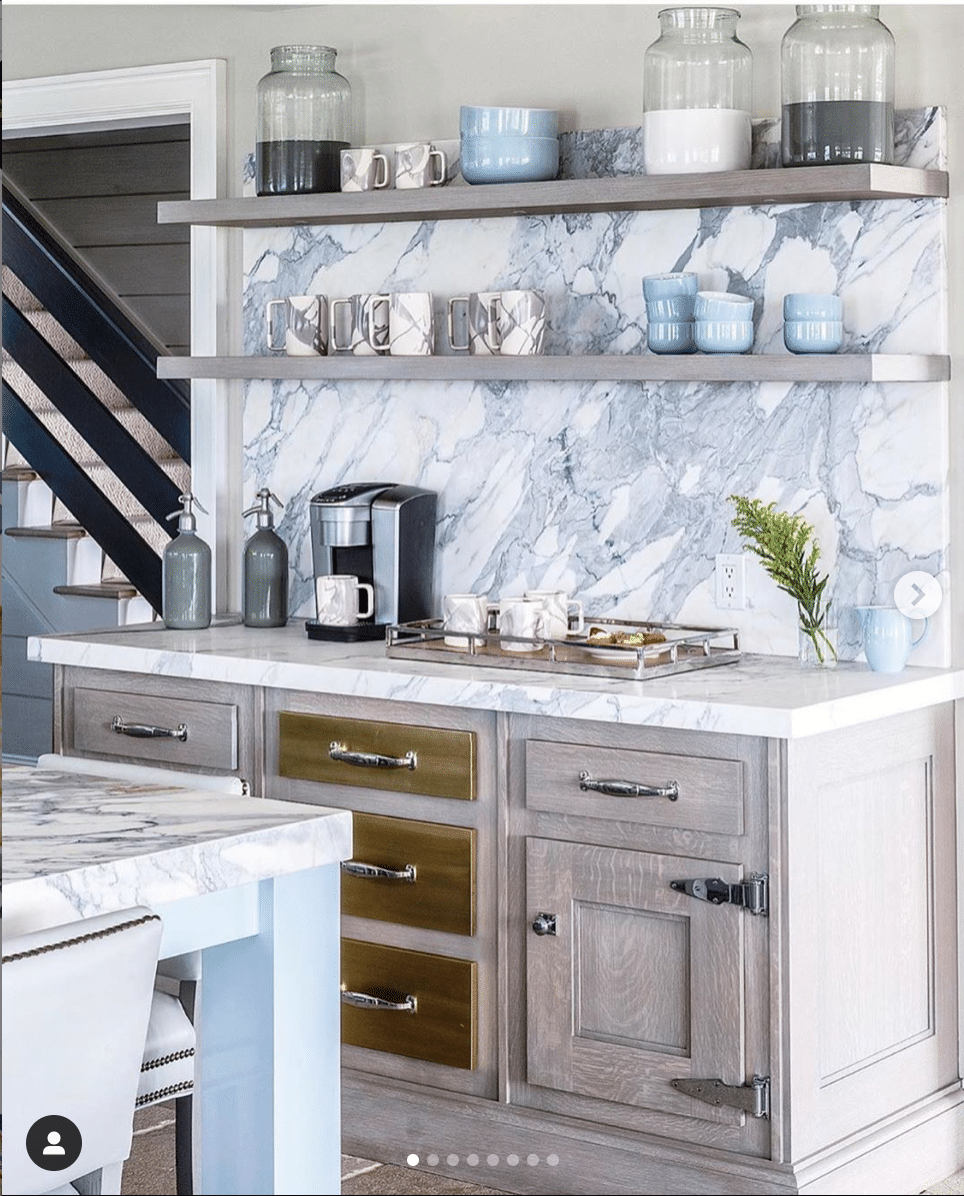 If I were a coffee station, I would probably look like this Between the blue island nearby and the marble with gorgeous colorful veining, how can you not love this home coffee station. The pale blue and white dinnerware pick up on the blues through the design. This is one for the books!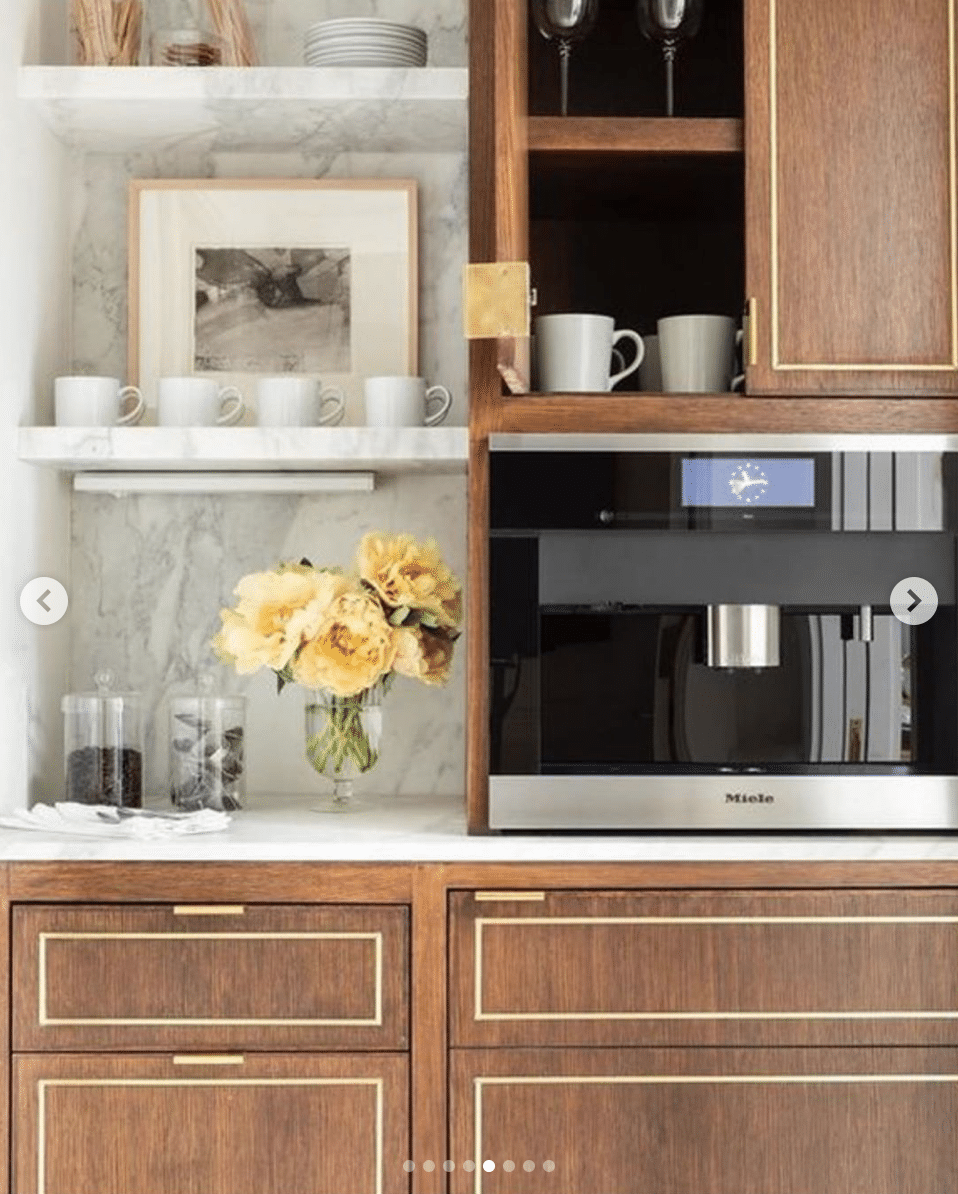 I think it's important to share wood cabinetry in spaces. While it's not alway my first choice, there is a lot to be said about quality cabinets. These bespoke cabinets have an inlaid gold detail that elevates the look.
And a DIY hack to achieve this look would be to cover the wall and shelves in marble contact paper. Add gold hardware and ta-da, you have a stylish home coffee station.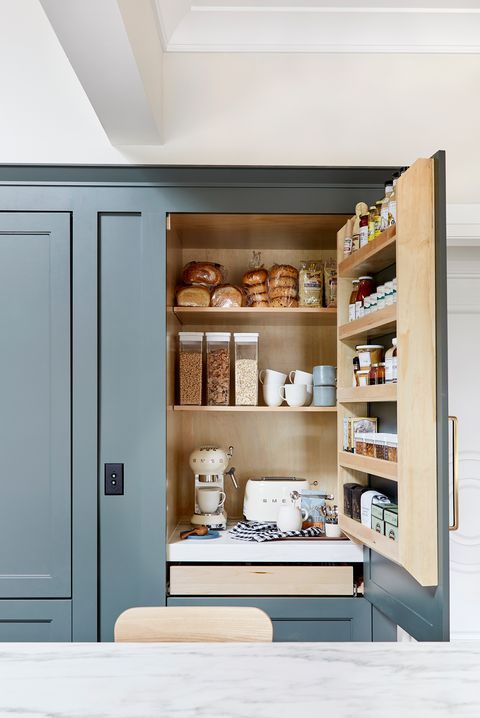 Part pantry, part coffee. Using pantry shelves for a coffee bar is a good use of your kitchen space. I like that this coffee area is tucked away and not taking up valuable counter space.
Here we see again how much of an impact painted cabinetry can have on a space.
A little boho natural coffee station creates a warm, moody space to enjoy a hot cup of coffee. The dark painted wall, wood details, updated cabinet hardware and simple white porcelain make this space irresistible.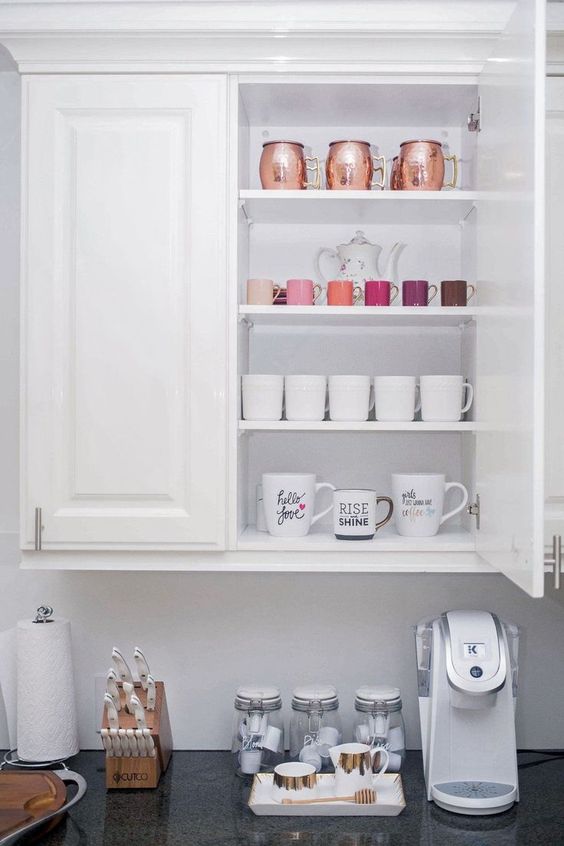 And last, but certainly not least, this plain white kitchen cabinet turned coffee station checks all of the boxes.
It makes great use of black granite counters by keeping paint and decor all white and simple.
Pink and copper mugs adorn the inside of the cabinet for a surprise.
It is teaming with personality, but overall neutral.
COFFEE BAR CONCLUSION
I hope you found inspiration in this home coffee station roundup. You can translate the design choices found in these 23 home coffee bars into creating your own coffee space.
Quick Tips Recap:
Painted cabinetry
Update hardware
Use a Hutch or dresser for a freestanding coffee station
Use solid cups and mugs
Add artwork the the shelf
Don't overcrowd shelves with small decor
Tile all the way to the ceiling
Choose a bold tile or wallpaper and subtle everything else