Are You Making These 3 Kitchen Design Mistakes?
If you are getting ready to renovate to upgrade, make sure you don't make these 3 costly kitchen design mistakes. Learn what not to do and how to renovate your kitchen right with these tips.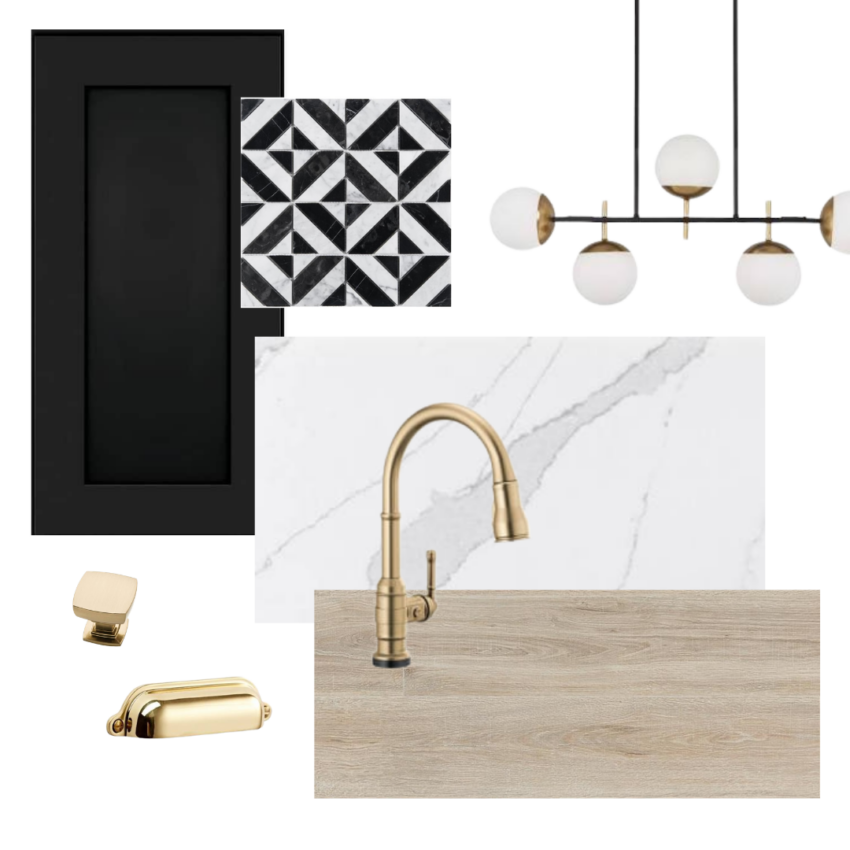 Black and White Kitchen Flatlay that incorporates modern and traditional elements and colors.
Last week I took a course on kitchen design to freshen up my kitchen design skills and learn about the newest appliances and offerings in the industry. I love a good seminar/class and this was no exception.
While it focuses mostly on what products are available to designers and resources to help in your design business, it made me reflect. What are designers doing that builders and home DIYers aren't doing in their kitchen renovations or new builds? In fact, in decorating facebook groups, one of the most common questions asked is about when kitchen finishes look good together.
The answer? Often times they don't! And that's shocking. You would think that builders would see classic design trends and make recommendations based on them, but unfortunately they are often far behind and the choices available to their clients are scant.
So what can you do to change that? You can keep reading and learn the most common mistakes when designing your kitchen and instead make better, more lasting choices.
Luckily for you, I am sharing all of the information to help you make the best kitchen selection choices.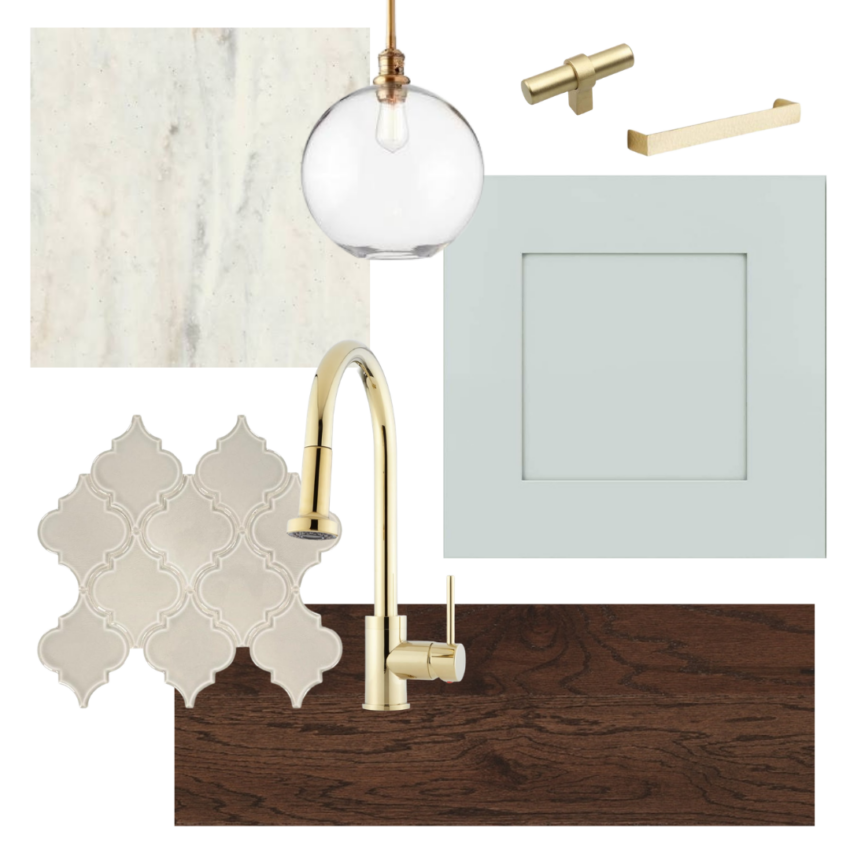 What if you need more help? I offer a Kitchen Designer for A Day Package if you think you want more help. You'll have me for 6 hours ,at your disposal, to help select personalized choices for your kitchen design plan, in the showroom or virtually.
Let's get into those kitchen new build/reno mistakes to avoid.
KITCHEN DESIGN MISTAKE 1
CHOOSING BUSY GRANITE COUNTERTOPS
If you follow my Instagram, you have seen me railing on granite countertops. While I know most contractors will say- oh yes, choose the granite, it's natural stone and beautiful, it presents a real design challenge.
It used to be that more was more in kitchen design. Busy backsplash of tile patterned tiles, busy granite counter, lots of floor patterns, a whole lot of things on the counter, and three tiny pendant lights over the island. It was a lot going on. And now, our modern taste likes to give the eye a place to rest, a calm simple kitchen design.
That doesn't mean it can't have color and be gorgeous, it just means we are choosing fewer wild materials and picking the one or two show stoppers very deliberately.
In fact, you may not see anything wrong with granite, but once you see it, you can't unsee it. So I am going to show you some real estate listing photos with busy countertops to train your eye what to avoid.
I will give you the least of the granite offenders: solid black granite. While I don't love it's shine, it's not as busy and easier to downplay.





KITCHEN DESIGN MISTAKE 2
MOSAIC TILE BACKSPLASH
You already know this is one of my top design crimes, installing a mosaic tile backsplash with those narrow pencil tiles. It looks so overwhelming and there are many colors and variations. Because the tiles are small, there are a TON of them. And this causes your eyes to bounce around thousands of tiles trying to take it all in.
On it's own, it's dated, but when coupled with a busy countertop, bold paint color, too much clutter on the countertops or a busy floor wood grain pattern, it's way too much. It becomes a serious eyesore.
I'll show a few examples of these small tile backsplashes and how much visual clutter it creates in a kitchen, despite it being expensive to install. And potentially uneven if you don't have a great tile installer.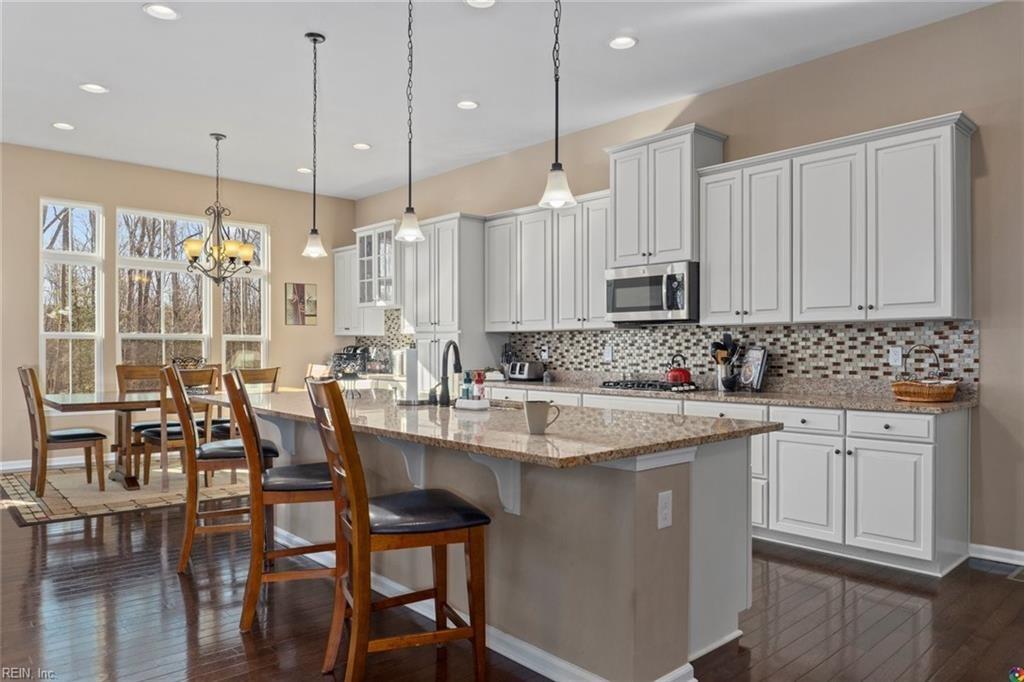 I find that builders tend to suggest this type of backsplash or accent tile strip in a master bathroom shower as a modern, expensive luxury tile option. While the labor to do this tile work may be expensive, it's not the best option for a custom backsplash and certainly not an accent tile!
KITCHEN DESIGN MISTAKE 3
TOO WHITE/GRAY = COLD KITCHEN
The final kitchen design mistake in this round of design crimes, is the cold kitchen. Often times when we choose all white with chrome fixtures or white and gray pairings without mixing soft furnishings like roman shades, woven elements, rugs and warm lighting the space can look cold.
Below are examples of white and gray kitchens that are too cold. There aren't enough elements in them to warm up the spaces. They look clean, but cold and not classic.




While a white kitchen is a classic choice, we have to add in things to warm up the space. Natural light certainly helps with that. Here is a short list of things to help warm up a cold kitchen:
Natural light
Warm 2700K bulbs
Brass fixtures or knobs
Wide plank white oak or mid to dark brown flooring
The right white paint color
Woven bar stools or chairs
Woven baskets on counter as a catchall
Fabric, i.e. roman shades with color over sinks or full length panels at eat in kitchen sliding doors
Runner with natural colors/textures
WHAT TO DO IN YOUR KITCHEN DESIGN PLAN INSTEAD
Now that I've harped on bad kitchen design, I want to leave you with tips to have a great kitchen plan. I know we don't always buy a home with a perfect kitchen. But if you have a new build, be sure to follow the advice in this post for a long lasting, timeless kitchen!
GATHER SAMPLES
Most importantly, get samples of each finish you choose, from cabinets to flooring and backsplash and countertops. Collect the samples and arrange them together in the correct direction, meaning paint, cabinet and backsplash samples are upright and flooring and countertop samples are laying flat.
Gather samples of each finish
Place them together in the correct orientation
KEEP IT CALM
Choose countertops that don't have too many colors or flecks.
Veining is a good thing, but if you choose a countertop with large veins and movement, keep the floors and backsplash simple and solid.
Avoid those small, visually overwhelming backsplash tiles
Stick to solid color flooring, not wood or LVP with great variation in the color of each end of the plank
Use woven textures to warm up the space without overwhelming it
Keep counters clear of clutter
KEEP IT WARM
Don't fall prey to gray flooring. This is the number one way to make a space too cold. The second thing you should do is use slightly warm whites (not to be confused with ivory or beige). They look great in natural or led lighting.
Add in textures with leather, woven elements, and natural wood tones. This can be barstools, cutting boards, warm brass metals for cabinets or light fixtures, or woven can drawer panels.
KITCHEN DESIGN CONCLUSION
In conclusion, don't make these mistakes when renovating or designing your new build kitchen:
Avoid busy granite countertops
Skip multi tone mosaic tile backsplashes
Don't choose all cold design elements
Instead use the carefully chosen materials to keep you new kitchen timeless and classic.
Gather samples
Keep finishes and colors calm
Warm it up with woven, fabrics and leather
Last, I'll leave you with my list of posts on Design Crimes, in case you missed it:
Plus, Help! Design A Kitchen Around Oak Cabinets and Quick Countertop Updates
Still want more help? I offer a Kitchen Designer for A Day Package if you think you want more help. You'll have me for 6 hours ,at your disposal, to help select personalized choices for your kitchen design plan, in the showroom or virtually.